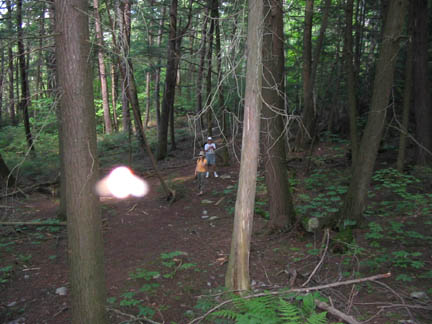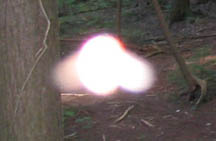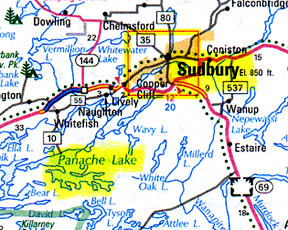 August 7, 2005  Sudbury, Ontario, Canada – Recently I received an e-mail from a Canadian resident with a 2004 photo attachment that looks very similar to a mysterious light photographed in Glass Mountain, Australia, grass circles back in April of 2004. Below is the e-mail and attached photograph, along with a look again at the April 2004, grass circle and mysterious light images from Australia.
On July 26, 2005, Dennis Donohue wrote:
"Hello Linda,I wanted to send you a photo taken by my son about a year ago. It contains an anomalous light which wasn't in the viewfinder at the time it was taken. It was late afternoon a short distance into the woods behind my daughter-in-law's parents' camp which is on Lake Panache, located south-west of Sudbury, Ontario. They have always sensed a feeling of tranquility in that spot in the woods.
I believe it bears a striking resemblance to the light anomaly in an Australian crop circle in the Earthfiles archives dated 04/14/2004. This picture was taken with a digital camera in the shade. The people in the photograph are not looking at the light, but the camera itself.
Dennis Donohue
Earthfiles Subscriber"
April 14, 2004 Earthfiles:
Light Anomalies in Photos of Conondale, Australia Grass Circles
© 2004 by Linda Moulton Howe
For full Earthfiles report, see https://www.earthfiles.com/news/news.cfm?ID=697&category=Environment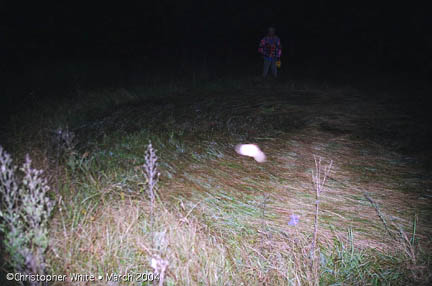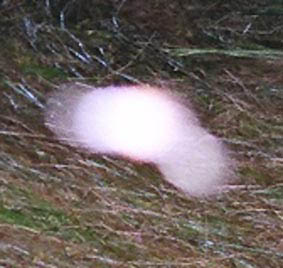 ---
More Information:
See other Earthfiles reports about mysterious lights and crop formations in Earthfiles Archives.
07/23/2005 —  Mystery of Six Grass Circle Formations in North Carolina

07/01/2005 —  U. K. Bicyclist Reports Mysterious, Low Hovering Objects Bending Wheat

10/17/2004 —  American Crop Formations: 1880-2004

07/06/2004 —  Additions to Spanish Fork, Utah Formation and Mysterious Lights Seen

05/24/2004 —  Biophysicist W. C. Levengood's Crop Circle Reports

05/11/2004 —  An Extraordinary Photograph in A Dutch Home

11/01/2003 —  Another Soybean Formation in Ohio

09/06/2003 —  Part 3 – Unusual Soybean Formation Near Serpent Mound, Ohio

08/23/2003 —  Fourteen Crop Formations in Canada

10/03/2002 —  Part 3 – 2002 Crop Formations In Canada

07/25/2002 —  Strange Stem Anomalies in New Dutch Crop Circles

05/11/2002 —  First 2002 Crop Formation In Wiltshire, England

09/22/2001 —  Huge Hexagram Crop Formation in Red Deer, Alberta, Canada

08/29/2001 —  Part 1 – Ground Details of Chilbolton "Face"

08/25/2001 —  Are Crop Formations at Chilbolton Observatory A Response to 1974 Earth Transmission?

06/16/2001 —  Beyond Stonehenge with Astronomer Gerald Hawkins

06/08/2001 —  Another Crop Formation Near Kassel, Germany

03/02/2001 —  Mysterious Lights and Crop Circles – A Book Excerpt

12/13/2000 —  Mysterious Clouds of Light in English Crop Formation
Also, see my book, "Mysterious Lights and Crop Circles" in Earthfiles Shop.

© 1998 - 2023 by Linda Moulton Howe.
All Rights Reserved.