August 9, 2005  Wiltshire, England –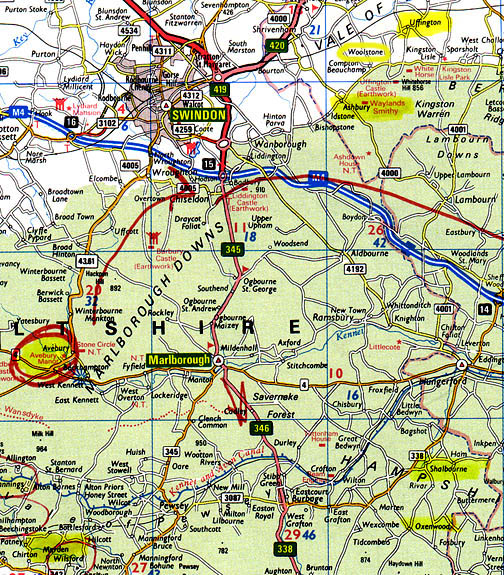 1) Waylands Smithy Megalithic Site Near Ashbury
The Waylands Smithy long barrow lies in a plantation of trees on the famous Ridgeway, not far from the Uffington White Horse and Uffington Castle. Excavations in the 1960s revealed the barrow was constructed in two phases. There is a wooden mortuary enclosure with stone floor that was later covered by a trapezoidal mound of chalk. Inside there are three chambers, one main one and two to the sides.
Crop circle photographer and investigator, Lucy Pringle reported: "The magnificent barrow is approximately due south of the formation. The formation therefore is really in a very remote area and a long way into the field. In fact it is on the crest of the hill looking beyond to Swindon."

 Compare the Waylands Smithy wheat formation above to last year's huge "Mayan" wheat pattern below near Silbury Hill and Avebury, Wiltshire, England, created over two days from August 2-3, 2004.
Shalbourne, near Oxenwood, Wiltshire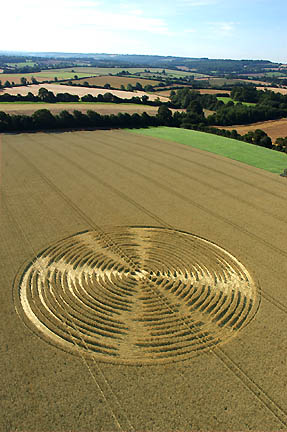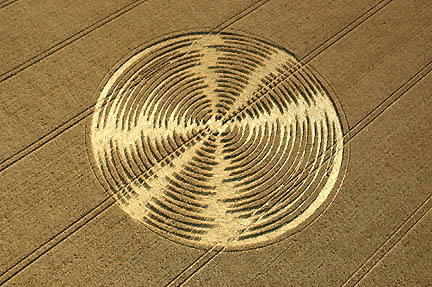 Marden, Wiltshire, England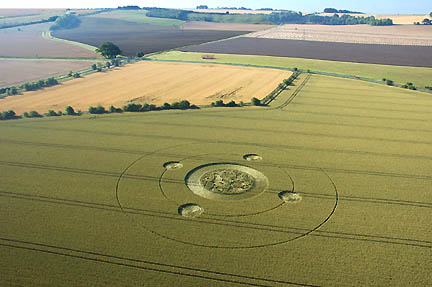 ---
More Information:
Also see: Cropcircleconnector.com
See other Earthfiles reports about mysterious lights and crop formations in Earthfiles Archives.
07/23/2005 —  Mystery of Six Grass Circle Formations in North Carolina

07/01/2005 —  U. K. Bicyclist Reports Mysterious, Low Hovering Objects Bending Wheat

10/17/2004 —  American Crop Formations: 1880-2004

07/06/2004 —  Additions to Spanish Fork, Utah Formation and Mysterious Lights Seen

05/24/2004 —  Biophysicist W. C. Levengood's Crop Circle Reports

05/11/2004 —  An Extraordinary Photograph in A Dutch Home

11/01/2003 —  Another Soybean Formation in Ohio

09/06/2003 —  Part 3 – Unusual Soybean Formation Near Serpent Mound, Ohio

08/23/2003 —  Fourteen Crop Formations in Canada

10/03/2002 —  Part 3 – 2002 Crop Formations In Canada

07/25/2002 —  Strange Stem Anomalies in New Dutch Crop Circles

05/11/2002 —  First 2002 Crop Formation In Wiltshire, England

09/22/2001 —  Huge Hexagram Crop Formation in Red Deer, Alberta, Canada

08/29/2001 —  Part 1 – Ground Details of Chilbolton "Face"

08/25/2001 —  Are Crop Formations at Chilbolton Observatory A Response to 1974 Earth Transmission?

06/16/2001 —  Beyond Stonehenge with Astronomer Gerald Hawkins

06/08/2001 —  Another Crop Formation Near Kassel, Germany

03/02/2001 —  Mysterious Lights and Crop Circles – A Book Excerpt

12/13/2000 —  Mysterious Clouds of Light in English Crop Formation
Also, see my book, "Mysterious Lights and Crop Circles" in Earthfiles Shop.
---
Websites:
http://www.cropcircleconnector.com
http://www.temporarytemples.co.uk
http://www.kornkreise-forschung.de
http://www.cropcircleresearch.com
http://www.CropCircleAnswers.com
http://www.ukcropcircles.co.uk/?page=home

© 1998 - 2023 by Linda Moulton Howe.
All Rights Reserved.