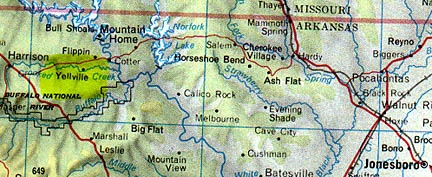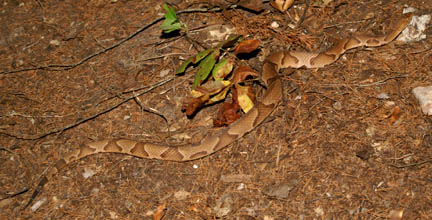 August 18, 2005  Yellville, Marion County, Arkansas – In mid-July, zoologist Prof. Stan Trauth in the Biological Sciences Department at Arkansas State University received a phone call from the Arkansas state herpetologist, Kelly Irwin. There was a swarm of at least sixty copperheads in the back yard of Yellville, Arkansas, resident, Chuck Miller. After five years of living on his forested ridge property, Mr. Miller knew it was too early and he'd never seen so many snakes together before. Copperheads don't usually move into groups, or "aggregates," until late September to October for hibernation.
Chuck Miller knew people wouldn't believe what was happening unless he caught some of the snakes as proof. So he went out at dusk and stood in one place to catch some. The copperheads were moving through his yard in and around several sites on his property, but especially around a cedar tree where Mr. Miller caught sixty. Prof. Trauth sent one of his students to see who reported back, "Sure enough, lots of copperheads!"
---
Interview:
Stan Trauth, Ph.D., Prof. of Zoology and Director of the Electron Microscope Facility, Arkansas State University, Dept. of Biological Sciences, Jonesboro, Arkansas: "The copperheads are moving a lot earlier than normal. Their normal movements for hibernation dens occur usually in the middle to late fall, usually by October. But this year, this Yellville congregation of copperheads began in mid-July, three months earlier than expected. In the photograph above, the copperhead is near the base of the cedar tree (on cedar needles) when I went to investigate. I couldn't photograph directly at the base of the tree without great disturbance to the setting. But in the photograph below, these were some of the copperheads gathered by Chuck Miller and contained in a box at my ASU laboratory.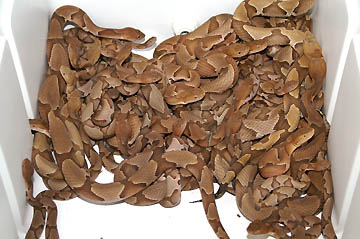 No Adult Female Copperheads in Swarm
We've sort of ruled out the feeding or breeding aggregation because the animals we have gotten so far, which I have processed and we have returned many of them back to the wild, are mostly adult males and juvenile males and only juvenile females. No adult females are present.
The adult females are probably at birthing dens. Females aggregate together at birthing dens which may be a hibernation den also. They are going to be giving birth to live young here any day now.
WHY SHOULD ALL OF THESE MALE ADULTS AND JUVENILE MALES AND JUVENILE FEMALES BE CONGREGATING IN SUCH NUMBERS IN MR. MILLER'S BACK YARD IN JULY?
Well, that's the $64,000 question. You're asking something that we can only speculate on. First of all, the snakes tend to be following each other. That's my take on it. These snakes lay down scent trails with their cloaca glands. The secretions from those glands allow for the snakes to follow one another. This is normal with snakes. They flick their tongue and are sensing the environment all the time. So, they can pick up the secretions of the other individuals within their own species and other species at the same time. I'm guessing that they are following these trails.
Unusual Sniffing Behavior
DO YOU HAVE ANY SPECULATION ABOUT WHAT THE COPPERHEADS COULD BE PICKING UP IN THE ENVIRONMENT?
This is something that my students have observed at the Chuck Miller site. The snakes tend, as they move toward the cedar tree, they have been exhibiting unusual behavior which has not been described before in copperheads. They raise their heads and it looks like they are sniffing the air. Then they go down to the surface of the ground and rub the sides of their heads against the soil and then move up into the air again, like they are trying to sense something. They do this around the cedar tree. Afterward, they move off in almost a direct line up to the top of the ridge.
This has not been described (in the literature) before as far as I know, and we would like to get this on videotape to see if we can analyze that type of behavior.
Every once in awhile we have a large outbreak of cicadas that might attract snakes. But this year, we do not have a cicada outbreak, but perhaps the snakes are following historic trails through the woods anyway to look for food.
WHAT IF IT HAS SOMETHING TO DO WITH A BIG WEATHER CHANGE COMING?
Maybe more advanced, large vertebrates can detect that kind of thing, but I don't believe we can assign that to snakes now. We don't have that kind of information about their abilities, their instincts to detect climatic changes or anything like that. So I would be very hesitant to go that way.
WHAT ABOUT THE BIG EARTHQUAKE FAULT THAT YOU SIT ON IN THAT AREA (NEW MADRID)? HAVE SNAKES EVER BEEN SEEN IN THE PAST TO MOVE IN ANTICIPATION OF LARGE EARTHQUAKES?
Somebody asked me that via an email from Tennessee today. Of course, I told them that this aggregate we've seen is only about 150 miles from the New Madrid fault. We have not observed any type of unusual lower vertebrate or reptilian behavior associated with earthquakes. That has not been observed.
IS THERE ANYTHING THAT SNAKES ARE LINKED TO IN TERMS OF ANTICIPATION OF SOMETHING ABOUT TO OCCUR IN THE ENVIRONMENT?
Not that I know of. We know that snakes will aggregate around large numbers of prey in association with feeding and that they do have mating aggregates which are normally in late fall. We have no evidence that snakes can detect any weather related or global geological type events at this time. It would be interesting to see that if it occurred and then begin to study something like that.
Any Link to Global Warming Changes?
COULD IT POSSIBLY RELATE TO GLOBAL WARMING? SINCE IT'S THREE MONTHS EARLIER THAN NORMAL, IS IT POSSIBLE THAT THE COPPERHEADS ARE SENSING SOMETHING COMING SUCH AS BAD WEATHER? OR WHO KNOWS WHAT? AND THEY ARE TRYING TO GET INTO DENS EARLIER THAN NORMAL?
Since this article came out and this information went nationwide, I've gotten calls from other parts of the country talking about maybe not quite the number, but similar types of aggregations and movements in the summertime. So, I've had several reports, but nothing like the numbers we've seen at this Arkansas site. To attach that to global warming or to say something about why the snakes are doing what they are doing right now would be just pure speculation.
IF THE SNAKES WERE SENSING SOMETHING IN A BIG GLOBAL WARMING CHANGE THAT WAS UNPRECEDENTED TO US HUMANS AND WE DIDN'T KNOW ANYTHING ABOUT IT, THE SNAKES GENETICALLY MIGHT BE PICKING UP ON SOMETHING?
That is possible because we know these animals have been around a long time and we've gone through these types of perturbations in the climate in the past, various ice ages and warmings we've had. There could be something to it.
BASED ON YOUR EXPERIENCE AS A ZOOLOGIST, DO SNAKES PICK UP ON UPCOMING WEATHER TRENDS?
Not that I know of. We do know that these particular types of snakes are diurnal (day) during the springtime. They are active during the day. But as the summer months enter and the weather gets much warmer, they become nocturnal. They move about possibly going after prey during the night time. By late summer, females give birth. The rest of the animals begin to move toward their historic denning sites. That's what they do.
Now, why Mr. Miller has so many on his property, we can only speculate. There is nothing special about the property except that it is on top of a ridge. These snakes are known to seek hibernation dens that typically face south and west at the tops of ridges, rocky ridges most of the time. But we don't really know why this particular site is drawing the snakes in.
MR. MILLER SAID THAT HE HAD NEVER SEEN COPPERHEADS GATHER IN THIS NUMBER AND NOT THIS EARLY IN THE TIME HE'S BEEN ON THE PROPERTY.
Yes, he said that.
HAVE YOU IN YOUR EXPERIENCE EVER KNOWN THIS NUMBER OF COPPERHEAD SNAKES TO GATHER IN JULY?
Not this number, no. Not for a terrestrial snake and certainly not for a pit viper. We know that copperheads do move about in late summer. But I don't think anyone has ever stayed in one area and followed snakes crossing at a particular site, at least not in the eastern deciduous forests. So, no one has come forth with any solid information regarding what is going on.
Other Unusual Snake Movements in U. S.?
WHAT ABOUT OTHER PLACES IN THE UNITED STATES WHERE THERE HAS BEEN AN INCREASE OF SNAKES MOVING INTO A DEN MODE? WHERE HAS THAT OCCURRED AND WHAT HAVE PEOPLE SAID THERE?
Yes, I received an e-mail and article regarding a place in Pennsylvania where somebody had seen a large number of snakes which I think were copperheads. They were moving and somebody was bitten and there was the concern about the movement of the numbers of snakes they had seen. I think by this information getting out that if there are other observations by others, they will let me know. I will probably open this up to herpetologists. I'm not certain it's a generally peculiar phenomenon yet, but it's definitely peculiar to Chuck Miller's Yellville backyard.
BUT YOU'VE BEEN A PROFESSOR OF ZOOLOGY AT ARKANSAS STATE UNIVERSITY FOR 21 YEARS AND YOU'VE NEVER HEARD OF THIS BEFORE.
That is correct.
SO THAT MAKES THIS PRETTY UNUSUAL?
Yes, I would say so. Certainly we responded immediately once we found out about this particular event taking place. So, it's been a very interesting series of discoveries as we've continued to study this particular site."
---
More Information:
If you have any information, please contact Prof. Trauth by e-mail or through his website:
e-mail: [email protected]
Stan Trauth, Ph.D. Website: http://biology.astate.edu/faculty/strauth/Dr_%20Stanley%20Trauth.htm
E-Mail to Prof. Trauth:
"From: R M Peterson, Oakland, Arkansas
Sent: Tuesday, August 16, 2005 12:18 PM
To: STAN TRAUTH
Subject: Copperhead phenomena
Dr Trauth,
Read of your research re: Miller Copperheads, courtesy of <http://www.lasvegassun.com/sunbin/stories/nat-gen/2005/aug/16/081601086.html> – also in LA Times. Same thing with copperheads up here across the Bull Shoals lake in the Oakland Area (still Marion County) ­ approx. 30 mi. line of sight from Miller's location. Late July thru early Aug, had to dispose of 8 copperheads near our house (with a large cedar tree, hedges and several flower box areas). Normal encounter since ca. 1980 is a MAX of 3 a year, and some years none at all. With the drought, suspect the creeks have dried up and they are moving uphill to moister digs with cicada, toad and other food sources more abundant.
Good luck figuring this one out. They sure kept us busy protecting our pets (and ourselves) from serious vet bills this year."

© 1998 - 2023 by Linda Moulton Howe.
All Rights Reserved.