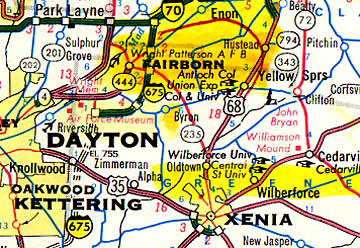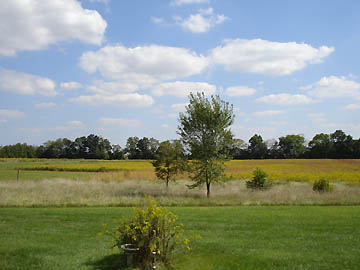 September 21, 2005  Fairborn, Ohio – On Monday night September 19, 2005, around 10:30 p.m. in Ohio, Michael Johnson and his wife heard a surprising and unexpected deep rumble of thunder. Both are radio ham operators and members of the Dayton Sky Warn group which watches the sky for unusual weather and sends out alerts. No thunderstorm was expected as far as they knew. But Mike grabbed his digital camera as he usually does in storms to photograph unusual lightning or other notable storm features.
---
Interview:
Michael Johnson, Retired G.E. Aircraft Parts Shop Manager, Fairborn, Greene County, Ohio: "What I wanted to do, number one, was just go out and make an observation to see what the intensity level of the storm was. Over the years, I have often taken photographs of weather phenomena. I stepped out on the porch because the lightning was rather fierce and very intense. The entire storm caught me unawares.
I've had a new digital camera for about the past seven months. I wanted to see if I could change some of the settings on it and capture the lightning as it flashed in the sky because this was the type of lightning that kind of pulsated, so I knew I would have an opportunity to catch something on the camera.
SO YOU WERE TRYING TO ADJUST THE EXPOSURE TIME ON THE CAMERA?
The interesting thing on one of these cameras ­ and this happens to be a Sony Cybershot. The Model Number is: DSCP-150. They've kind of dumbed it down for guys like me. What they do is rather than have all the settings to open your aperture and the film speed and all that, they have little symbols. One of the symbols on the camera is for night shots ­ and I assume it opens the aperture a little bit longer. They have a symbol of fireworks for the night shot, like in the daytime, there is a symbol of someone standing on the beach. You don't have to be real smart about it. You just know what the light condition is and set your setting for that picture. [ Editor's Note: So, exact fraction of time for image not known. ]
DID YOU SET THE CAMERA UP ON A TRIPOD, OR WERE YOU HANDHOLDING?
It sounds kind of silly, but I did not have a tripod. I actually pressed the back of the camera to my forehead and then with my finger on the button. I think that gave it some stability. I had my back up against the wall. I would look in the direction I thought there might be another flash of lightning.

As I was looking, I saw this object. It surprised me that this thing was flying in such fierce weather and that's when I was trying to photograph. I actually pulled it down from my forehead, but was holding it very tightly and tried to focus in on that object.
SO YOU'VE GOT ONE WIDE SHOT AND ONE CLOSE-UP?
I only had the one wide shot. Then, what I did when I downloaded this to my camera, that's when I noticed that little white dot that was trailing the group of three lights. I didn't even see that when I took the picture. But I downloaded it at my computer and I have a software program called Photo Studio 2000. I was going to crop my photo and send it to my son, who is a pilot. I went ahead on the original picture, I just took one picture and blew that up and then captured it, saved it. I did not change the original. I just saved that zoomed portion of the picture. That's how I ended up with the two pictures: one is I have the original intact as it was downloaded and then I have also the one I captured that was zoomed in the Photo Studio 2000. Enhanced Wide Shot and Zoom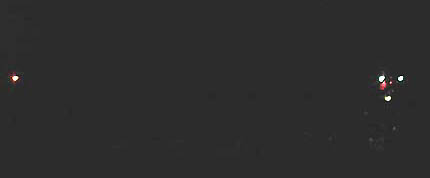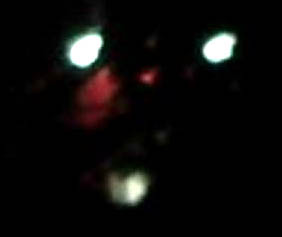 WHY IS IT THAT YOU TOOK ONLY ONE PHOTOGRAPH?
That's a real good question. When I saw the lights ­ I would say the cloud ceiling was in the neighborhood between 1500 to 2000 feet. We need to check with the Weather Service. But there was a lot of scud layer beneath the cloud base. And this aerial object moved in and out of the cloud layer. I saw it probably for maybe ten to fifteen seconds, maybe twenty, and then it just passed on slowly and went into the clouds.
DID YOU TAKE THE PHOTOGRAPH AT THE BEGINNING OF SEEING IT AND THEN WATCH IT? OR DID YOU WATCH IT AND THEN TAKE THE PHOTOGRAPH?
You have to keep in mind what I was doing. I was trying to photograph the lightning. So I had stopped the camera button down about half way and you get this little figure that flashes on the LED screen that indicates 'You can take a picture now.' So, I held that and as soon as I saw a flash of light, I would just push that button down to capture the image. As I was holding the button, I was looking almost due east. That's the direction of back of my home faces. This came out slightly out of my field of view and came into my field of view, I would say from the northeast and at probably 75 to 80 degrees off the horizon. So, I just slowly turned (at seeing motion) and snapped the picture because the button was ready to take a photograph.
THEN YOU TOOK THAT SHOT AND WATCHED IT FOR THE NEXT TEN OR FIFTEEN SECONDS?
Actually, I would say in the entire time frame, I might have caught it out of the corner of my eye and turned and then in two or three or four seconds took the shot. By the time I framed it up and took the shot and by the time I could reposition to take anymore shots, it was gone.
THE TRIANGLE WENT AWAY BY APPARENTLY RISING INTO THE CLOUDS – OR THE CLOUDS DESCENDED AROUND IT?
Yes, that's what I believe. I'm thinking it was doing what a pilot calls 'scud running' (flying just below the cloud ceiling). So I'm thinking this object as photographed was somewhere between 1,000 and 1500 feet in the air above my house.
Silent Triangle of Lights Flew Into Fierce Thunderstorm
The thing that made this thing (aerial triangle) different was:
Number one: it was low.
Number two: it was flying into what I considered a very fierce part of the storm, which is highly unusual for any pilot. My son is a pilot and I know what they do and do not do. Flying directly into a thunderstorm of this nature would not be advisable for most aircraft. So, that's why I thought this was unusual.
Plus three: as I stood there ­ sound out here, I live in the country and sound travels fairly well, especially when it's damp in the evening. You could not hear anything. You could not hear this craft, this object, I don't know what it was ­ you could not hear it making any noise.
GIVEN YOUR FAMILIARITY WITH WHAT IS COMING IN AND OUT OF WRIGHT-PATTERSON AFB AND THE NATIONAL GUARD FIELD, WOULD YOU SAY THAT YOU HAVE NEVER SEEN THIS PARTICULAR PATTERN OF LIGHTS BEFORE?
Yes, but I have seen some very strange lights in this area and I've always just assumed it was some military. You see them during the day, a lot of regular aircraft, but at night, you see some different lighting configurations. I would not say it was completely different than any I have seen, but I have never observed one that did not make noise.
But four: what was also unusual ­ when I downloaded that picture I captured, there was that little trailing light that would have been to the left-hand side of the picture, or north in my orientation here at the house. I have never seen anything trailing another aircraft like that.
Fairborn Between Wright-Patterson AFB
and Springfield National Guard Base
To give you some logistical information about where Fairborn is located, it makes it an interesting spot. But it also lends to some credibility to what I'm reporting because I'm very familiar with seeing aircraft.
Just due west of my position is Wright-Patterson AFB. And about 4 to 5 miles due east of my house is the Springfield National Guard base. I'm almost in between. So I see a lot of air traffic. I've seen the stealth fighters fly in here at night. They do that often. I think they go fly around Wright-Patterson. I've been fortunate enough to stand under what I thought was a B-1 bomber as it took an irregular path into the Wright-Patterson AFB, but flying very low and slow literally right over the top of my house. I see planes out here on a daily basis. It's not uncommon when a storm approaches to see a lot of planes start coming in, usually to the Wright-Patterson AFB. You'll see them taking a pattern in and landing probably to avoid the storm."
Mysterious Triangles Over Belgium, 1989-1991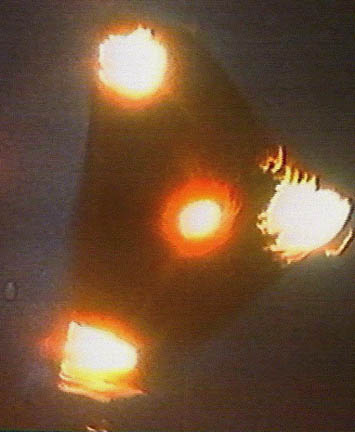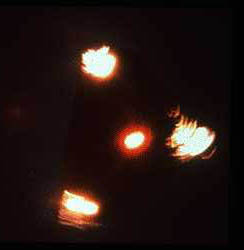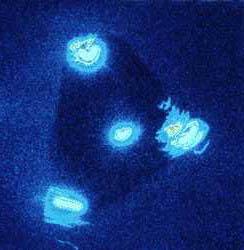 THE SILENT, TRIANGULAR OBJECT THAT YOU PHOTOGRAPHED LOOKS SIMILAR TO THOSE REPORTED IN BELGIUM IN 1989 UNTIL AT LEAST 1991. THEY WERE CLASSIFIED AS UNIDENTIFIED. SOME AUTHORITIES WENT SO FAR AS TO SAY THAT THEY MIGHT BE SOMETHING FROM OFF PLANET. WHAT IS YOU REACTION TO THE POSSIBILITY THAT WHAT YOU HAVE PHOTOGRAPHED IS SOME VERY ADVANCED EXTRATERRESTRIAL TECHNOLOGY?
I'm open to that thought process, but I'm also very open to the fact that our government probably has a lot of aircraft that we're not aware of and sometimes we become aware of it twenty years after the fact. I don't know. I'm not saying 'flying saucer,' but I am saying 'UFO' (unidentified flying object) because I don't know what it was. What I saw, I do know was unlike anything I have seen in this area. But to make a determination that it was of an alien nature not from this planet, I could not make that determination.
BUT BEING SILENT AND FLYING INTO A VIOLENT THUNDERSTORM IS NOT WHAT HUMAN PILOTS DO, OR SILENCE IS NOT ASSOCIATED WITH OUR AERIAL EQUIPMENT.
I think that's a perfect observation and that is the same I made. This is the first time I was compelled to take a picture of lights in the sky. I take night shots all the time of the moon and stars, and this is the first time I was compelled to take a photograph of an aerial object."
---
More Information:
September 21, 2005 E-mail from Michael Johnson about his camera:
"Linda,
The 'long shot' is the only picture that was taken of the object. I used Photo Studio 2000 to do a tight shot of the same object. These files are just as they were downloaded to my computer. I think I mentioned to you that I did not notice the single small light behind (north of) the grouping of three lights,until I downloaded the file.
Logistically…I live five miles to the southeast of Wright Patterson Air Force Base. I also live five miles, due west of the Springfield National Guard base. This would almost beg one to conclude what I saw was an aircraft. However, you must factor in that I have lived here for eight years and am very familiar with most known aircraft and their flight patterns; into and out of both bases. I have watched Stealth fighters fly over on many nights and I have had the pleasure of being directly beneath a B1 bomber as it made an unusual and low approach to WPAFB. As I told you, I have never before felt compelled to photograph lights in the sky that are frequently seen in this area. What I saw was different!
This object flew fairly low overhead and was not making any sound that was discernible from my location. The object was also flying directly into what I would consider the fiercest part of the storm. I have never witnessed any aircraft fly directly into harms way as this object appeared to do. Hopefully you have access to technology that can discern what I saw that night.
My camera settings were as follows:
– 3 meg setting
– no flash
– "Scene" was set for capture night shots such as "fireworks" (this is an auto setting for the DSC-P150 Sony Cybershot)
focus …. set to "Infinity"
– Metering….set to "multi" (allows a broad area to remain in focus)
– White Balance….set to default
– ISO…..set to Auto
– Picture quality…set to Normal
– Contrast…set to Normal
– Saturation…set to Normal
– Sharpness…set to Normal
– EV…set to 0EV (not sure what this is)"
---
More Information:
For previous Earthfiles reports about unidentified triangular aerial craft, see Archives:
07/26/2005 — Part 2: Two Men See Cow Mutilated in Light Beam

04/28/2005 — Dozens of Unidentified Aerial Objects Videotaped Over Sonora, California

09/17/2004 — Updated: Part 1 – High Strangeness in Canadian Cattle Corn

09/12/2004 — Part 2 – High Strangeness in Canadian Cattle Corn

08/06/2004 — Truck Driver Who Allegedly Saw Craft and "Lizard" Arm from 1965 Kecksburg, PA Crash

08/03/2004 — Crop Formations: Fifteen in Southern England Since July 20, 2004.

06/14/2004 — Part 2 – The Danger of Time Loops and A Wormhole on Frenchman Mountain, Nevada

03/26/2004 — Back Engineering ET Craft

01/19/2004 — Earthfiles and Radio Audience Feedback About Anomalous Sky Objects

01/17/2004 — Update on Horton, Michigan Ice Circle

01/17/2004 — High Strangeness in the Napoleon, Michigan Sky
04/15/2003 — Triangular Aerial Craft Over Area 51, Nellis AFB, Nevada

02/01/2003 — Six Unidentified Triangular Aerial Craft Over Uinta Mountains, Utah

01/25/2003 — Another Mysterious Skyquake in Pensacola, Florida

10/05/2002 — Part 3 – More Background On the Scientists Linked To "J-Rod"

07/23/2002 — Mysterious, Buzzing Light in Tehachapi, California

05/09/2002 — More Orange Triangular Aircraft Over Red Deer, Alberta, Canada

05/02/2002 — Aerial Triangles of High Strangeness

11/17/2001 — Mysterious Lights in Hessdalen, Norway: "Thermal Plasmas of Unknown Origin"

10/27/2001 — Another Orange Triangle Near Red Deer, Alberta, Canada

09/22/2001 — Huge Hexagram Crop Formation in Red Deer, Alberta, Canada

08/29/2000 — Black Triangle, Red Lights and Spinning Disc Over Wiltshire, England Crops

02/21/2000 — Green Square Unidentified Aerial Craft Over Phoenix
03/28/1999 — Triangles Over Wenatchee Valley, Washington, 1966

03/14/1999 — Africa Stone Circle and Triangle of Lights over Tucson, Arizona

02/14/1999 — Triangular Craft — Eyewitnesses France & New Mexico

01/28/1999 — Army Sgt. Clifford Stone's and Triangle Craft in Germany, 1989
---
Websites:
Belgium Triangles, 1989-1991: http://www.geocities.com/Area51/Vault/9054/ufobelg.html#liev
http://ufologie.net/htm/beldoc03.htm
http://www.ufoevidence.org/documents/doc471.htm

© 1998 - 2023 by Linda Moulton Howe.
All Rights Reserved.