September 23, 2005  Miami, Florida – The United States mainland has never been hit by both Category 4 and Category 5 hurricanes in the same season. But 2005 looked like it might happen after catastrophic Katrina hit the Gulf Coast as a Cat 4 on August 29, and was followed three weeks later by the ferocious Cat 5 Rita aimed at Texas with 170 mph sustained winds. By Thursday evening, September 22, Rita's winds had slowed to 145 mph as a still-dangerous Category 4 headed north toward Port Arthur, Texas.

The Saffir-Simpson Hurricane Scale goes from Category One to Category Five, five being the worst. Category Five is at least 100 times stronger than a Category One and has sustained winds of 156 mph or higher. Only three Category 5 hurricanes are known to have made landfall in the U. S. ­ first was the 1935 Florida Keys "Labor Day" storm; second was Camille, which slammed Mississippi in 1969; and third was Hurricane Andrew, which flattened Dade County, Florida, on August 24, 1992.
Early Saturday, September 17th, Rita was just a blob on weather radar off the Florida Keys. But that blob suddenly turned into a dangerous tropical storm, then quickly became a Category 1 hurricane that rapidly changed to a Category 2 as it drenched the Keys and southern Florida. Heading out into the warm Gulf of Mexico waters, Rita quickly became a monster Category 5, forcing mandatory evacuation of nearly two million people from Galveston, Houston and still-ravaged New Orleans.
How did that radar blob on Saturday become a raging Category 5 hurricane by Thursday? Normally July through September hurricanes are supposed to form off the west coast of Africa near the Cape Verde Islands. But this year by mid-September, all seventeen of the named tropical storms – of which nine became hurricanes, including Rita – emerged closer to Florida and Cuba. Some residents are calling them "instant hurricanes" and even meteorologists admit the change is puzzling. Why are the 2005 summer hurricanes forming so far west?
I asked Jim Lushine, who has been a National Weather Service meteorologist in Miami-Dade County, Florida, for thirty-three years.
---
Interview:

Jim Lushine, Meteorologist, Miami-Dade County National Weather Service, Miami, Florida: "What has happened this year which is unusual, but probably not unprecedented, is that there have been virtually NO Cape Verde hurricanes, none which have formed into a hurricane off the coast of Africa. The early season storms formed where they normally do in the Gulf of Mexico and the Caribbean, but now the storms of July, August and September have also formed relatively close to the United States, rather than out farther in the Atlantic. So, this has given rise to the idea that we are having 'surprise' hurricanes. But in actual fact, they are not total surprises because we can track the beginnings of these hurricanes all the way back to Africa. It's just the fact that they have not developed into a hurricane until they get relatively close to the United States.
[ Editor's Note: The "seeds" of hurricanes are low pressure waves which come off the higher altitudes of Ethiopian mountains and move across Africa. In normal years during July, August and September, those low pressure waves leave the west coast of Africa around the Camp Verde Islands and turn into tropical storms which might become hurricanes that travel for days across the Atlantic. ]
BUT ISN'T IT TRUE WITH HURRICANE RITA, FOR EXAMPLE, ON SATURDAY NIGHT (September 17), IT WAS JUST A BLOB ON RADAR. THEN BY SUNDAY MORNING, IT WAS A THREAT?
It did come in pretty quickly. It is quite a bit different than it is usually because the storms as they form off Africa usually take about a week to ten days to get here. These forming very close only have two or three days. So, it seems like it is a much shorter period of time to get ready for them.
What's Causing "Instant Hurricanes" In 2005?
WHAT IS YOUR SPECULATION OR THEORY ABOUT WHAT IS CAUSING THESE "INSTANT" HURRICANES TO HAPPEN NOW?
It's still very difficult to say. My own theory is that the area off the coast of Africa which normally spawns them has been kind of hostile this year in terms of the environmental factors, particularly the stability in the atmosphere. You need three ingredients to have a hurricane intensify.
1) You need unstable area of air;
2) You need very warm sea surface temperatures, usually above 80 degrees;
3) You also need what's called a 'light wind shear.' We've had relatively light wind shear in the breeding grounds (off Africa) and we've also had fairly warm water temperatures. So, the only thing that's probably missing and we don't measure very well is the air stability.
One of the things that lead us to believe that is we've seen a lot of dust picked up by the tropical waves as they come off the coast of Africa. The dust comes from the Sahara desert. That actually makes the air more stable when you have that kind of dust in the air, so we think that is a partial explanation for why the storms have not been forming there, but form closer to the United States.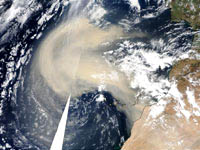 PEOPLE ARE ASKING: COULD GLOBAL WARMING BE RESPONSIBLE BECAUSE THE WATERS IN THE GULF HAVE BEEN REALLY WARM. IF GLOBAL WARMING IS AFFECTING SURFACE TEMPERATURES, IS IT POSSIBLE THAT THE CONDITIONS FOR STRONG HURRICANES GOING INTO OCTOBER AND NOVEMBER WILL INCREASE WITH THIS WARMTH OF THE SURFACE WATERS?
That's a possibility. The warmer the water, the higher the potential for the destructive power of the hurricane. So as waters warm up, we could get more intense hurricanes at any time of the year, including during the heart of the season in July, August and September, but also in October and November.
Is Hurricane Season Getting Longer?
There is some speculation that the season is actually being lengthened, too. Normally the hurricane season runs from June 1 to November 30. But in recent years here, we've had hurricanes in December and some early storms in May. So it might be with the warming cycle ­ and we all agree there is a global warming going on. We're just not all in agreement about what is causing the global warming. This might not only increase the intensity of storms, but also extend the hurricane season beyond what it normally is.
THAT RAISES ALL KINDS OF POLITICAL AND ECONOMIC ISSUES ABOUT HOW IN THE WORLD WOULD WE BE ABLE TO SUSTAIN GOVERNMENT EXPENDITURES – $200 BILLION THEY ARE SAYING FOR KATRINA ­ IF WE HAD A LOT OF HEAVY CATASTROPHE FROM HURRICANES EVERY YEAR?
That's correct. I think we have to come to the realization that we are seeing more and stronger storms and wherever they form, they are going to be a threat here.
Could Hurricane Number and Intensity
Increase for the Next 20 Years?
IF WE END UP HITTING THE NATIONAL HURRICANE CENTER'S PROJECTION OF 21 NAMED TROPICAL STORMS – OF WHICH NINE BY SEPTEMBER 22 HAD BECOME HURRICANES – IS YOUR EXPECTATION THAT NUMBER COULD INCREASE IN 2006?
I don't know. The year-to-year variability in hurricanes is great, even in this period of more activity. But I don't think there is too much doubt that since 1995, we've been in increased activity of hurricanes in the Atlantic. We think this cycle of increased hurricanes will last for another 15 to 20 years. We see all the way through 2020 to 2025 perhaps more storms than normal ­ not necessarily 21 or more storms every year. There are other factors involved, including what is called El Nino. That's a factor that decreases the number of hurricanes in a particular year. But we haven't had El Nino conditions for awhile. That's part of the reason why we continue to have so many storms.
WHAT MAKES THE VARIABILITY OF A 20 TO 25 YEAR CYCLE IN WHICH THERE WILL BE AN INCREASED NUMBER OF HURRICANES?
It has to do with the salinity and the temperature of the ocean, the Atlantic in particular. When the water is more salty, as it is in cycles of about 20 to 25 years, it causes some of the salt being heavier than water to sink down and allows cooler water to come up. That's the negative phase of this multi-decadal cycle. We were in that from around 1970 to 1995. Now from 1995 on, the salinity has changed in the opposite direction (increased saltiness) and the water temperature has increased just due to the salinity. That's not counting the actual what we consider to be global warming thing, but the multi-decadal cycle is based on the salinity in the Atlantic and how that affects the water temperature.
[ Editor's Note: Historically, ocean salinity changes have been linked to cycles of water currents. However, now there is the new complexity of rapidly melting glaciers. All that fresh water runoff into the oceans is reducing salinity in some areas. ]
IS IT FAIR TO SAY THAT IN GLOBAL WARMING AND CO2 BUILD-UP IN THE ATMOSPHERE DOUBLING EXPONENTIALLY, THAT WE ARE FACING UNKNOWN TERRITORY IN WHAT COULD HAPPEN WITH HURRICANES IN THE ATLANTIC OCEAN?
Yes, there is a great deal of unknown about global warming and what that global warming is caused by ­ by man's effect or a natural variation. The Earth has been getting warmer now for the past 150 years overall. Is that part of a longer cycle? We can go back 10,000 years and find out there was a mini-Ice Age back then. In other periods before that there were periods that were warmer and colder. A lot of it has to do with how much radiation is being received from the sun. We always thought there was what we called the Solar Constant ­ that is the amount of solar radiation coming from the sun is the same all the time for years on end. Now with satellites up there, we can measure that Solar Constant more carefully and find out that there are variations in that. The amount of sunlight that comes in and heats the air up and causes the long-term trends in temperatures. Naturally the CO2 situation is another part of it and sea levels will rise.
Are Number of Large Hurricane Landfalls Increasing?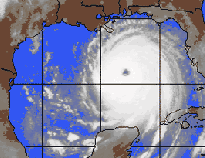 COULD LARGE, INTENSE HURRICANES THAT MAKE LANDFALL KEEP INCREASING IN NUMBER FOR THE NEXT TEN TO FIFTEEN TO TWENTY YEARS?
The number of storms out there are going to remain high. But what's interesting is that the number of landfalling hurricanes, regardless of whether we have 20 storms or 2 storms out there in the Atlantic ­ is actually about the same. We average about three landfalling hurricanes every two years, no matter whether we have a lot or few storms out there in the Atlantic. You might think that the more storms out there, the more chance they will make landfall. That's not true. In many years, the storms stay way out at sea and never effect any land whatsoever. That happened back in 2003. There were 17 storms, and only one of them, Hurricane Isabel, made landfall.
BUT RIGHT NOW IN 2005, WE KNOW THERE HAVE BEEN THREE MAJOR HURRICANE LANDFALLS: DENNIS, KATRINA AND RITA ON THE WAY.
That's right. And last year, we had four major hurricanes make landfall. Those are exceptionally large statistics. But if you go back and look at the last cycle of increased activity from the 1920s to 1930s and 1940s, there were a lot of hurricanes out there, but the number of landfalls was not that many.
Worst Case Scenarios
WHAT IS THE WORST CASE THAT MIGHT HAPPEN NEXT YEAR AND THE YEARS AFTER?
There are several still possible nightmare scenarios. New Orleans was certainly one of them. Even though it was a terrible tragedy out there, a stronger storm hitting at a slightly different angle would have produced more flooding and perhaps more deaths in New Orleans itself.
But other areas around the country and the East Coast that are also vulnerable to a catastrophe are: Tampa Bay, Florida ­ a very low lying area. The Houston-Galveston area, which hopefully won't be that bad during Rita, but it's possible. Then along the East Coast, New York City. If we had a hurricane similar to the 1938 hurricane that hit New England go into New York City, it could flood the entire region of Manhattan's lower end and how much damage and how many deaths there would be is just too many to imagine."
---
More Information:
For previous Earthfiles reports about global warming, see Archives:
08/05/2005 —  Scientists Puzzled by "Bizarre" Pacific Coast Die-offs in 2005

05/11/2005 —  Greenland Sea Cold Water Re-Cycling Has Nearly Stopped.

05/07/2005 —  Did Milky Way Gas and Dust Turn Earth Into Icy Snowball Four Times?

02/03/2005 —  Kyoto Protocol Goes Into Effect February 16, 2005.

01/22/2005 —  From U. S. to Arctic – A Sea Change in the Weather
12/31/2004 —  Abrupt Climate Change Occurred Worldwide 5,200 Years Ago

11/02/2004 —  North Pole Summers Without Ice?

10/15/2004 —  Ever-Increasing Carbon Dioxide Build-Up in Atmosphere Since 1958

09/17/2004 —  Hurricanes Charley, Frances and Ivan in Four Weeks

08/27/2004 —  Global Warming Impact On Birds – More Extinctions Expected

08/14/2004 —  Oceans Absorbing Greenhouse CO2. As Chemistry Changes, What Happens to Sea Life?

08/01/2004 —  Sixth Straight Year Hundreds of Birds Die at Roestler Lake, North Dakota.

02/27/2004 —  Abrupt Climate Change: Scenario from A Pentagon-Commissioned Report

11/29/2003 —  Glaciers Are Melting Around the World So Fast That Water Supplies Could Be Threatened

10/29/2003 —  Fifth Intense Solar X-Flare – What's Happening On the Sun?

05/30/2003 —  Scientists Surprised by Common House Fly Fossils in Antarctica

12/14/2002 —  Arctic Rivers' Fresh Water Flows Could Change Atlantic Ocean Current

11/14/2002 —  What Happened 12,000 Years Ago That Killed So Many Animals?

10/21/2002 —  Mt. Kilimanjaro's Ice Cap Is Melting Fast

08/27/2002 —  August 2002: Severe to Moderate Drought in 37 States

07/20/2002 —  Extinctions of Earth Life Are Accelerating Rapidly

06/04/2002 —  EPA Admits Humans Burning Fossil Fuels A Big Factor in Global Warming

03/30/2002 —  Drought Worsens in United States

03/21/2002 —  Antarctic Peninsula Is Melting – And So Is Arctic Ice

02/13/2002 —  January 2002 Warmest On Record For Whole World

01/30/2002 —  Latest Satellite Data Shows Surprisingly Thicker Ross Ice Shelf in Antarctica

01/05/2002 —  Global Warming Update – Could Increasing CO2
Be Transformed Into Limestone?

12/22/2001 —  Scientists Warn That Climate and Earth Life Can Change Rapidly

03/24/2001 —  Alps Permafrost Melting

03/21/2001 —  Earth Hasn't Been This Warm Since the Pliocene 3 Million Years Ago

03/04/2001 —  Disappearing Glaciers – Evidence of A Rapidly Warming Earth

02/18/2001 —  Environmental Updates and Mysterious Deaths of 2000 Atlantic Brant Geese

02/07/2001 —  94% Decline In Aleutian Islands Sea Otter Population

01/28/2001 —  U. N. Global Warming Forecast: Up to 10.5 Degrees F. Hotter At End of 21st Century

09/10/2000 —  Arctic Ice Melt Threatens Polar Bears

09/10/2000 —  Largest-Ever Antarctic Ozone Hole

07/09/2000 —  The "Cell from Hell" Is Back in North Carolina Estuaries

07/02/2000 —  Brown Tide Devastating Long Island's Great South Bay Shellfish

06/17/2000 —  Spring 2000 – Hottest On Record in U. S.

05/07/2000 —  Serious Drought in the Great Lakes

04/20/2000 —  Severe Arctic Ozone Loss and Deep Ocean Warming

01/13/2000 —  Computer Projections About Earth Weather 2000-2100

01/09/2000 —  Global Warming Alert from NOAA and U.K.

12/25/1999 —  Y2K Nuclear Concern and Global Warming Update

07/25/1999 —  Maryland Fish Kills; Global Warming; and Warm Oceans and Disease

06/04/1999 —  Global Warming Linked to Warmer and Wetter Winters in Europe & Western North America

05/05/1999 —  Two Antarctic Ice Shelves Almost Gone

02/28/1999 —  Chickadee Beak Deformities in Alaska

---
Websites:
NOAA National Hurricane Center: http://www.nhc.noaa.gov/
AccuWeather.com: http://home.accuweather.com/index.asp?partner=accuweather

© 1998 - 2023 by Linda Moulton Howe.
All Rights Reserved.