"Why is such a wimpy Solar Minimum cycle, with only a few sunspots, so strong when it comes to making flares?"
– David Hathaway, Ph.D., NASA Solar Physicist
September 23, 2005  Huntsville, Alabama – The sun in our solar system is a big ball of hydrogen and helium gas that's 107 times larger than the Earth. The sun is like a big nuclear fusion reactor that gives light and heat to the planets. Even at 93 million miles from the sun, the temperatures can support life from the icy poles to the hot equator. Scientists who have studied ice cores report that long before the current Industrial Age's emissions of greenhouse gases linked to global warming, there have been many cycles of heating and cooling on the planet. Could it be that the so-called Solar Constant is not so constant? Could cycles in the sun ranging from lots of sunspots and big solar flares to few sunspots and small solar flares have more to do with Earth temperatures than originally thought?
In March 2003, NASA reported that since the late 1970s, the amount of solar radiation the sun emits, during times of quiet sunspot activity, has increased by nearly .05% per decade. The author of the study published in Geophysical Research Letters, Richard Wilson, Ph.D., at NASA's Goddard Institute for Space Studies and Columbia University's Earth Institute said: "This trend is important because, if sustained over many decades, it could cause significant climate change. Historical records of solar activity indicate that solar radiation has been increasing since the late 19th Century. If a trend comparable to the one found in this study persisted throughout the 20th century, it would have provided a significant component of the global warming over the past 100 years."
The solar cycle most of us have heard about is the Solar Maximum and Solar Minimum which averages 11 years. Back in the mid-1990s was the last Solar Minimum where sunspots were low in number. Now in 2005 to 2006, the sun is again supposed to be at Solar Minimum. But in February this year and most recently in September, there have been large X-class solar flares. In fact the fifth most intense solar flare on record occurred on September 7, followed by eight more large X-class flares over the next twelve days. What was astounding to solar physicists is that all of the X-class flares came from the same sunspot! In August it was called 798. As it traveled behind the sun for a couple of weeks, it grew stronger and as it emerged for the first time again on the eastern limb of the sun with the new name "808," it let loose with the huge X-17 Coronal Mass Ejection (CME) that caused problems with GPS systems, caused a complete blackout of HF radio transmissions on the daylight side of Earth, and produced Northern Lights all the way to Arizona. By September 19, sunspot 808 had ejected eight more X-class solar flares for a total of nine in twelve days.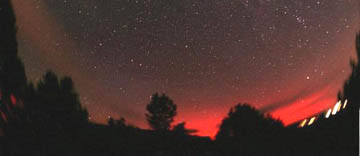 What amazed solar physicists was the amount of solar energy that impacted Earth from the X-17 flare that was on the far eastern limb of the sun, just emerging from the backside. It is assumed that energetic particles from the sun travel along magnetic field lines. The X-17 flare was pointing far away from the Earth. According to NASA solar physicist, David Hathaway, Ph.D., the implication is that the energetic particles from the huge flare had to "cross a lot of magnetic field lines to reach the Earth with so much intensity. These observations of intense solar radiation (on Earth after the September 7, 2005, X-17 flare) are not easily incorporated into standard models of how radiation moves through the solar system."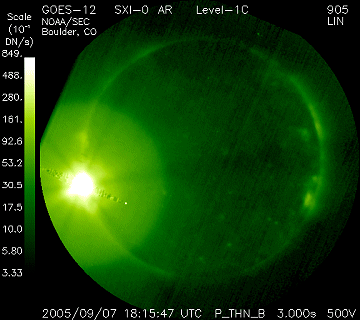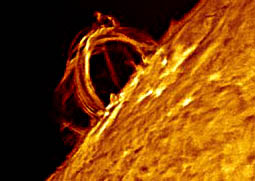 Solar physicists are puzzled about why the sun is generating so many large flares when it is supposed to be quiet. The Solar Physics Group Leader at NASA Marshall Space Flight Center in Huntsville, Alabama, is David Hathaway, Ph.D. He was monitoring sunspot 798 even while it was behind the sun with sound and x-rays.
---
Interview:
David Hathaway, Ph.D., Solar Physics Group Leader, NASA Marshall Space Flight Center, Huntsville, Alabama: "When we first saw it back in August, it had just started growing on the disk of the sun. As the sun rotates in about 27 days, it disappeared off the western edge of the sun as you view the sun in the sky, it rotated to the back side. We knew it was still big on the back side because we could still see effects on the sound waves on the sun. When it came back around even before we could see it on the eastern limb of the sun, it was flaring. You could see x-rays coming from the upper parts of loops even before we could actually see the sunspot itself. As it rotated into view, we could see that it was continuing to grow in size. In fact, it looked like part of the reason it is energetic and producing solar flares is that new magnetic loops had popped up where the old ones were and they were terribly tangled up. It's a complicated situation as far as the magnetic fields and that is always a major ingredient toward producing things like large solar flares and Coronal Mass Ejections (CMEs).
I UNDERSTAND IT IS A LITTLE LIKE WINDING UP RUBBER BANDS AND LETTING THEM SNAP?
A bit. Magnetic fields are very much like rubberbands, except they don't break the same way. A magnetic field never has a loose end, but a magnetic field can be short circuited if you twist them so they cross. Where they cross, they can re-connect there and form two loops instead of one. In the process, they give off a great deal of energy equivalent to millions of megatons of TNT.
An Oddly Active Solar Minimum With Very Few Sunspots
SINCE I TALKED WITH YOU IN FEBRUARY 2005 ABOUT ALL THE SOLAR FLARES THAT WERE COMING THEN FROM WHAT WAS KNOWN AS SUNSPOT 720. AND NOW WE ARE TALKING ABOUT AUGUST TO SEPTEMBER 2005, JUST A FEW MONTHS LATER ABOUT SUNSPOT 798 AND 808 BEING SO ACTIVE AND ENDING UP WITH THE 5TH LARGEST FLARE ON RECORD.
This cycle seems to be a little odd. I say that with reservations because in terms of looking at x-rays, we've only been doing it for about 30 years now. So, we don't have a lot of experience dealing with how many x-ray type flares occur during a cycle. But this one is definitely very different from the last two (Solar Minimum cycles) in having a lot of activity down as it's increasing toward Solar Minimum and still producing a lot of big flares.
Certainly it raises questions about whether this cycle is different from others with regards to these explosive events, to the big flares. But what appears to be the odd thing this cycle is that even though the number of sunspots are small and the total area of the sun covered in spots is small as it is headed toward minimum, the spots are still producing lots of flares and lots of big flares.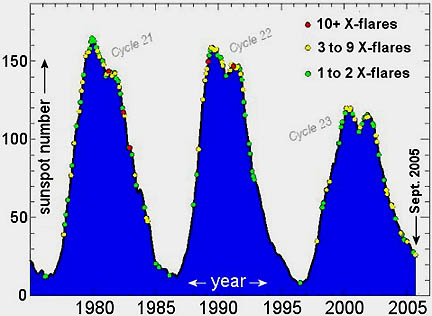 More Tangled Magnetic Fields On Sun?
WHAT'S THE SPECULATION OR HYPOTHESIS ABOUT WHY THIS IS HAPPENING?
My first guess would be that the magnetic fields that we know are the cause of these flares, are just more complicated for some reason in the spots this time around than they were, for example, in the decline of the last solar cycle back in the mid to late 1990s.
WHAT WOULD MAKE THE MAGNETIC FIELDS MORE COMPLICATED?
I don't know! (laughs) That's an excellent question. The way that sunspots are formed is that groups of magnetic fields rise up from deep inside the sun. When they erupt through the surface, they make sunspots and being loops, you'll have one set of spots where you'll have the field coming out of the sun. Then there will be another set of spots where the magnetic fields are going into the sun. It looks like that's what we had for this region when it was 798 when we first saw it on the sun.
It looks like what happened, as I interpret the data, is another loop came up in the same spot and the two of them have been 'fighting' and crossing their magnetic field lines and exploding in the process. So, I think that's what appears to have happened in this particular case.
IS IT STRANGE ENOUGH THAT YOU AND OTHER SOLAR PHYSICISTS ARE TALKING ABOUT THIS AND COMPARING NOTES ABOUT WHAT MIGHT BE HAPPENING AND WHERE ALL OF THIS MIGHT BE HEADED?
Indeed, yes. My own group here, we're having a meeting on Wednesday morning and part of the reason is to talk about this sunspot group, what happened to it and see if we can understand it.
WHERE IS 808 RIGHT NOW?
It's just about off the western edge of the sun again. It's decreased a lot in size the past 4 or 5 days, so it looks like it's on its decline now. But the last time we saw it rotate off the western edge of the sun, it was growing in size. this time, it's getting smaller. There have been flares in the last few days, but they haven't been the big X class flares that we saw earlier. So, it looks like it's going to slowly decay away and we might not see much left of it two weeks from now when it comes back around again.
Rare to Have 9 X-Class Solar Flares from Same Sunspot
HAS THERE EVER BEEN A TIME IN SOLAR RECORDS IN WHICH THERE HAVE BEEN NINE X-CLASS SOLAR FLARES BETWEEN SAY SEPTEMBER 7 AND THE 19TH, THAT'S ONLY TWELVE DAYS?
Since we've only been observing x-rays from the sun like this for the last 30 years and we have only 3 cycles to look at. If we look at those three cycles, this one is different. There is no doubt about it. But that does not say there was not a similar cycle like this in the previous three or ten cycles. That's where having just a small number to look at, it's hard to reach conclusions about how odd this might be.
IF THIS IS DIFFERENT AT THE END OF 2005 AS WE GO INTO 2006, AND 2006 TECHNICALLY IS SUPPOSED TO BE THE BOTTOM OF THE CYCLE, THE MOST MINIMUM. WHAT IS YOUR PROJECTION NOW FOR WHAT THE NEXT SOLAR MAXIMUM MIGHT BE LIKE BY 2010, 2011, and 2012?
That's an excellent question. If you ask me my own opinion, I'll give you one answer. If you ask another solar astronomer, you're apt to get another answer. In fact, my own impression in looking at the solar phenomena that I do look at to try to tell me what is going to happen for the next cycle, I think it's going to be a big cycle.
But some of my colleagues looking at other characteristics of the sun think it's going to be a small Solar Maximum. And this has traditionally been a very difficult thing within solar physics: predicting the size of the next Solar Maximum. Once a cycle has started, we're usually pretty good. But before they start, it's traditionally been very difficult to predict the size of them.
Earth Damage From Large Solar Flares
IF THIS NEXT SOLAR MAXIMUM IS REALLY BIG AND HAS LOTS OF X-CLASS FLARES IN IT, HOW MUCH DAMAGE COULD BE DONE TO OUR ENTIRE GLOBAL POSITIONING SYSTEM AND SATELLITES?
The satellite makers are getting better at designing their instruments to be somewhat safeguarded from the effects of solar flares. But nonetheless, the energetic particles that the sun produces in the process of producing solar flares can take out electronics on satellites. If it's a big cycle, the Earth's atmosphere expands as it heats up and causes satellite drag which can bring down satellites earlier than their prescribed lifetimes. If it's a big cycle, we're apt to see more of that. As far as satellite losing electronics that totally disable them and also satellites that de-orbit, spiral into the Earth's atmosphere earlier than expected.
The danger comes from the radiation itself and what it does to electronic components. It's not so much that it melts things, but you get energetic particles – protons and alpha particles, helium nuclei – that can go crashing through electronic components and knock around atoms within the component and destroy their functionality.
THEN, THE SIGNIFICANCE OF OUR LOOKING AT A SOLAR MAXIMUM IN WHICH THERE MIGHT BE A LOT OF BIG X-FLARES UPCOMING IN THE NEXT 6 TO 8 YEARS, IS THAT IF IT IS REALLY INTENSE, IT'S THE NUMBER OF ENERGETIC PARTICLES THAT WILL BE IMPACTING THE SATELLITES AND THAT IS WHAT COULD DO DAMAGE?
Yes.
WHAT ABOUT MAGNETIC FIELDS THEMSELVES. WE KNOW THAT AURORAS ARE CAUSED BY GEOMAGNETIC STORMS. IS THE CORONAL MASS EJECTION AND ITS INTERACTION WITH THE EARTH'S MAGNETIC FIELD ­ DOES THAT MAGNETIC FIELD DISRUPTION CAUSE PROBLEMS?
Certainly it does. Not only does it cause beautiful things like the auroras, it can cause damaging things such as surge occurrence in power lines that can take out transformers and big circuit breakers in big power distribution systems so you can get black outs due to some of the big flares.
SO, WORST CASE WOULD BE WHAT?
Worst case would be something like we saw back in March of 1989 where there was a $10 million transformer in New Jersey that was literally fried by the surge of current through power lines. And the province of Quebec in Canada lost power. There were some people there who did not have power restored for 6 days in the end of winter there. Worst case are things like that happening. Again, there is the loss of satellites that occurs when big flares go off.
DOES A LOT OF THE DAMAGE FLARES CAN DO USUALLY RELATE TO THE EXACT DIRECTION THAT THE SUNSPOT IS IN RELATIONSHIP TO THE EARTH?
Yes, it does. But the mystery about the big one (September 7, 2005) is that the X-17 flare happened just as the spot was coming into view. You can think of it as aiming away from us, aiming out toward the side. The fact that we saw a big increase in the radiation environment around the Earth from it ­ that was even more of a surprise than seeing the flare itself ­ the fact that it occurred in a position on the sun that does not normally influence us. And yet in this case, it certainly did.
IF THE X-17 FLARE HAD BEEN AIMED DIRECTLY AT THE EARTH, WHAT DO YOU THINK WOULD HAVE HAPPENED?
They would be seeing aurora in Florida! (laughs)
Will Next Solar Maximum Have Lots of Sunspots and Flares? Or Will It Be Exceptionally Mild?
WHEN WILL WE KNOW IF THE SUN IS GOING TO BE A MAXIMUM WITH LOTS OF X SOLAR FLARES,, OR THE OPPOSITE THEORY THAT IT MIGHT BECOME EXCEPTIONALLY QUIET?
We ought to have a better measurement about the next solar cycle within the next couple of years. Even within the next year, if we start to see lots of new spots as in a new cycle coming out as minimum approaches, then that is a good indicator that the next cycle will be a large and active cycle.
On the other hand, there are these strange things that we don't quite understand. In this case, we have a cycle that is not so big when you look at current sunspot numbers or areas of other solar activity. Yet, if you look at flares, it's been quite active.
THAT IS THE PUZZLE TO SOLAR PHYSICISTS RIGHT NOW?
That's the puzzle at the moment: Why is such a wimpy Solar Minimum cycle, with only a few sunspots, so strong when it comes to making flares?"
---
More Information:
In 1645 to 1715, the solar activity reached the so-called "Maunder-minimum." In fact, astronomers reported not seeing any sunspots for some period of time.
[ Editor's Note: The "Maunder Minimum" is the name given to the period roughly from 1645 to 1715 A.D., when sunspots became exceedingly rare, as noted by solar observers of the time. It is named after the later solar astronomer, E.W. Maunder who discovered the lack of sunspots. Records from that time include one 30-year period in which only fifty sunspots were reported in contrast to a more normally expected forty to fifty thousand sunspots. ]
There was also a powerful volcanic eruption which might have contributed to what became the "Little Ice Age" in the early 1700s. Some solar physicists wonder if a low sunspot number and low number of solar flares by themselves could cause temperatures to decrease on the Earth.
The solar physics debate is growing about which way the sun will go in this next Solar Maximum supposed to reach the most number of sunspots between 2010 and 2012. In fact, according to Pravda:
"Russian scientists Vladimir Bashkirtsev and Galina Mashnich, senior researchers at the Institute of Solar-Terrestrial Physics of the RAS laid a $10,000 bet with British government climate expert, James Annan. The Russians claim that in the next ten years the Earth will face global cooling. The Englishman says that the climate will become warmer and warmer.
"Russian scientists think that the present warming on the planet is connected with Earth's reaction to the outbursts and spots that have been lately appearing on the sun more frequently than before. At the moment, the sun is entering a less active phase. That is why there will be a reverse temperature rise: it will become colder.
"It is hard to predict who will win. It would be great if both sides lost. And the Earth stayed the same. However, at the moment, scientists cannot understand what is happening with the sun."
For previous Earthfiles reports about solar flares, see Archives:
03/20/2005 — Astronaut John Young: "The Moon Can Save Earth's Civilization."

02/11/2005 — Sunspot Region 720 Emitted Strongest Solar Radiation Since October 1989.

10/29/2003 — Fifth Intense Solar X-Flare – What's Happening On the Sun?
03/07/2003 — Scientist's Record Sun's Plasma Interaction with Comet NEAT

10/25/1999 — A Blast of Solar Wind Provokes Aurora Over Northern U. S.
---
Websites:
SOHO: http://sohowww.nascom.nasa.gov/
SpaceWeather.com: http://www.spaceweather.com/

© 1998 - 2019 by Linda Moulton Howe.
All Rights Reserved.