November 9, 2005   –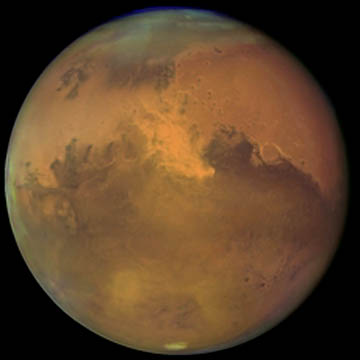 NASA's Hubble Space Telescope snapped this picture of Mars on October 28, 2005, within a day of its closest approach to Earth on the night of October 29, 2005. Hubble astronomers were also excited to have captured a regional dust storm on Mars that has been growing and evolving over the past few weeks. The dust storm, which is the bright "feathery" feature in the middle of the planet in this picture, is about 930 miles (1500 km) long measured diagonally. That's about the size of Texas, Oklahoma and New Mexico combined.
Dust Storm Impact On Opportunity Rover October 29-31, 2005
NASA reported that a dust storm in the Meridiani region reduced sunshine enough the weekend of October 29-31, 2005, that Opportunity "did not wake from deep sleep early enough for the first scheduled activities of that sol. The rover's onboard software properly put Opportunity into self-protective automode for the day, so the rover did not take the post-drive images. Dustiness of the atmosphere above Opportunity diminished a little on sol 630, as indicated by increased output from the solar panels." Now Opportunity is back to work.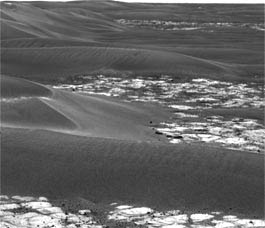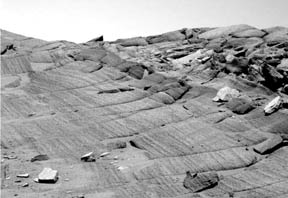 Cosmic First Light – 13.9 Billion Years Ago?
"We think we are seeing the collective light from millions of the first objects to form in the universe. The objects disappeared eons ago, yet their light is still traveling across the universe."
– Alexander Kashlinsky, Ph.D., Science Systems and Applications, NASA Goddard Space Flight Center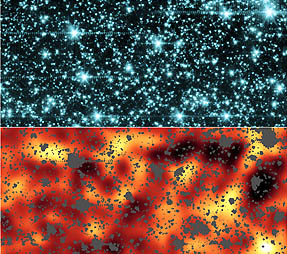 The November 3, 2005 issue of Nature featured a report by NASA scientists about a recent breakthrough with the Spitzer Space Telescope infrared study of the Draco Constellation. NASA: "The low noise and high resolution of Spitzer's infrared array camera enabled the team to remove the fog of foreground galaxies made of later stellar populations of stars, until the cumulative light from the first light dominated the signal on large angular scales.
"We removed everything we knew – all the stars and galaxies both near and far. We were left with a picture of part of the sky with no stars or galaxies, but it still had this infrared glow with giant blobs that we think could be the glow from the very first stars," explained John Mather, Ph.D., Senior Project Scientist.
If the red and yellow glow shown above is light from the earliest stars, the date is 13.9 billion years ago. The next step in the research will be to "find the first individual clumps of these stars or the individual exploding stars that might have made the first black holes."
Black Hole At Our Galaxy's Center – "Nurturing" Ring of Young Suns?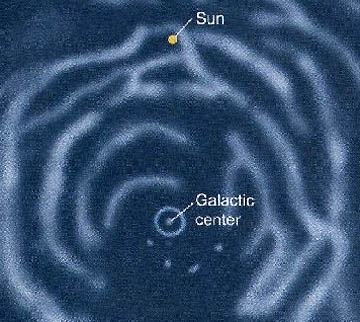 Twenty-six thousand light-years from Earth is the center of our Milky Way galaxy. Astrophysicists have tried radio and infrared to look beyond the visible light spectrum which glows with a lot of dust and gas. With advances in technology, it's now becoming more clear that at our galaxy's center there are three objects: a young supernova remnant on the east side, an unusual ionized hydrogen region on the west side, and a very compact source called Sagittarius A* at the very center. Sagittarius A*, or Sgr A*, is a suspected black hole that is 93 million miles in diameter with the mass of 4 million suns like the one at the center of our solar system. Most surprising of all, there are young stars that encircle the black hole at a distance of one light-year. How could that be? Black holes are considered destroyers of all matter and light around them.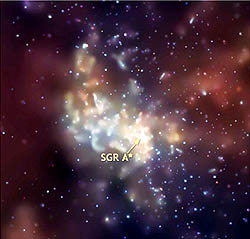 In the November 3, 2005 issue of Nature, Chandra X-Ray Observatory scientists Rashid Sunyaev and Sergei Nayakshin counted the ring of stars around the Sgr A* black hole. There calculation was about 10,000 low-mass stars. This supported their hypothesis that the "gravity of the dense disk of gas that swirls around Sagittarius A* is strong enough to offset the black hole's distorting tidal forces. With the two forces in balance, gas clouds can naturally settle in and form stars." Thus, the ring of stars were born there and not collected from passing free-floating stars. Further, the scientists have discovered that the stars born around the black hole are larger than more normal free-floating stars.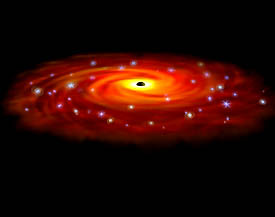 Until this Chandra discovery, it was thought that all suns emerged first in a free-floating environment as cold gas in space without light. As gas becomes more dense, it collapses under its own gravity pull. Then as gas clouds shrink, atoms are crunched together and grow hot enough to fuse together. That fusion releases light and heat and the explosive pressure halts gas collapse and a sun is born.
---
More information:
Also, see other Earthfiles astronomy reports:
· 09/16/2005 —  "Planet X" and the Kuiper Belt's Oddballs, "Santa" and "Easterbunny"
· 08/12/2005 —  Deep Impact Spectra: Carbonate, PAHs and Some Amino Precursors in Comet Tempel I
· 07/30/2005 —  Astronomers Report 10th Planet Far Beyond Pluto
· 07/10/2005 —  First Data from Deep Impact Crash Into Comet Tempel I
· 06/29/2005 —  July 3-4, 2005: NASA "Deep Impact" Spacecraft to Blast Hole in Comet Temple I
· 05/07/2005 —  Did Milky Way Gas and Dust Turn Earth Into Icy Snowball Four Times?
· 05/06/2005 —  What Are The Straight Lines on Saturn's Titan Moon?
· 04/20/2005 —  Outer Space Impact At Serpent Mound, Ohio, 256 Million Years Ago
· 04/01/2005 —  What's Killing Off Marine Life Every 62 Million Years?
· 03/03/2005 —  What Made Five Strong Radio Bursts At the Center of Our Galaxy?
· 02/17/2005 —  Iapetus and Enceladus: Baffling Moons of Saturn
· 01/13/2005 —  NASA "Deep Space" Craft Will Hit Comet On July 4, 2005
· 11/17/2004 —  European Space Agency's SMART-1 Satellite Begins Moon Orbit
· 10/07/2004 —  Exploding Stars: Investigating the 1604 and 1987 Supernovas
· 08/28/2004 —  Near-Earth Asteroid 4179 Toutatis Comes By Again On September 29, 2004
· 06/25/2004 —  Wild 2, An Amazing Comet
· 03/15/2004 —  Most Distant "Icy Planetoid" in Our Solar System Has A Most Baffling Orbit
· 03/03/2004 —  Part 1 – Mars: Meridiani Planum Was Once "Drenched With Water and Habitable"
· 02/21/2004 —  Update On Mars with Cornell Astronomer Steve Squyers
· 02/11/2004 —  Part 2: Opportunity Finds Martian Bedrock Has Lots of Sulfur and Small Spherical Rocks
· 10/25/2003 —  Science Data Reinforces Invisible "Dark" Matter and Energy Make Up 96% of Our Universe
· 09/02/2003 —  Astronomers Don't Think Asteroid Will Hit Earth in 2014
· 08/26/2003 —  Mars At Its Closest August 27, 2003, At 2:51 a.m. PDT / 5:51 a.m. EDT
· 11/02/2002 —  Update on 6,500-Year-Old Astronomical Stone Circle and Megaliths in Nabta, Egypt
· 10/22/2002 —  U. S. DOD Satellites Detected Explosion of Siberian Bolide
· 10/07/2002 —  Large Kuiper Belt Planetoid Found Beyond Pluto
· 09/07/2002 —  Does Gravity Travel the Same Speed as Light?
· 07/11/2002 —  Hubble Telescope Photographs Seven Objects Traveling In Pairs Beyond Pluto
· 06/01/2002 —  Scientists Surprised by Abundance of Water On Mars
· 03/07/2003 —  Scientist's Record Sun's Plasma Interaction with Comet NEAT
· 02/24/2002 —  Mysterious Slowing of Pioneer Spacecraft 7 Billion Miles from Earth
· 01/26/2002 —  Something Is Perturbing Comet Orbits in the Oort Cloud Surrounding Our Solar System
· 11/10/2001 —  The Orion Constellation and the Pyramids of Giza
· 11/01/2001 —  Astronomy News
· 06/16/2001 —  Beyond Stonehenge with Astronomer Gerald Hawkins
· 02/12/2001 —  NEAR Shoemaker Spacecraft's Historic First Landing On Eros Asteroid
· 12/14/2000 —  A Pleiadian Star Tears Apart Black Interstellar Cloud
· 12/03/2000 —  Bacteria from Outer Space?
· 10/09/2000 —  Astronomy Updates
· 03/11/2000 —  Is 433 Eros Asteroid Younger Than Expected?
· 01/17/2000 —  Chandra Telescope Helps Solve X-Ray Mystery
· 08/28/1999 —  Oddball Quasar and Salt Water Inside Meteorite
· 06/15/1999 —  Current Brightest Binocular Comet and Upcoming Solar Eclipse
· 06/11/1999 —  Eta Carainae – A Puzzling Star On Its Way To Hypernova
· 02/01/1999 —  Astronomy Updates with Brian Marsden and John Huchra, Harvard
· 01/10/1999 —  Updates: Astronomy and Rufus Baughn, Nevada Test Site
---
Websites:
Mars Rovers: http://marsrovers.jpl.nasa.gov/home/index.html Spitzer Space Telescope: http://www.spitzer.caltech.edu/ Chandra X-Ray Observatory: http://chandra.harvard.edu/

© 1998 - 2019 by Linda Moulton Howe.
All Rights Reserved.