November 12, 2005  Washington, D. C. – National Geographic announced this week that a large fossil sea monster about 135 million years old with a head like a carnivorous dinosaur and a tail like a fish's has been discovered in Argentina's Neuquen Basin at the foot of the Andes. The scientist who found the specimen is calling the fierce-looking animal "Godzilla," or "chico malo," which means the "bad boy" of the ocean.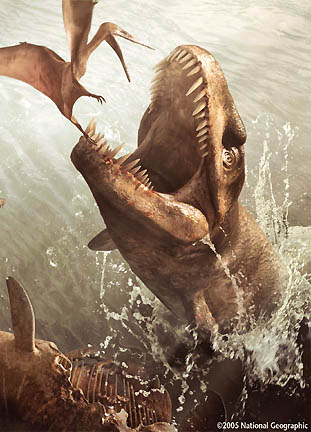 The sea creature, or "crocodyliform," was a predator in the Pacific Ocean 135 million years ago when dinosaurs dominated the world. This "Godzilla" of the ancient seas must have dominated its water territory where it ate reptiles, large sea life and sea birds. Crocodyliforms are a group that today includes crocodiles and their extinct relatives. "This animal was one of the latest members of its family (Metriorhynchidae) and certainly the most bizarre of all marine crocs," said Diego Pol of the Ohio State University, a coauthor on a November 10, 2005, paper in the journal, Science. "Nobody really had expected to find these (physical) features in a marine croc."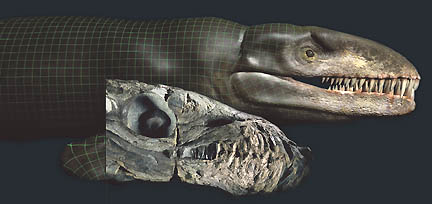 The Godzilla fossil, whose scientific name is Dakosaurus andiniensis, was discovered in an intact skull and some vertebrae in the desert region of Neuquen, Argentina, which is full of fossils. "This animals anatomy is really a contrast with that of the other sea crocs that developed during the Jurassic," said Zulma Gasparini, Professor of Paleozoology at Argentina's Universidad Nacional de La Plata, who led the 1996 expedition which found the skull.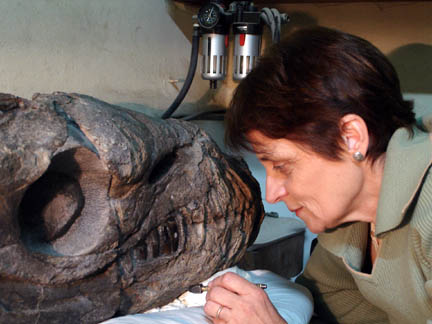 Instead of a long, thin snout typical of most marine crocs, the fossil's snout is very short and high. Instead of numerous, thin teeth, the sea creature's teeth were large, curved and serrated, reminiscent of dinosaur teeth. The differences between the ancient crocodile-like sea monster and todays crocodiles are:
– in place of legs, the Dakosaurus had four paddle-like legs used for stability in the water and not walking around on land.
– the Dakosaurus propelled itself through water by a vertically oriented, fish-like tail.
– Air breathing, the Dakosaurus would need to swim to the sea surface to gasp oxygen and then dive down 600 to 750 feet deep near the bottom to look for food.
Beginning in mid-November 2005, National Geographic's website will feature 3-D models of ancient sea monsters at: http://www.ngm.com.
---
Websites:
http://www.nationalgeographic.com/ http://www.ngm.com

© 1998 - 2019 by Linda Moulton Howe.
All Rights Reserved.