"The Perseus Galaxy cluster is a dramatic example of how a relatively tiny, but massive, black hole at the center of a galaxy can control the heating and cooling behavior of gas far beyond the confines of the galaxy."
– CXC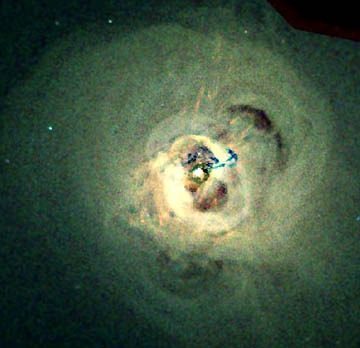 December 4, 2005  Cambridge, Massachusetts – Chandra X-Ray Observatory in Cambridge, Massachusetts reports: "An accumulation of 270 hours of Chandra observations of the central regions of the Perseus galaxy cluster reveals evidence of the turmoil that has wracked the cluster for hundreds of millions of years. One of the most massive objects in the universe, the cluster contains thousands of galaxies immersed in a vast cloud of multimillion degree gas with the mass equivalent of trillions of suns.
"Enormous bright loops, ripples, and jet-like streaks are apparent in the image. The dark blue filaments in the center are likely due to a galaxy that has been torn apart and is falling into NGC 1275, a.k.a. Perseus A, the giant galaxy that lies at the center of the cluster.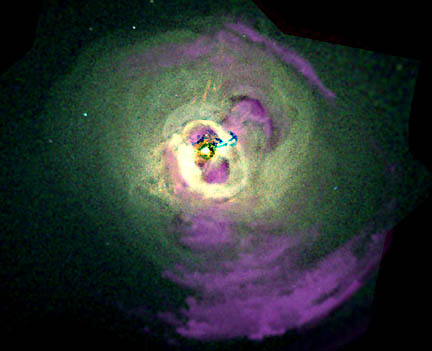 "The hot gas pressure is assumed to be low in the plumes because unseen bubbles of high-energy particles have displaced the gas. The plumes are due to explosive venting from the vicinity of the supermassive black hole.
The venting produces sound waves which heat the gas throughout the inner regions of the cluster and prevent the gas from cooling and making stars at a high rate. This process has slowed the growth of one of the largest galaxies in the Universe. The Perseus galaxy cluster is a dramatic example of how a relatively tiny, but massive, black hole at the center of a galaxy can control the heating and cooling behavior of gas far beyond the confines of the galaxy. "
---
More Information:
For more about black holes, please see reports below in Earthfiles Archives :
11/09/2005 —  Dust Storm On Mars, Cosmic First Light and Black Hole At Our Galaxy's Center

03/03/2005 —  What Made Five Strong Radio Bursts At the Center of Our Galaxy?

05/14/2003 —  Hubble Telescope Finds "Ashes" of First Stars in This Universe

09/12/2000 —  Black Holes – A Surprising Mass in the M82 Galaxy

09/06/2000 —  Hubble Photographs Mystery Object in Centaurus Constellation

04/24/2000 —  A Black Hole in the Big Dipper?

01/28/2000 —  Black Hole Mystery at the Center of the Andromeda Galaxy

01/17/2000 —  Chandra Telescope Helps Solve X-Ray Mystery

08/28/1999 —  Oddball Quasar and Salt Water Inside Meteorite

02/01/1999 —  Astronomy Updates with Brian Marsden and John Huchra, Harvard
---
Website:

© 1998 - 2019 by Linda Moulton Howe.
All Rights Reserved.