"You're really left with two possibilities. One is that they are really old hominids – shockingly old – or they're not footprints."
– Paul Renne, Ph.D., UC-Berkeley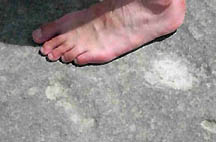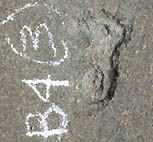 December 8, 2005  Berkeley, California – This past summer on the 4th of July at the British Royal Society Summer Exhibition Program, geologist Silvia Gonzalez, Ph.D., from Liverpool's John Moores University, announced that what appear to be human footprints in volcanic rock near Puebla, Mexico, were 40,000 years old. Puebla is about 1.5 hours by car southeast of Mexico City. The date was determined from Optically Stimulated Luminescence (OSL) of "some baked particles incorporated into the ash." Dr. Gonzales and her colleagues had first discovered the prints in 2003 and hypothesized that early hunters walked near a lake there across freshly deposited ash from volcanoes that are still active in the region. The ash mixed with rain and water which over time turned to rock. 
Who those early humans would have been is also hypothesized by Dr. Gonzalez to be related to the Pe on Woman III, aged around 13,000-years-old, and the Pericues who became extinct at the end of the 18th Century. The Pericues, according to Dr. Gonzalez, have been associated with the first native Americans due to their skull characteristics.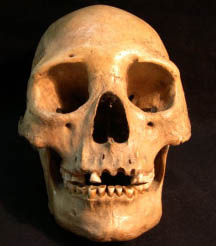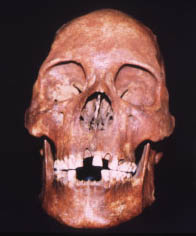 Possible Pacific Coastal Migration Routes
Until recently, archaeologists thought that early inhabitants of North, Central and South America arrived the end of the Pleistocene period ( 1.65 million until 10,000 years ago) by hunter-gatherers who migrated from Siberia into Alaska across the Bering Land Bridge which was exposed land when sea levels were lower during ice ages. This hypothesis is known as the "Clovis-First Model" which dates back 11,500 years ago.
But the July 2005 announcement by Dr. Gonzalez that fossilized human footprints have been discovered in 40,000-year-old volcanic rock of the Valsequillo Basin of Central Mexico near Puebla, challenged the Clovis model.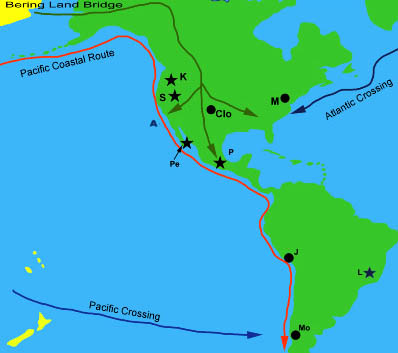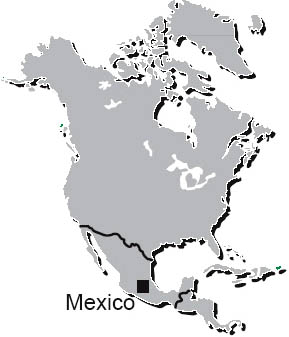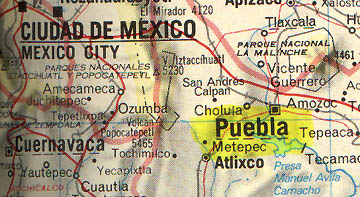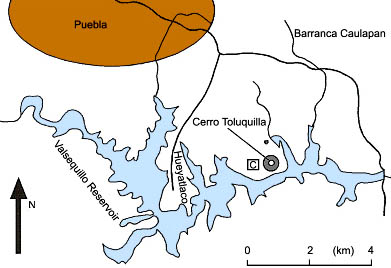 Unfortunately, Dr. Gonzalez has not yet published her research in a peer-reviewed journal, such as Nature (her submissions to Nature were twice rejected) or Science, and several American archaeologists have expressed doubt about her alleged footprint discovery. One of those doubters is Prof. Paul Renne, Ph.D., Director of the Berkeley Geochronology Center and Adjunct Professor of Geology in the Department of Earth and Planetary Sciences at the University of California-Berkeley. When he heard first in 2004 about the alleged 40,000-year-old human footprints, he wanted to see for himself. He was already working on a Mexico site and asked a colleague to take him to the Cerro Toluquilla volcanic rock prints southeast of Puebla to collect rock samples. Dr. Renne did not do work on them until provoked by the July 4, 2005, press release from the British Royal Society Summer Exhibition Program and subsequent media sensation.
---
Interview:
Paul Renne, Ph.D., Director of the Berkeley Geochronology Center and Adjunct Professor of Geology, Department of Earth and Planetary Sciences, University of California-Berkeley: "Then I realized: 'OK, this has become an issue and I'm going to try to resolve it.' It was only after the (July 2005) press release that I decided I would go ahead and do the work. So our results are really fresh off the press, literally, to have done the analyses, written it up and published within a period of about four months. That's pretty quick.
When this group (in Great Britain) reported evidence of human presence 40,000 years ago, that was quite a revolutionary thing ­ if it's valid.
THE FOOTPRINTS IN THE VOLCANIC ROCK ARE UNIQUE IN SOUTH AMERICA, CENTRAL AMERICA, MEXICO AS LEAST AS FAR AS SCIENTISTS KNOW TO DATE?
No. If they were truly footprints, then they would be unique. The question is whether they are truly footprints?
YOUR WORK THAT HAS BEEN REPORTED IN NATURE CONTRIBUTES WHAT TO THIS QUESTION?
I heard rumors about these footprints and I wanted to see them, so one of my colleagues, Mike Waters at Texas A & M University – who had been there before ­ took me to see the site and I had one of my grad students with me. We looked at the surface and after a half hour or so, we concluded, 'No, these are not footprints.' They didn't look like footprints. We knew we were in exactly the same place that this other group had been because we have photographs showing various bushes, rocks and you can see it's where this other group has reported on its website.
So, we knew we were looking at the same features they had seen. What we saw was a huge variety of shapes of markings on a surface of a volcanic ash, which is pretty hard. It's well cemented. You can make dents in it or chisel it out, but it's sort of like a crumbly asphalt, let's say.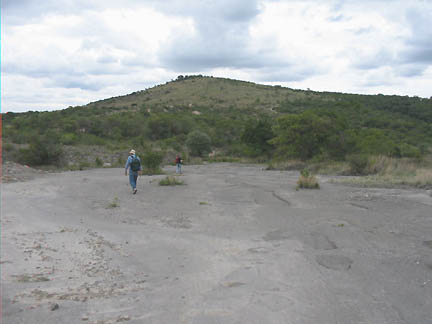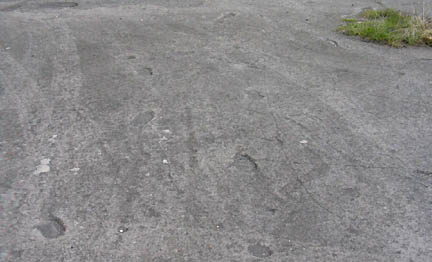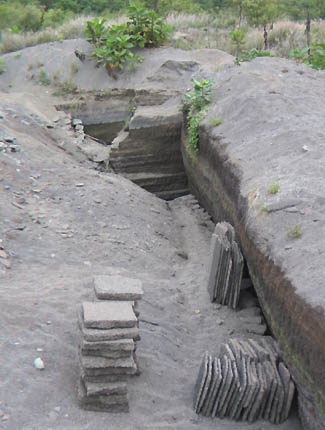 THE VOLCANIC ROCK IS 1.3 MILLION YEARS OLD?
Yes, it is a volcanic ash and what we've done is to date the pieces of rock that constitute the ash. We've done a number of these in 9 different pieces of it. We get the same answer: 1.3 million years. Furthermore, we also analyzed the magnetic field that is trapped in these rocks, which is a reflection of the magnetic field that the Earth had when they were erupted. We find that the polarity is reversed when compared to today's magnetic field. There are a couple of important things that follow from that:
1) One is that the last time the Earth's magnetic field was reversed, it was 790,000 years ago. This tells us that the lava had to have erupted longer ago than about 800,000 years, which is consistent with the argon/argon dating that we've done.
WHICH IS THE 1.3 MILLION YEARS.
The 1.3 million, right.
2) But the other important thing that the paleomagnetic data tells us is that the ash was erupted and deposited while it was still very hot because it had to cool through its magnetic curie temperature after it had stopped moving in order to explain the consistency of our results. This tells us that the ash wasn't erupted and deposited somewhere 1.3 million years ago and then perhaps eroded and deposited somewhere else 40,000 years ago. We can rule that out.
The upshot of all this is that it's very clear that the ash is much older than anybody would think possible for humans to have made them (prints). In fact, humans – if you define them as being Homo sapiens ­ weren't even around yet. They didn't appear in Africa until the last 200,000 years. So, IF ­ and it's a very remote possibility, in my view ­ IF the tracks were made by hominids, they would be something like Homo erectus. And while this would be a very exciting possibility, it's extremely improbable.
IS IT IMPROBABLE BECAUSE YOU CAN'T COME UP WITH A MECHANISM OF HOW THE HOMO ERECTUS WOULD HAVE GOTTEN FROM AFRICA TO MEXICO?
No, I don't think that's a really insurmountable problem. We know that Homo erectus got presumably from Africa to Indonesia, to Java specifically, as long ago as 2 million years ago. So, Homo sapiens' ancestor was capable of extreme migration. So, I don't think it would be at all impossible for Homo sapiens to have migrated. The problem is why don't we see any other evidence?
Why haven't we seen any other evidence? Homo sapiens and Homo erectus are ­ they leave footprints, so to speak. They leave evidence. They were making stone tools. They were doing all kinds of things. There has been a huge amount of archaeological research in the U. S. and Central and South America. It's inconceivable to me that we would not have found some other type of evidence by now. But let's just say in the extreme case that no one has found it. Maybe people have found things and they said, 'No, this is impossible. It can't be that old, so I'm just going to dismiss it.' That is kind of the conspiracy theory mentality. So, let's say it's theoretically possible. We should not close our minds off to this option, and I agree with that to some extent.
So we have to go back and look at the purported footprints ourselves and ask ourselves: Are these really footprints? And I started out describing this story to you that I'm completely unconvinced. Most people who have seen the marks are completely unconvinced. But if the group that is making this claim really believes that they are footprints and won't be swayed by the evidence that's starting to mount against it, then there is a very simple thing they have to do. That is to excavate the layers in which the markings appear and find the same layer in a place where it's still buried by overlying sediments so it's been protected from any sort of human commerce. That's a real problem with the surface because there are tire tracks. Cars and trucks drive over it. People are quarrying building stone from this area. They use the volcanic rock as a building stone. And so what they need to do is dig and excavate the same layer from a place where it's completely undisturbed and find real convincing footprints. Then they will be taken seriously. So, if they really believe this, it's a fairly simple task to prove it.
Human, or Hominid, Footprints? Or something else?
IF THEY AREN'T FOOTPRINTS, WHAT DO YOU HYPOTHESIZE THEY MIGHT BE?
Because there are vehicles driving across the surface, you get a rock that just rolls off on the surface. There are lots of rocks scattered around on it today. A truck comes along, hits the rock. What happens ­ the mechanics are pretty easy to prove by experiment ­ the rock gets forced down very quickly and makes a little divot in the surface. Then it gets bounced out. Then you have a divot in the surface. It might be a few millimeters or half an inch or something. Now, you've got a low point. So other rocks rolling on the surface when it rains and then another truck comes along and boom! the divot gets enlarged. Because the trucks are coming and going in the same direction, or to and from the same place, what's going to happen is the divots get worn in an elongated way. So, they look sort of like footprints in some cases. That's my theory, frankly.
WHAT ABOUT YOU AND YOUR COLLEAGUES DOING MORE RESEARCH TO SEE IF IN THE LAYERS THERE MIGHT BE MORE TRACK?
Ethically those people were working first and are entitled to make their case and it's a free country and we're entitled to tell them how they should do it! (laughs) But they should have the right to either prove themselves right or wrong. In science, it's self-correcting. That's something people don't always appreciate. But there are always people looking over your shoulder and if you make a mistake, it's going to come to light sooner or later. There is no vast conspiracy of scientists to prove each other right all the time. Scientists are actually vicious competitors and they will prove you wrong if you are wrong!
So, there is that kind of tendency, but at the same time, I think we would like to see our colleagues, if they are wrong, arrive at that themselves and admit it gracefully and really preserve some dignity. There are many cases of people who have been proven wrong and they just refuse to accept it for the rest of their lives. It ruins their careers. They become bitter and people begin viewing them with a lot of skepticism and it's just very bad. It's better just like when your mom told you when you took cookies out of the cookie jar and you weren't supposed to: you should admit it and move on and everybody will forgive you basically. We want to give them that opportunity. And if they are right in the most improbable, impossible way, then I'll be the first to say, 'Wow, congratulations. You've made the discovery of the century.' I just don't think that's going to happen."
---
More Information:
For more about ancient archaeology, please see reports below in Earthfiles Archives :
10/05/2003 —  Part 2 – Cuban Megaliths and the Atlantis Question
09/25/2002 —  Harvard Egyptologist Discusses Purpose of Shafts and Small "Doors" in Cheops Pyramid

09/24/2003 —  Part 1 – Update On Deep Water Megalithic Stones and Structures Near Western Cuba

07/10/2002 —  Update About Cuba Underwater Megalithic Research
04/23/2002 —  John Anthony West to Date Weathering of Sphinx and Red Pyramid Chamber

02/16/2002 —  Sunken City Off India Coast – 7500 B. C.?

12/28/2001 —  Images from Cuban Deep Water Megalithic Site

12/15/2001 —  Are Carolina Bay Craters Linked to Atlantic Ocean Impact and Sinking of Atlantis?

12/01/2001 —  1200 B. C. – What Caused Earthquake Storms, Global Drought and End of Bronze Age?

11/19/2001 —  Update on Underwater Megalithic Structures near Western Cuba

06/13/2001 —  Update on Mysterious Deep Water Sonar Images Off Western Cuba

05/18/2001 —  Underwater City Reported Off Western Cuba

05/05/2001 —  Archaeologists Find Central Asia Civilization As Old As Sumeria

11/19/2000 —  Great Pyramid At Giza – Star Alignment Might Determine Age
09/17/2000 —  Evidence of 7000 Year Old Flood and Human Habitation Discovered Beneath Black Sea

05/28/2000 —  Hamoukar, Syria – A City Older Than 6000 Years?
---
Website:
Bournemouth University, Liverpool, U.K.: http://www.mexicanfootprints.co.uk/


© 1998 - 2019 by Linda Moulton Howe.
All Rights Reserved.