"We've got one spot out in the middle of a wheat field – it kind of looks like a geyser. It's shooting anywhere from 7 to 10 feet in the air – water, mud and gas fumes. I've never seen anything like it. The Corporation Commission of Oklahoma has never seen anything like it."
– John Crawford, Kingfisher, Oklahoma Fire Chief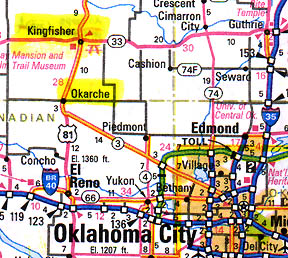 December 15, 2005 Update – Today, more methane gas bubbling has spread south toward Okarche. Yesterday, four more gas eruptions in a wheat field were discovered about two miles from the city limits of Kingfisher, Oklahoma. The unprecedented – and so far, uncontrolled – eruptions of methane, water and mud on a 12-mile-long stretch of Winter Camp Creek and surrounding fields continues to frustrate authorities. Chesapeake Energy Corp., an independent oil and gas exploration company, was drilling on December 9, about eight miles from where the first gas and mud eruptions were reported in Section 2 of Kingfisher County. Today, Chesapeake said it would start flaring off some of the escaping gas and try to capture and sell more of it. What no one knows is whether this will reduce the underground pressure of the gas enough to slow down, or stop, the continuing gas eruptions that have occurred since the morning of December 9. Geologists are trying to figure out what has happened and what can be done to control the potentially explosive situation.
December 13, 2005  Kingfisher, Oklahoma – The first to report the eruptions were a couple of hunters who noticed the gas, water and mud coming out of the ground in the Section 2 region of Kingfisher County early Friday morning, December 9. Each section is about a square mile. The hunters called the game warden, who called the Kingfisher County Sheriff's Department, who called the Kingfisher Fire Department. Fire chief, John Crawford, and his crew arrived at the scene of the first eruptions at 9 a.m. on Friday, December 9.
---
Interview:
John Crawford, Fire Chief, Kingfisher Fire Department, Kingfisher, Oklahoma: "It basically looked like a big mud hole with water and mud and gas coming out of the ground.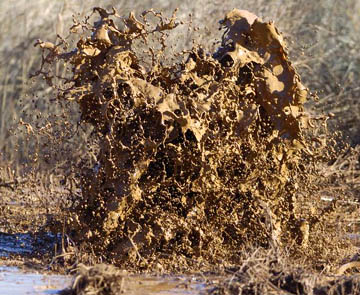 ALL ONE CONCENTRATED IN ONE AREA?
No, it's not. It's over approximately a 12 mile stretch throughout Kingfisher County. We've got one point out southwest in the county ­ there's an area there. And then there is nothing for about 7 miles to the northwest. And then it starts showing up again in a creek bed we have and continued down along the creek bed and along the sides of the banks. We've got one spot out in the middle of a wheat field – it kind of looks like a geyser. It's shooting anywhere from 7 to 10 feet in the air – water, mud and gas fumes. I've never seen anything like it. The Corporation Commission of Oklahoma has never seen anything like it.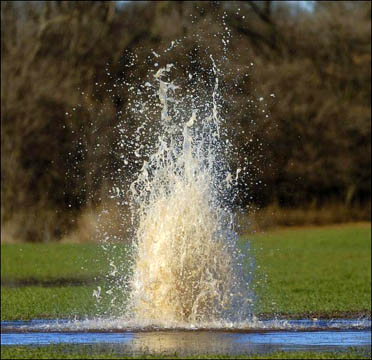 RIGHT NOW, WHAT ARE THE THEORIES ABOUT WHAT COULD BE RESPONSIBLE BESIDES CHESAPEAKE'S OIL DRILLING?
They've seem to have ruled out pipelines breaking. That was our first thought ­ either pipelines or oil wells that were either capped or alive, creating this problem. Or even the possibility of a small earthquake tremor where the plates shifted enough for the gas to escape and find its weakest routes to the surface.
HAVE YOU TALKED WITH USGS ABOUT THE POTENTIAL OF AN EARTHQUAKE?
Yes, I think, I believe the Corporation Commission has dug into that information and from my understanding, there hasn't been any sign of a tremor.
FROM YOUR EXPERIENCE AS A FIRE CHIEF, DO YOU HAVE ANY PERSONAL THOUGHTS ABOUT WHAT COULD BE HAPPENING?
The only thing I can think of is that something has caused pressure underneath the earth's surface that has created some kind of a fracture, like in a shell bed underneath the earth that caused some cracks or something and let the gas escape through it and find the weakest spots.
I've never seen anything like it. The Corporation Commission of Oklahoma has never seen anything like it. All the experts, engineers, in the field have never seen anything like it. Geologists are digging and trying to find maps for the information under the earth crust to see if they can pinpoint what the situation is.
HOW MUCH NATURAL GAS IS COMING UP IN THE AREA?
There's no way of measuring it. I would have to say that the best description is huge amounts of gas. I mean, we've got gas pockets coming up out of the middle of a creek. The creek looks kind of like a Jacuzzi. Just big boils all up and down the creek and on the sides of the banks, in the middle of the wheat field. There is no way of measuring it, but I would have to say that a tremendous amount of gas is expelling from the earth right now.
Gas Concentrations in "Explosive Range"
We've had to shut our cell phones and pagers off because of the explosive limits of the methane and gas coming up out of the ground.
SO IT'S REALLY DANGEROUS FOR ALL OF YOU TO BE OUT THERE WHEN THERE'S THIS MUCH METHANE COMING FROM THE GROUND?
They are at explosive limits. The explosive limit is level 10 and sometimes you might read the level at 2 or 3; it could be 12 or 14. We've had it as high as 37.
WHERE WAS THAT LEVEL 37?
Section 2.
THAT WAS ON FRIDAY?
No, that reading was yesterday. Section 2's scene has been going on ever since Friday morning.
IF IT WENT UP TO 37, DOESN'T THAT MEAN THAT MORE GAS IS COMING OUT OF SECTION 2 THAN IT WAS ON FRIDAY?
Yes, but you have to think of moisture content, you have to think of humidity. Like last night when it was tested, it was very calm weather, no wind. Today, we've got probably 30 mph winds out of the south, so you're not going to get those kind of readings. It kind of depends on the weather and situation. Down along the creek bottom, I would expect to get around 12 to 14, but you move up off the bank twelve to fifteen foot, it might go down to 2 or 3, or sometimes even zero.
WHAT IS THE RANGE ON THE EXPLOSIVE GAS RANGE?
From what I understand, 0 to 10 is flammable and anything above 10 is explosive.
SO THIS SECTION 2 HAS BEEN SO EXPLOSIVE THAT IT'S BEEN MEASURED AT 37 ON THE EXPLOSIVE RANGE?
I believe it was 37. Our Kingfisher Emergency Management Director, Steve Loftis, he was out there with people that were reading it, and I think he told me 37 last night (Monday, December 12).
Gas Geysers Opened Up A Mile From Kingfisher and Toward Okarche
IS THAT PRESENTING ANY DANGER TO THE PUBLIC?
Yes, it can. I'm more concerned about the populated area. There are a lot more ignition sources in the populated area. I think it spread about 3 miles from the first place in Section 2 toward Kingfisher within a 20 to 24 hour time frame. It has progressed to about a 1.5 miles west and south of Kingfisher. But probably for the last 36 to 48 hours, that has stopped. We're thinking it might have found a heavy shale bed and the gas can't escape it, because it was headed right toward Kingfisher.
So we called in the 63rd Civil Support Team to help assist us in monitoring the lower and higher explosive limits to find out what kind of danger we were in. There are explosive limits along the creek. There is no doubt about it. It also dissipates in the air, so for it to explode, everything ­ you've got moisture content in gas coming up out of the ground, you've got humidity to deal with and wind to deal with. It's unlikely it would burn, but when you get into the city limits of Kingfisher, you find all kinds of ignition sources and so I've had some real serious concerns.
Yesterday afternoon (Monday, Dec. 12) at about 4 p.m., we noticed another little feeder creek bubbling that was not bubbling the previous days. But now, it's another weak spot and it's going back south toward the town of Okarche. Now, it's got about 7 or 8 miles of travel to reach the town of Okarche. After it went south, it's been stable for about 12 to 14 hours, since Monday night.
IF THIS GAS BUBBLING BROKE OUT AGAIN AND STARTS SPREADING, IT HAS ABOUT A MILE LEFT TO GO TO GET TO THE KINGFISHER CITY LIMITS?
Yes, probably 2 miles the way the creek flows.
RIGHT NOW, WHAT DO YOU AND AUTHORITIES THINK IS THE PROBABILITY THAT MIGHT HAPPEN?
This situation has really been unpredictable. I feel very comfortable right now that it has stabilized and is not going toward the Kingfisher area. But you know, the thing is this gas, if it's moving along and can't find its way through the shelf of the shale but it does a mile or two down the road, which could be closer to Kingfisher, it could start bubbling up, depending on how long that shale bed is. Does it run all the way through Kingfisher? Does it quit right there at the edge of Kingfisher? We don't know.
Unpredictable Spread of Gas Bubbling
Along Winter Camp Creek
It follows Winter Camp Creek, where it starts at, we've got a gas problem there also. Then it's in an area of 15 to 20 acres. Then we don't have anything along the creek bed until it reaches 5 miles west and 3 miles south of Kingfisher. And then it's just following the creek bed for 3 miles off and on. It's not solid all the way through the creek. In some places, it's not bubbling at all. Then maybe you'll have a place that's bubbling for a quarter of a mile.
BUT OVERALL, FROM INDIAN HEAD CREEK TO KINGFISHER AND OKARCHE. WOULD THAT LENGTH BE ABOUT 12 MILES?
Yes, 11.71 miles.
TWELVE MILES AND YOU'RE STILL IN A DYNAMIC SITUATION ON DECEMBER 13 THAT YOU DON'T KNOW WHETHER IT'S GOING TO CONTINUE TO BREAK SOUTH OR WHAT?
That's correct. In the last 12 to 14 hours, it has not gone south or toward Kingfisher, either one. But it's so unpredictable, you don't know when it's going to happen ­ or IF it will happen? It might be like this until the source is taken care of.
THERE MIGHT NOT BE A WAY TO CONTROL WHATEVER HAS BROKEN OUT IN THESE CREEK AREAS?
Yes, that's right. We don't know if it's going to last another 24 hours. Or if it's going to last 6 months. I don't expect it to last 6 months, but we don't have any idea how long it's going to last before it goes away."
---
Website:

© 1998 - 2023 by Linda Moulton Howe.
All Rights Reserved.