"Of the six beryllium atoms we have entangled, you take five of the atoms and put them into a spaceship and send them to the moon. If you now measure on earth the one that remains, you find it's spinning clockwise. Then you know that the five other ones on the moon will also spin clockwise, but there's no physical interaction between them."  
– Dietrich Leibfried, Ph.D., NIST
January 6, 2006  Boulder, Colorado – In this New Year, time and events seem to hurdle forward faster and faster ­ while advanced computers become smaller and smaller. Some physicists even think by mid-21st Century, there could be quantum computers in which each bit would be an atom. A quantum computer would use one of the strangest properties of our universe to calculate mathematical problems quickly that might take billions of years for classical computers to solve.
I'm talking about the high strangeness of quantum mechanics in which atoms are observed to be spinning both clockwise and counter-clockwise at the same time. That simultaneous spinning in two directions at once is called "superposition." Physicists have repeatedly confirmed that the position in time and space for atoms and subatomic particles is always uncertain until an observer tries to measure where the atom or particle is. Then instantly, the simultaneous spinning in opposite directions "collapses" its wave-like state into a measured particle that either spins clockwise or counter-clockwise on a 50/50 random chance like the toss of a coin.
Only in the past ten years has laser technology advanced to become a tool that can precisely interact with atom spin directions. It's a new field in quantum physics called "precision laser spectroscopy." Physicists who use lasers are studying one of quantum mechanic's many mysteries. Einstein called it "spooky action at a distance" and it always bothered the great physicist who wanted the atomic world to conform to his General Theory of Relativity that predicts strict order in the large macro worlds of suns and planets.
But Einstein's orderly relativity theory does not work at the randomly uncertain atomic level where particles can be waves spinning in two directions all at the same time and effect each other at a distance without any physical connection. This high strangeness is what provoked the famous Austrian physicist, Erwin Schroedinger, to question whether a cat placed in a box was both dead and alive until someone opened the box to look. The cat's state, Schroedinger wondered, might be as uncertain as the spin and position of an atom until it's observed.
In the past decade, no physicist had been able to measure more than one or two atoms at a time. But when they did, there was always confirmation of "spookiness at a distance." That means scientists discovered that measurement of only one atom's spin direction caused another atom to match that spin direction. Physicists began calling this phenomenon "entanglement."
Now for the first time, a scientist from Germany working at the National Institute of Standards and Technology in Boulder, Colorado, has made a major breakthrough in quantum entanglement. Dr. Dietrich Leibfried earned his Ph.D.-equivalent in physics from Ludwig Maximillian University in Munich and did post-doctoral studies under the supervision of 2005 Nobel Prize-winning physicist, Dr. Ted Hench.
Dr. Leibfried wanted to use lasers on beryllium atoms and see how many he could entangle at once to spin the same direction no matter when observed. The answer so far is six ­ six beryllium atoms prodded by a precision laser in a vacuum.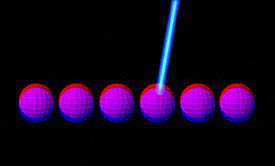 Once entangled, those six atoms are always going to spin the same direction no matter how far the atoms are separated from each other.
Dr. Leibfried also wonders how many atoms must be entangled to reach a threshold where Einstein's General Theory of Relativity takes over on the macro scale. Is Schroedinger's cat always big enough for humans to tell if it's alive or dead when the box is opened?
---
Interview:
Dietrich Leibfried, Ph.D., Research Physicist, National Institute of Standards and Technology, Time and Frequency Division 847, Boulder Colorado: "If we look at our every day experience, we would certainly say, for example, that the cat is either dead or alive. You'll never see that it's dead and alive. But if you look at quantum theory, such a possibility would exist. Basically there is a problem with what we see in every day life and what quantum mechanics predicts.
It seems that when you look at single atoms, there is no problem with superposition states. They are very well established. You can have things like one atom spinning counter-clockwise and clockwise at the same time. This has been done for many years.
CAN YOU EXPLAIN THAT SINCE IT'S SO PUZZLING. HOW CAN ANYTHING BE GOING IN TWO DIRECTIONS AT ONCE?
I don't think I can explain that and I'm in good company there. If you noticed in The New York Times article (12-28-05), there have been some quotes featured by great scientists ­ by Niels Bohr and (Richard) Feynman and (Albert) Einstein and others. They all basically all boil down to: you can't really explain how this works. You can just accept that it works like that.
HOW DO YOU MEASURE SOMETHING SPINNING IN TWO DIFFERENT DIRECTIONS?
Basically what you can measure is its spin either in one direction or the other. The only explanation that is compatible with all your findings is that it really has been in a superposition, or spinning both ways at the same time. Every time you look at it, you randomly get the answer that it's clockwise or counterclockwise. But you can never predict which way it goes.
IS IT LIKE SPINNING OR TOSSING A COIN? IS IT 50% CLOCKWISE AND 50% COUNTER-CLOCKWISE?
Yes, that's how the measurement would look. But as long as you don't look at it, it just remains in this eerie superposition state.
Young's Double Slit Experiment – Photon Superposition
WHAT IS THE THEORY ABOUT WHY ATOMS SHOULD EXIST SPINNING BOTH CLOCKWISE AND COUNTER-CLOCKWISE AT THE SAME TIME?
(sighs) What should I say to that? The only way you can explain certain experimental findings is that if you assume they can take this crazy state. There is another famous experiment you might have heard of that sort of shows the same features and it's called Young's Double Slit Experiment.
There you have two slits and you can have, for example, light passing through the slits. Even if you make the light source extremely weak so there is only one photon at a time, you will get an interference pattern on a far away wall that looks like only one photon passed through both slits at the same time. Again, the superposition state. You get the interference pattern because there was a superposition. If you would assume that the photon goes through only one of the slits, you would never get that interference pattern you see.
If you accept that, you can build a theory that works well for atoms. If you don't accept it, you're in trouble. That has been like that for almost 100 years now.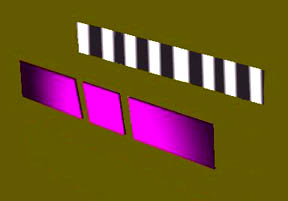 THAT'S WHAT BOTHERED ALBERT EINSTEIN SO MUCH?
Yes, what bothered him especially is that if you look at the thing, you get a random result. That's what he did not like. He also thought there might be what he called 'hidden variables' behind the whole thing. So, there's a bigger theory that tells you which slit, for example, the photon went through. You just don't know the theory yet, you don't have access to the variables in the theory. They are hidden. But in principal, they exist.
It's A Random Universe?
If you assume that, you can set up some inequalities and that was done by John Bell later on. You can show that quantum mechanics do violate the inequalities. John Bell was very dismayed by that because he was on Einstein's side. He wanted to actually prove that there are hidden variables, but experiments proved the inequalities do not work out. Now, we have to assume that there is no local realistic theory with hidden variables that would do the job. So, Einstein still has to be bothered by that.
THE BOTTOM LINE IS: IT'S A RANDOM UNIVERSE?
Yes. But this also offers some positives, I would think. For example, if everything is deterministic, what about free will? Can you really make decisions? Or was it all pre-determined by the initial conditions of the universe? If there is some randomness, perhaps it offers some positive aspects. I would not say it's only disturbing. It could also be something that gives human decisions another dimension.
"Spooky Action At A Distance" with 6 Beryllium Atoms
COULD YOU GO THE NEXT STEP AND ADDRESS THIS 'SPOOKY ACTION AT A DISTANCE'?
Yes, so as soon as you accept there are superpositions and you also have several systems you take apart. For example, instead of looking at one atom or one photon, you can now look at the possible quantum states of two atoms, let's say. You can put them into a state we call 'entangled' and this is basically what we just pushed to the present limit of 6 atoms, which is not very many, of course. But that's all we can do so far.
YOU ARE ADJUSTING THE SPIN OF THE ATOMS WITH LASERS?
Yes.
THAT'S THE ENTANGLING OF THE SIX?
Yes. You have to do certain operations, certain laser pulses to get the entanglement. The idea is there that you get this state where you don't know anything. It's at the same time, clockwise and counter-clockwise, but now for all six of them. They either all go clockwise or all go counter-clockwise. Nothing in between.
Now, you can think of the following situation. Of the six beryllium atoms we have entangled, you take five of the atoms and put them into a spaceship and send them to the moon. If you now measure on earth the one that remains, you find it's spinning clockwise. Then you know that the five other ones on the moon will also spin clockwise, but there's no physical interaction between them. If you measure the one down on earth to spin counter-clockwise, you know that the other ones will also be counter-clockwise. So before the measurement, you did not know anything at all. After the measurement, you know what the guy on earth is doing and you even know what those remotely stored atoms will do (on the moon). That is really strange because there is no physical interaction between them. You, the researcher, go from a state where you know nothing about those guys to a state where you know everything about them.
IF THE 6 BERYLLIUM ATOMS SPLIT APART BETWEEN THE MOON AND THE EARTH ARE ALL SPINNING THE SAME DIRECTION, DOES THAT IMPLY THAT ALL OF THE BERYLLIUM ATOMS IN THE UNIVERSE AT THAT MOMENT ARE SPINNING IDENTICALLY TO THOSE SIX?
Oh, no, not at all. It's only the six you prepared in a rather complicated fashion. That was the feat achieved in this experiment, that you can – it was hard to even entangle two particles so far. And only in the last ten years or so, we've learned technology to do it with six atoms. If the six beryllium atoms were entangled with everything else, then some other guy in Germany could do an experiment and measure something and that would affect the outcome of my experiment. That would be trouble because how could I ever do a controlled experiment? I would have to control the whole universe to do that. So, it's really only the ones I'm looking at, that I'm preparing in my experiment. It's not other atoms.
Could Consciousness Interact Physically At the Atomic Level?
BUT YOU ARE IMPLYING THAT ENTANGLEMENT IS HAVING TO INVOLVE SOME KIND OF CONSCIOUSNESS BY YOU AND THE RESEARCHERS ON THOSE ATOMS.
Not necessarily.
WHAT IS IT THAT DOES THE ENTANGLING?
The entangling is done by physical interactions that we can tailor the right way to get the state in a controlled fashion. But there are also 'random events' that can result in entangled particles.
We have quantum mechanics that gives us superposition and entangled states. But we also have a huge environment always looking on to these quantum systems and the environment basically forces that we see cats either dead or alive and we don't see superpositions because there are so many things interacting with the cat that could figure out whether it's dead or alive, for example, by interacting and seeing what the temperature of the cat's body is, or if the cat is breathing, it will move some air particles around it.
ISN'T THE IMPLICATION OF QUANTUM PHYSICS THAT EVERYTHING FROM THE ATOMIC LEVEL TO THE GROSS MACRO MATTER LEVEL IS IN ALL POSSIBLE INFINITE STATES OF BECOMING AND BEING AND DYING ALL SIMULTANEOUSLY?
I wouldn't go so far, I think. We are really touching on questions I don't feel comfortable answering, to be honest. But at least I can offer my personal take on it. I think that this environment hypothesis at least lets you explain what you locally observe. So, without taking the whole universe into account, you just acknowledge that you can only look at a very small subsystem. Then you will see results like cats being dead or alive. If you look at the whole universe, you're basically in this conundrum that you just talked about.
MEANING THAT ALL THE CATS IN THE UNIVERSE ARE ALIVE AND DEAD SIMULTANEOUSLY.
In that small part that I look at, it seems to me it's in a definite state. This has all kinds of philosophical implications. My take on it is that you just need to do more experiments and maybe you will figure it out eventually. Or maybe it's just something beyond our reasoning. There are people who believe that basically what we can perceive with out brains is not everything, so there is something outside of what we can perceive and we just get the best possible description ­ what we can see with our senses and process or think about and then we get the best possible description and that is quantum mechanics. But there are more things out there than we can see.
Are Atomic Entanglement and Its Spooky Action At A Distance Necessary to Produce Macro Reality?
IS THE WORK YOU ARE DOING IMPLYING THAT THERE MUST BE SOME KIND OF ENTANGLEMENT AT THE ATOMIC LEVEL FOR THERE TO BE SOME KIND OF DEFINITE SLICE OF REALITY? THAT WE PERCEIVE A SLICE OF REALITY BECAUSE AT THAT MOMENT IN THE LOCAL UNIVERSE, THERE IS SOME KIND OF ENTANGLEMENT?
I would say yes. So, if we look at the small system, there is certainly some kind of entanglement where we see all the quantum weirdness there. In our every day life, we don't. There must be some boundary or whatever that distinguishes these two worlds: our every day life and what we can do in the laboratory.
Now, doing this with more and more atoms will just give you a better idea where the boundary is. At some point, you would just expect that things break down and you will see what you see in every day life. Maybe that's at 10 atoms? Maybe it's at 100 atoms? Maybe it's at a million atoms? Or maybe it's at 10 to the 26th atoms, which would be sort of like what a cat has.
AT THAT POINT, WHEN YOU GET THAT MASSIVE AMOUNT OF ATOMS, SOMETHING CHANGES IN THE PHYSICS?
Possibly so. There are theories that predict that, too. But that's basically what nobody knows. In order to explore that, you just have to try to build larger and larger entangled systems and see what happens. That's the experimental way of looking at it.
WHAT IF THERE IS SOMETHING ABOUT THE STATE OF THE ATOMS AND WHAT MAKES UP ATOMS IN THIS UNIVERSE THAT IS AFFECTED BY CONSCIOUSNESS AND THAT WOULD EXPLAIN 'SPOOKY ACTION AT A DISTANCE?'
I would not feel comfortable endorsing anything like that because I think it elevates consciousness to being sort of a physical property and there's no evidence so far that it's really true. You can conjecture this, but I don't think there is any kind of experimental proof to show that.
BUT IT'S TRUE THAT TODAY STILL ONE OF THE BIGGEST MYSTERIES IN QUANTUM PHYSICS IS: WHAT CAUSES ENTANGLEMENT IN THE FIRST PLACE THAT ATOMS AT A DISTANCE WOULD ALWAYS SPIN THE SAME WAY?
Yes. But as far as I'm concerned, there is no connection to consciousness there.
BUT OTHERS WOULD ARGUE THERE MIGHT BE?
Yes, you can certainly ­ there is a puzzle there and there is something that people don't know. But, if somebody comes up with an experiment that would show that consciousness is involved, fine with me."
Dr. Leibfried told me he thinks it's possible that a quantum computer might be built by the middle of this century in which each bit would be a single atom that spins the simultaneously clockwise and counter-clockwise, equivalent to zeros and ones. He said in our current computers, we enter one input and get back one output. But in a quantum computer, the superposition of atoms spinning simultaneously clockwise and counter-clockwise would be like many "parallel universes" of zeros and ones at work. For example, to search for, and find, one phone number out of a billion phone numbers could be done by a quantum computer in a fraction of a second, while the classic computer might take hours.
Entanglement also opens up the future possibility of instantaneous communication across light-years without radio waves. Perhaps such superposition technology is why SETI never gets radio signals?
All this is especially incredible given the fact that no human even knew electrons existed until J. J. Thomson's discovery in 1897, only one hundred nine years ago.
---
More Information:
For more about quantum physics, please see reports below in Earthfiles Archives :
03/25/2005 —  Glow of Distant Worlds Seen For First Time
10/25/2003 —  Science Data Reinforces Invisible "Dark" Matter and Energy Make Up 96% of Our Universe
10/11/2003 —  Is Our Universe Finite and Shaped Like A Dodecahedron?
09/07/2002 —  Does Gravity Travel the Same Speed as Light?

02/24/2002 —  Mysterious Slowing of Pioneer Spacecraft 7 Billion Miles from Earth

02/27/2001 —  Slowing Light to A "Stop" for Fraction of A Second
12/20/2001 —  Will Our Universe End With Its Final Light Frozen in Time?

01/28/2000 —  Black Hole Mystery at the Center of the Andromeda GalaxyWebsite: NIST: http://www.nist.gov/public_affairs/releases/cat_states.htm


© 1998 - 2019 by Linda Moulton Howe.
All Rights Reserved.