"Spitzer (infrared telescope) came along and showed us this exploded star,  one of the most intensively studied objects in the sky, is still undergoing death throes before heading to its final grave."
– Oliver Krause, Ph.D., University of Arizona
April 22, 2006   Pasadena, California –  The Jet Propulsion Laboratory in Pasadena reported this week that NASA's Spitzer Space Telescope has made accidental and surprising infrared images of light echoes from a star that was supposed to have died 325 years ago in a supernova explosion. But the new infrared information indicates Cassiopeia has released "at least one burst of energy as recently as fifty years ago" from its cosmic grave 11,000 light-years from Earth.
Oliver Krause, Ph.D., at the University of Arizona's Astronomy Department in Tucson, explained: "We had thought the stellar remains inside Cassiopeia A were just fading away. Spitzer (infrared telescope) came along and showed us this exploded star, one of the most intensively studied objects in the sky, is still undergoing death throes before heading to its final grave."
The echo of an energy burst is the first witnessed around a long-dead star and the largest ever seen. Another astronomer at UA, George Rieke, Ph.D., said, "We had no idea that Spitzer would ever see light echoes. Sometimes you just trip over the biggest discoveries."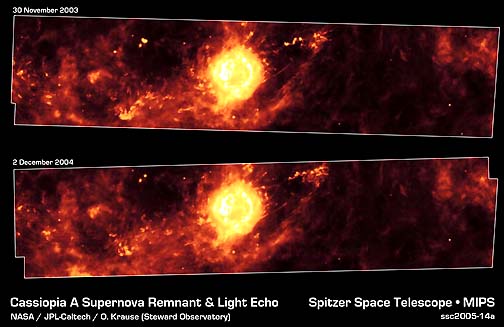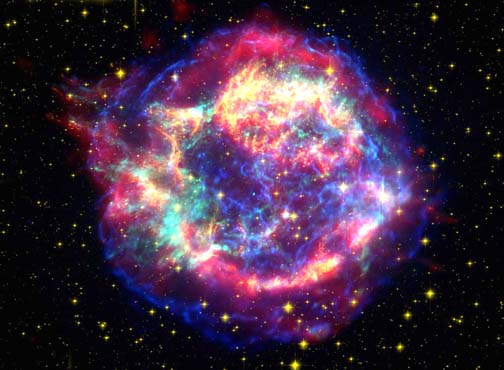 NASA reports that, "A supernova remnant like Cassiopeia A typically consists of an outer , shimmering shell of expelled material and a core skeleton of a once-massive star called a neutron star. Neutron stars come in several varieties, ranging from intensely active to silent.
"The new infrared echo indicates the Cassiopeia A neutron star is active and might even be an exotic, spastic type of object called a 'magnetar.' Magnetars are like screaming dead stars, with eruptive surfaces that rupture and quake, pouring out tremendous amounts of high-energy gamma rays. Spitzer might have captured the 'shriek' of such a star in the form of light zipping away through space and heating up its surroundings."
Astronomer Rieke says, "Magnetars are very rare and hard to study, especially if they are no longer associated with their place of origin. If we have indeed uncovered one, then it will be just about the only one for which we know what kind of star it came from and when."
Cassiopeia A is the youngest known supernova remnant in our Milky Way Galaxy, and the strongest extrasolar radio source in the sky. Calculating its expansion back, astronomers have found that the supernova must have blown up around the year 1667. Strangely, it was not widely noticed by that epoch's astronomers. However, as astronomy historian, William Ashwort, found out in 1980, it was perhaps observed by John Flamsteed on August 16, 1680, who cataloged a star near its position as "3 Cassiopeiae." However, he did not recognize it as a supernova, or "New Star," and simply cataloged it as an ordinary star.
---
More Information:
For more about astronomical discoveries, please see reports below in the Earthfiles Archives:
03/17/2006 — Planet Earth's Ice Melt
11/18/2005 — Is the Sun Heating Up?
11/09/2005 — Dust Storm On Mars, Cosmic First Light and Black Hole In Our Galaxy
10/19/2005 — Saturn's Icy Moon, Dione, Up Close
09/23/2005 — 9 X-Class Solar Flares Between September 7 – 19, 2005.
09/16/2005 — "Planet X" and the Kuiper Belt's Oddballs, "Santa" and "Easterbunny"
09/09/2005 — Rock Stars and Extraterrestrials
08/12/2005 — Deep Impact Spectra: Carbonate, PAHs and Some Amino Precursors in Comet Tempel I
07/30/2005 — Astronomers Report 10th Planet Far Beyond Pluto
07/10/2005 — First Data from Deep Impact Crash Into Comet Tempel I
06/29/2005 — July 3-4, 2005: NASA "Deep Impact" Spacecraft to Blast Hole in Comet Temple I
05/07/2005 — Did Milky Way Gas and Dust Turn Earth Into Icy Snowball Four Times?
05/06/2005 — What Are The Straight Lines on Saturn's Titan Moon?
04/01/2005 — What's Killing Off Marine Life Every 62 Million Years?
03/25/2005 — Glow of Distant Worlds Seen For First Time
03/20/2005 — Astronaut John Young: "The Moon Can Save Earth's Civilization."
03/03/2005 — What Made Five Strong Radio Bursts At the Center of Our Galaxy?
02/17/2005 — Iapetus and Enceladus: Baffling Moons of Saturn
02/11/2005 — Story Behind "Inflation-Theory Implications for Extraterrestrial Visitation"
02/11/2005 — Sunspot Region 720 Emitted Strongest Solar Radiation Since October 1989.
01/22/2005 — Titan – A Moon Where It Rains Methane Into Hydrocarbonn Seas and Soils
01/13/2005 — NASA "Deep Space" Craft Will Hit Comet On July 4, 2005
12/17/2004 — Is Our Solar System's Red, Mysterious Sedna An Alien Planetoid?
11/17/2004 — European Space Agency's SMART-1 Satellite Begins Moon Orbit
10/07/2004 — Exploding Stars: Investigating the 1604 and 1987 Supernovas
08/28/2004 — Near-Earth Asteroid 4179 Toutatis Comes By Again September 29, 2004
06/25/2004 — Wild 2, An Amazing Comet
06/11/2004 — Cassini Spacecraft Will Rendezvous with Saturn July 1, 2004
03/15/2004 — Most Distant "Icy Planetoid" in Our Solar System Has Baffling Orbit
03/05/2004 — Part 3 – Mars: A Sulfate Salty Planet – Could It Have Sulfate-Loving Microbes?
02/11/2004 — Updated – Part 2: Opportunity Finds Martian Bedrock Has Lots of Sulfur and Small Spherical Rocks
02/03/2004 — Planet 150 Light Years from Earth Has Oxygen and Carbon Atmosphere
01/31/2004 — Gusev Crater on Mars.
01/24/2004 — Updated – Spirit Alive, But in "Critical" Condition. Mars Express Sees Water Ice and Ancient River Channel
01/19/2004 — Earthfiles and Radio Audience Feedback About Anomalous Sky Objects
01/14/2004 — President Bush's Sets "New Course for America's Space Program"
01/13/2004 — Part 1 – Is Dark Matter the "Heavy Shadow" of Visible Matter?
01/09/2004 — Robotic "Geologists" on Mars
12/07/2003 — "Smoking Gun" Evidence That Liquid Water Has Flowed on Mars?
10/25/2003 — Science Data Reinforces Invisible "Dark" Matter and Energy Make Up 96% of Our Universe
09/02/2003 — Astronomers Don't Think Asteroid Will Hit Earth in 2014
08/27/2003 — No Ancient Oceans On Mars? Only Glaciers?
08/26/2003 — Mars At Its Closest August 27, 2003,  At 2:51 a.m. PDT / 5:51 a.m. EDT.
03/07/2003 — Scientist's Record Sun's Plasma Interaction with Comet NEAT
02/27/2003 — Pioneer 10 Goes Silent
01/05/2003 — What Are the Grooves in the Martian South Pole?
10/07/2002 — Large Kuiper Belt Planetoid Found Beyond Pluto
09/07/2002 — Does Gravity Travel the Same Speed as Light?
07/25/2002 — Mile and A Half Diameter Asteroid 2002 NT7 Might Impact Earth in 2019
07/11/2002 — Hubble Telescope Photographs 7 Objects Traveling In Pairs Beyond Pluto
06/14/2002 — Another Solar System Like Ours?
06/01/2002 — Scientists Surprised by Abundance of Water On Mars
02/24/2002 — Mysterious Slowing of Pioneer Spacecraft 7 Billion Miles from Earth
01/26/2002 — Something Is Perturbing Comet Orbits in the Oort Cloud Surrounding Our Solar System
12/20/2001 — Will Our Universe End With Its Final Light Frozen in Time?
12/15/2001 — Are Carolina Bay Craters Linked to Atlantic Ocean Impact and Sinking of Atlantis?
11/10/2001 — The Orion Constellation and the Pyramids of Giza
08/25/2001 — Are Crop Formations at Chilbolton Observatory A Response to 1974 Earth Transmission?
06/06/2001 — Another Unusual "Face" On Mars
03/18/2001 — Can Earth Plants and Bacteria Grow On Mars?
03/11/2001 — Are the "Tubes" On Mars from Lava, Water, or Wind?
02/12/2001 — NEAR Shoemaker Spacecraft's Historic First Landing On Eros Asteroid
01/14/2001 — An Australian Zircon Crystal is 4.4 Billion Years Old
12/24/2000 — Martian Bacteria?
12/03/2000 — Bacteria from Outer Space?
10/09/2000 — Astronomy Updates
10/01/2000 — A Search for Earth's First Life
09/24/2000 — Asteroid Eros: Up Close, and Then A Landing?
09/12/2000 — Black Holes – A Surprising Mass in the M82 Galaxy
06/26/2000 — 250 Photographs of Mars Show Signs of Water
04/24/2000 — A Black Hole in the Big Dipper?
03/11/2000 — Is 433 Eros Asteroid Younger Than Expected?
02/16/2000 — 433 Eros, Orbiting An Asteroid Up Close
01/28/2000 — Black Hole Mystery at the Center of the Andromeda Galaxy
01/17/2000 — Chandra Telescope Helps Solve X-Ray Mystery
12/01/1999 — Six More Planets Discovered 60 to 190 Light Years Away
11/18/1999 — Short Environmental Updates
11/06/1999 — Leonids – and Linearids? – Light Up November Skies
10/25/1999 — A Mysterious "Perturber" at the Edges of Our Solar System
09/24/1999 — New Photos from NASA's Chandra X-Ray Observatory
08/28/1999 — Oddball Quasar and Salt Water Inside Meteorite
06/27/1999 — Microbes Two Miles Below Earth Surface in South Africa
06/15/1999 — Current Brightest Binocular Comet and Upcoming Solar Eclipse
02/01/1999 — Astronomy Updates with Brian Marsden and John Huchra, Harvard
---
Website:
http://www.jpl.nasa.gov/news/news.cfm?release=2005-099

© 1998 - 2019 by Linda Moulton Howe.
All Rights Reserved.