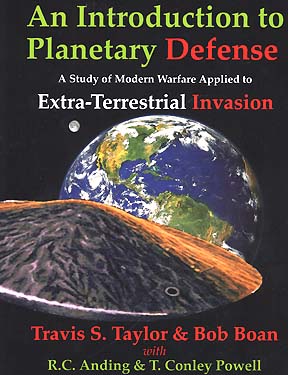 April 28, 2006   Harvest, Alabama – Ten years ago in 1996, I was investigating strange metal of alternating layers of bismuth and a magnesium/zinc alloy allegedly taken in 1947 from the bottom of a "wedge-shaped extraterrestrial vehicle." Several pieces of the layered metal had been shipped to Art Bell, then radio host of Dreamland and Coast to Coast AM for which I was reporting. To this day, that layered metal is a mystery and so far has never been duplicated.

One scientist who helped me in my investigation was Travis Taylor, Ph.D. and optical physicist, who worked at the Army Redstone Arsenal in Huntsville, Alabama. At the time, Dr. Taylor told me he had to go to his superior officers in the Defense Intelligence Agency (DIA) to ask if it was OK to work with me, a civilian reporter. Travis told me that the DIA said, "Yes," as long as he reported back to them everything we learned about the bismuth/magnesium metal.
In April 2006, physicist Travis Taylor and his three co-authors, Bob Boan, Ph.D., R. C. Anding, B. S., and T. Conley Powell, Ph.D., have released a new book entitled,  An Introduction to Planetary Defense: A Study of Modern Warfare Applied to Extra-Terrestrial Invasion.
Given Dr. Taylor's work for Redstone Army Arsenal and his current work as an independent government contractor on space defense projects, I told him I could not help wonder if somebody in the DIA or other superior authority went to Travis and said, "We need to get a test of public reaction about modern warfare applied to extraterrestrial invasion, and we need the information out there in the form of a textbook so it's not psychologically threatening." He laughed and said the book had not started that way.
---
Interview:
Travis Taylor, Ph.D., Optical Physicist, Engineer and Author, Harvest, Alabama:   "NO ONE CAME BACK TO YOU AND SAID, 'WE'VE BEEN STUDYING THIS PROBLEM FOR A LONG TIME AND WE ALREADY HAVE SOME POSSIBLE STRATEGIES'?
If they did – here's the Catch-22 of that question, Linda. If they would have done that, then of course that would have been classified and I would absolutely say 'No!' and deny it. If they did not and I said 'No,' they would think that I did and I'm just denying it. So, the answer to that question though is: we ran – since all of us worked in the community – we ran this by our security officers. We ran it up the food chain to all of our customers and nobody had a balk at it.
Asymmetric War
We were working on a contract for the intelligence community to solve the hard problems of the global war on terrorism. The problems were the fact that we are fighting in what is known as an 'asymmetric war.' That means there is one, big, super powerful side on the war; the other side is small and we don't know who they are, what types of weapons they have – but they are far inferior to the super power's weapons. And yet, they can cause a lot of destruction and frustrate the super power.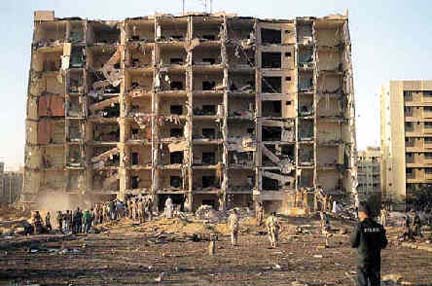 [ Editor's Note:  Khobar Towers is part of an housing complex in the city of Khobar, Saudi Arabia near the national oil company (Saudi Aramco) headquarters of Dhahran. In 1996, it was being used to house foreign military personnel, including Americans. On June 25, 1996, terrorists, identified by the United States as members of Hezbollah, exploded a fuel truck adjacent to Building #131 in the housing complex. This eight-story building housed United States Air Force personnel from the 4404th Wing, primarily from a deployed rescue squadron and deployed fighter squadron. In all, 19 U.S. servicemen and one Saudi were killed and 372 wounded. This event has come to be known as the Khobar Towers bombing.
According to the United States, a group of terrorists who wanted to remove Americans from Saudi Arabia organized the attack. They smuggled explosives into Saudi Arabia from Lebanon. They purchased a fuel truck in Saudi Arabia and converted it into a bomb. It contained 3,000 to 5,000 pounds of explosives. ]
Unfortunately, in our case in the global war on terrorism, the other side – the small side – can hold out for a long period of time. The same thing happened in Afghanistan with the Soviets. Interestingly enough, it was Osama bin Laden who lead the Mujahideen in Afghanistan against the Soviets.
So, we were working on these problems and one day at lunch, we were chatting about these are difficult things to do. "Maybe we ought to put ourselves in the other side's shoes to try to figure out how to solve these problems of the asymmetric war.
We all thought that we lived in a super power and there was no way for us to think that way unless – the only thing we could think of – was if we were attacked by aliens. In that case is when we would be attacked by a power much larger than anything the American technologies and military might be able to muster.
Then we started thinking about how would we really defend ourselves if that happened? We started off by saying if we were serious, we ought to look at: Is it really possible that we could be invaded by aliens?
That's exactly what the first chapter of the book is about – to determine if it's possible that humanity could be invaded by aliens. Whatever your philosophies, religion, ufology, whatever might be – we didn't take any of that in account. We simply went for the statistics of what we know about space, starting with what we know about stellar evolution, the number of stars and galaxies, the fact that planets are by-products of the stars forming, and various other things, led us to find sort of a mathematical proof that it is a finite probability that we will be invaded by aliens. It may be a very small probability, or very large. The fact is, we don't have enough data to say that it is bounded, whether small or large. But it is finite. It is not zero.
IN READING YOUR BOOK, IT'S MY MEMORY THAT YOU CAME TO A BOTTOM LINE OF ONE ADVANCED INTELLIGENT CIVILIZATION PER GALAXY WOULD BE A REASONABLE ESTIMATE?
I think that was the lowest end – that was the bottom probability. The upper end, there were thousands. The range is very large because we don't have enough data to really say there is one per galaxy, or a million per galaxy.
It's really more likely if you go through that first chapter and see the statistical arguments that thousands to maybe hundreds of thousands of civilizations per galaxy is not outside of what might be an average solution. The extreme solutions on each end is that you have one per galaxy or a billion per galaxy. Somewhere in the middle there on sort of a logarithmic plot, somewhere between hundreds to hundreds of thousands, would more likely be the solution.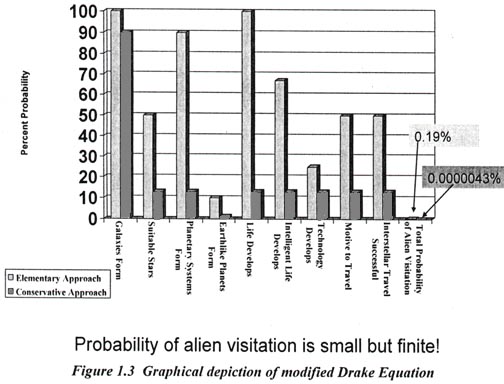 Animal Mutilations and Human Abductions Already Linked to Extraterrestrial Biological Entities
ONE OF THE THINGS THAT STRUCK ME AS I READ YOUR BOOK WAS THAT I'M AN INVESTIGATIVE REPORTER AND I'VE DONE THREE BOOKS HAVING TO DO WITH HARD PHYSICAL DATA IN THE ANIMAL MUTILATIONS; LESS HARD DATA IN THE HUMAN ABDUCTION SYNDROME; CERTAINLY LOTS OF PHYSICAL DATA IN OTHER ANOMALIES ON THE PLANET; THREE BOOKS, TV SHOWS AND SEVERAL DOCUMENTARIES. HOW COULD YOU PREPARE ANY PLANETARY DEFENSE IF YOU DIDN'T DEAL WITH STRAIGHTFORWARDLY WITH WHAT'S ALREADY BEEN REPORTED FOR NEARLY A CENTURY?
What we wanted to do was for this book to reach a wide audience and be accepted as an acceptable textbook on the subject. Future versions of it might have a little more about these things. But in order to keep it in the mainstream of science – or at least as close as we could keep the book on this topic – in the mainstream of science and military strategy and intelligence gathering strategy and things of that nature – we tried to avoid going into the eyewitness accounts and things of that nature.
GIVEN AT LEAST A DOZEN CONSCIOUS EYEWITNESSES IN THE RANCHING COMMUNITY THAT I'VE INTERVIEWED OVER THE LAST 20 YEARS WHO HAVE WATCHED A BEAM COME OUT OF SOMETHING THAT WAS A SILENT, HOVERING AERIAL DEVICE AND HAVE WATCHED LIKE A GROWN BULL OR COW, UP TO 2000 POUNDS, AND THAT COW IS LIFTED UP IN A BEAM. EVERYONE DESCRIBES THE BEAM VERY SIMILARLY. IN SOME CASES, THEY HAVE SEEN THE ANIMAL LOWERED BACK IN THE BEAMS OR DROPPED FROM THE AERIAL DEVICES.
NOW, IF WE ARE DEALING WITH SOMETHING THAT HAS ACCESS TO ANIMALS, TO HUMANS AND TO ALL SURFACE EARTH LIFE THAT EASILY, HOW WOULD ANY KIND OF AMERICAN MILITARY PREPARE A DEFENSE AGAINST SUCH ADVANCED TECHNOLOGY?
That's a very good question. In fact, in one of the later chapters in the book, we talk about that. The biggest thing is that in order for them to get from wherever they came from to here, the amount of power or energy manipulation capabilities they would have is millions of times greater than any nuclear weapons that we would have. Just the fact that they would be traveling at speeds great enough to get from there to here, if they hit a micrometeorite they would have to have shields of some sort, whether it's materials, or some sort of energy fields or whatever it would be, that could withstand such an explosion of millions of times the energy of nuclear weapons. That would be continuous during their transportation.
We don't have any weapons that could penetrate such advanced shields or armor. So, you would have to come up with tactics and strategies that would get inside the armor. One of the interesting examples that we used in the book was from the new movie, War of the Wars (a Spielberg movie and Tom Cruise was in it.)  The Martian aliens had shields and one of the humans let himself be captured and then he set off a grenade inside the shield. That happened in Independence Day and others – a common theme – but you would have to come up with tactics that you could use in that manner. That's just from a shield point of view.
WHERE THE UNITED STATES WOULD BECOME THE INSURRECTIONISTS LIKE WE ARE DEALING WITH IN IRAQ?
That's exactly right. That's the full circle about why I wrote the book. In fact, we talk about the solution would be to study in detail how the mujahideen and Al Qaeda and various others such as the IRA (Ireland), the American Indians, and a lot of asymmetric situations in the past, how they managed to hold out for so long and make a large enough nuisance of themselves, at least in the mujahideen case in the Afghanistan/Soviet war – the Soviets just finally decided it was too expensive and was taking too long and was not worth the hassle when they gave up. Of course, the mujahideen was being backed by the United States.
That's something we would not have if some other super power – or at least we assumed for this book – that we would not have some friendly aliens out there slipping us super alien weapons under the cover. So, we would have to figure out ways to defend the planet by ourselves.
Our only solution was that we needed to be preparing right now for the event of the invasion. If the invasion ever occurred, we would be at least better prepared than we are right now. If it does not occur, then we have created leaps and bounds in our technology by doing the preparation.
Centuries of Disc and Beam Sightings – E.T.s Not Interested in War with Humans?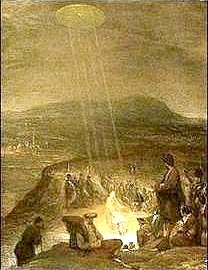 PERHAPS WHATEVER IT IS THAT INTERACTS WITH OUR PLANET NOW IN AERIAL TECHNOLOGY, GROUND TECHNOLOGY, BEAM TECHNOLOGY, HAS BEEN DESCRIBED THROUGH THE CENTURIES. THAT WOULD SEEM TO INDICATE THAT WHATEVER WE ARE DEALING WITH ON THE PLANET – EVEN THOUGH IT MUTILATES ANIMALS AND CAN TAKE PEOPLE AND PLANTS IF IT WANTS TO – IT DOES NOT WANT, OR IS NOT INTERESTED IN, FULL SCALE WARFARE WITH HUMANS.
I don't want to come out and verify that's true, but if that were the type of enemy we were facing, that's the type – in one of the chapters in the book, we tried to sort of catalog the types of aliens using common references from literature, science fiction, movies and things of that nature. Those would be either the 'harvesters' or the 'meddlers' or the types of aliens that have some sort of reason (to be here) – whether they are harvesting something from us or whether they just like playing with us like puppet masters, or meddling with our culture just for fun, or whatever their motivation would be – then that's still something we would need to deal with. I would not like it too much to know we were being meddled with by some outside entities that had some other plan other than ours. So, we ought to be preparing ways to defend against that.
Some of the others are ones like what you are talking about are sort of like the Ancient Astronaut ideas and things like that, where the stories of religious miracles were aliens meddling with the human culture. It could be that type. There could be just unknown types that we have no idea why they are here, what they are doing and what their plans would be because they are so alien we just could not understand their motivation.
WHAT IF THERE WAS A SILENT INVASION IN WHICH THE GOAL OF THE NON-HUMAN WAS TO TAKE OVER THE EARTH, BUT DID IT IN SUCH A CLEVER WAY, SUCH A TROJAN HORSE WAY, THAT IT USED CLONING TECHNOLOGY TO CREATE HUMAN CONTAINERS INTO WHICH IT COULD PROJECT ITSELF, BE WALKING AROUND ON THE PLANET TODAY, BE HOLDING GOVERNMENT OFFICES, BE RUNNING BANKS, WAITING FOR SOME SORT OF HUMAN HOMO SAPIENS ATTRITION. THEN AT ONE POINT, IT WOULD DOMINATE THE PLANET.
That's kind of interesting that you would say that because that's very similar to the outline of a science fiction book I'm working on. In fact, if you are familiar with the panspermia idea?
OH, YES, VERY. [ See Glimpses of Other Realities, Vol. I: Fact s & Eyewitnesses in Earthfiles Shop.]
The premise of this book that I'm working on is that panspermia is actually a means of galactic conquest. For eons, this one particular species sends genetic materials across the galaxy with hopes that evolution will spring up the right types of containers for its life entity, whatever it is. When it reaches a certain stage in evolution – like the brains are such a way that they could hold the life seeding intelligence's neuro network patterns, and then they download themselves across the galaxy through a quantum phenomenon into the host beings. That's real similar to what you are talking about.
THE REASON WHY I ASKED. OVER THE PAST 20 OR SO YEARS, I'VE HAD TWO OR THREE MEN WHO I KNOW WORKED EITHER IN AN INTELLIGENCE AGENCY OR WERE WORKING ON THE MILITARY SIDE FOR INTELLIGENCE AND THEY HAVE ALL SAID THE SAME THING TO ME: 'OUT GOVERNMENT'S GREATEST WORRY' – AND THEY MEAN THOSE WHO HAVE INSIDE KNOWLEDGE THAT IS REFERENCED IN LEAKED GOVERNMENT DOCUMENTS AS MAJESTIC-12 APPOINTED BY PRESIDENT HARRY S. TRUMAN BACK IN THE 1940S TO DEAL WITH THE EXTRATERRESTRIAL PROBLEM AS IT WAS DESCRIBED. BUT THESE MEN HAVE SAID TO ME: 'THE GOVERNMENT'S GREATEST PROBLEM IS WHO IS WALKING AROUND ON THIS PLANET THAT LOOKS HUMAN AND IS NOT.'
It makes perfect sense. I mean, if they have the technologies to traverse the galaxy at will, even small portions of the galaxy, then they are so much more advanced than us they ought to be able to have genetic manipulation, genetic cloning capabilities without any problem.
DOESN'T THAT AUTOMATICALLY MAKE PLANETARY DEFENSE AN ANACHRONISM, SOMETHING THAT IS OUT-DATED IN THE FACE OF SUCH SOPHISTICATION?
. By planetary defense, we really mean a means to defend humanity. That is actually one of the types of enemy aliens that we considered in the book, although it was more along the lines of Robert Heinlein's The Puppet Masters, where there is some sort of alien parasite that controls the human in such a way and humanity might not necessarily be able to tell that they are being controlled.
[ Editor's Note: In 1951, Robert A. Heinlein (1907-1988) published a science fiction novel, The Puppet Masters, in which American secret agents battle parasitic invaders from outer space that take over human bodies. Heinlein's novel made analogy between the mind-controlling parasites and the Communist Russians causing a "Red Scare" in the U.S. ]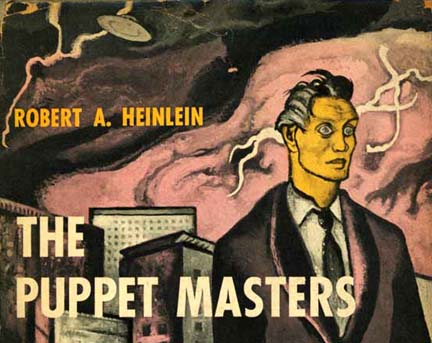 WHAT POSSIBLE DEFENSE WOULD ANY LIFE FORM, EVEN HUMANS, HAVE IF THEY WERE TOTALLY UNCONSIOUS OF WHAT WAS MANIPULATING THEM AND HARVESTING GENES?
Well, the individual would not be, most likely. It would have to be the culture or society or organization or the defense would have to come up with protocols to protect against that. What those protocols are, there is no way to know until you know some details about the aliens. That's one of the problems we continually mention in the book is we're working completely in the dark without having data on what the enemy is. We're trying to come up with brilliant strategies to defend against any type of enemy, which is not necessarily an easy problem.
ARE THEIR ALLIES, TRUE ALLIES, IN THE EVENT THAT SOMETHING NEGATIVE DID SURFACE AND WE KNEW WE WERE BEING ATTACKED FROM INSIDE, OUTSIDE OR BOTH?
By allies, do you mean humans or allies outside of the planet?
ALLIES OUTSIDE OF THE PLANET.
That would be nice. Like I said the reason the Mujahideen succeeded against the Soviets was because the United States kept putting stinger missiles in their hands continuously. That's what kept Soviet helicopters at bay.
If you look now, for the most part what is keeping Osama bin Laden's folks functioning are Chinese RPGs and various other explosive devices that they are improvising to make roadside explosive devices. So, that's kind of the roles we would be in. But the problem is: could we sustain that without the outside help? Boy, that would be tough!
No Human Military Strategy Hidden from Telepathic E.T.s?
WHETHER THE SOURCE HAS BEEN MILITARY, INTELLIGENCE, CIVILIAN IN ABDUCTIONS, MOST TESTIMONIES DESCRIBE E.T. TELEPATHIC ABILITY. THAT MEANS THE NON-HUMANS KNOW EVERY THOUGHT THAT WE HAVE, INCLUDING AWARENESS OF THEM.
You don't know that. You don't know if they have a range. That's one of the things – you have to guard the information as well as you can. You can't guard everything against 'magic.' Assuming they are telepathic, they can't be telepathic across the universe. If they are, they are god-like, omniscient. There has to be some physical phenomenon as to why this works. Maybe they are able to understand the electromagnetic field that your brain creates. We are beginning to do that now. It's just that it's so small a field and our equipment is so primitive, if you want to call it that. The state-of-the-art equipment is just now beginning to understand what the electro-magnetic fields of the brain mean when you have your brain directly in a large device the size of a room.
Maybe these aliens have evolved enough, or figured out technologies or something, that enables them to understand that from a distance. There's got to be some physical phenomenology for why these things occur. There is no such thing as magic.
ASSUMING THAT THEY ARE TELEPATHIC, IT WOULD MEAN THERE IS NO SUCH THING AS A SECRET, OR SECRET WEAPON, OR SECRET STRATEGY, THAT THOSE NON-HUMANS THAT ARE HERE ON THE PLANET, OR UNDERGROUND OR UNDER THE SEAS, OR WHEREVER THEY GO – THAT THEY ARE TOTALLY AWARE OF WHAT HUMANS ARE DOING ON THE SURFACE.
That's not necessarily true. They would have to be totally omniscient to everybody on the planet and then they would have the problem of data mining. Let's say they could read the minds of everyone on the planet. That's 6 billion minds and that's a lot of stuff, a lot of data to go through. They would have to have some extremely advanced data mining capability. That's one of the biggest problems in the intelligence community is you can take pictures of the world all day long, all year long, and that's a heck of a lot of pictures. How do you go through all those pictures in a timely enough fashion and find the piece of data that you are looking for? The one guy walking down the street, or whatever you are looking for? That's a way bigger problem than humanity has any way to solve.
IT'S INTRIGUING BECAUSE THERE SEEMS TO BE SUCH A DISCONNECT BETWEEN ONE WHOLE BODY OF EXPERIENCE AND PHYSICAL EVIDENCE ON THE PLANET ALREADY VERRSUS ANOTHER WHOLE BODY THAT IS SAYING IT IS HYPOTHETICAL, BUT IS NECESSARY TO STUDY.
Sure. There is one other motivation we had was as we worked on the book. We said, 'If there really is an organization out there like a Majestic-12, or MAJIC, maybe they'll look at this (book) as our resume and want to hire us.
THEN YOU WOULD BE SWORN TO SECRECY FOREVER!
Right.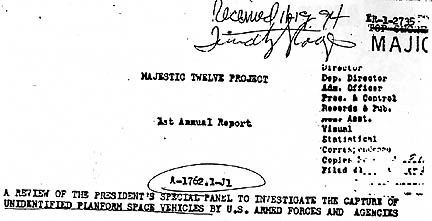 Statistical Odds of E. T. Invasion On Earth
OF THE FOUR OF YOU THAT WERE INVOLVED IN PUTTING TOGETHER THIS INTRODUCTION TO PLANETARY DEFENSE: A STUDY OF MODERN WARFARE APPLIED TO EXTRA-TERRESTRIAL INVASION, WHAT WOULD BE THE CONCENSUS IN MAY OF 2006, LOOKING FORWARD, ABOUT WHEN YOU MIGHT EXPECT THAT WE WOULD HAVE TO APPLY WHAT YOU HAVE IN THIS BOOK TO ACTUAL INTERACTION WITH NON-HUMAN INTELLIGENCES?
Wow, that's a good question. It could be today. It could be 100 years from now, a thousand years from now. The answer to your question is it could be right now. It wouldn't surprise me in the least if they showed up and did an Independence Day full scale attack on the planet or if they were sneaking in through the back door. It would not surprise me if it were happening right now. It would not surprise me if it were NOT happening right now. It's just statistical probable at any time between now and the next 10,000 years.
ANOTHER WAY TO PUT IT IS: WE HUMANS HAVE NO GUARANTEE THAT OTHER ADVANCED INTELLIGENCES IN THE UNIVERSE WOULD BE COMPLETELY BENIGN, SPIRITUAL AND NON-VIOLENT.
Oh, we really make a bold point about that in one part of the first chapter. That was one of Carl Sagan's big things – that all the aliens would have evolved to this utopian society that would be above warfare and all that kind of nonsense.
We go through a mathematical proof as to why that's ridiculous and why there should be just as many statistically – that for some reason whether they mean to harm us, or whether they don't realize they are harming us, or they don't care if they harm us – as there are the same way they mean to help us, or don't know they are helping us, or don't care. It should be an even distribution of all the different things. We don't know what the average would be. We hope the average is that everybody wants to be nice and get along. But what if that philosophy is a non-standard philosophy. We could be a small group of folks that believe that and the rest could be evil. Or it could be the other way – everybody could be that way (compassionate) and only a few evil.
IN YOUR GUT, WHAT DO YOU THINK IS GOING TO HAPPEN IN YOUR LIFETIME?
You mean as far as we are going to be invaded, or there's going to be a public release of some information, or something like that?
YES, ALL OF THE ABOVE.
OK, well, gee, in my life time I suspect that humanity will figure out one way or the other that there are alien life forms, alien intelligence other than ours, especially from the fact that we've already found four planetoids in our solar system with liquid water on it. We are already beginning to count planets around other stars and finding out that planets are the by-products of stars forming, so most stars are going to have planets. I think that with the extreme rapid growth and technology that we're seeing now – the computer technology is just growing so much that it's enabling us to do such things as calculations and develop technologies that we haven't been able to in the past. We are going to spread out our knowledge so much that we're going to understand a lot more about the universe.
Now, I would hope we don't get invaded because we're not prepared for it in my mind. If we get invaded, it might be the end of humanity."
---
More Information:
For more about space defense issues, please see reports below in the Earthfiles Archives:
02/22/2006 — Part 3: Military Voices Reply About Government Interaction with UFOs
02/17/2006 — Updated: White Sands Navy Radar Operator Saw Discs Circle V-2 Rocket Launches
12/31/2005 — Part 6 – Peculiar Phenomenon: Early United States Efforts to Collect and Analyze Flying Discs
12/21/2005 — Updated: Part 2 – Peculiar Phenomenon, Early United States Efforts to Collect and Analyze Flying Discs
05/19/2005 — USAF Wants Space Weapons Program
06/18/2004 — German Scientist Werner von Braun Anticipated Terrorists, Asteroids and ETs on American "Enemy's List"
04/21/2004 — At the X-Conference, Former Naval Intelligence Officer, C. B. Scott Jones
11/09/2002 — UPDATED: Majestic-12 Documents with Ryan Wood About Extraterrestrial Technologies
---
Websites:
Travis Taylor, Ph.D.:  http://www.doctravis.com
Defense Tech:  http://www.defensetech.org/archives/001384.html
Majestic-12 Documents:  http://www.majesticdocuments.com

© 1998 - 2019 by Linda Moulton Howe.
All Rights Reserved.