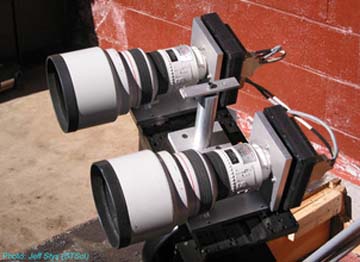 May 19, 2006  Baltimore, Maryland  –  The Space Telescope Science Institute in Baltimore reports an equipment and money breakthrough in the search for planets orbiting suns beyond our solar system. An international team of professional and amateur astronomers, using simple off-the-shelf equipment have discovered a Jupiter-sized planet orbiting a star similar to our sun 600 light-years from Earth in the constellation Corona Borealis.
."This discovery suggests that a fleet of modest telescopes and the help of amateur astronomers can search for transiting extrasolar planets many times faster than we are now," said team leader, Peter McCullough of the Space Telescope Science Institute in Baltimore.
The "binocular" telescope called "XO" is made from commercial equipment and consists of two, 200-millimeter telephoto camera lenses. The telescope is on the summit of the Haleakala volcano, in Hawaii. "To replicate the XO prototype telescope would cost $60,000," McCullough said, "and we have spent far more than that on software, in particular on designing and operating the system and extracting this planet from the data."
McCullough and the amateur astronomers found the new, large planet they call "X0-1b" by noticing slight dips in the star's light output. That indicated an object presumed to be a Jupiter-sized planet was passing in front of the star. The light dips by approximately 2% and indicates the planet is orbiting rapidly in a four-day orbit around its sun.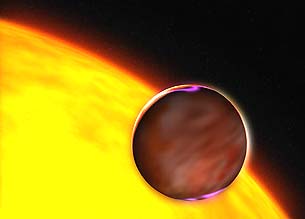 Astronomer McCullough said: "Of the planets that pass in front of their stars, XO-1b is the most similar to Jupiter yet known, and the star XO-1 is the most similar to the Sun, but XO-1b is much, much closer to its star than Jupiter is to the Sun." Thus, the rapid 4-day revolution.
Searching for extrasolar planets by looking for light changes is known as the "transit method" in extrasolar investigations. So far, XO-1b is only the tenth planet to be discovered using the transit method and the second using the simple telephoto lens. In addition to the ten extrasolar planets discovered using the transit method, another 170 planets have been found using other methods. The XO telescope in the hands of amateur astronomers could speed up the search and discoveries which show that solar systems are common in our galaxy. The astronomer's unanswered question is: Will scientists find signs of life on extrasolar planets?
Two Years of Searching
STSI reports: "From September 2003 to September 2005, the XO telescope observed tens of thousands of bright stars. In that time, his team of amateur astronomers studied a few dozen promising candidate stars identified by McCullough and his team. The star X0-1 was pegged as a promising candidate in June 2005. The amateur astronomers observed it in June and July 2005, confirming that a planet-sized object was eclipsing the star. McCullough's team then turned to the McDonald Observatory in Texas to obtain the object's mass and verify it as a planet. He received the news of the telescope's observation at 12:06 a.m. February 16, 2006, from Chris Johns-Krull, a friend and colleague at Rice University.
"It was a wonderful feeling because the team had worked for three years to find this one planet," McCullough explained. "The discovery represents a few bytes out of nearly a terabyte of data: It's like trying to distill gold out of seawater. By timing the planet's passages across the star, both amateur and professional astronomers might be lucky enough to detect the presence of another planet in the XO-1 system by its gravitational tugs on XO-1b. It's even possible that such a planet could be similar to Earth."
---
More Information:
The Space Telescope Science Institute in Baltimore is operated for NASA by the Association of Universities for Research in Astronomy, Inc., Washington.
For more about extrasolar planet discoveries, please see reports below in Earthfiles Archives:
03/25/2005 — Glow of Distant Worlds Seen For First Time
12/17/2004 — Is Our Solar System's Red, Mysterious Sedna An Alien Planetoid?
02/03/2004 — Planet 150 Light Years from Earth Has Oxygen and Carbon Atmosphere
06/14/2002 — Another Solar System Like Ours?
12/01/1999 — Six More Planets Discovered 60 to 190 Light Years Away
---
Websites:
http://hubblesite.org/news/2006/22
http://mcdonaldobservatory.org/news/
http://media.rice.edu/media/Default.asp
http://www.bu.edu/phpbin/news/releases/browse.php
http://www.ifa.hawaii.edu/info/press-releases

© 1998 - 2019 by Linda Moulton Howe.
All Rights Reserved.