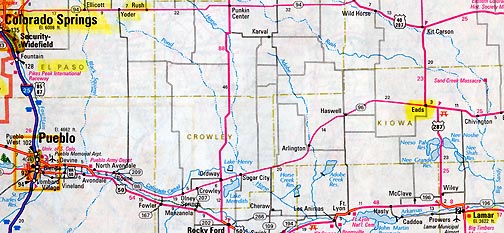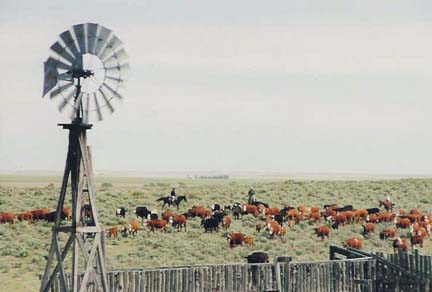 June 1 , 2006  Lamar, Colorado   –  I began traveling with my television crew in Kiowa, Elbert, El Paso, Logan and many other eastern Colorado counties in the fall of 1979 as I began my documentary investigation of the animal mutilation mystery which was frustrating ranchers and law enforcement that year – again. Since at least the 1960s, ranchers had been finding horses, cattle, sheep, goats, rabbits and other domestic and wild animals dead with the same excisions of tissue, usually without blood or tracks. Typically, if a dead animal were on its right side, the left ear, eye, jaw flesh, tongue and even teeth, trachea and esophagus were excised in "neat, surgical, precise cuts." In males, the penis and testicles are either totally removed in an oval excision, or some parts of the male sexual organs are removed. In females, whole udders can be cut hide-deep, leaving behind large circular, square or triangular patterns in the belly. Or only the teats are cored out. Or half the udder neatly cut away. The vaginal tract is almost always cored out in females. And in nearly every mutilation case, regardless of sex, the rectal tissue is cored out in 6-inch-diameter holes that extend into the body as far as fourteen inches or more.
After nine months, my investigation was broadcast in a two-hour special entitled A Strange Harvest on KMGH-TV (then CBS), Channel 7, in Denver. I reported what law enforcement and ranchers told me, on and off the record: that "creatures not from this planet" were doing the mutilations. Later in 1997, I was to meet and talk with retired Lt. Col. Philip J. Corso, author of the book, The Day After Roswell. In private, Col. Corso emphasized to me that he had seen official classified documents in Washington, D. C. which described worldwide unusual bloodless, trackless animal deaths in which the same patterns of tissue had been excised animal to animal and country to country in both hemispheres. Col. Corso told me the earliest date he saw on those classified documents was 1951 and the mutilators were named as "extraterrestrial biological entities."
It's now a half century later and animal mutilations continue. Investigators in Chile and Argentina report that since 2002, over three thousand dead and mutilated animals have been reported to law enforcement and veterinarians. Just like the Colorado and other cases over the years, pathologists have confirmed the South American animals are being cut with high heat, some technology that is cauterizing the tissues. Many cases are also associated with mysterious lights and beams in the sky.
On the Bowen ranch eighteen miles from Eads, Something strange killed two pregnant black Angus. The first was found on February 13, 2006; the second on April 1, 2006. Both animals were near Sand Creek and the site of the notorious Sand Creek Massacre of November 29, 1864, when U. S. Army soldiers killed more than 200 Cheyenne and Arapaho Indians. Chuck and Sheri have uncovered about 3,000 artifacts by searching with a metal detector.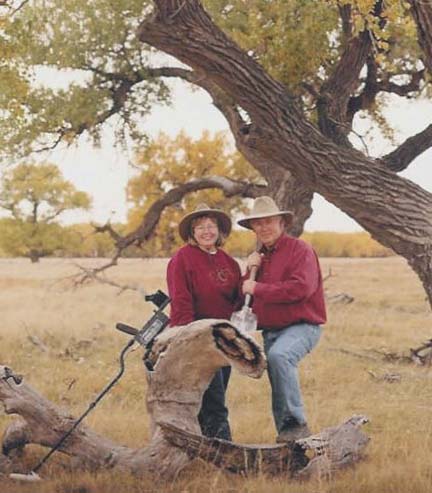 ---
Interview:
First Pregnant Cow Mutilation Discovered February 13, 2006
Black Angus About 8-Years-Old, First Calf
Chuck Bowen, Rancher, Eads, Kiowa County, Colorado:  "I was out checking the cows as we always do. We feed them Monday, Wednesday and Fridays – that's what I did in the wintertime. At first I thought she had died having a calf because it was the calving season. Then when I saw her is when I found out she had been mutilated.
The cut was on the left side of her head and it appeared to be with a sharp knife cut along her jawbone and then around her eye and then back to her nose, kind of a triangular shape and all that skin was removed on the side of her head. That's really about all we saw as far as mutilation. It appeared that she had died just instantly because usually around an animal, there will be some thrashing about when they die. Her legs, tail, everything were totally still. The grass, for instance, was straight up on either sides of her legs and either sides of her tail. Usually there would be kicking and the ground disturbed around by her moving tail. There wasn't any of that. It's just like she had been laid right down in the grass unmoving.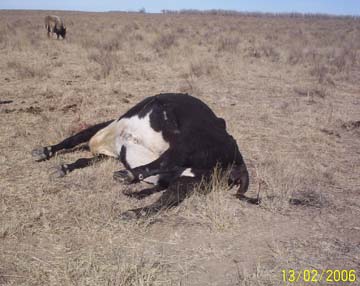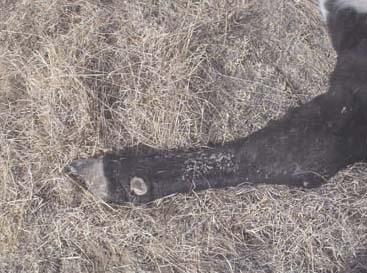 IN FEBRUARY, WAS THE GRASS KIND OF BRITTLE?
Yes, in February it would be.
SO IF ANYBODY HAD WALKED OR DRIVEN AROUND THE COW, YOU WOULD HAVE SEEN SOME KIND OF DAMAGE TO THE GRASS, WOULDN'T YOU?
Right. And we had the Sheriff investigate. We didn't find any signs of a footprint, car track or anything. Neither he nor I could.
WAS THERE ANY BLOOD ANYWHERE?
Yes, on this one that was one of the unusual things. There was a lot of blood around where the cut had been. The fact is that when we found her, it was still oozing blood out of the excision, which the Sheriff thought was very unusual for a dead animal to continue to bleed that way. We figured she had died 24 hours before that.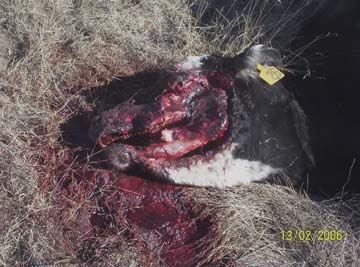 DID YOU OPEN UP HER MOUTH TO SEE IF HER TONGUE WAS MISSING?
No, we didn't have anything to open her mouth with. I think we did think her tongue was missing, but I don't know for sure that.
UDDER, VAGINAL AND RECTAL TISSUE?
Yes, it was all there. Nothing had been done there, so that was also unusual for most mutilations. The only part we saw cut out was the left jaw. It also seems like the left eye might have been gone, but the ear was there.
DID YOU REPORT THIS TO THE KIOWA COUNTY SHERIFF'S OFFICE?
Yes, I did.
WHEN THEY CAME OUT, DID THEY SAY YOU SHOULD GET A NECROPSY DONE OR DO ANY FORENSICS?
They asked us if we wanted to do that, but said it would be up to us to do it (pay). So I did call our vet and he said in order to do anything like that he would have had to know about it immediately within the first hour or so.
High Strangeness
"There were still other cows around when I found her and they were very bothered by whatever had happened, very upset. One of the cows was even throwing her front hooves into the air and bellowing. She would kind of walk around the (dead cow) and kick her legs up in the air and bellow. I thought this was very odd behavior. She was scared to death.
IF YOU'VE BEEN RANCHING FOR 30 YEARS, YOU'VE NEVER SEEN THIS BEHAVIOR BEFORE?
No, I never had.
AND YOU INTERPRETED THAT THE COW WAS SCARED TO DEATH?
Yes, that's how I interpreted it – whatever happened just scared her to death.
SHE WAS THE ONLY COW ACTING THAT WAY?
There were others around her that acted bothered, but not quite that extreme. They were like walking around her like in circles. But this one was the only one that acted bizarrely, I guess.
Also, since I do a lot of my metal detecting out there, I carry a metal detector, which I had with me that day. And I thought if somebody killed her with a gun, maybe I could locate a bullet in her. So, I ran my metal detector over her. The strange thing was that I did not find a bullet, but like over her entire body, the detector read – it tells me what kind of metal I'm finding. When I ran it over her, it came up on the screen that it was 'foil,' like some kind of aluminum foil or some kind of lightweight kind of metal. I thought that was really strange.
YOU WERE GETTING THAT FOIL READING AS IF THE COW WAS SOMEHOW ENCASED OR LAYERED WITH A LIGHT FILM OF FOIL?
Yeah, that's probably how I would describe it – a light film of metal. It didn't produce a beeping sound like it does if I find lead or iron or something like that. There was just a kind of light hum and on the screen it would light up 'foil.' Like there was a light metallic thing over her body.
DID ANY PREDATORS APPROACH HER BODY?
No, it seemed like the coyotes weren't really bothering her or anything. But the birds were. Birds had been all over her. Usually the coyotes are eating on them (dead cows) right away, but this one – in fact after all this time (3.5 months since mid-February and 2 months since April 1), the cow carcasses still haven't been bothered by the coyotes.
Second Pregnant Cow Mutilation Discovered April 1, 2006
Pregnant Black Angus, Calf Partially Born ( Only photos by Kiowa Sheriff's Office)
"Pretty close to April 1, 2006, on the opposite side of Sand Creek, she was kind of behind a slight 6-foot high bank, so I didn't see her right away. It was actually more like two or three days before I found her. She was actually in the process of having her calf, but of course, it died, too.
SO WHEN YOU FOUND HER, THE MOTHER HAD THE EXCISION FROM THE JAW AND THE UNBORN CALF WAS WHAT? PARTLY INSIDE AND OUTSIDE THE BODY?
Yes, it was half way out. It was a perfectly normal birth: both front legs were out and it was just ready to be, if the back legs had come out, it would have been a perfectly normal birth. So just half way out, yes.
COULD YOU GO BACK OVER THE HEAD AND BODY OF THE MOTHER ABOUT EXACTLY WHAT YOU SAW TAKEN?
It was just exactly the same thing – the cut along the lower part of the jaw and around the eye and nose and that piece of skin removed. Oh, the different thing was that there was no blood at this site.
AND CUT FROM THE CALF?
No.
DID YOU LOOK IN THE MOUTH OF THIS ONE?
No, it was too late to try that. Oh, the Sheriff took – he sent his deputies and they took photos of this one.
WHAT IS CLOSEST DISTANCE TO NEIGHBORS AND DID THEY SEE OR HEAR ANYTHING UNUSUAL?
I did talk to the neighbors. They didn't see anything unusual and they haven't had this happen to them. There are neighbors to the east and their house is three miles west of where it happened.
THEY DID NOT SEE OR HEAR ANYTHING UNUSUAL?
No, none of them did.
NO ONE OUT THERE HAS HAD ANYMORE MUTILATIONS?
No, and what prompted me to go to the news is that horse which was mutilated in Fort Lupton.
YOUR RANCH IS NEAR THE KANSAS BORDER?
Yes.
FORT LUPTON WOULD BE ABOUT 200 MILES NORTHWEST?
Yes.
IT WOULD BE THE SAME PASTURE LAND WHERE YOUR FATHER FOUND MUTILATED CATTLE IN THE 1970S TO 1980S?
Yes, those mutilations were on the same ranch, but about five to six miles on up Sand Creek. And they were more your classic mutilation with the tongue and udder gone and no blood at all on any of them."
---
More Information:
If you have any information about the unusual animal deaths in Kiowa County, Colorado, please contact Earthfiles, which would like more information about any unusual animal deaths around the world.
Please email:  [email protected].
For further information about the worldwide animal mutilation phenomenon, please see reports below in the Earthfiles Archives and my books, Glimpses of Other Realities, Volumes 1 and II; An Alien Harvest; and my documentary films, A Strange Harvest and Strange Harvests 1993, in the Earthfiles Shop.
01/13/2006 — 31st Cattle Mutilation on Red Bluff, California Ranch
11/02/2005 — Part 3: Unusual Animal Deaths – Sheep Mutilations in Moortown, Dartmoor, England
10/30/2005 — Part 2: Unusual Animal Deaths – Another Half Cat Mutilation in San Antonio, Texas
10/27/2005 — Part 1: Unusual Animal Deaths – 22 Horses and 1 Burro Near Calhan, Colorado
10/22/2005 — A Lifting Beam Technology in Colorado Human Abduction
10/03/2005 — 2005 Horse Mutilation in France
09/15/2005 — Animal Mutilations Reported in Switzerland, Hollywood and Kansas
08/26/2005 — Another Cattle Mutilation in Canada
08/22/2005 — More Half Cat Reports: San Jose and Seattle
08/13/2005 — Mystery of Bloodless, Decapitated Kangaroos in Melbourne, Australia
08/11/2005 — Part 4: Two Men See Cow Mutilated in Light Beam
08/03/2005 — Part 3: Two Men See Cow Mutilated in Light Beam
08/03/2005 — Another Cattle Mutilation in Pondera County, Montana
07/28/2005 — Feedback on Half Cat Mystery
07/26/2005 — Part 2: Two Men See Cow Mutilated in Light Beam
07/22/2005 — Part 1: Two Men See Cow Mutilated in Light Beam
07/14/2005 — More Half Cat Mutilations in Seattle, Washington Region
07/07/2005 — Part 2: Eyewitness Description of Cattle Mutilation
07/04/2005 — Part 1: Eyewitness Description of Cattle Mutilation
07/01/2005 — U. K. Bicyclist Reports Mysterious, Low Hovering Objects Bending Wheat
06/23/2005 — More Than 3,000 Unusual Animal Deaths Reported in Argentina and Chile
06/17/2005 — Unusual Cow Death in Paradise Hill, Saskatchewan, Canada
05/26/2005 — Part 2 – Corguinho, Brazil: Plasma Balls Which Enter Humans
05/26/2005 — Part 1 – Brazilian Air Force Opens Its UFO Files to Public
04/13/2005 — Highly Strange Dog Death in Arkansas; 2000-Pound Bull Dropped On Log Pile
02/21/2005 — Updated – Bull and Cow Mutilations Northwest of Corpus Christi, Texas
01/15/2005 — Bull and Cow Mutilations Northwest of Corpus Christi, Texas
12/22/2004 — Parts 1 – 2: "Reasons Why U.S. Government CAN'T Release Truth About UFOs!"
12/10/2004 — Part 4: "Peculiar Phenomena," V-2 Rockets – and UFOB Retaliation?
12/10/2004 — Part 3: "Peculiar Phenomena," V-2 Rockets – and UFOB Retaliation?
12/07/2004 — Part 2: "Peculiar Phenomena," V-2 Rockets – and UFOB Retaliation?
12/04/2004 — Part 1: "Peculiar Phenomena," V-2 Rockets – and UFOB Retaliation?
09/13/2004 — Parts 1- 6: "Clearview" Investigation of UFO Experiences on A Rocky Mountain Ranch
08/11/2004 — Newborn Heifer Mutilation in Anderson, California, on August 7, 2004
07/27/2004 — Part 12: UFO Crash/Retrievals: The Inner Sanctum – Status Report VI © July 1991 by Leonard H. Stringfield
07/21/2004 — The Apollo Program, Cape Canaveral and UFOs
04/26/2004 — Update About Microbiologist Dan Burisch, Ph.D.
02/24/2004 — Part 1: UFO Crash/Retrievals: The Inner Sanctum – Status Report VI © July 1991 by Leonard H. Stringfield
01/24/2004 — Oregon Man's Experiences with High Strangeness
12/21/2003 — Part 4 – UFO Crash/Retrievals, Status Report VII by Len Stringfield
10/28/2003 — Part 2 – U. S. Presidents and UFO Investigations
09/12/2003 — More Domestic Cat Mutilations – Again in Bothell, Washington
08/01/2003 — Field Notes About English Animal Mutilations
07/01/2003 — 40 Small Animal Mutilations in Denver and 11 in Salt Lake City
07/02/2003 — Corguinho, Brazil: What "Spinning Force" Created the Football-Shaped Stones?
06/21/2003 — Corguinho, Brazil Farmer, Urandir Oliveira, and Attorney Describe Harassments
06/13/2003 — Corguinho, Brazil: Only One Bed Sheet
06/06/2003 — Part 4 – Geologists Run X-Ray Defractometer on Corguinho, Brazil Stones
06/06/2003 — Part 3 – Infrared and Energy Dispersive Spectroscopy on the Corguinho, Brazil Round Stones
06/06/2003 — Part 2 – Textiles Expert Examines the Corguinho, Brazil Bed Sheet and Pillowcase
06/06/2003 — Part 1 – Scientists Examine Samples from the Corguinho, Brazil Bed Sheet and Pillowcase
05/28/2003 — Cat and Dog Mutilations in Salt Lake City; $6,500 Reward
04/19/2003 — Unusual Animal Deaths in Valparaiso, Nebraska
03/08/2003 — Cattle Mutilation – The Unthinkable Truth, Chapter 3, Part Two
03/15/2003 — Part 6 – Corguinho, Brazil: Microscopic Images from Body Pattern on Urandir Oliveira's Bed Sheet
03/08/2003 — Part 5 – Corguinho, Brazil: Large Light Explodes – Breaks Tree, Kills Calves
03/03/2003 — Censorship By Omission and Comments from MUFON's John Schuessler
03/01/2003 — Part 4 – Corguinho, Brazil: Chemist and Biophysicist Examine Samples of Urandir Oliveira's Bed Sheet
02/26/2003 — Part 3 – Corguinho, Brazil: Return from the Non-Human Craft on September 18, 2002
02/25/2003 — Part 2 – Corguinho, Brazil: Inside the Non-Human Craft from September 15 – 18, 2002
02/22/2003 — Part 1 – Corguinho, Brazil: Farmer Describes His Transport to A Non-Human Craft on September 15, 2002.
02/03/2003 — Cattle Mutilation – The Unthinkable Truth, Chapter 3, Part One
12/21/2002 — Corguinho, Brazil: Close Encounters with Tall Red-Haired and Blond-Haired Non-Human Beings
12/19/2002 — Corguinho, Brazil, Alleged Human Abduction and Photos of Body Marks On Bed and Ceiling
12/07/2002 — Cattle Mutilation – The Unthinkable Truth, Chapter 1, Part Three
11/16/2002 — More Cat and Cow Mutilations: Colorado, Utah and Missouri
11/05/2002 — Canadian Crop Circles and Mysterious Lights in Saskatchewan
10/15/2002 — Chapter 8 – Mystery Stalks The Prairie
10/05/2002 — Part 2 – J-Rod and Microbiologist Danny B Burisch, Ph.D.
10/05/2002 — Part 1 – Two Scientists Describe Extraterrestrial Biological Entity Called "J-Rod"
09/07/2002 — High Strangeness Continues in Argentina
08/31/2002 — One ET Experiencer's Reaction to the Winchester Formation
07/19/2002 — Unusual Animal Deaths and Unidentified Aerial Lights Persist in Argentina
07/02/2002 — Argentina's SENASA Blames Mouse for Animal Mutilations
06/22/2002 — Argentina Animal Mutilation Count Rising Above 100
06/17/2002 — Part 3 – Deer and Cattle Mutilations in Oregon
06/15/2002 — Cattle Mutilations In LaPampa, Argentina
05/18/2002 — A Bull Mutilation in Christmas Valley, Oregon
03/16/2002 — Part 1 – 'Huge Saucer Armada' Shocked Farmington, New Mexico 52 Years Ago
01/12/2002 — Part 1 – Update On 2001 Montana Cattle Mutilations
10/13/2001 — Heifer Mutilation and Mysterious Light in Mantario, Saskatchewan, Canada
08/24/2001 — Part 2 – Unusual Montana Mutilation of Live Bull
07/28/2001 — Pure Hemoglobin Confirmed On Alabama Mutilated Cow
07/22/2001 — Mutilated Bull Calf in Missouri
06/09/2001 — Environmental Updates and Colt Mutilated in Leitchfield, Kentucky
05/11/2001 — Horse Slashings and Deaths in Calgary, Alberta, Canada
10/15/2000 — Mutilated Heifer Found Near Boulder, Colorado
10/15/2000 — Part 1 – Hardened Bovine Hemoglobin Found On California Mutilated Bull
04/16/2000 — A Close Encounter with a Disc in Wyoming
03/29/2000 — Mysterious Calf Deaths In Brothers, Oregon
02/06/2000 — Large Yellow Sphere In Snohomish, Washington
12/26/1999 — Hubble Repair, Gamma Ray Bursts and Unidentified Aerial Objects
12/22/1999 — Update – Unidentified "Arrowhead"-Shaped Object in California Sky
09/12/1999 — Unusual Animal Deaths, Part 1: Nevada
08/25/1999 — Unusual Animal Deaths in Australia and London, England
01/24/1999 — Bull Mutilation in Colorado; and Global Warming

© 1998 - 2023 by Linda Moulton Howe.
All Rights Reserved.