August 19, 2006   Cardiff, Wales – Nearly half a century ago in 1960, a mathematics graduate student from Colombo, Sri Lanka, set off on his first international trip to Cambridge, England. His name is Chandra Wickramasinghe. He was fascinated by stars in the night skies, wondered about other life Out There, and his Cambridge University advanced degree was in Astronomy. His faculty supervisor was the famous Cambridge astronomer, Fred Hoyle. The two men had the curiosity and courage to look for other life in the universe by studying cosmic dust. Their controversial panspermia hypothesis was that the universe is teeming with at least microbial life, which can be transported from one cosmic location to another. In their collaboration, the two astronomers felt strongly that the double helix DNA found in all Earth life had been seeded here by comets or other cosmic bodies and that same DNA would be found in all life forms throughout the cosmos.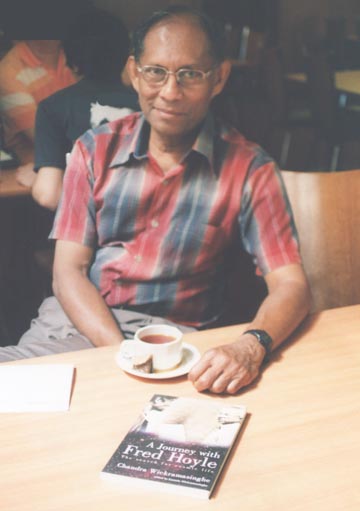 Now, there is a discovery in rainwater that fell on the southwestern tip of India in the state of Kerala, which is challenging the idea that all DNA in this universe is the same. [ See 061506Earthfiles ] Five years ago in July 2001, Kerala residents said they heard a loud boom. Then red rain fell, which stained white clothes. News of the red rain mystery reached Dr. Godfrey Louis, a physicist at Mahatma Gandhi University in Kerala. He collected many test tubes full of the red-colored rainwater and put some of the odd liquid under a microscope.
He was struck by the beautiful rust color of what seemed to be living cells. The cell diameters averaged 10 microns, a little bigger than a human blood cell, which is about 7 microns.
Dr. Louis reported as many as 15 "daughter cells" budded within one "mother cell" and then broke out of the adult cell. That was clearly a process of replication. In normal Earth biology, replication requires the presence of DNA. But Dr. Louis could not find evidence of DNA in the multiplying cells in his test tubes.
Eight months ago, in January of 2006, Dr. Louis contacted astrobiologist, Chandra Wickramasinghe, now at Cardiff University in Wales. Soon Prof. Wickramasinghe had some vials of the red rainwater to study and sent some to biologists at Sheffield University in England. America's Cornell University also received some red rain samples to analyze isotopic ratios. Elements confirmed so far are hydrogen, silicon, oxygen, carbon, and aluminum. But, there still is no definitive confirmation of DNA, or what makes the cell walls red.
This month on August 7 to 8, I was in the Microbiology Lab at Cardiff University to see the red rainwater for myself and to talk with Prof. Wickramasinghe and his graduate student, Nori Miyake. Nori has tried to break open the cells to amplify whatever DNA might be there. Nori showed me the pale pink rainwater in test tubes. You can see photographs at my news website, www.Earthfiles.com. At the top of the Headlines page is a hot link to this red rain report with photographs and microscopic images.
Nori told me he has never seen such thick, hard cell walls, which he could only partially penetrate. He is concerned about contamination in the fluorescent techniques he tried, which indicate there might be DNA. But in his fluorescent research, there have been variables, which might be false positives. He does not even know if he ever extracted anything from the red cells because the walls were so thick and hard to break.
Cardiff University Microbiology Lab – August 8, 2006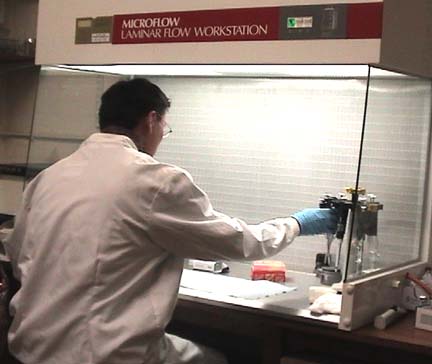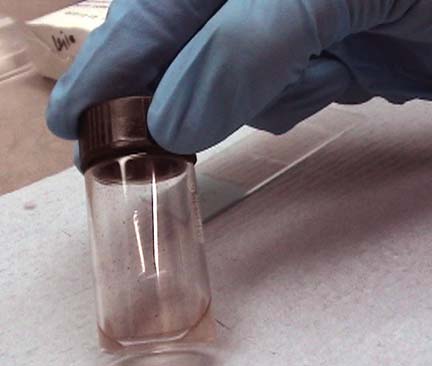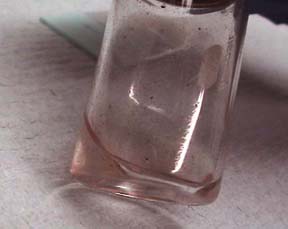 Light Microscope – Single Red Rain Cell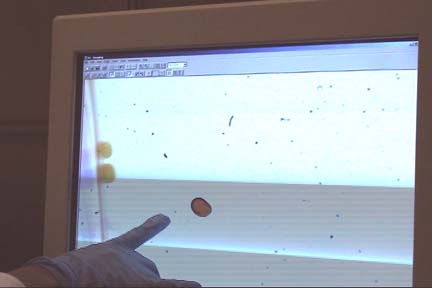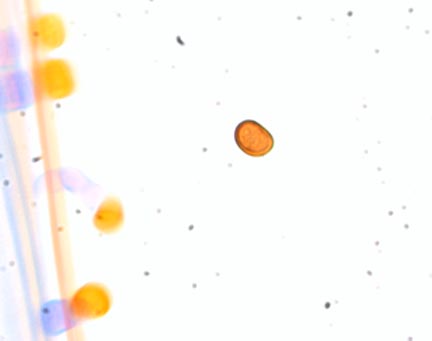 Norimune Miyake, Astrobiology Ph.D.-Student:   "This is the light microscope image of the red rain sample. Here you can see single cell. This is a red rain cell. We have millions of those and I managed to photograph one single cell. Here you can see the upper surface of the cell. From the light microscope, what you can see is the color of these cells. Here you can see red color, or orange-red color. This is the cause of the color in the rain.
YOU DON'T KNOW EXACTLY WHAT IS CAUSING THAT COLOR?
No, it hasn't been identified."
DAPI-Stain Fluorescence:   Is it DNA? Or False Positives?
[Editor's Note: DAPI = 6-diamidino-2-phenylindole (DAPI) to stain DNA, 3,3′- … DAPI can be used on fixed or living cells, DiOC 6 must be used on living cells.]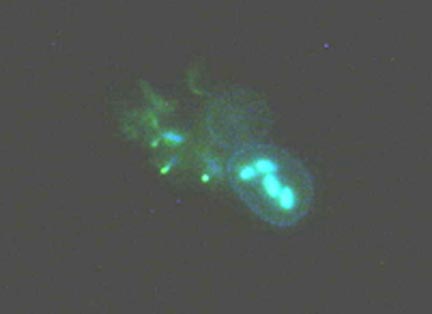 " I stained the cells with a substance called DAPI, which fluoresces the DNA. Hopefully, if there is DNA, it could glow. It will stain and glow. I did get positive results. These are images of two cells after I stained and gave the light. Here you can see four daughter cells inside the mother cell do glow. So, I can say in these four daughter cells per cell, there appears to be concentrated DNA. But another thing is that I also saw that these red rain cells autofluoresce. That means without introducing the light, they glowed by themselves. [Editor's emphasis.]  But I have found that the red rain cells only glow in red color and not in blue color.
If the DAPI does not bind to DNA, it will wash out. So, even if you give the light, it won't glow. But if DAPI binds to DNA, it will stick there so if you give the light, DAPI will glow. Then you know DNA is there.
THEN WHY IS THIS NOT PROOF THAT THERE IS DNA?
Because I have shown in other research work that the red rain cells glow, autofluoresce, in other colors. They ought to fluoresce in blue color, but there is a possibility of interruptions we haven't identified yet. Perhaps DAPI interrupts with autofluorescing mechanisms in the red rain. There is a possibility of such effect and that's why we cannot definitely say there is DNA.
THIS FLUORESCENCE HAS NOT PROVED ANYTHING ABOUT DNA IN THE RED RAIN CELLS?
Not totally, not definitely. To get definite results of DNA, the best way is to break open the cells and get the DNA, PCR the DNA, and then sequence it. That would be a definite answer for DNA."
[ Editor's Note:  PCR = Polymerase chain reaction (PCR), which has become one of the most widely used techniques in molecular biology to produce relatively large numbers of DNA molecule copies from very small quantities of source DNA material – even when the source DNA is of relatively poor quality.]
Thick Cell Wall of Red Rain Cell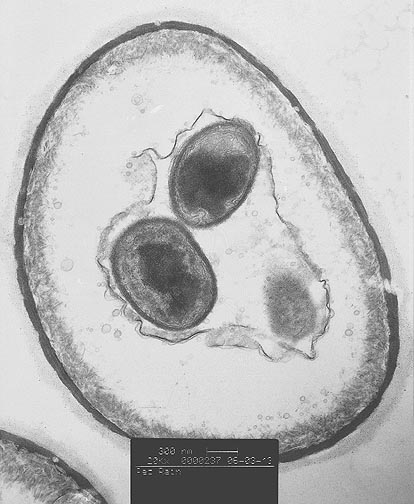 THE REASON WHY YOU HAVEN'T BEEN ABLE TO BREAK THOSE CELLS IS?
I can show you now. We have images from the TM work. This TM image shows that the cell has a very thick wall. Using normal lyces techniques, I cannot break open these cell walls. That's why I couldn't get anything from inside.
SO THESE ARE EXCEPTIONALLY THICK CELL WALLS IN THE RED RAIN?
Yes.
WHAT WOULD MAKE THE WALLS SO THICK?
One possibility is a mechanism like spores in which the cell walls protect the inner cells. I haven't found out what the cell walls are made of.
IF THIS IS EXTRATERRESTRIAL LIFE FROM OUTER SPACE AND ENDS UP NOT HAVING DNA, WOULD THESE THICK WALLS PERHAPS BE PROTECTIVE FOR LIFE IN OUTER SPACE?
Yes, it is possible. With the color and thick cell walls, the most toxic thing in outer space would be the radiations and solar energies. It is possible, these can protect the cells from that and keep them from drying out inside the cells.
SO, WHAT MAKES THE RED COLOR IS STILL UNKNOWN, THE CELL WALLS ARE VERY THICK, AND DNA HAS NOT BEEN CONFIRMED?
That's correct."
The Cardiff lab director, David Lloyd, told me he thinks the rainwater cells might be some kind of Earth yeast cells, which also replicate by internal budding. He postulates that some kind of yeast rose up into the clouds over Kerala, multiplied into literally tons of cells, which then came down in the multiple rains.
But Dr. Lloyd cannot explain why there would be red rains only in the summer of 2001, and none reported before or after – until July 2006. There was another red rainfall in July this year over Kerala, almost exactly five years to the day of the first red rain.
In June, when I interviewed Prof. Wickramasinghe for Earthfiles and Dreamland, he was reluctant to give up on the red rain cells having recognizable Earth DNA. But by August 8th, his mind was opening to the possibility that his and Fred Hoyle's panspermia theory might now have to accommodate other life in the universe that might not be exactly like Earth's.
---
Interview:
Chandra Wickramasinghe, Ph.D. and S.C.D., Cambridge University, Prof. of Applied Math and Astronomy and Director of the Cardiff Centre for Astrobiology, Cardiff University, Cardiff, Wales, U.K.: "On the basis of the evidence that I've seen, I have to come on the side of an extraterrestrial origin for the red rain cells. I think the first injection of these cells into 2001, or even earlier than that, most likely came from space.
IS IT FAIR TO SAY IF I SUMMARIZE THAT ON THE ONE HAND, WE HAVE THE SOUND OF THE BOOM THAT MIGHT RELATE TO AN INCOMING CHUNK OF ICE THAT COULD HAVE BEEN CARRYING SOMETHING THAT RESEMBLES YEAST CELLS, BUT IT CAME FROM OUTER SPACE AND REPLICATED IN THE UPPER CLOUDS?
OR IT WAS A RED YEAST FROM OUR EARTH THAT ROSE UP IN THE AIR FOR SOME REASON AND REPLICATED IN THE CLOUDS? THAT THOSE ARE THE TWO SPECULATIONS: ONE TERRESTRIAL AND ONE NON-TERRESTRIAL?
I think those are the two contending theories that the sonic boom that was heard was a source of the red rain cells. Perhaps a small comet or piece of comet exploded and brought the material, either the whole of the material that went into the red rain, or a minute fraction that was then multiplied in the clouds.
Alternatively the red rain was something that was just lofted up from the surface of the Earth, maybe from the trees and wind and so on. I personally find that almost incredible that these are Earth organisms that could have been lifted in such great quantities into the clouds. They don't look like Earth organisms in the details that are available at the moment. There are some generic similarities to yeast cells, but doesn't exclude yeast cells coming from outer space – a totally different yeast type cell with totally different DNA. Or maybe no DNA, as we still have to determine.
So, I think there is a continuing puzzle. But between the two alternatives, an Earth-based origin and an origin from space, I would err on the side of an origin from space.
Another Kerala, India, Red Rain in July 2006
COULD YOU EXPLAIN ALSO ABOUT THE JULY 2006 RECENT RED RAIN?
Yeah, this was something that was quite surprising. I found the news on an Internet site and got hold of Godfrey Louis and friends in Kerala, and they confirmed there was such an episode almost five years to the day after the events of 2001.
SO THIS WOULD HAVE BEEN IN JULY 2006?
July 2006. Now, how does one explain this? I think it is very difficult to explain that in terms of an earthbound cycle, some replication cycle of yeasts on the ground, a five-year replication cycle. That does not make too much sense.
On the other hand, comets have periods that vary from 3 years to very long periods. Halley's Comet is over 80 years period and so on. So, there is a whole range of periods associated with comets and one could easily imagine a stream of cometary particles with a period of precisely 5 years and the Earth crossing this stream on a regular basis. Why that stream crossed over into the Earth's atmosphere at Kerala might remain a problem. But I think there are ways of explaining that as well.
WHY KERALA IN THE SOUTHWEST CORNER OF INDIA AND NOT OTHER PLACES ON OUR EARTH?
I think other places on the Earth also would have been receiving these red rain cells. But it would not be noticed. If you think a belt of latitude that goes around the Earth where Kerala is, then east of Kerala is the Indian Ocean all the way to the Sahara. And going West, you have mountains. So, if this red rain fell over a huge strip of land going all the way, or half the way, around the world, Kerala might have been the only place with a population able to detect it.
But why the latitude of Kerala? That might be the problem. The Earth's latitude at Kerala seems to be implicated in some way and that might be related in some way to where the comet's stream intersects the Earth.
THAT LATITUDE OF KERALA IS WHAT?
I would think about 10 degrees north of the equator.
BUT TO DATE, THERE IS STILL EVEN A MYSTERY ABOUT WHY THERE WOULD BE REPETITIVE RED RAINS IN KERALA, INDIA?
There is a mystery of almost unparalleled proportions in terms of any terrestrial biological cycle. If you can think of any Earth-bound cycle that has a 5-year period, in yeast cells that is very difficult to come up with. To me, that is a clear indication that this is driven from outside.
But on the existence of DNA, there still remains a considerable uncertainty. I would like to think that wherever the cells came from – whether from the Earth or from space – that they had DNA, simply because that is the kind of life that I'm used to thinking of – that all life on Earth is based on DNA. So, it would be a great surprise if there were red biological cells that did not contain DNA.
But the arguments of Godfrey Louis, I think, are quite important to explore. And to this day, we haven't had definitive evidence of DNA from the tests that were done by Nori. There were fluorescence tests that were used, very standard tests (with DAPI), and they do show a positive for DNA. But it's well known that these could be false positives. There is really no 100% detection of DNA, based on fluorescence.
What Would Decide DNA Question?
The really crucial test would be to break open the cells and to extract DNA and then to try to amplify the DNA and see whether there is DNA and if it is similar to such and such cell type that we recognize. There are two things to say about this: the breaking of the cells turned out to be exceedingly difficult. The cell walls were robust, almost beyond belief. It was really a mammoth task to extract DNA from the cells, which we think we have done. Nori is the person who works in the lab and he was able to break the cells open and extract some DNA, but so far we have not been able to amplify that DNA and to really make sure that the DNA is something that came from the cells. It is very easy to have contaminants in the process of breaking the cells and extracting what is inside them.
I THOUGHT THAT NORI HAD SAID THAT HE WAS NOT HAPPY WITH WHAT HE HAD BEEN ABLE TO DO WITH THE CELL WALLS SO FAR – THAT HE DID NOT FEEL HE HAD ACTUALLY BEEN ABLE TO PENETRATE THEM THE WAY HE WANTED TO EXTRACT MATERIAL AS HE NORMALLY WOULD WITH NORMAL CELLS?
I think that's true. When I looked at some of the electron microscope pictures and optical microscope pictures of these broken cells, there was evidence of broken cell walls and fragments of cells. But there was also very little evidence of anything that came out of those cells. I think that's the bottom line. We have to identify something that came out of the cells as being the DNA that we try to amplify.
THAT IS ACTUALLY PART OF THE RED RAIN CELL AND NOT SOME POSSIBLE CONTAMINANT FROM THE PROBLEM OF PENETRATING THE CELL?
That's right. The problem of penetrating the cells was horrendous. He had to use various techniques of using water ice, for instance, and then cracking open the water ice. They were techniques that were very prone to introducing contaminants. To me, these are the uncertainties that we have at the moment.
Thick Cell Walls and Red Color – UV Protection?
IF THE CELLS DID COME IN ON A PIECE OF COMETARY ICE IN 2001 ORIGINALLY, AND THAT THEY ARE CELLS FROM OUTER SPACE, IS IT POSSIBLE THAT THE THICKNESS OF THE CELL WOULD HAVE EVOLVED BECAUSE IT NEEDS SOME KIND OF SERIOUS PROTECTION IN AN OUTER SPACE ENVIRONMENT?
I think it's true that the thickness of the cell wall is a great protection against ultraviolet radiation. So also is the red pigment. Whatever the red pigment is comprised of, also could be a protection against UV light. I think all the indications to me are that these cells can withstand very harsh conditions – the conditions of high-speed entry to the Earth's atmosphere and also could understand high doses of ultraviolet radiation.
We would like to do experiments to verify this, to subject the cells to high doses of UV and see what happens to them. These experiments have not been done yet. We are planning them in the near future.
NOW, THE IDENTITY OF THE RED PIGMENT – IT'S BEEN FIVE YEARS NOW SINCE THAT FIRST RED RAIN. WHY DO YOU THINK THAT RED PIGMENT, OR WHATEVER MAKES THE CELLS RED, HAS NOT YET BEEN IDENTIFIED?
The samples were available to us only relatively recently. So we haven't had much time to do all the tests that are possible. I think the tests so far would exclude a heme, an iron-based pigment.
Carotenoids, which are the other red-yellowish pigments – they seem to be a strong candidate for the red coloration, as they do occur in certain yeasts. We know that there are many types of yeasts that have reddish pigments and they are carotenoids – not anything like hemoglobin or related to hemoglobin.
IN THE YEASTS THAT WE KNOW, WHAT PURPOSE DOES THE RED PIGMENT SERVE?
I think that for the yeasts in the atmosphere that are blown around in the Earth's atmosphere, some yeasts have also been discovered high in the sky in the clouds, for example. If they were to survive conditions in the upper atmosphere, a pigment would be of great importance to screen the DNA from ultraviolet radiation.
YOU MEAN THAT THE RED PIGMENT COULD SERVE AS SOME KIND OF FILTERING MECHANISM?
Yes, as a filtering mechanism. It is known, I think, in the case of many pigmented bacteria and pigmented microorganisms generally that red pigments serve precisely this purpose.
IT WOULD BE FILTERING UV. ONE SPECULATION WAS THAT PERHAPS THE RED PIGMENT MIGHT PROVIDE THE ENERGY FOR THE CELL IF YOU CANNOT FIND DNA?
I think so. It could be a light-harvesting device as well. Pigment takes up a color, red or yellow or something, because it responds to sunlight in a certain way, it absorbs particular colors in sunlight. The radiation that is so absorbed could also be light-harvesting, could produce energy, and could be an energy source for the cell.
Living Cells Without DNA?
IF YOU ARE DEALING WITH EXTRATERRESTRIAL CELLS FROM SOME PLACE ELSE THAT CAME INTO THE EARTH'S ATMOSPHERE ABOVE KERALA IN SOME KIND OF COMETARY ICE, AND IF IT TURNS OUT THAT YOU AND SHEFFIELD AND CORNELL CANNOT CONFIRM DEFINITELY DNA, WHAT ARE THE IMPLICATIONS IN YOUR THINKING FOR A LIFE FORM THAT LOOKS LIKE A YEAST CELL, BUT DOES NOT HAVE DNA?
I suppose I've got to re-think my entire framework of scientific orthodox beliefs that DNA is crucial to life. That may not be true anymore. If this is proved to be a biological entity that replicates without DNA, then one has to look for another system, a non-DNA system that can hold information. What DNA does is hold the information that is needed to reproduce.
I just can't think of any other mechanism or other chemical system at the moment, but that does not mean that there is not such a system. It could be that an alien life evolved a system that is not based on DNA. There have been speculations about silicon-based life and so on.
But in this particular instance, the cells we are seeing are carbon-rich and they have all the normal carbon, nitrogen, oxygen abundances, so it's not an alien life such as a silicon-based life or totally alien chemistry that's involved.
So, it would surprise me if there is absolutely no DNA. But on the other hand, it's also an indication that we just don't know anything about biology that might exist on a bigger scale outside of the Earth. I think we have to keep an open mind as to what types of biology exists on a cosmic scale.
COULD THE RED PIGMENT ITSELF BE SOME KIND OF AN INFORMATION-CARRYING DEVICE IF THERE IS NO DNA?
Not really because I think the molecules that are pigmented usually are carotenoids, they are not long chains of information-carrying systems. So, I think that's probably unlikely.
WHAT IS YOUR GUESS ON THE RED RAIN OF KERALA IN TERMS OF BEING ABLE TO PROVE THAT IT CAME IN FROM OUTER SPACE ON A COMET?
That is a very difficult issue to resolve with absolute certainty. If there were no DNA, then that would be an indication that it was almost compelling in the direction of an alien incursion. If there is DNA, then one has to analyze the DNA and make sure the DNA is totally disjointed from any living form, any known type of yeast that exists on the Earth. I think that would also be an indicator of an alien invasion.
That would be the closest one would get to complete proof and I tend to think that sooner or later, something like the red rain would happen that would be the smoking gun for panspermia, which would decisively demonstrate that we are not alone, that our life here is connected to a much bigger life system in the cosmos."
In mid-September 2006, Prof. Wickramasinghe will host 30 astrobiologists from around the world at Cardiff University, including Dr. Godfrey Louis, who is flying in from Kerala, India, to present his research on the red rain cells since 2001. Dr. Louis has published data [ April 4, 2006, journal Astrophysics and Space Science, "The Red Rain Phenomenon of Kerala and Its Possible Extraterrestrial Origin"] which states that the Kerala red rain cells increase replication of the daughter cells in the mother cells when subjected to high pressures and temperatures in the range of 300 degrees Celsius (570 degrees Fahrenheit). So far, Dr. Louis's work has not been reproduced, but it's research that Norimune Miyake and others would like to do.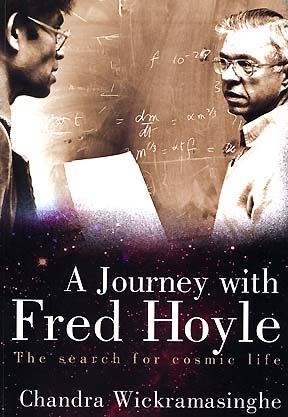 ---
More Information:
Ripley's Believe It Or Not – 1928 Issue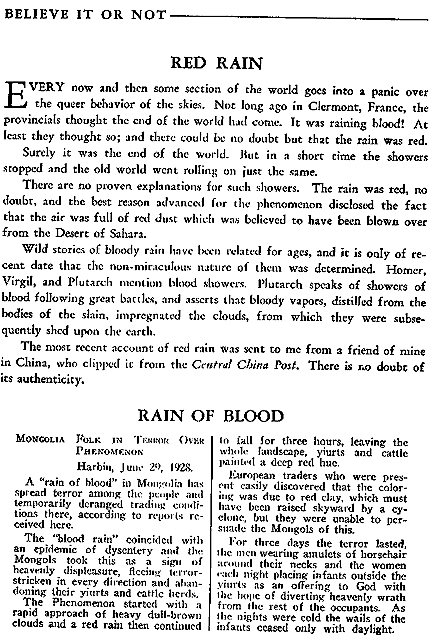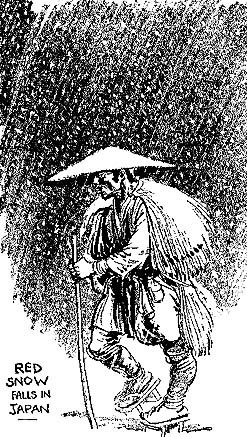 For further information about exobiology, please see reports below in the Earthfiles Archives  and my books and documentaries in the Earthfiles Shop.
06/15/2006 — "Extraterrestrial Life" in Red Rain of Kerala, India?
02/17/2005 — Iapetus and Enceladus: Baffling Moons of Saturn
01/05/2003 — What Are the Grooves in the Martian South Pole?
08/25/2001 — Are Crop Formations at Chilbolton Observatory A Response to 1974 Earth Transmission?
12/03/2000 — Bacteria from Outer Space?
---
Websites:
Journal of Astrophysics and Space Science
Chandra Wickramasinghe, Ph.D.  http://www.astrobiology.cf.ac.uk/redrain.html
Louis Godfrey, Ph.D.  http://education.vsnl.com/godfrey

© 1998 - 2019 by Linda Moulton Howe.
All Rights Reserved.