"Researchers from the University of Colorado believe the next solar cycle (Solar Cycle 24) will be the most intense in 50 years."
– NASA, August 15, 2006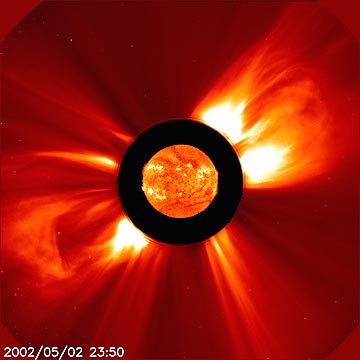 August 23, 2006   Huntsville, Alabama –  As long as humans have been studying our sun, observers have noticed that the sun goes through reoccurring cycles that last about eleven years. For instance, most recently the year 2000 was a solar maximum of sunspots. After that, sunspots were supposed to decline in size and number to a solar minimum in 2005 before starting over again with an upswing in sunspot activity to another solar maximum in 2010 to 2012. During solar maximums, there can be powerful flares, or coronal mass ejections, that propel intense solar radiation at a million mph through the solar system. The power of a solar flare is the energy equivalent of a million megatons of TNT, or ten million Hiroshima bombs. During the most recent solar minimum, there were a number of unexpected huge sunspots that unleashed gigantic X class flares when the sun was supposed to be quiet. X class flares are the strongest category. That unusually intense activity during a solar minimum left many people wondering if the next solar cycle, the 24th, will be especially strong?
The beginning of an answer to that question might have emerged three weeks ago on July 31st when a small sunspot in the sun's southern hemisphere was magnetically backward. That got the serious attention of astrophysicist, David Hathaway, who is the Solar Physics Team Leader at the NASA Marshall Space Flight Center in Huntsville, Alabama. He has been studying the sun for more than twenty years. Dr. Hathaway has become convinced after more than a dozen solar cycles that there is a grand pattern of sunspot polarities. In the sun's northern hemisphere, all sunspots are oriented south to north. In the southern hemisphere, all spots are north to south. That's how it has been for the past ten years during Solar Cycle 23.
When Cycle 24 arrives – the grand pattern will flip. Northern sunspots will become north to south, while those in the south will change south to north. This magnetic flipping action occurs every time one solar cycle gives way to another.
That little July 31st sunspot emerged in the southern hemisphere with its magnetic poles backward in the south to north position – perhaps a harbinger that the next solar cycle is beginning.

"Backward" means magnetically backward. In the magnetic map of the sun, above, N is white and S is black. The backward sunspot which first appeared on July 31, 2006, is circled. It could mean a really big and stormy solar cycle is beginning, perhaps the stormiest in decades. Sunspots and solar flares will return in abundance, producing bright auroras on Earth and dangerous proton storms in space.
---
Interview:
David Hathaway, Ph.D., Solar Physics Team Leader, NASA Marshall Space Flight Center, Huntsville, Alabama:  "What has happened recently is that we have seen what might be the first sunspot of the next Solar Cycle 24. It appeared as a small spot (on July 31, 2006) and lasted only for a few hours. But it had reversed, or backward, polarity for this solar cycle. Sunspots usually come in pairs with the one to the right, say, having a North-seeking magnetic polarity and the one to the left having a South-seeking or negative polarity. This spot observed in the Southern Hemisphere of the sun was flipped around the other way. This is the direction we expect for the next Solar Cycle 24, which we expect to peak about the year 2010.
THE FACT THAT YOU'VE GOT A SUNSPOT WHICH HAS APPEARED ON JULY 31, 2006, WITH THIS POLE REVERSAL, WHAT DOES THAT SUGGEST TO YOU ABOUT WHAT THE INTENSITY OF THIS COMING SOLAR CYCLE MIGHT BE?
One thing we found is that big cycles with lots of sunspots and solar activity tend to start early. If this is the first spot and we see more, then it could be an indicator that the next cycle is going to be a big cycle. We have other indicators as well that are suggesting that.
LIKE WHAT OTHER INDICATORS?
One that has been noticed for 40 or 50 years now is the amount of geomagnetic activity – how the Earth's magnetic field shakes due to disturbances from the sun. The level of geomagnetic activity late in a solar cycle as it is getting to minimum, as we are now, that is often an indicator of how big the next cycle is going to be. That activity has been particularly high this time, which also suggests a big cycle (upcoming).
The more important thing is that we now have computer models that model the sunspot cycle. What has been done by researchers in Colorado is that they have fed into their model where the sunspots were and how big they were for the last 130 years. They find with their models, using that data as input, they can predict very accurately the size of the last eight cycles. From that, then project to how big the next one is going to be. They also find the next cycle ought to be a big cycle.
Impact of Intense Solar Cycles on Earth
HOW WOULD YOU CHARACTERIZE A BIG SOLAR CYCLE IN TERMS OF WHAT WILL HAPPEN ON THE EARTH?
Large solar cycles produce more ultraviolet emission that can influence the Earth's upper atmosphere in particular, so it can be a problem for satellites in lower Earth orbit, including the International Space Station (ISS). They experience atmospheric drag and can slowly spiral down, so they need to be re-boosted.
Right here on the ground, big cycles tend to have more disturbances like solar flares and things we call Coronal Mass Ejections (CMEs) that can cause power outages by sending surges of current through power lines. That can take out transformers and cause black outs.
IF THIS TURNS OUT TO BE A REALLY INTENSE SOLAR MAXIMUM, WHAT ARE YOUR PERSONAL GREATEST CONCERNS? WHAT ARE YOU GOING TO BE LOOKING FOR?
I think the biggest concerns are far as solar activity and space weather and its effects on Earth are to our satellites in space, our astronauts in space. Here on the ground, as power grids get bigger and closer to their capacities, there are possibilities of black outs. Another component of solar activity that's been in the news recently is that in the same way that solar activity can cause a surge of current through power lines, it also causes surge of currents through (oil) pipelines, which can enhance corrosion in pipelines. So, usually pipeline operators have to keep track of space weather as well and try to counteract the electric currents that are flowing through the pipeline due to solar activity.
The worst case on the ground is probably what it does to power distribution and communications as well. We have more and more aircraft flights that are passing over the North Pole. It's a quicker route from parts of Europe to North America, but there is no land there, so there are no ground-based communications. They rely on long-range communications, which use the Earth's ionosphere, the same way that short wave radio operators use it to bounce their signals around the planet. During extreme space weather, they lose those communications. This costs airlines literally millions of dollars as far as them having to re-route aircraft to other routes that maintain communication links. So, there are effects there. You might be on a flight from Eastern Europe to New York and have to be diverted because of solar flares.
SO, BETWEEN 2006 AND 2012 THERE MGHT BE AN INCREASED NUMBER OF RE-ROUTINGS OF AIRPLANES BECAUSE OF ACTIVITY ON THE SUN?
That's right.
Power Grid Black Outs Caused by Solar Storms
WHAT SIZE ERUPTION ON THE SUN COULD TAKE DOWN A POWER GRID ON THE SURFACE OF THE EARTH?
Most of the X Class flares have that capability. But it's more than the flare itself, it's the coronal mass ejection of material off of the sun with embedded magnetic fields in it, forming this cloud that goes through the solar system at about a million miles an hour. It's that CME as it hits the Earth that is the real problem for power lines. It shakes the Earth's magnetic field, sets up currents in the radiation belts that also form currents on the ground, which can cause a surge of power through transformers.
Back in 1986, there was a $10 million transformer in New Jersey that was literally fried by one of these disturbances.
The power in the Province of Quebec went out. There were people who were without power for six days back in March of 1989.
HAVE THERE BEEN ANY POWER GRIDS THAT HAVE BEEN TAKEN DOWN BY A CORONAL MASS EJECTION IN 1990 TO 2006?
There have been some disturbances. I don't recall one like the March 13, 1989 event. That was a particularly big one in terms of how widespread it was. [ See More Information below.]
Certainly the power companies are doing a better job of keeping track of space weather and induced currents. They are on top of it, but they are also often working at the very edge of what their circuits can hold. All it takes is a little push over the top and you can start taking things down.
WOULD YOU EXPECT IN THE PERIOD BETWEEN 2006 AND 2010 TO 2012, THAT THERE MIGHT BE ELECTRIC POWER GRIDS THAT MIGHT BE BROUGHT DOWN BY THE INTENSITY OF X FLARES ON THE SUN?
I certainly would not be surprised. I don't know that I expect it, but I certainly would not be surprised. Part of it is how well are the power companies keeping track of space weather themselves and how well are they operating their systems. There are things they can do as far as re-routing electricity or shutting down parts of it to protect the whole system.
IF WE ARE MOVING INTO AN INTENSE SOLAR MAXIMUM CYCLE, WHEN WOULD YOU EXPECT TO SEE, WHAT WOULD BE THE FIRST YEAR, THAT WE MIGHT HAVE A LOT OF FLARES, INCLUDING X-FLARES?
Usually within a couple of years into the cycle, activity really starts to pick up. A couple of years from now in 2008, certainly by 2009, activity ought to really pick up.
THEN IT WILL REMAIN INTENSE THROUGH 2010?
Through 2010 to 2012 probably.
If at this point, this is the first spot of the new solar cycle and we start seeing more and more – this is a good indicator that the next cycle is going to be a big cycle. This is what we've seen over the last 13 or 14 cycles. This is the characteristics of big cycles – that they start early.
Global Warming – No Evidence of Sun Putting Out More Energy
SOME PEOPLE HAVE SPECULATED THAT THE MELT OF SOME ICE ON MARS IN THE POLES INDICATES THAT MORE ENERGY IS COMING OUT OF THE SUN THAN IN THE PAST AND THAT THE ENTIRE SOLAR SYSTEM MIGHT BE GOING THROUGH A GLOBAL WARMING AS THE EARTH IS. DO YOU HAVE ANY EVIDENCE FOR THAT?
Certainly we see evidence that terrestrial climate, temperature in particular, is associated with solar activity. There was a period called a "Maunder minimum" from 1645 to 1715. The sun basically stopped making sunspots. It went through a period of 70 years almost without any spots at all. That period also corresponds to a period of cold on the Earth that was part of the Little Ice Age.
That's one instance. But if we look at solar activity and Northern Hemisphere temperature, they tend to follow each other until the last 50 years or so, and then while solar activity has been high, it has not increased the same way that the temperature of the Earth has.
SO, FROM YOUR POINT OF VIEW AS A SOLAR PHYSICIST, WHAT'S HAPPENING ON THE SUN CANNOT EXPLAIN THE LAST 50 YEARS OF GLOBAL WARMING THAT WE ARE CLEARLY EXPERIENCING NOW?
That would be my opinion.
More X Class Flares in Solar Cycle 24?
A YEAR AGO, WE WERE TALKING ABOUT UNUSUAL STRONG X-FLARE ACTIVITY IN WHAT WAS SUPPOSED TO BE A SOLAR MINIMUM. IF WE WERE HAVING REALLY STRONG X-FLARES IN THIS PREVIOUS SOLAR MINIMUM, WHAT KIND OF X-FLARES WOULD YOU EXPECT IN THIS NEXT SOLAR MAXIMUM?
Any X class is considered a major flare. The number of those increases with the number of sunspots that are directly related to the magnetic fields and sunspots. And here (at solar minimum) we were on the declining phase of the cycle getting down to fewer and fewer sunspots. Then the sun decided it was going to give out one last gasp for this cycle. There was a large sunspot. I remember it was extremely large and off the top of the X class end.
HOW MUCH OF THAT X-RAY RADIATION IS REACHING THE EARTH?
The surface of the Earth, virtually none. It gets absorbed in the Earth's atmosphere. Our atmosphere protects us. If it didn't, we'd have difficulty living here. But in absorbing x-rays in the upper atmosphere, it heats up the upper atmosphere, makes it expand and can cause problems with satellite orbits.
One problem with eruptions like solar flares is they emit energetic particles, which can damage electronics on satellites. So, there will be problems with satellite electronics going awry. There have been some 4,500 satellite anomalies, which have been attributed to solar activity over the last 25 years.
Impact of Space Weather on Astronauts
Another problem is that the radiation can be harmful to astronauts. Now they are getting ready to send people to the Moon and on to Mars, we have to worry about that as well.
DURING A SOLAR MAXIMUM MIGHT NOT BE THE BEST TIME FOR US TO GO TO THE MOON?
Not to the moon! Fortunately you don't have a lot of choice, but the main thing is to provide protection for the astronauts, a place where they can be better shielded from solar radiation. Again, that is in the plan. But if it's going to be a big solar cycle, flares are going to happen more frequently and will affect planning excursions outside the vehicle. Space walks and walks on the moon, we will have to monitor very carefully the likely of a solar flare occurring so the astronauts are safe guarded.
BUT HOW DO WE PROTECT ASTRONAUTS ON THE MOON AND IN SPACE WALKS IF THERE IS A BIG CME ON THE SUN?
The easiest thing is to get back into the spacecraft. The skin of the spacecraft, the metal between you and space, helps. There are other things you can do as far as how you design spacecraft. It turns out that water is a real good protector from solar radiation. So if you put your water supply in tanks surrounding your living quarters, it helps to protect you.
An astronaut is at most risk when they are just in a spacesuit, like doing a space walk outside a vehicle on the moon, or if they are walking around on the moon exposed to the radiation, the astronauts are subject to ill effects due to the radiation itself.
IT MEANS THAT NASA AND THE ASTRONAUTS REALLY HAVE TO BE PAYING ATTENTION TO THE SPACE WEATHER REPORTS?
Indeed.
ARE YOU THE KEY TO THOSE SPACE WEATHER REPORTS?
I'm one of the keys to understanding how to predict it. NOAA, the National Oceanic and Atmospheric Administration, is really the agency that has been given the task of giving the warnings. In fact, it is through the National Weather Service. But they don't have a research arm, so the research we do at NASA that comes up with ways of predicting activity that NOAA then uses in their daily operations to provide those predictions."
---
More Information:
HydroQuebec Blackout of March 1989 Caused by Solar Eruption
UCAR.edu reported: "On March 13, 1989, the sun erupted with a big coronal mass ejection which caused a huge magnetic storm on the Earth. A transformer failed on one of the main power transmission lines in the HydroQuebec system. That precipitated a catastrophic collapse of the entire power grid. The string of events that produced the collapse took only 90 seconds from start to finish. There was no time for any intervention. The transformer failure was a direct consequence of ground-induced currents from a space weather disturbance high in the atmosphere. Six million people lost electrical power for 9 or more hours."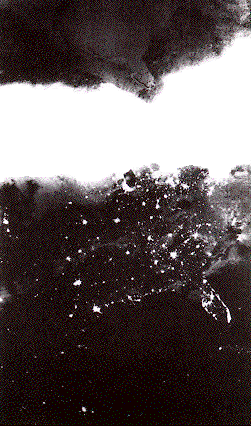 Above image:  On 13 March 1989, the voltage of Quebec's power grid began to fluctuate alarmingly. Seconds later, the lights went out across the entire province. Some six million people were without electricity for nine hours. Within two days, NASA had lost track of some of its spacecraft and the northern lights were glowing in the sky south of London. These events had the same cause: a monumental solar storm, the fiercest for thirty years. Its auroral display over the Eastern USA is shown in this image taken around 04:00 Universal Time on March 14, 1989 by the Department of Defense F9 meteorology satellite.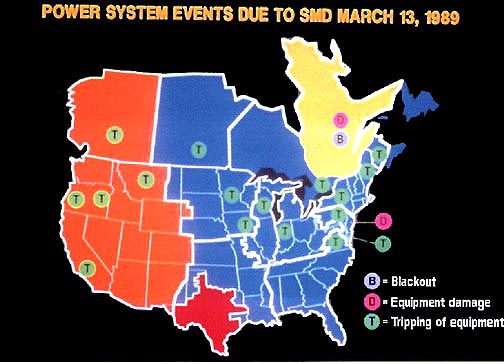 For further information about solar cycles and sunspots, please see reports below in the Earthfiles Archives:
11/18/2005 — Is the Sun Heating Up?
09/29/2005 — 2005 Arctic Summer Ice Melt – Largest On Record
09/23/2005 — 9 X-Class Solar Flares Between September 7 – 19, 2005.
02/11/2005 — Sunspot Region 720 Emitted Strongest Radiation Since October 1989.
10/29/2003 — Fifth Intense Solar X-Flare – What's Happening On the Sun?
07/16/2003 — First 3-D Images of the Sun's Granular Surface
02/01/2003 — Brainerd, Minnesota's Mysterious Lake Water That Won't Freeze
10/25/1999 — A Blast of Solar Wind Provokes Aurora Over Northern U. S.
---
Websites:
NOAA's Space Environment Center:  http://www.noaa.gov

© 1998 - 2019 by Linda Moulton Howe.
All Rights Reserved.