"Very slow paced, like a blimp would go. Then that sphere kind of thing began to turn counterclockwise and instead of a circle in the sky, it was more disc-shaped." 
– Chicago Eyewitness "John Smith"
February 2, 2007  Chicago, Illinois – "John Smith" works as a technician in a Chicago, Illinois, data and voice communications subdivision of a major global corporation. His office is near Chicago O'Hare International Airport, but his home is about forty-five miles northwest of O'Hare.
Between 6 and 6:30 a.m. Chicago time on Tuesday morning, November 7, 2006, John was in his routine daily commute to his company on the edge of O'Hare. He was traveling as usual on I-90 East toward Chicago. Suddenly, he saw something he had never seen over O'Hare Airport before.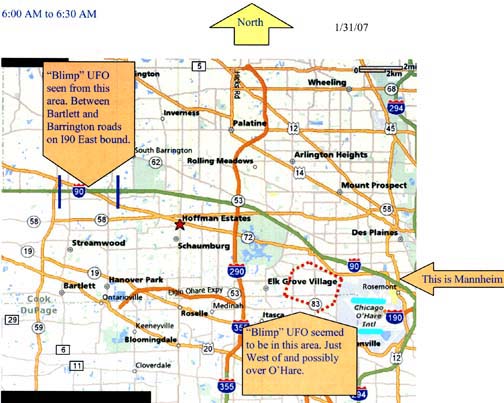 ---
Interview:
"On I-90 East heading toward the city, I pretty much have the whole overview of the Chicago landscape driving in. I do this Monday through Friday every day, approximately a 40 to 45 minute drive for me.
What I noticed was an object that looked like a blimp at first. It was bluish-grey metallic looking. I thought it was weird because I've seen blimps before coming into the city. I used to date a girl out near Midway Airport where they had a hangar that had the Fuji blimps. I've seen them there all the time. This object was quite large and it was over O'Hare. And I knew that O'Hare Airport is a restricted airspace. I think there is a 2-mile or 5-mile no-fly zone associated with O'Hare. I saw the object there and it just seemed weird. On top of that, it was colder. It's out of place there.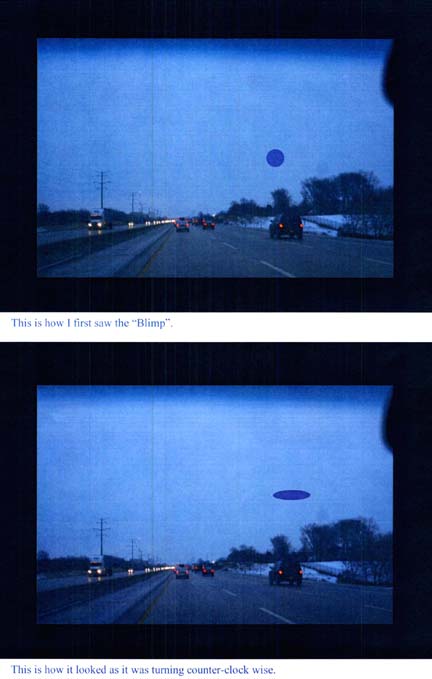 WAS THERE ANYTHING ABOUT WHAT YOU WERE LOOKING AT THAT SEEMED VERY METALLIC?
Just the color. It was between a bluish and silver color, but more a blue – like a dark blue metallic. It did not seem real reflective, but it did look metallic.
SO YOU WERE NOT SEEING A REFLECTIVE SURFACE?
Correct.
IF YOU WERE NAMING A BLUE I MIGHT KNOW, WHAT WOULD IT BE?
Steel blue is the only thing I can think of that is close to it. Steel blue, a dark metallic blue.
WHERE EXACTLY WAS THIS IN RELATIONSHIP TO O'HARE?
From my vantage point, it would be O'Hare, or a little west of O'Hare.
WAS IT MOVING AT ALL?
Yes. Very slow paced, like a blimp would go. Then that sphere kind of thing began to turn counterclockwise and instead of a circle in the sky, it was more disc-shaped. Then I had to concentrate on my driving. But I did notice the object because it was really out of place.
MANY OTHER DRIVERS MUST HAVE SEEN THE OBJECT, TOO?
You would think so, but commuters listen to the radio and think about other things.
WHY COULDN'T IT HAVE BEEN A BLIMP?
Just because I've never seen blimps over O'Hare. I've seen them in the outer portions beyond the No-Fly zone. Then there's the weather. I've seen blimps mostly in the summertime, especially at the Loop air and water show with advertisements flying around. But never near O'Hare and nothing in the winter there.
I didn't know about the afternoon sighting of the thing over O'Hare's C-17 concourse until a couple of days later (Nov. 8, 2006) when I heard on the radio and saw the reports in the Chicago Tribune newspaper.
I didn't put 2 and 2 together until I heard you on George Noory's Coast to Coast AM and on another program, it was reported that someone else saw a blimp. But most of the other reports I heard were about a disc-shaped object in the afternoon. I don't know anyone who saw that. But after listening, that's when I decided to contact you about what I had seen earlier that morning.
ABOUT 25 FEET IN DIAMETER AND ABOUT 6 FEET THICK, WHICH WOULD BE QUITE A BIT SMALLER THAN THE OBJECT YOU ARE DESCRIBING.
Correct.
THE BLIMP-LIKE OBJECT COULD HAVE CARRIED THE SMALLER DISC?
Possibly. I know from the vantage point I had, it seemed extremely large."
---
More Information:
All requests for anonymity are honored. If anyone else saw the "blimp" in the morning or the pearlescent, spinning disc in the afternoon of November 7, 2006, low in the air over O'Hare International Airport, please email me at: [email protected].
For further information about the O'Hare UFO, please see reports below:
01/28/2007 — Updated: O'Hare UFO Eyewitness Says Disc Spun Counterclockwise
01/26/2007 — Two Cell Phone Images of Disc Over Chicago O'Hare Airport
---
Websites:
http://www.majesticdocuments.com
http://www.presidentialufo.com

© 1998 - 2023 by Linda Moulton Howe.
All Rights Reserved.