"It would have been very natural for someone who just came out of the CIA Psychological Warfare Division to appeal to the CIA for funding, or at least be qualified to obtain funding for some type of propaganda operation such as a National Enquirer tabloid."
– Terry Hansen, Author, The Missing Times
May 11, 2007  Vancouver, British Columbia, Canada –  Recently at the April 2007 Eureka Springs, Arkansas, UFO conference – journalist Terry Hansen was a speaker. Terry is author of an important 2000 book entitled The Missing Times – News Media Complicity in the UFO Cover-Up.
Terry described his research of World War II when America's Office of Strategic Services (OSS) – the precursor to the CIA – appealed to major news media, in the interest of national security,  to help with censorship and propaganda during the war.
By September 1947, right after World War II and only a couple of months after the alleged crash of a UFO disc between Corona and Roswell, New Mexico, the Central Intelligence Agency was formed. Over the next decades, the CIA used the WWII relationships with CBS, The New York Times, Associated Press, United Press International and other major United States media to maintain its control over sensitive subjects – including the UFO phenomenon – by keeping CIA control over certain well-placed executives in news agencies.
Facts about the CIA's propaganda and censorship relationship with certain American media executives came to light three years after the 1972 Nixon Administration Watergate break-in scandal. The 1975 hearing of the United States Senate Select Committee to Study Governmental Operations with Respect to Intelligence Activities was chaired by U. S. Senator Frank Church, Democrat from Idaho.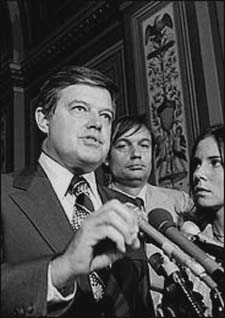 The committee investigated illegal intelligence-gathering by the the CIA and FBI that emerged during the Watergate investigations. Carl Bernstein, reporter at  The Washington Post, working with his colleague Bob Woodward, broke open the Watergate scandal. On October 20, 1977, Carl Bernstein was also published in the famous Rolling Stone article:  How America's Most Powerful News Media Worked Hand-in-Glove with the Central Intelligence Agency and Why the Church Committee Covered It Up.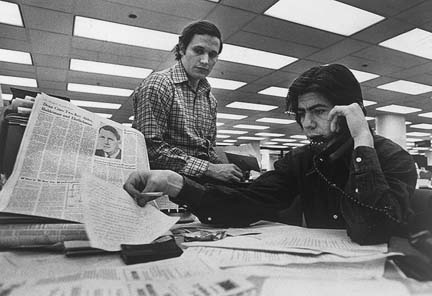 Bernstein reported that in addition to The New York Times, "CBS was unquestionably the CIA's most valuable broadcasting asset. CBS president William Paley and Allen Dulles enjoyed an easy working and social relationship (with the CIA). Over the years, the CBS network provided cover for CIA employees, including at least one well-known foreign correspondent and several stringers; it supplied out takes of news film to the CIA; established a formal channel of communication between the Washington bureau chief and the Agency; gave the Agency access to the CBS news film library; and allowed reports by CBS correspondents to the Washington and New York newsrooms to be routinely monitored by the CIA."
One of the highly controlled subjects for decades has been the UFO phenomenon. One military voice who tried to tell the truth about UFOs – that the aerial craft were not human-made – was U.S. Marine Corps Major Donald Keyhoe.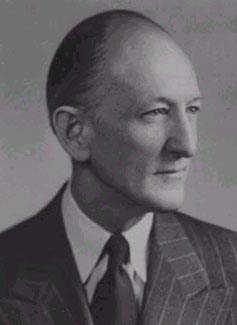 As fate would have it, Terry Hansen's teacher in junior high school was Major Keyhoe's sister. She talked about Major Keyhoe and what he said about the astonishing aerial disc maneuvers. Later, Terry wanted to know why UFO events always seemed to be covered up or dismissed as balloons, swamp gas or Venus by the media.
During his research for The Missing Times, he read the Church Committee's reports about direct CIA control of major media, including The New York Times and CBS. Terry also found circumstantial evidence that the CIA and mafia were behind the creation of the most notorious tabloid in America – the National Enquirer – which began in 1953 reporting more UFO incidents than any other media.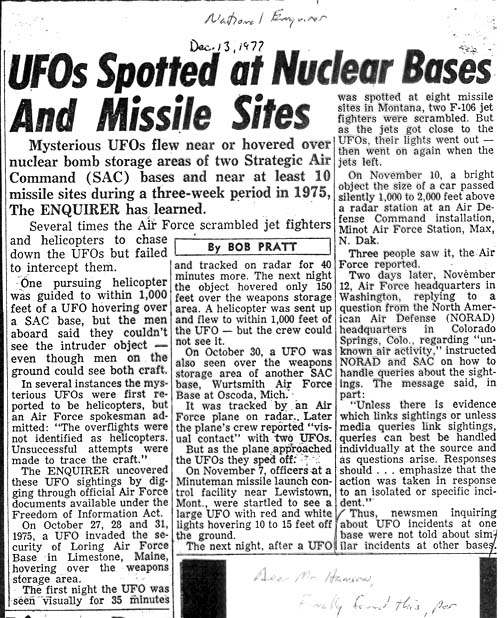 ---
Interview:
Terry William Hansen, B. S., Biology; M. A., Journalism; author The Missing Times – News Media Complicity in the UFO Cover-Up (© 2000):  "When the CIA was involved in Guatemala in the 1950s, I think 1954, the CIA was anxious for the American public to be kept ignorant of that fact. The New York Times had a reporter down there who was covering the story and the CIA – in order to make sure the American public did not find out what was gong on – simply contacted the publisher of The New York Times and requested that he pull the reporter off the story. So, the CIA effectively killed the story right there before the public could find out about it.
Another example that just came out fairly recently – in fact, it was written up in The New York Times in March 2001 – had to do with the bay of Pigs invasion in (April) 1961. At that time, the CIA had a relationship with the Associated Press and the UPI wire services so that the CIA could actually place propaganda stories directly onto the international wires through those agencies. In other words, the CIA could literally write propaganda stories and have the cooperation of those wire services to distribute stories worldwide.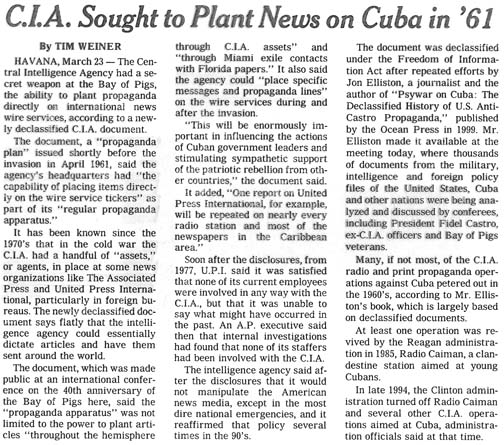 It's was very well documented in 1975 by the U. S. Sen. Frank Church Committee that The New York Times, CBS and most of the major broadcast networks had a covert relationship with the intelligence community and carried out all sorts of assignments, including providing cover for intelligence agents to censor the news to distributing propaganda. This was all widely exposed and written up in the Columbia Journalism Review and then in some popular publications such as Rolling Stone. Eventually, The New York Times, after it had been exposed, did a series of articles in which they confessed that they had done this.
The news media up through the mid-1960s and mid-1970s was doing this kind of thing behind the scenes.
THE JUSTIFICATION WAS ALWAYS IN THE INTEREST OF NATIONAL SECURITY?
That's correct.
Former CIA Psychological Warfare Agent Creates National Enquirer
COULD YOU EXPLAIN THE ORIGIN AND EVOLUTION OF THE CIA LINK TO THE CREATION OF THE NATIONAL ENQUIRER?
OK, that's a very interesting story because it does actually begin in WWII. There was a well-known Italian newspaper on the East Coast called Il Progresso. It was owned by a family, the Pope family. Gene Pope, Sr., who started the newspaper, was a very influential East Coast power broker and he was really supportive of Mussolini during WWII. That got the attention of the U. S. intelligence community – the O.S.S. at the time (Office of Strategic Services). The intel people decided to infiltrate his newspaper to find out why Pope Sr. was supporting Mussolini.
I think it turned out that Pope just wanted a better relationship between Italy and the U. S. more than being a backer of Mussolini. At any rate, this was the first time that Il Progresso came to the attention of the intelligence community.
Possibly as a consequence of intel monitoring the Gene Pope family, intel agents became aware of the son, Gene Pope, Jr.  He was a bright, young man. He graduated from M. I. T. at age 19 in engineering. That gives you an indication of how smart he must have been.
Around 1950, there was an internal family struggle over control of Il Progresso and for some reason, Gene Pope, Jr., lost out in that struggle and was forced to go elsewhere, separate himself from the paper. He found a job in of all places, the CIA's Psychological Warfare Unit. That was 1951 when he started working for the CIA.
About 1952, Gene Pope, Jr., leaves the CIA. He's about 25-years-old and he purchases a newspaper called the New York Enquirer, which was part of the Hearst newspaper empire, for about $75,000. Pope described it as an interest-free loan with $20,000 as a down payment.
[ Editor's Note:  Wikipedia – "The first New York Enquirer was founded in 1826 by Mordecai Noah. According to the masthead, it was 'published every Tuesday and Friday at No. 1 Williams St., New York, New York.' Noah was a strong supporter of Andrew Jackson and published often highly slanted pro-Jackson news reporting, along with international news. By the early-1830s it had merged with a Whig paper to become the Morning Courier & New York Enquirer. By 1926, a second New York Enquirer was later sold and renamed The National Enquirer in 1954 and was converted to a tabloid format."
American Media Inc (AMI), one-time owner of the National Enquirer, further explains its publishing history. "The New York Enquirer was acquired by the zany Generoso (Gene) Pope, Jr. (1927-88) in 1952 for $75,000. Pope's father (1891-1950) was a political powerbroker and quarry magnate whose Italian-American newspaper interests included the Correire d'America and daily Il Progresso Italo-Americano. He had also acquired New York radio station WHOM from Gardner Cowles in 1946.
"The Enquirer purchase was supposedly assisted with a loan from crime figure Frank Costello. An FBI report on Pope Jr. drily notes that he was dining with Costello at the Monsignore Restaurant when the latter was shot to death. In 1954, Pope revamped the format from a broadsheet to a tabloid, renaming it the National Enquirer.
"Pope ramped up circulation in competition with exploitationist publishers such as Bernarr MacFadden, a character almost as strange as Pope. He moved the Enquirer to Florida in 1971, moving away from unashamed gore to 'exposes' as part of a shift from newsstand to supermarket distribution. Pope, Jr., died in 1988." ]
WAS GENE POPE, JR., ALSO WORKING FOR THE CIA AT THE SAME TIME?
We don't know that for sure. Officially, he left the CIA, but there is some reasons to believe he maintained contact with them. He has a mysterious background. From what I've read, those who have tried to find government documents on Pope, Jr., have been blocked for national security reasons. So, his true relationship with the government has not been fully revealed at this time.
At any rate, he somehow managed to come up with the money quickly to buy the Hearst New York Enquirer. Then he later re-named it the National Enquirer, which is well-known to many people now.
The paper he bought was actually in bad financial shape and it required a constant infusion of money to keep it afloat. I think the total funds needed to keep the paper profitable was about  a quarter million dollars. Now, that might not sound like a lot in today's dollars, but if you adjust it for inflation, that's about $1.6 million in 2003 dollars. So, it was a big chunk of change for a 25-year-old kid to come up. It raises a question then about where he got the money? There's been a lot of speculation about that.
THE IMPLICATION IS THAT HE MIGHT NEVER HAVE OFFICIALLY LEFT THE CIA, THAT HE MIGHT HAVE BEEN BUYING THE NEWSPAPER AS AN ASSIGNMENT AND THE CIA IS WHERE THE MONEY CAME FROM?
It's certainly a possibility because you have to ask the question: how did someone that young come up with such a large amount of money? We know for a fact in the early 1950s that the CIA was spending very lavishly on a broad range of media assets, as the CIA calls them. It would have been very natural for someone who just came out of the CIA Psychological Warfare Division to appeal to the CIA for funding, or at least be qualified to obtain funding for some type of propaganda operation such as a National Enquirer tabloid.
Some people say the money came from his god father who was mobster, Frank Costello. Frank Costello was also connected with the OSS during WWII when he did a lot of things for the intelligence community. Any way you look at it, there are these ties between the National Enquirer and the intelligence community.
AND THE MAFIA!
Yeah, the mafia, too. But, of course, the mafia and intelligence community worked together for many years as well. So, they are all one big family!
Another connection to the intelligence community is that one of the first employees of the National Enquirer was a man by the name of Bill Bates. He was a former OSS officer, so you find these consistent ties between the intelligence community and the National Enquirer from a very early point in the paper's founding.
IS IT FAIR TO SAY THAT WHEN YOU LOOK AT THAT PERIOD OF HISTORY, THE CIA WAS TRYING TO "WIRE" MEDIA INSIDERS SO THE INTELLIGENCE AGENCY HAD INFLUENCE AND CONTROL ON ALL THE MAJOR MEDIA?
Yes, there is no doubt about that. One person told me some might think it's a stretch that they funded the newspaper, but it was a fairly common practice for the CIA. When economist John Kenneth Galbraith went to India as ambassador under John Kennedy, he found a newspaper very much like the National Enquirer in India that he later discovered was financed by the CIA. So, this kind of psychological warfare trick was something the CIA was doing in other parts of the world. That provides some circumstantial support for the theory that the National Enquirer may very well have been a CIA operation.
Was National Enquirer Part of Robertson Panel's 
Psychological Warfare UFO-Debunking Strategy?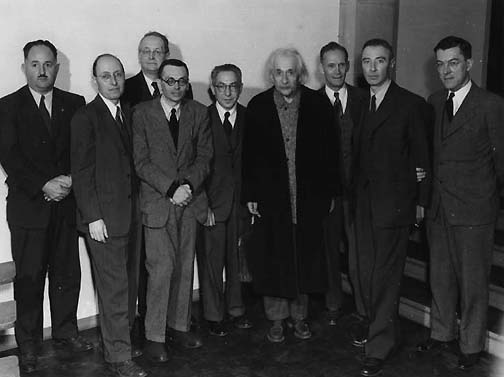 IF IT WERE, COULD YOU TALK ABOUT HOW THERE WAS A CONCENTRATION ON UFO STORIES IN THE NATIONAL ENQUIRER?
People aware of the UFO history of controversy are probably aware of something called the Robertson Panel. In 1953, the CIA got involved in debunking UFO reports. They put together a panel chaired by a scientist called H. P. Robertson. He was a very high-level scientific intelligence man who was a leading physicist, as well as an intelligence officer and had played an important role in WWII. The recommendation of Robertson's panel was that UFOs be debunked by a covert mass media program of 'training and debunking,' as they called it.
This was about the same time that the National Enquirer was getting started by Gene Pope, Jr., For many years after, the National Enquirer was one of the few national newspapers to consistently cover the UFO topic. What's interesting about it is that most of their stories were quite accurate. They were sensational, by their very nature, but were quite accurate and written by a journalist named Bob Pratt. The stories were true, for the most part, but they mixed them in with the celebrity stories and trashy, sensationalistic topics so that anyone who saw these stories in the National Inquirer would make a  mental connection between UFOs and rather dubious sensationalistic reporting. So, it cast the whole subject into disrepute. And of course, that's exactly what psychological warfare people do. They use these ploys to muddy the waters and confuse people about what is really going on.
WHICH IS EXACTLY THE OFFICE THAT GENE POPE, JR. – FOUNDER OF THE NATIONAL ENQUIRER – WORKED FOR IN THE CIA.
That's right. It gets even more interesting when you follow the story a bit further. In the 1960s and 1970s, the National Enquirer made national, sensational UFO coverage sort of a laughing stock and it kind of set the pattern for other tabloid newspapers to come, which also, I think, had peripheral links to the intelligence community – although that's maybe a little less clear than with the Enquirer.
During the 1970s, Gene Pope, Jr., was having difficulty getting the National Enquirer into the Winn Dixie grocery store chain. He got help from of all people Melvin Laird, who was Nixon's Secretary of Defense. Laird arranged a tour of the Nixon White House for Winn Dixie store executives and they were so impressed with Pope's clout with the White House that they finally agreed to let the Winn Dixie grocery store chain carry the National Inquirer.
In a story about this in a Forbes magazine, a reporter asked Pope about this connection he had with the White House and why he had such clout with the national defense establishment, and Pope said, 'It's just politics. One hand washes the other.'
The implication was that Pope was doing something for either the Nixon White House or the Secretary of Defense and in return, they were helping him get his newspaper out into as many places as possible.
Nixon Defense Secretary Melvin Laird Gave Eulogy At Gene Pope, Jr.'s 1988 Funeral
Now, the final footnote to this whole amazing story is that when Pope died in 1988, he was now one of America's wealthiest men. Who, of all people, gave the eulogy at his funeral but former Defense Secretary Melvin Laird under Nixon (Secretary of Defense from 1969 to 1973). So, again, you have this interesting tie between the national security establishment and the National Enquirer.
TWO PLUS TWO EQUALS FOUR – THAT THE NATIONAL ENQUIRER WAS A CENTRAL INTELLIGENCE AGENCY PSYCHOLOGICAL WARFARE PROJECT.
Yes, that's certainly the way it looks to me. The CIA fingerprints are all over it. It's hard to come to any other reasonable conclusion.
There's no doubt that the National Enquirer had a huge impact on how many people in the public at large and also in the journalistic establishment see the UFO topic. By connecting flying saucers with UFOs and this kind of trashy UFO reporting, it's made the link in peoples' minds that UFOs are, by definition, disreputable and questionable material. That's exactly what the Robertson Panel set out to achieve in 1953.
The CIA's official position is that they never really followed through on the Robertson Panel's recommendations, but a letter has come to light through recent research that makes it clear the CIA was in fact doing this sort of thing because one member of the Robertson Panel in 1966 wrote a hand-written letter to a fellow CIA associate in which he confessed that he had helped organize a CBS broadcast around the Robertson Panel's conclusions. This was a famous broadcast narrated by Walter Cronkite. And we know at that time, CBS had a very close working relationship with the intelligence community. So, it was not at all surprising that if the CIA wanted to debunk UFOs, it would appeal to organizations such as CBS to help them do that. This letter really establishes that the Robertson Panel's recommendations were being carried out at least as late as 1966, which is thirteen years after the recommendations were first made.
UFO Policy of Denial in Interest of National Security
WHY DO YOU THINK THAT SO MUCH EFFORT HAS BEEN PUT INTO DISCREDITING AND MISINFORMATION AND PSYCHOLOGICAL WARFARE TO KEEP THE MEDIA AND PUBLIC AT AN ARM'S LENGTH DISTANCE FROM WHAT LEAKED GOVERNMENT DOCUMENTS CALL "EXTRATERRESTRIAL BIOLOGICAL ENTITIES?"
Well, that's really the $64 million question. The question everyone would like to have the answer to. I think initially, there was quite obvious concern expressed in a lot of internal government documents about the surveillance of U. S. military installations and nuclear weapons facilities by flying saucers, or UFOs. So, there was naturally in the minds of the military establishment, there was a concern about potential invasion by some unknown force. In fact, in 1954, President Dwight Eisenhower actually made a denial on the front page of The New York Times saying the earth was not being invaded by flying saucers from outer space.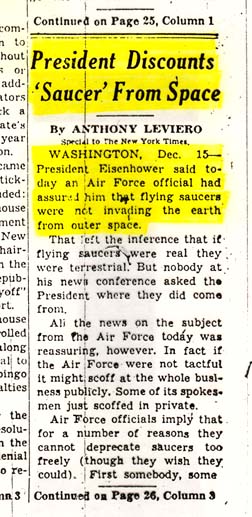 This was a topic of great concern at that time and on up into the late 1970s, flying saucers or UFOs were still flying over our nuclear weapons facilities and interfering with ICBMs, according to military personnel. [ For more information about Montana Minuteman missile silos and UFO phenomena, including bloodless animal mutilations, please see my book, An Alien Harvest, in the Earthfiles Shop and the reprinted Mystery Stalks the Prairie in the Earthfiles Archive. ]
So, there does seem to be this issue of surveillance and interference with military facilities. There might be other issues as well having to do with economic considerations and military hardware considerations.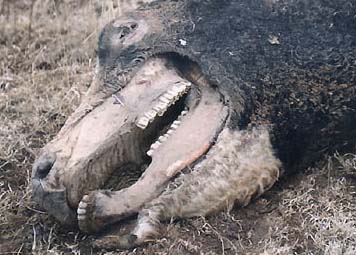 YOU CAN ADD ANIMAL MUTILATIONS AND HUMAN ABDUCTIONS TO THE LIST, SO THE GOVERNMENT WOULD HAVE BEEN SO CONCERNED THAT NO ONE KNOW ABOUT ANY OF THAT UNTIL THE GOVERNMENT THOUGHT IT HAD CONTROL OVER THOSE INTRUSIONS. BUT WE'RE TALKING IN MAY 2007 AND THE HUMAN ABDUCTION SYNDROME IS STILL REPORTED AND SO ARE WORLDWIDE, BLOODLESS ANIMAL MUTILATIONS.
Yes, there is no doubt about it. I think the Defense establishment wants to project an image of being in control and they are obviously not in control! (laughs) And haven't been for quite a long time. I don't think they want to confess that to the public because that's the source of their power.
I suppose another concern is about what the public reaction would be if the government came out and said, 'Yes, these things are going on and there's really very little we can do about them.'
ARE YOU CONVINCED THAT THE PRESENCE OF MORE THAN ONE EXTRATERRESTRIAL – OR SOME KIND OF NON-HUMAN INTELLIGENCE – IS AT WORK ON THE PLANET NOW AND HAS BEEN PERHAPS FOR MILLENNIA?
It looks that way to me, Linda. I've read many thousands of these accounts from what I think are credible sources and I don't think you can come to any other conclusion that there is some sort of intelligence more advanced than human beings has been involved with human affairs for quite a long time. I think we first became aware of this in a big way following WWII, but I suspect it's been going on for much longer than that – probably many thousands of years if not a good deal longer.
DO YOU THINK THE CIA AND OTHER INTELLIGENCE AGENCIES STILL HAVE THE FIX IN TO WIRE THE NEW YORK TIMES AND OTHER MEDIA?
I think they do. I haven't seen any real change in media policy about this in the United States. So, I think there is still a very large tendency to try to keep the subjects under wraps. But, it's a question of whether the CIA and government really have much credibility left with the public anymore because if you look at public opinion polls, it's pretty clear that most people don't believe what the government is saying about the issue. So, in a sense, they've already lost the battle – even though they continue fighting it, using the old methods they've had for so many years.
DO YOU THINK IN OUR LIFE TIME THAT THE TRUTH WILL FINALLY COME TO THE WORLD THAT WE'RE NOT ALONE, THAT OTHER ADVANCED INTELLIGENCES ARE HERE INTERACTING WITH THE EARTH AND HAVE BEEN FOR MILENNIA?
That's a good question. It depends on who you look to for your source of what is true. I mean, if you look to the political establishment, they are not very good at telling the truth about much of anything, much less UFOs! (laughs)  I think it's against their nature to speak the truth about almost anything. But the preponderance of the evidence that's leaking out – and largely because of the internet, I think – makes it pretty clear that this is going on. I think the public has reached that conclusion independently of any official acknowledgement by the Power Elite.
I see this as a sort of microcosm of a much broader political problem in the United States right now, which is a battle for an open society. There is a battle going on between people who want to continue an open democratic society and those that want to try to suppress that. We see this manifesting in a lot of areas outside the UFO area, but the UFOs are part of that whole problem of secrecy in government and unwillingness to run our country in a democratic fashion.
AND TELL THE TRUTH.
And tell the truth, that's right."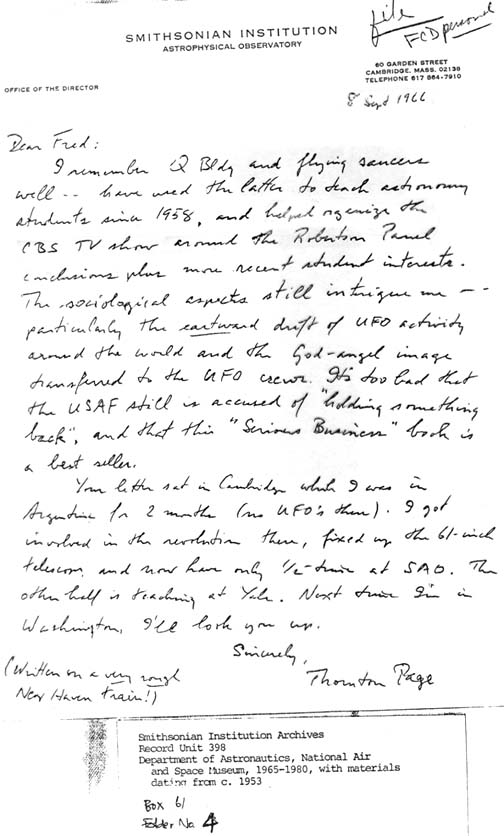 Terry Hansen comments: "This letter was written shortly after CBS aired a major "documentary" debunking UFOs entitled UFOs: Friend, Foe, or Fantasy narrated by Walter Cronkite."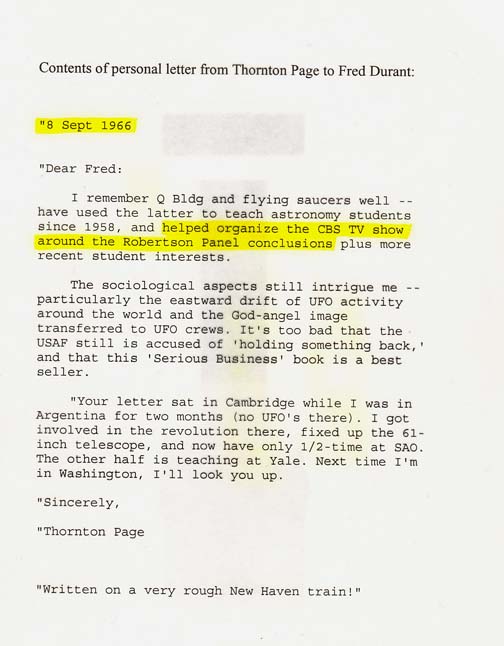 ---
More Information: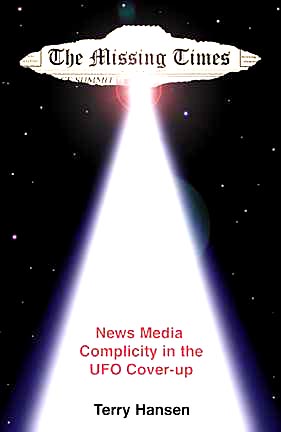 Terry Hansen:  http://www.themissingtimes.com/
The Missing Times can be ordered directly from the book's publisher, Xlibris, either from the company's website, by electronic mail, or by telephone. Price is $19.54 (softcover) or $29.69 (hardcover), plus shipping.
– Order from the Xlibris Online Bookstore
– Order by phone: 1-888-795-4274 or 1-610-915-5214
– Order by mail from:
Book Orders
Xlibris Corporation
International Plaza II, Suite 340
Philadelphia, PA 19113-1513
– Order copies from Amazon Books or from Barnes & Noble Books
For further information about UFO cover-ups, please see a brief sampling below from the Earthfiles Archive:
04/20/2007 — 2006 Human Encounter with Translucent Entity
04/18/2007 — Part 1: Eyewitness Links Animal Mutilations to Non-Humans
03/16/2007 — Tenth Anniversary of March 1997 Phoenix Lights: What Was the 2-Mile-Long Triangular Craft?
03/14/2007 — Part 5: Mysterious Events At 2005 Tawsmead Copse "Insectogram" Crop Formation
03/13/2007 — Part 4: Mysterious Events At 2005 Tawsmead Copse "Insectogram" Crop Formation
03/09/2007 — Zones of Fear and Diamond-Shaped Aerial Light
02/27/2007 — Part 1: Mysterious Events At 2005 Tawsmead Copse "Insectogram" Crop Formation
02/14/2007 — Part 3: Tappen, North Dakota, High Strangeness Provokes Many Emails from Viewers and Listeners
02/11/2007 — Part 1: Tappen, North Dakota, High Strangeness Provokes Many Emails from Viewers and Listeners
02/10/2007 — Part 12: Inside Saucer Post …3-0 Blue
02/08/2007 — Why Do UFOs Sometimes Play Cat and Mouse with Humans?
02/07/2007 — Part 11: Inside Saucer Post …3-0 Blue
01/30/2007 — Part 10: Inside Saucer Post …3-0 Blue
01/16/2007 — Part 9: Inside Saucer Post …3-0 Blue
01/02/2007 — Grey Aerial Disk Reported by Chicago O'Hare United Airlines Pilots and Mechanics
12/27/2006 — Part 7: Inside Saucer Post …3-0 Blue
12/18/2006 — Part 6: Inside Saucer Post …3-0 Blue
12/14/2006 — Abductee Jim Sparks's Encounter with Reptillian Beings, Their Warning and Possible Agenda
12/11/2006 — Part 5: Inside Saucer Post …3-0 Blue
12/06/2006 — Part 4: Inside Saucer Post …3-0 Blue
11/28/2006 — Part 2: Inside Saucer Post …3-0 Blue
11/27/2006 — Inside Saucer Post …3-0 Blue © 1957 by Leonard H. Stringfield
11/03/2006 — Another UFO Retaliation to Radar Lock On – 2003
10/28/2006 — Close UFO Encounter by USAF Eyewitnesses
10/26/2006 — Norwegian Crashed Disc and Other High Strangeness
10/19/2006 — UFO Retaliation to U. S. Army Radar Lock On in Florida, 1967
10/14/2006 — Big Sorghum Circle in Beloit, Kansas
10/11/2006 — Part 2: Time Travel, Insights from USAF Sergeant and UFO Abductee
10/08/2006 — Part 1: Time Travel, Insights from USAF Sergeant and UFO Abductee
10/07/2006 — Updated: 1953 Kinross AFB Mystery: F-89 Found in Lake Superior
10/02/2006 — Unusual Deaths of Six Female Goats in White Salmon, Washington
09/29/2006 — Manipulation of Time and Matter by Non-Humans: The Experiences of Jim Sparks
09/20/2006 — Animal Mutilations Increase Again in Argentina
09/20/2006 — Updated: Three Sets of Concentric Rings in South Texas Field
09/16/2006 — Disc Crash At Cedar Breaks Radar Site, Utah
09/05/2006 — Part 2: "Alphonso Lorenzo" – Military Visitor to Another Planet?
09/04/2006 — Part 1: "Alphonso Lorenzo" – Military Visitor to Another Planet?
07/17/2006 — Area 29 – A Reverse Engineering Center of E. T. Technology?
07/01/2006 — Cattle Mutilation and Glowing Discs in Saskatchewan, Canada
06/30/2006 — Celestial Secrets: The Hidden History of the Fatima Cover-Up
06/29/2006 — Another Horse Suspended in the Air
06/28/2006 — Half Cats in Destin, Florida, and Beheaded Animals in Rochester, N. Y.
06/22/2006 — Horse Suspended in Mid-Air Near Milan, Italy, Apartment
06/18/2006 — Viewer Letters About NASA Airbrushing Photos; EBENs and Reptilian Humanoids
06/13/2006 — Mysterious Triangle-Shaped Welts and Bruises
06/08/2006 — Part 2: Unexplained Phenomenon of Sudden Human-to-Reptile "Replacement"
06/07/2006 — Gary McKinnon: An Electronic "Robin Hood"?
05/05/2006 — Military Man's Description of EBE Telepathic Download
04/13/2006 — High Strangeness In Skies Near White Sands Missile Range
04/03/2006 — Genetic Harvest in Cimarron, New Mexico?
03/23/2006 — Part 2: U.S. Navy Chief Yeoman Describes "Extraterrestrial Biological Entities" in TOP SECRET/MAJIC Photographs
03/23/2006 — Part 15 – Peculiar Phenomenon: Early United States Efforts to Collect and Analyze Flying Discs
02/28/2006 — Part 13 – Peculiar Phenomenon: Early United States Efforts to Collect and Analyze Flying Discs
02/27/2006 — Part 4: Military Voices Reply About Government Interaction with UFOs
02/23/2006 — Huge Boomerang Craft and Blond Beings
02/22/2006 — Part 3: Military Voices Reply About Government Interaction with UFOs
02/21/2006 — Part 2: Military Voices Reply About Government Interaction with UFOs
02/17/2006 — Updated: White Sands Navy Radar Operator Saw Discs Circle V-2 Rocket Launches
02/13/2006 — Mysterious, Aerial Bars of Light Near Brawley, California
02/10/2006 — Crashed Disc Photos, "Ebens," and Area 51 "Anti-Gravity"
02/10/2006 — NORAD "Fast Walkers" and "Men In Black"
02/07/2006 — Military Voices Reply About Government Interaction with UFOs.
02/05/2006 — Part 11 – Peculiar Phenomenon: Early United States Efforts to Collect and Analyze Flying Discs
01/27/2006 — Part 2: Navy Physicist and USAF Geophysicist Discuss UFOs and ETs
01/20/2006 — Part 1: Navy Physicist and USAF Geophysicist Discuss UFOs and ETs
01/17/2006 — Part 9 – Peculiar Phenomenon: Early United States Efforts to Collect and Analyze Flying Discs
01/13/2006 — 31st Cattle Mutilation on Red Bluff, California Ranch
---
Websites:
Terry Hansen:  http://www.themissingtimes.com/
Carl Bernstein's Rolling Stone article: http://educationforum.ipbhost.com/index.php?showtopic=8574
U. S. Senator Frank Church 1975 Committee:  http://en.wikipedia.org/wiki/Church_Committee
CIA Infiltration and Manipulation of the Mass Media:  http://www.geocities.com/cpa_blacktown/20000318mediaoverb.htm
U. S. Marine Corps Major Donald E. Keyhoe: http://en.wikipedia.org/wiki/Donald_Keyhoe

© 1998 - 2019 by Linda Moulton Howe.
All Rights Reserved.