"This one is way above anything else known. It's really astonishing."
– Nathan Smith, Ph.D., UC-Berkeley
May 8, 2007  Cambridge, Massachusetts – The brightest supernova ever seen by human eyes was discovered in Fall 2006 by NASA's orbiting Chandra X-ray Observatory and the Lick Observatory ground-based optical telescope. The exploded star is called "SN 2006gy" and is five times brighter than hundreds of supernovae seen before. SN 2006gy is also the most energetic stellar explosion ever recorded. In fact, astronomers wonder if it is a new type of explosion that did not become a black hole like other supernovae, took 70 days to reach its supernova peak and remained brighter than other known supernovae for several months.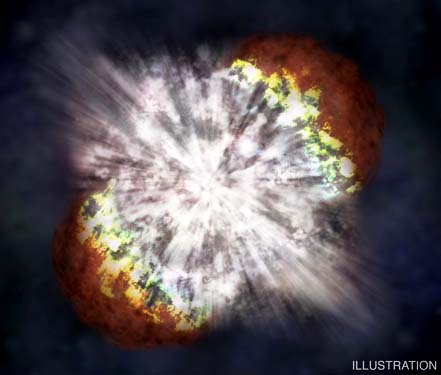 The Chandra X-Ray Observatory science team in Cambridge, Massachusetts, reports: "The fireworks-like material in white shows the explosion of an extremely massive star. This debris is pushing back two lobes of cool, red gas that were expelled in a large eruption from the star before it exploded. The green, blue and yellow regions in these lobes shows where gas is being heated in a shock front as the explosion material crashes into it and pushes it backwards. Most of the optical light generated by the supernova is thought to come from debris that has been heated by radioactivity, but some likely comes from the shocked gas."
Lick Infrared and Chandra X-ray Images of SN 2006gy

Chandra science team: "The Chandra observation allowed astronomers to determine that SN 2006gy was indeed caused by the collapse of an extremely massive star, and not the other alternative explanation that it was the destruction of a low-mass star. The reason it's not the explosion of a low-mass star is that if it had been a white dwarf star exploding into a dense, hydrogen-rich environment, SN 2006gy would have been about 1,000 times brighter in X-rays than what Chandra detected."
---
More Information:
For further information about astronomical events, please see reports below in the Earthfiles Archive:
03/30/2007 — Fastest Orbiting Object in Our Solar System is One of Strangest
01/07/2007 — Universe's Mysterious Dark Matter – First 3-D Map
12/19/2006 — First Stars – Or First Black Holes – in Universe?
12/01/2006 — Deep Impact and Stardust: Are Comets Made of the Same Stuff?
11/27/2006 — Namibia Telescopes Find First "Gamma Clock" in Milky Way Galaxy
11/09/2006 — Outer Space Sunshade to Cool Earth in Global Warming?
10/23/2006 — One, Maybe Two, More Mysterious Radio Bursts from Galactic Center
05/19/2006 — Simple "Binocular" Telescope Finds Another Planet Beyond Solar System
04/22/2006 — Cassiopeia A Is Not Dying Peacefully. Is It A Rare Magnetar?
12/23/2005 — Hubble Telescope Discovers More Moons and Rings Around Uranus
12/16/2005 — MARSIS Radar Looking Below Surface of Mars
12/07/2005 — Zeta Reticuli I and II – Binary Home of Extraterrestrial Biological Entities?
12/04/2005 — Central Black Hole Affects Massive Perseus Galaxy Cluster
11/09/2005 — Dust Storm On Mars, Cosmic First Light and Black Hole At Our Galaxy's Center
10/27/2005 — Updated: Five "Satellites" That Merged As One Star
09/16/2005 — "Planet X" and the Kuiper Belt's Oddballs, "Santa" and "Easterbunny"
08/12/2005 — Deep Impact Spectra: Carbonate, PAHs and Some Amino Precursors in Comet Tempel I
07/30/2005 — Astronomers Report 10th Planet Far Beyond Pluto
07/10/2005 — First Data from Deep Impact Crash Into Comet Tempel I
05/07/2005 — Did Milky Way Gas and Dust Turn Earth Into Icy Snowball Four Times?
05/06/2005 — What Are The Straight Lines on Saturn's Titan Moon?
03/03/2005 — What Made Five Strong Radio Bursts At the Center of Our Galaxy?
02/11/2005 — Story Behind "Inflation-Theory Implications for Extraterrestrial Visitation"
10/07/2004 — Exploding Stars: Investigating the 1604 and 1987 Supernovas
06/25/2004 — Wild 2, An Amazing Comet
03/15/2004 — Most Distant "Icy Planetoid" in Our Solar System Has A Most Baffling Orbit
03/03/2004 — Part 1 – Mars: Meridiani Planum Was Once "Drenched With Water and Habitable"
02/21/2004 — Update On Mars with Cornell Astronomer Steve Squyers, Mars Rover Missions
10/25/2003 — Science Data Reinforces Invisible "Dark" Matter and Energy Make Up 96% of Our Universe
08/26/2003 — Mars At Its Closest August 27, 2003,  At 2:51 a.m. PDT / 5:51 a.m. EDT.\
01/02/2002 — Update on 6,500-Year-Old Astronomical Stone Circle and Megaliths in Nabta, Egypt
10/22/2002 — U. S. DOD Satellites Detected Explosion of Siberian Bolide
10/07/2002 — Large Kuiper Belt Planetoid Found Beyond Pluto
09/07/2002 — Does Gravity Travel the Same Speed as Light?
07/11/2002 — Hubble Telescope Photographs Seven Objects Traveling In Pairs Beyond Pluto
06/01/2002 — Scientists Surprised by Abundance of Water On Mars
02/24/2002 — Mysterious Slowing of Pioneer Spacecraft 7 Billion Miles from Earth
01/26/2002 — Something Is Perturbing Comet Orbits in the Oort Cloud Surrounding Our Solar System
11/10/2001 — The Orion Constellation and the Pyramids of Giza
11/01/2001 — Astronomy News
06/16/2001 — Beyond Stonehenge with Astronomer Gerald Hawkins
02/12/2001 — NEAR Shoemaker Spacecraft's Historic First Landing On Eros Asteroid
12/14/2000 — A Pleiadian Star Tears Apart Black Interstellar Cloud
12/03/2000 — Bacteria from Outer Space?
10/09/2000 — Astronomy Updates
03/11/2000 — Is 433 Eros Asteroid Younger Than Expected?
01/17/2000 — Chandra Telescope Helps Solve X-Ray Mystery
08/28/1999 — Oddball Quasar and Salt Water Inside Meteorite
06/15/1999 — Current Brightest Binocular Comet and Upcoming Solar Eclipse
06/11/1999 — Eta Carainae – A Puzzling Star On Its Way To Hypernova
02/01/1999 — Astronomy Updates with Brian Marsden and John Huchra, Harvard
---
Websites:
Chandra X-Ray Observatory:  http://chandra.harvard.edu/
Lick Observatory:  http://www.ucolick.org/

© 1998 - 2019 by Linda Moulton Howe.
All Rights Reserved.