"I investigated one strange animal death in Rio Hondo, New Mexico,
where they found a mutilated bull underneath a trailer, which was amazing! …It was just a blatant display of power and technology."
– Robert Allen, Gallup, New Mexico
May 25, 2007  Albuquerque, New Mexico – Since at least the 1960s to date, with a major peak in the 1970s, there have been so many cattle mutilations in the United States that sheriffs in Colorado, for example, were traveling to three mutilated carcasses a day still warm to touch. The mutilation phenomenon continues, but its geographic focus changes. Beginning in 2002, there has been a wave of animal mutilations in Argentina. Authorities estimate that more than three thousand cases have been reported to SENASA (Argentina's Dept. of Agriculture), veterinarians, police and other authorities.
West of Argentina, Chile began having a rash of bloodless puncture attacks on farm animals in 2000, which were attributed to the notorious chupacabras, a word that means "goat sucker" in Spanish. Now again this April to May 2007, there have been both cattle mutilation and new chupacabras reports in Argentina and Chile. [ Please see new Argentina cattle mutilation and chupacabras attacks in Chile – 05/25/07 Earthfiles.]
All the cows, steers, bulls or heifers are usually missing an ear, eye, jaw flesh, tongue, genitals and rectal/vaginal area. Law enforcement are the ones who first started saying the cuts look like they were made with a "cookie cutter," or are "surgical," and called them "mutilations."
Another common characteristic is lack of blood and no signs of struggle or tracks around the dead bodies – not even the animal's own tracks. That's what made so many sheriffs and deputies look to the sky and wonder what was lifting the mutilated animals and somehow returning them, or dropping them, back to their home pastures?
Over the past half century now in both the Northern and Southern Hemispheres, similar bloodless, trackless mutilations have victimized cattle, horses, sheep, goats, pigs, rabbits, cats, dogs – and even wild animals such as deer, elk and marmots.
Rabbit and Opossum Mutilations – Long Beach, California
Recently on May 14, 2007, Long Beach City College gardner, Jeff Kyle, in southern California, found eleven dead rabbits on the northern side of Carson Avenue near the college's English and Language Arts building. Kyle told the school's Viking Newspaper that the front half of one rabbit "was cut off perfectly in half with precision." No blood was described. The week before, two opossums had been found at the El Dorado Nature Center about 4.5 miles southwest of the Long Beach, California, college and one of the opossums was said to be mutilated like the rabbit. Anyone with information should call LBCC police at (562) 938-4807.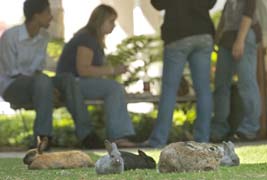 Cat Mutilations – Corpus Christi, Texas, Sussex County, England and No. Territory, Australia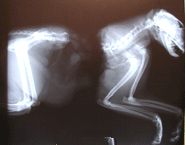 On Monday evening, April 2, 2007, residents from the south side of Corpus Christi, Texas – especially those living on Stonemill Circle – met with a Corpus Christi Police Department representative to discuss the sad and disturbing mystery affecting their neighborhood since early November 2006 – the mutilation of house cats. Like so many other previous incidents of this terrible ongoing phenomena in the United States, Canada and England, the cats are found sliced bloodlessly in a variety of patterns and laid out in their owner's yard with no tracks or signs of struggle.
Then first week of May 2007, the Sussex County, England, Royal Society for the Prevention of Cruelty to Animals (RSPCA), reported to police that a cat in Park Close, Portslade, was found with its head, tail and two legs removed without blood. A Sussex Police spokesperson says there have been several similar cat mutilations in the past without any perpetrator being found and natural predators have been ruled out because of the precise tissue removal. Since May 2006, in West Sussex County, at least ten cats were found mutilated in Chichester, Burgess Hill and Haywards Health.
Cattle Mutilations: Montana, Colorado and Argentina
Seven months ago, I reported on Coast to Coast AM about a 1300-pound, healthy black Angus cow found dead on October 9, 2006, in Valier, Montana. The ranch owners had seen the cow alive and well at 5:30 PM the night before. The animal's jaw was stripped clean, the udder was removed in a smooth, cut and the rectal and vaginal tissue had been cored out – all without blood. The only ground impression in the short barley stubble the cow lay on was a small crater. Pondera County Sheriff Tom Kuka came to the conclusion the cow had been dropped a considerable distance from the air and the animal had bounced on the ground leaving the crater. I worked with biophysicist W. C. Levengood to have soil and barley stubble tested and biophysicist Levengood found evidence in the soil of compression from hard impact that was not in control soil taken far from the cow's body in the same barley field.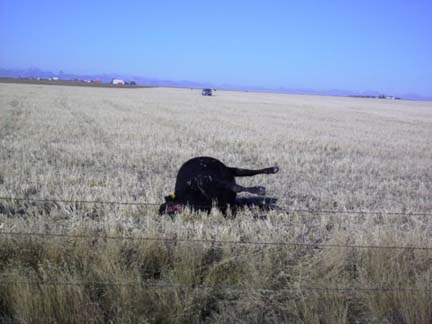 At least a dozen eyewitnesses have told me over the past two decades about seeing beams of light come down into a pasture and a cow rise in the beam; or eyewitnesses have seen animals lowered in light beams; or ranchers have heard crashing through tree branches and found dead, mutilated animals in craters from the impacts.
In his 1997 book, The Day After Roswell, former U. S. Army Lt. Col. Philip J. Corso described in great detail the U. S. government cover-up of non-human craft and bodies and the back-engineering of non-human technologies. He also was familiar with the worldwide animal mutilation phenomenon and wrote:
"In the Pentagon from 1961 to 1963, I reviewed field reports from local and state police agencies about the discoveries of dead cattle whose carcasses looked as though they had been systematically mutilated … Local police reported that when veterinarians were called to the scene to examine the dead cattle left in fields, they often found evidence not just that the animal's blood had been drained, but that entire organs were removed with such surgical skill that it could not have been the work of predators or vandals removing the organs for some depraved ritual."
Lt. Col. Corso also described in his book that investigations of animal mutilations by veterinarians and other authorities confirmed "entire organs were removed without any visible trauma to the surrounding cell tissue." Before Lt. Col. Corso died in 1998, he told me he had seen highly classified government reports about global animal mutilations dated as early as 1951 – only four years after the alleged disc crashes near Roswell, New Mexico. The perpetrators of the bloodless animal deaths were named in the classified documents as "extraterrestrial biological entities."
October 1, 2006 – Canjilon, New Mexico, Angus Bull Mutilation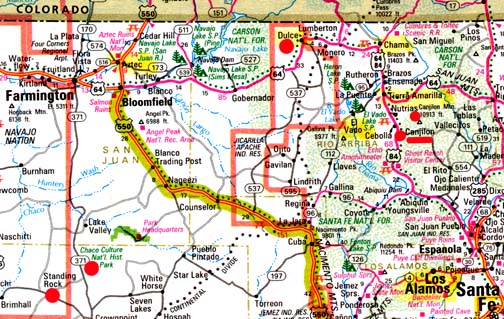 The Pondera County, Montana investigators did not know that further south in northern New Mexico, a red Angus bull was also found dead and mutilated on October 1, 2006 – only eight days before the mutilated cow was found in Valier.
The small ranching community of Canjilon (Cahn-HEE-lawn), New Mexico, is surrounded by high mountain peaks of 10,000 feet and more. Down in the valley, there are perhaps a thousand head of cattle on various small properties. One rancher, Albert Martinez, has raised cattle in Canjilon for fifty years. His children were born there. He had heard about animal mutilations in Dulce, Chama, Mora and other Northern New Mexico regions before, but he had never seen it with his own eyes until October 1st. He was so surprised by the strange excisions on his red Angus bull that he talked with neighbors and local authorities about it.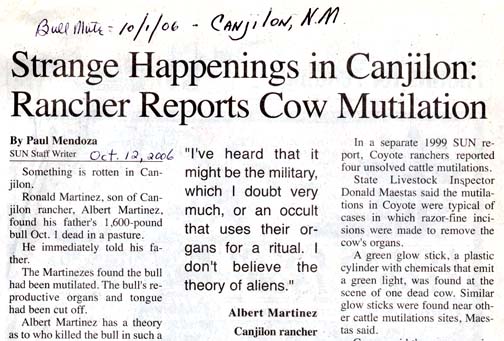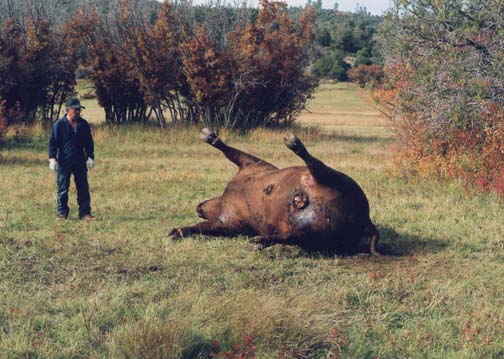 Animal mutilation researcher, Robert Allen, traveled to Canjilon on October 4th to meet rancher Albert Martinez at the mutilated bull site, to look for tracks and to do a night watch from one of the mountains to see if any aerial craft would show up. Robert Allen was surprised by what he saw – both on the animal and in the night sky.
---
Interview:
Robert Allen, Animal Mutilation Investigator, Gallup, New Mexico: "We went to the site – and this was approximately 50 hours after the bull was mutilated. I measured the distance from the bull out to about an 80 yard perimeter there and could not find any footprints, tire tracks, not any sign of anything coming to the bull or leaving it.
YOU WENT THERE WITHIN 50 HOURS AFTER THE BULL'S DEATH. CAN YOU NOW DESCRIBE IN DETAIL WHAT WAS TAKEN FROM THIS BULL AND WHAT WERE YOU LOOKING AT FROM THE HEAD, CHEST, ABDOMEN, AND THE REAR?
When I first came upon the animal, I was startled to find the precision with which the cuts were made on the genitalia, its anus was cored out, its testicles and penis were removed. And it looked like the hide was burned on the stomach where the genitals and rectum had been taken out. The bull had one eye missing. It had strange marks all over its ribcage. It had these cut marks on its hooves and its legs, like something cut these nodules off.
THAT IS THE DEW-CLAW.
Yes, the dew-claw.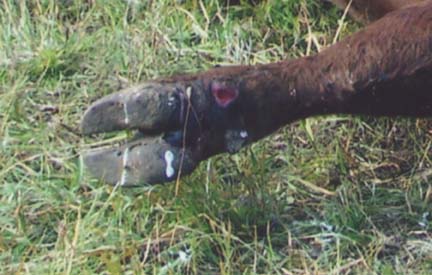 THAT SPECIFIC REMOVAL OF THE DECLAW IN WHICH A HOLE IS LEFT AND THE DEW-CLAW IS TAKEN SO NEATLY HAS BEEN ONE OF THOSE DETAILS THAT NOT MANY PEOPLE KNOW.
Yes, and it also had its lips around its mouth down to the jaw bone removed just to the surface where the teeth are. It wasn't cut all the way back to the ear. The front of its lips were removed and one of its eyes was taken out. Its right eye.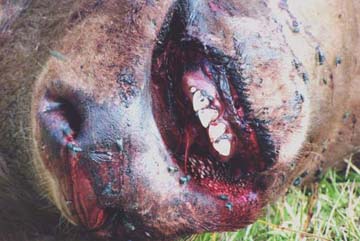 Red Angus bull's lips partially removed in Canjilon, New Mexico,
discovered on October 1, 2006. Photograph on October 4, 2006 © by Robert Allen.
IT WAS INTERESTING TO ME LOOKING AT THE PHOTOGRAPHS THAT ONE PHOTOGRAPH TAKEN WITH ALBERT MARTINEZ LOOKING AT THE BULL AND THE BULL IS LAYING ON ITS RIGHT SIDE WITH ITS LEFT LEGS PARTIALLY UP IN THE AIR, IT SEEMS TO BE A CLEANER SCENE THAN THE PHOTOS THAT YOU TOOK LATER.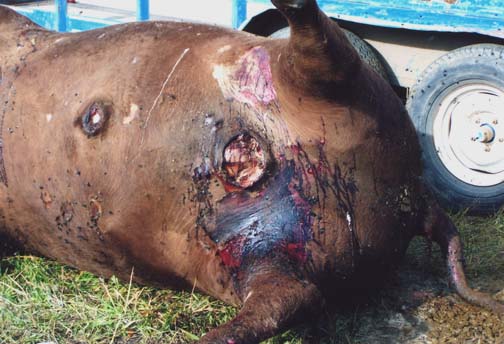 Yes. He said there had been no trickling blood on October 1, and you can see how clean the animal was in that photo taken that day with Mr. Martinez.
COULD YOU DISCUSS WHAT MR. MARTINEZ TOLD YOU ABOUT THE STATE OF BLOOD ON THE ANIMAL WHEN HE FOUND IT?
He was puzzled because there was no blood on the ground that he could see. There was no blood trail off into the brush there. No blood was coming out of the animal. There was no fluid leaking out anywhere. Also, he said there was an amazing smell to the animal. He said it smelled like a dentist's office or a doctor's office.
A MEDICINAL SMELL?
A medicinal smell, yes. He said it was quite pungent, that you could smell it from a pretty good distance.
Now, on the other side of the pasture there we went to and there were marks on the ground on the other side of the pasture approximately 60 yards away from where the bull was found mutilated. You could tell that an object had landed there. There were indentations in the ground. It was quite puzzling because the terrain there – that was on a slope there, so this object came down on a slope and landed!
WHAT WERE THE MARKS LIKE?
They were round. They were approximately – this was October, so the ground was more soft than after a hard freeze. So, the round marks were down a good 12 inches in the ground.
HOW BIG WERE THE CIRCULAR DEPRESSIONS?
I'd say a foot across.
DID THEY HAVE A PATTERN ON THE GROUND?
They were a triangular pattern. There was one (circular depression) off to the distance there to the north of the bull. Then the others went to the east and west making a triangular marking, the pattern.
SO, YOU HAD THE IMPRESSION OF THREE CIRCLES GOING DOWN 12 INCHES INTO THE SOIL ON A SLANTED HILL SIDE?
Yes. And they (circular depressions in soil) were absolutely precise. There was no variance in them. So an object came down neatly, made that impression and it took off neatly. I could not find any disturbance on the ground. I didn't see any burn marks. There were no tracks at all going from that hillside to the bull.
HOW FAR IN TERMS OF FEET WOULD YOU ESTIMATE IT WAS FROM THE BODY OF THE MUTILATED BULL TO WHERE THOSE THREE TRIANGULAR IMPRESSIONS WERE IN THE HILLSIDE?
I would say approximately 80 yards (262 feet). There were no footprints of any kind, other than outside that perimeter there were other cattle there. But no cattle went near that animal. I went to the rancher and talked with him about the prior history there, what he knows about animal mutilations and what he has heard from other people over the years.
He's been there approximately 50 years himself. His family is from there. His children were born and raised there and he's been a rancher all his life. His father was, too. The area is predominantly U. S. Forest Service, the people who work there, and ranching. Several years earlier in 1999 in that area, there were several.
Mysterious Aerial Lights Over Canjilon, New Mexico
Over the years, they have seen bizarre light displays over that area. His (Albert Martinez) daughter and her husband were walking through there probably about a year earlier than that (1998) and saw these amazing lights in the sky at night.
CAN YOU GIVE SOME DETAILS ABOUT COLOR, SIZE, MOTION AND SO FORTH?
From what he (Albert Martinez) told me, the lights themselves were circular in a pattern (a ring of lights), according to this testimony I have written down here. The lights were yellow, blue and red. They came in at an amazing speed and they stopped on a dime. The family viewed it for awhile. I'd guess 25 or 30 seconds. And the lights took off to the north at an incredible speed – just were gone in a matter of a second out of their view.
DO I UNDERSTAND WHAT THEY WERE SEEING WHEN THE DIFFERENT COLORED LIGHTS CAME TOGETHER THAT THE LIGHTS FORMED A RING IN THE SKY?
A ring in the sky, yes. They specifically saw lights that were yellow, blue and red under the belly of it, I assume.
BUT ARE WE TALKING ABOUT ONE LARGE OBJECT? OR MULTIPLE SMALLER OBJECTS IN A RING?
One object coming in. And they saw this several times over the years there in this area. I saw these lights, an incredible light there right after the mutilation last year in October 2006. I camped up in the mountains there for approximately two weeks.
DESCRIBE WHAT YOU SAW WITH YOUR OWN EYES?
It was approximately about 8:30 PM. The mutilation took place on October 1, 2006. I was there from the first of October to approximately the 12th or 13th.
On October 4th, I'm sitting there (camped on mountain) hoping that another mutilation was going to take place. I was up on top of a mountain that oversees the Canjilon valley there. Approximately 8:30 PM that night, I viewed an object coming in at a speed I could not calculate, it came in so fast. It came in from the east over the mountains there and down into the valley and over to a ridge that runs a spine there across Canjilon. The ridge line is approximately 15 miles long. And the object was a bluish-white streak. It came in and it was accelerating at an amazing speed and was losing altitude at the same time, so it looked like it was shot down into the mountainside. It went right into the mountain.
I went over to the area and tried to find it. The terrain was too rugged. It was dark and I could not pinpoint exactly where the object came in, but I just believe these objects are coming in and out of the valley on a regular basis.
THAT WAS THE NIGHT OF OCTOBER 4, 2006. THE BULL WAS FOUND MUTILATED BY THE OWNER ON OCTOBER 1, 2006.
Yes.
HAS ANYBODY IN LAW ENFORCEMENT IN THAT VALLEY JUST SAID TO YOU STRAIGHTFORWARDLY, 'WE'RE DEALING WITH CREATURES NOT FROM THIS PLANET?'
Well, I talked with a police officer up there who's been there for 34 years. He investigated several animal mutilations over the years. They've never been able to determine how the animal has been killed, no one has been able to find any person involved in it, no one has ever been arrested, no one has ever been filmed. And the strangest part about it is that no one has ever seen or heard how these cows are being mutilated. If it's a craft, no one has ever seen it down in a pasture with an animal.
Some of the mutilations were four hours apart from seeing the actual animal to when the animal was found mutilated. It was just shocking to the ranchers that they would go out and see the animals (alive) and four hours later find one mutilated, not knowing how it happened. No signs. No signs of struggle, no predator kills. None of these animals have any kind of teeth marks on their bodies. No predator at all.
Mutilated Bull Found Underneath Trailer
I investigated one strange animal death in Rio Hondo, New Mexico, where they found a mutilated bull underneath a trailer, which was amazing!
AS IF IT WERE PUT THERE ALMOST LIKE 'HOW WOULD YOU DO THIS? THIS IS WHAT WE CAN DO?'
Exactly. It was just a blatant display of power and technology. The farmers, when they saw it, were absolutely stunned.
I talked to a gentleman there in Chama who said he saw – this is incredible! They were going up a pass from Chama there – that's at 7,800 feet. So, you're going up to 10,400 feet to climb up to the front pass there, Cumbres, and they saw an object come down from the sky. It was a solid object and he saw several other objects split from it and go in every direction flying zigzag and circular patterns. Then later, come back and join altogether again.
He came down to his car with a friend. They were sitting there and the aerial object came over the hood of the car, shone an amazingly bright light into the car. I asked him if there was any heat and he said no. The object stayed stationary there for a couple of minutes as if they were viewing the men in the car and then the object shot straight up, broke up into two spheres, and went in different directions zigzagging around. And then it returned itself to its original triangle form and shot up into the sky at breakneck speed."
Continued in Part 2 – New "Chupacabras" Attacks in Chile and Cattle Mutilations in Argentina
---
More Information:
For further information about unusual animal deaths, please see my books and documentaries in the Earthfiles Shop and the Earthfiles Archive such as the reports below:
04/09/2007 —More Cat Mutilations – This Time in Corpus Christi, Texas
11/24/2006 —Scientific Data Supports Theory Mutilated Montana Cow Dropped from Sky and Bounced
10/19/2006 —Another Cattle Mutilation in Pondera County, Montana
10/02/2006 —Unusual Deaths of Six Female Goats in White Salmon, Washington
08/23/2006 —More Cat and Dog Mutilations
06/28/2006 —Half Cats in Destin, Florida, and Beheaded Animals in Rochester, N. Y.
04/21/2006 —Unusual Animal Deaths in Garland County, Arkansas
01/13/2006 —31st Cattle Mutilation on Red Bluff, California Ranch
10/30/2005 —Unusual Animal Deaths – Another Half Cat Mutilation in San Antonio, Texas
08/22/2005 —More Half Cat Reports: San Jose and Seattle
08/13/2005 —Mystery of Bloodless, Decapitated Kangaroos in Melbourne, Australia
07/14/2005 —More Half Cat Mutilations in Seattle, Washington Region
08/03/2005 —Another Cattle Mutilation in Pondera County, Montana
08/11/2004 —Newborn Heifer Mutilation in Anderson, California, on August 7, 2004
07/01/2003 —40 Small Animal Mutilations in Denver and 11 in Salt Lake City
05/28/2003 —Cat and Dog Mutilations in Salt Lake City; $6,500 Reward
11/16/2002 —More Cat and Cow Mutilations: Colorado, Utah and Missouri
05/31/2002 —Bloodless Cat Mutilations in Bellingham, Washington
09/08/2001 —23 "Half Cat" and 2 Deer Mutilations Confirmed by Austin, Texas Law Enforcement
10/16/2000 —Part 2 – Hardened Bovine Hemoglobin Found On California Mutilated Bull
10/15/2000 —Part 1 – Hardened Bovine Hemoglobin Found On California Mutilated Bull
11/18/1999 —Short Environmental Updates
11/07/1999 — Environmental Updates and Calf Fetus Shocks Los Brazos, New Mexico
11/05/1999 —Reward Offered As Cat Mutilations Continue in Toronto, Canada
10/03/1999 —Unusual Cat Deaths from London to San Jose, California

© 1998 - 2018 by Linda Moulton Howe.
All Rights Reserved.