"No one had any idea what this thing was, but everyone in the car
was visibly freaked out by it."
- rajman1977, Capitola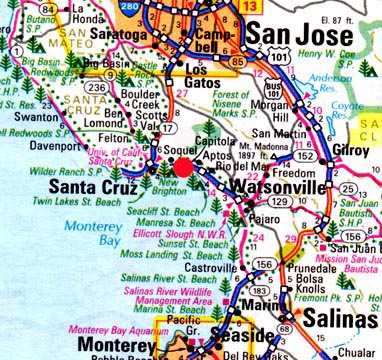 Return to:  Previous Odd Aerial "Drone?" Earthfiles
Return to:  Engineer Comments About Odd Aerial "Drone?" Earthfiles
[ Editor's Note: The words "Chad" and "Drone" at the beginning of my image file names are only an organizational effort for Earthfiles. I work on a Mac G-5 and re-size images for Earthfiles formats. I downloaded the Chad images from the COAST website, which I understand were also re-sized there. So, the only May 6, 2007, original images would be with Chad. Same applies to the May 5, 2007, Lake Tahoe Submitter 7013; and May 16, 2007, Capitola rajman1977 images.
Further, the two individuals quoted in 05/16/07Earthfiles Engineer Comments provided me names and contact information and are not anonymous to me, but I protected their confidentiality.
As a journalist, I would like to learn if our military has some kind of black project for ion electrostatic propulsion drones. ]
May 21, 2007  Capitola, California - Around May 11, 2007, Coast to Coast AM webmaster, Lex, received an email letter with attached May 6, 2007, images of a very odd aerial object from a Central California resident who calls himself "Chad." Chad is worried about his family's safety and health since he has now seen the bizarre aerial object at least eight times from his house windows and on hikes near his home. Neighbors, he said, have also seen the unidentified aerial object. Then on May 15, 2007, I received another similar aerial "drone" image allegedly taken by a person at Lake Tahoe, California, on May 5, 2007 and identifying themselves at UFO Casebook.com as "Lake Tahoe-05-05-07MUFON Submitter 7013."
Click here to subscribe and get instant access to read this report.
Click here to check your existing subscription status.
Existing members, login below:

© 1998 - 2023 by Linda Moulton Howe.
All Rights Reserved.