"The western Antarctic ice melt was unprecedented.
We'd never seen anything like this in the past 25 years."
– Ted Scambos, Ph.D., Glaciologist, NSIDC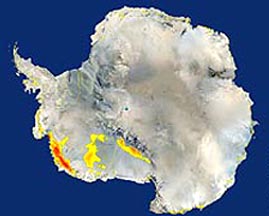 May 18, 2007  Boulder, Colorado –  The Washington Post, on May 16, 2007, published an editorial by three eminent American scientists in which these words were stated:  "Climate change is the most critical problem the Earth has ever faced."
That frank statement about global warming came from  the Director of the Scripps Institute of Oceanography at the University of California-San Diego; the Dean of the College of Oceanic and Atmospheric Sciences at Oregon State University; and the Acting Director of the Woods Hole Oceanographic Institution in Woods Hole, Massachusetts. Their combined words came in their appeal for more NASA funding to sustain and increase the satellites now watching Earth, gathering data that describe our planet's rapid change as the Earth heats up. One of their big concerns was satellite data in January this year that showed higher ocean temperatures are reducing the growth of microscopic plants and animals that are at the heart of the marine food chain. Plankton decline would mean lack of food for a wide range of marine animals.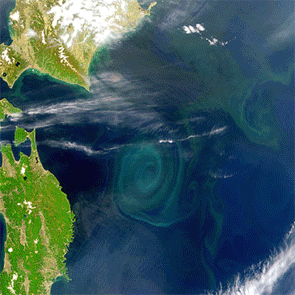 Animal and plant extinction rates are already accelerating. Eminent Harvard biologist, Edward O. Wilson, predicts that in the face of global warming half of all plant and animal species will be extinct by 2100 – that's only 90 years away.
And now comes a sobering satellite study that shows it was warm enough for a week or two in January 2005 for western Antarctic ice to melt over an area as big as California. Such a huge ice melt in western Antarctica is unprecedented and could mean that global warming is even getting to the thick ice of the South Pole.
Right after the release of that satellite data, the highly respected British University of East Anglia's Tyndall Centre for Climate Change Research had its analysis of carbon dioxide content in the South Ocean around Antarctica published in a May 2007 issue of the journal, Science.
Antarctica Southern Ocean Full of CO2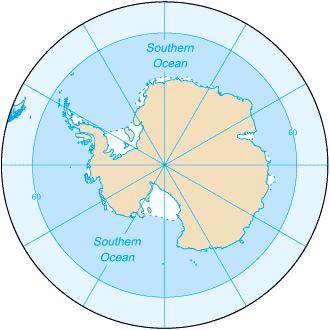 Because the Antarctic South Ocean is so cold, it has been considered one ocean body that could absorb a lot of atmospheric carbon dioxide; and therefore, could help balance out CO2 emissions from cars and industries. Ocean waters that absorb CO2 are called "sinks."
But the U. K. scientists found that, "data from 1981 through 2004 show the CO2 sink is already full of carbon dioxide. We find this really quite alarming." Up until now, the Antarctic Southern Ocean alone was accountable for 15% of the worldwide carbon dioxide sink.  If that cold Antarctic water is saturated with CO2 from the atmosphere, that means many other regions of the Earth's oceans must also be saturated.
One American glaciologist who has spent the last fifteen years studying Antarctic ice is Ted Scambos, Ph.D. in Geology, Lead Glaciology Scientist at the National Snow and Ice Data Center, and Senior Research Scientist, at the University of Colorado in Boulder.
This week I talked to Dr. Scambos about the implications in both the January 2005 California-sized ice melt in western Antarctica and the recent discovery that the Southern Ocean around Antarctica is so full of carbon dioxide it won't be able to absorb much more. First, Dr. Scambos talks about the unprecedented January 2005 ice melt in western Antarctica.
---
Interview:
Theodore (Ted) Scambos, Ph.D., Geologist, Glaciologist and Lead Scientist, National Snow and Ice Data Center (NSIDC) and Senior Research Scientist, University of Colorado, Boulder, Colorado:  "It was a brief period, a week or two, where a large area of snow melted briefly and formed a thin ice layer right there in place in Antarctica. What's interesting and important about it is that in many places, the western Antarctic ice melt was unprecedented. We'd never seen anything like this in the past 25 years.
Now, maybe what we're seeing is the beginning of a trend for Antarctica to warm up, too. The real problem with that is that Antarctica represents a huge amount of ice and therefore, sea level rise. So, if this trend were to continue over the next several decades, there might be more areas than just the Antarctic Peninsula that start to show a response to a warming trend in the form of accelerating glaciers and more melt water coming off of the continent beginning to have an affect on sea level.
I fully expect we'll see more ice shelves there in the Antarctic Peninsula crumble away into the ocean. And I'd be very surprised if the glaciers behind them didn't accelerate. But the Antarctic Peninsula does not represent nearly the threat that the main land mass that Antarctica and western Antarctica represent in terms of sea level rise. It's really the sleeping giant of this whole global climate change picture and sea level rise picture. And if West Antarctica begins to warm rapidly, if we see year-after-year the same kind of California-size area melt, then we will know that climate really has begun to change in Antarctica, that warmer air is mixing in more in the summer than it used to. And yeah, that would be quite serious for projections for sea level rise.
Southern Ocean CO2 Saturation – Will Atmospheric CO2 Increase?
COULDN'T THIS WHOLE SCENARIO BE ACCELERATED IF THIS NEW DATA COMING OUT OF THE UNIVERSITY OF EAST ANGLIA IN ENGLAND –  ON MAY 17, 2007,  THE SUMMARY OF WHAT THEY HAVE FOUND IS: 'THE SOUTHERN OCEAN AROUND ANTARCTICA IS SO LOADED WITH CARBON DIOXIDE THAT IT CAN BARELY ABSORB ANY MORE. SO MORE OF THE CO2 GAS WILL STAY IN THE ATMOSPHERE TO WARM UP THE PLANET FURTHER.'
Yes, it does have an impact on the melt rate, not just for the Antarctic, but all over the world. The atmosphere is very well mixed, so the fact that the Southern Ocean can't absorb CO2 the way it used to means the rate of increase throughout the atmosphere that we've seen measured accurately since the 1950s, that rate will continue to steepen and will get more greenhouse gases in the atmosphere faster. That means that when you look down the road for the next century, as the IPCC did (U. N.'s Inter-governmental Panel on Climate Change) and they looked at several models about how could impact climate and impact various systems – rainfall, surface temperature, ice melt – the scenarios that included a more rapid increase of CO2 that were once considered the more extreme cases are going to be closer to the more likely cases if we really do begin to see a steeper increase in greenhouse gases because the oceans can't absorb as much CO2 as it used to.
Now, the Southern Ocean is a big area. It's not the entire ocean. However, it's the one you would expect would absorb the most CO2 because the surface waters there are quite cold. The fact that it's been discovered full of CO2 – does that mean we'll see a more rapid rise in CO2 in the atmosphere? Well, the carbon budget story of the Earth is very complicated, so I guess I'll take a wait-and-see-attitude to see whether or not CO2 levels will begin to increase more steeply as a result of this near-saturated condition that has been reported for the Southern Ocean.
BUT ISN'T IT TRUE THAT THE SOUTHERN OCEAN ACCOUNTS FOR 15% OF THE GLOBAL CARBON SINK AND IF IT HAS FILLED UP NOW, OR NEARLY SO, DOESN'T THAT MEAN THAT OTHER REGIONS OF THE OCEANS MUST BE ALMOST FULL OF CO2 AS WELL?
I think that is a plausible guess and may well be the case. Then yeah, we'll see a significant change in the carbon balance and a steeper increase in CO2. I think I would like to see a study that looks at how the rest of the carbon cycle is going to react to more CO2 in the Southern Ocean before I really leaped out and said we are going to see a carbon dioxide increase at this or that rate.
But, I think we need to take a look at other systems on the Earth to see how they are behaving. There are also human things that are going to have an impact on this. How fast do China and India modernize and electrify? Will we be able to convince them to do things like sequester carbon dioxide at power plants, or use alternate energy sources – as I hope the Western World begins to do. Maybe that will change the carbon balance in a different way.
So, I think what they (U. K. Southern Ocean data) is cause for concern, but making a prediction that will that more extreme CO2 by the end of the 21st Century, it's still a little premature, but it's what their study implies.
IPCC Report On Climate Change

THE U.N.'S INTERGOVERNMENTAL PANEL ON CLIMATE CHANGE IN 2007 REPORTED THAT THERE COULD BE AN AVERAGE GLOBAL TEMPERATURE WARMING ON THIS PLANET BETWEEN NOW AND THE NEXT 90 YEARS BETWEEN 3.5 DEGREES AND 11 DEGREES FAHRENHEIT. AND 3.5 DEGREES F. OVER THE NEXT 90 YEARS WOULD BE THREE TIMES THE WARMING OF THE 20TH CENTURY.
WHAT IS THE WORST CASE IN YOUR EDUCATED MIND ABOUT WHAT COULD HAPPEN TO THE WEATHER AROUND THIS PLANET?
Oh, boy! Well, first of all, it can't be any more urgent. The problem we're facing could not be any more urgent. Everywhere we turn, as a polar scientist we're seeing that the progress of global warming is proceeding faster than we thought it was. We've had a recent study that shows sea ice is retreating faster than we thought it would for this level of CO2.
Similarly, we are seeing a response in Greenland – extensive melt. Now, we're seeing it in Antarctica, which had up to now been mostly isolated, except for the Peninsula. We can't have more urgency or clearer data that the time to begin to act is now! What's the ultimate consequence for climate in the world? I think you'll see several areas of the world seriously impacted in their inability to grow food, their inability to get water to all of the folks that live there. Which areas will that exactly be? It's hard to say. Different computer models show different scenarios.
But the potential for having drought in the Southwest, drought in Southeast Asia and one of the great rice baskets of the world failing to deliver a crop sufficient to feed everybody. These are real possibilities by the second half of this century and we've got to act now, or we're going to have a titanic refugee problem – dislocations of people as well as a huge pressure on the wealthy nations to try to adapt or defend. There will be security-related issues against the pressure that is being put on by climate change throughout the world.
Science is doing the best job it can to tell people that we see the early warning signs and we see them clearly and the prospects for the future are not good. We don't want to consider all of the negative things that might happen. We know we're in for a big, big change and in general, change is expensive. And in some cases, deadly. So, what we've got to do is begin to act now to turn this around.
CO2 "Blanket" Long Lasting
BUT THE CO2 BLANKET THAT NOW SURROUNDS THE EARTH AND IS CAUSING THE WARMING THAT WE HAVE BEEN DISCUSSING IS NOT GOING TO CHANGE FOR 200 YEARS, EVEN IF INDIA AND CHINA STOPPED PUMPING CO2 INTO THE ATMOSPHERE TOMORROW. WE ARE STUCK WITH A THICK CO2 BLANKET AND SEVERAL SCIENTISTS THAT I HAVE TALKED TO IN 2007 WHO ARE ATMOSPHERIC PHYSICISTS SAY IT'S ALREADY TOO LATE – THAT WHAT THE POLITICAL URGENCY IS BEGINNING TO FORM IN 2007 SHOULD HAVE HAPPENED 25 YEARS AGO.
The idea that it's too late ignores the fact that if we don't begin to do something now, it only gets worse. And the changes only get worse and the cost of it only gets worse.
So if you say it's too late, what you are saying is it's too late for the status quo. The status quo is going to change. Fine. How much is it going to change by? Well, a little or a lot. Let's make it a little and try now to find these alternative energy sources.
AT THE CURRENT RATE OF MEASURED CO2 INCREASE AND CONSEQUENTIAL WARMING, INCREMENTALLY LET'S SAY OVER JUST THE NEXT DECADE, DO YOU THINK IT IS FAIR TO SAY THAT WE SHOULD BE PREPARED FOR MORE KATRINAS AND MORE F5 TORNADOES LIKE THE ONE THAT JUST DEVASTATED GREENSBURG, KANSAS?
In the next 10 years?
RIGHT.
That would be my guess that there will be more of those. That's about as far as I'll go.
INSURANCE COMPANIES ARE ALREADY WITHDRAWING INSURANCE SUPPORT FROM MANY COASTAL AREAS, ESPECIALLY IN FLORIDA. IT'S EXPECTED THAT MOST PEOPLE WITH ANY HOMES ON COASTS ARE NO LONGER GOING TO BE ABLE TO GET ANY INSURANCE. WHAT KIND OF PRESSURE DO YOU THINK THAT WILL DO?
Those are going to be real economic costs for not doing anything. Now, you're absolutely right. They are going to have to adapt and we're going to have to figure a way out of this because there will be a certain amount of warming anyway over the next 50 years. But not acting upon the signals we are seeing now and the impacts that we are seeing now means that the situation gets worse by the end of this century and in the century after that.
I personally want to be able to say to my grandkids that we took a big step when we saw it happen during one generation that we were impacting global climate and we began to address the problem. We can't solve it all in one generation, but we began to address the problem.
To look at your grandkids and say, 'Yeah, we knew this was likely to happen, but we didn't do anything about it because it cost too much and watch their world crumble, I think people are going to feel – they are going to wish they had done something rather than face that.
Global Warming Refugees
IF WE DON'T DO SOMETHING NOW TO CURTAIL THE AMOUNT OF CO2 AND OTHER GREENHOUSE GAS INCREASES FROM 2007 FORWARD INTO THIS CENTURY, WILL THERE BE URBAN AND RURAL POPULATIONS THAT THE LANDS WILL BECOME UNLIVABLE, THAT THERE WILL HAVE TO BE POPULATION MOVEMENT AWAY FROM VAST AREAS THAT ARE NOW POPULATED?
Absolutely! That is probably the greatest threat is the dislocation of millions of people by changes in climate and changes in sea level. It presents a security risk. It presents an economic risk and it presents a humanitarian risk as well.
AND ANIMALS AND PLANTS.
The impacts are likely to be severe. I don't know. You can take the attitude: 'Let the next century sort itself out. No one told us what the world was going to be like when we came into it.' But the idea that we're making it tougher on later generations, tougher to support a world of 6 to 8 or 10 billion people.  That bugs me. And it bugs me because we know it's coming. We know it's going to get worse if we continue to do what we do. If, in the face of that information and clear evidence in the polar regions and in the tropics from storms, if we don't do anything, I think we have failed morally.
We have to get this under control. Or we have to admit that the world will become chaotic in another century and accept that. I'm not willing to accept that and I don't think anybody is. What we've seen when we compare what has happened over the past 50 years with what the models show and match the last century fairly well until the last decade or two and into this current century, we're seeing in several different venues of climate analysis that in fact we're already on a fast track for climate change. Things are proceeding more rapidly than we thought they would. The Earth might be more sensitive to CO2 increases than we thought.
Yes, we're committed to a certain amount of warming no matter what. The sooner we begin to address this, the fewer problems we'll have by the end of the next century and into the following century.
While there are many scenarios where the world might come to an end, both religious and by the hand of man, it's up to us to do the best we can while we're here. And to do the best with a new perspective on what our actions mean to the future. In the past, people didn't have to think like this. The world was huge, it was bottomless as far as we could tell in terms of its resources and its ability to support us and what we did in one generation did not affect other generations. They had a fair shot at chopping down their own trees or building their own railroads and creating their own cities.
That's not the case anymore. This world has a limited carrying capacity and if we're not careful with it, that carrying capacity will go sharply downward. And that means millions of people will be dislocated and millions of people will die.  I don't think that's something we can conscience doing any longer.
Now, do we go broke trying to fix it? I don't think we have to. I think small changes now and clever economic incentives can get us to use the skills that we have in terms of innovation and the capitalistic economy we have – to turn this around fairly fast. But what we cannot tolerate is inaction.  Then we're definitely committed to a much greater pain and suffering in the long run."
Adding Iron to Oceans for More Plankton Growth
One action that is currently underway to help balance out the Earth's carbon dioxide- release-and-absorption is going to put  iron into the waters around the Galapagos Islands in the Pacific Ocean. The test is to see if the iron will stimulate plankton growth. Without enough iron, plankton photosynthesis is weakened. The organizer behind the iron research is the eco-restoration group called Planktos. If this test works, then iron seeding of vast ocean areas might increase plankton growth. That would help feed marine life – and  more plankton will also take in more carbon dioxide from the atmosphere. When the plankton die and sink to the ocean bottom, the dead plants will take CO2 with them. It's called "sequestering CO2" in the organic matter of the plants. The more CO2 that can be sequestered underwater, the less will escape to the atmosphere where a blanket of carbon dioxide keeps getting thicker  around our planet."
---
More Information:
For further information about Antarctica, please see reports below in Earthfiles Archive:
02/02/2007 —Updated: New U. N. Global Climate Change Report: Earth Could Warm Up 3.2 to 11.52 Degrees Fahrenheit by 2100
10/01/2007 —2006: USA's Warmest Year On Record
07/12/2006 —Earth Headed for Warmest Period in 55 Million Years?
09/09/2006 —Methane – Another Threat in Global Warming
19/08/2006 —Repair of Earth's Ozone Layer Has Slowed
18/07/2006 —2006 – Hottest Year So Far in U. S. History
24/06/2006 —"High Confidence" Earth Is Warmest in 400 Years – Maybe Even 2,000 Years
17/03/2006 —Planet Earth's Ice Melt
03/01/2006 —Antarctic Earthquakes and Edgar Cayce Pole Shift Prediction
18/11/2005 —Is the Sun Heating Up?
23/09/2005 —Phenomenon of "Instant" Hurricanes in 2005
07/05/2005 —Did Milky Way Gas and Dust Turn Earth Into Icy Snowball Four Times?
01/04/2005 —What's Killing Off Marine Life Every 62 Million Years?
01/04/2005 —Soft Tissue – Even Blood Cells? – Found in Tyrannosaurus rex Leg Bone
03/02/2005 —Kyoto Protocol Goes Into Effect February 16, 2005. British Scientists Warn Global Temperatures Could Climb Higher Than Earlier Estimates.
16/08/2004 —NASA Has Launched Aura Satellite to Study Ozone-Destroying Chemicals in Atmosphere
14/08/2004 —Oceans Are Absorbing A Lot of Greenhouse CO2. As Chemistry Changes, What Happens to Sea Life?
27/02/2004 —Abrupt Climate Change: Scenario from A Pentagon-Commissioned Report
30/05/2003 —Scientists Surprised by Common House Fly Fossils in Antarctica
21/10/2002 —Mt. Kilimanjaro's Ice Cap Is Melting Fast
21/03/2002 —Antarctic Peninsula Is Melting – And So Is Arctic Ice
13/02/2002 —January 2002 Warmest On Record For Whole World
30/01/2002 —Latest Satellite Data Shows Surprisingly Thicker Ross Ice Shelf in Antarctica
22/12/2001 —Scientists Warn That Climate and Earth Life Can Change Rapidly
04/03/2001 —Disappearing Glaciers – Evidence of A Rapidly Warming Earth
07/02/2001 —94% Decline In Aleutian Islands Sea Otter Population
28/01/2001 —U. N. Global Warming Forecast: Up to 10.5 Degrees F. Hotter At End of 21st Century
20/04/2000 —Severe Arctic Ozone Loss and Deep Ocean Warming
26/09/1999 —Could Ancient Microbes in Polar Ice Cause Epidemics?
05/05/1999 —Two Antarctic Ice Shelves Almost Gone
---
Websites:
West Antarctic Ice Sheet Initiative:  http://igloo.gsfc.nasa.gov/wais/
National Snow and Ice Data Center:  http://nsidc.org/antarctica/megadunes/research_team.html
IPCC:  http://www.ipcc.ch/
Ecosystem Restoration – Planktos:  http://www.planktos.com/

© 1998 - 2019 by Linda Moulton Howe.
All Rights Reserved.