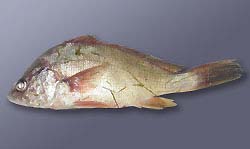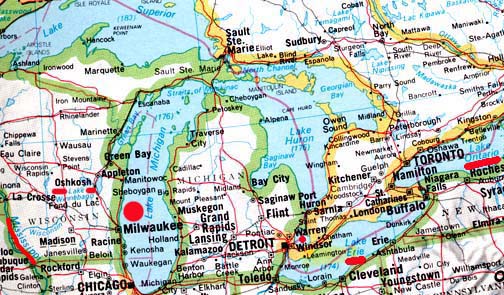 May 29, 2007  Madison, Wisconsin – The Wisconsin Department of Natural Resources reported on May 24, 2007, that a brown trout that died in Lake Michigan and washed ashore near the Kewaunee/ Algoma area preliminarily tested positive for viral hemorrhagic septicemia, or VHS. The University of Wisconsin-Madison Wisconsin Veterinary Diagnostic Laboratory conducted the preliminary test on the Lake Michigan trout. The sample has been sent to an Ames, Iowa, lab to confirm the VHS findings.The deadly fish disease also spread earlier this month to Lake Winnebago fish in eastern Wisconsin.
The trout is the first Lake Michigan fish to test positive for VHS, but fisheries officials have suspected for months that the virus was already in the lake because fish from a connected water, Lake Huron, tested positive for VHS earlier this year.
"This is a serious fish disease and we had developed plans to deal with a VHS find in Lake Michigan," says Mike Staggs, Wisconsin's fisheries director. "We had already taken steps in our hatchery and field operations to avoid spreading the disease. In April, we asked the Natural Resources Board to pass emergency rules aimed at preventing anglers and boaters from Lake Michigan from spreading the virus to new waters." The greatest fear now is spread to the Mississippi River and south to New Orleans, Louisiana.
How VHS Spreads
VHS can spread when people move alive fish or water carrying the virus to new waters. Infected fish shed the virus into a lake or river through their urine and reproductive fluids. The virus can remain infective up to 14 days and be absorbed by healthy fish. The virus can also spread when a healthy fish eats an infected fish.
Now that the virus has been preliminarily confirmed in fish from Lake Michigan, it's especially critical that all boaters, anglers and others who recreate on that water and its tributaries up to the first barrier to fish take the precautionary steps required by the emergency rules, Staggs says.
People – humans are not affected by the VHS disease – are prohibited from moving live fish, including bait minnows, to another water, and are required to drain all water from their boat, bilge, bait bucket and live well. Anglers should put their catch on ice to take it home and should discard minnows in the trash at the landing. People are prohibited from harvesting live bait from Lake Michigan tributaries over concerns about invasive species.
VHS Spread Hard To Stop
"We've held ourselves to the highest standards on disease prevention" and VHS still spreads.
– Mike Staggs, Dir., Wisconsin Fisheries
DNR has long been testing adult trout and salmon from Lake Michigan to assure the fish that eggs are collected from do not have any viruses, and disinfecting eggs after they arrived at hatcheries. When VHS was first discovered in fish in the eastern Great Lakes in 2005, DNR started disinfecting eggs before they were brought into the hatcheries and started testing fish at the hatcheries when they reached "large fingerling" size, about six to 10 inches long, before they were stocked, to assure they didn't have VHS. DNR also is disinfecting boats and gear used in the Great Lakes before they are used in other locations.
On May 17, following the discovery of VHS in fish from the Lake Winnebago system, the state Natural Resources Board extended the emergency rules for boaters and anglers to those waters. DNR took the additional precaution of immediately halting stocking of all fish from DNR hatcheries, transfers of fish among hatcheries, collections of forage fish or eggs from the wild, and all field fish transfers. DNR will maintain those suspensions until it is absolutely sure fish can be stocked safely.
VHS is not a threat to people, pets or wildlife, but it can infect a broad range of native species and caused fish kills in several eastern Great Lakes in 2005 and 2006. People can still eat the fish they catch, but should take precautions to put their catches on ice at the landing rather than remove live fish from a lake.
What Can You Do to Help?
WDNR Asks:
"If you catch a diseased fish or observe a fish kill take the following steps:

– Note the waterbody, date, fish species, and approximate number of dead/dying fish.

– If you caught a suspicious looking fish, place the fish in a plastic bag and then in a cooler on ice.

– Contact your local fisheries biologist or call the DNR TIP line –
1-800-TIP-WDNR – (800) 847-9367.

– DO NOT BRING POTENTIALLY DISEASED FISH TO DNR SERVICE STATIONS OR HATCHERIES.

– DO NOT COLLECT FISH SAMPLES FROM A FISH KILL.

The local fisheries biologist will contact you as soon as they are available and will make the determination about whether the fish should be examined or not.
We are encouraging anglers to retain suspicious looking fish as part of their daily bag limit for examination by the local fisheries biologist."
Also see:  05/14/07Earthfiles
---
More Information:
More Information:
For further information about worldwide threats to earth life, please see reports below in the Earthfiles Archive:
05/04/2007 — Environmental Emergency Updates: Part 1 – Spreading Honey Bee Disappearances – Nosema ceranae Not the Answer?
03/17/2007 — Honey Bee Disappearances Continue: Could Pesticides Play A Role?
02/23/2007 — Part 1: Earth Life Threats – Alarming Disappearance of Honey Bees
02/23/2007 — Scientists Hope "Amphibian Arks" Can Save Frogs and Toads
02/02/2007 — New U. N. Global Climate Change Report: Earth Could Warm Up 3.2 to 11.52 Degrees Fahrenheit by 2100
01/10/2007 — 2006: USA's Warmest Year On Record
12/16/2006 — Updated: Unprecedented Die-Off of 2,500 Mallard Ducks in Idaho
12/08/2006 — NASA Wants Permanent Moon Base by 2024
12/07/2006 — Earth Headed for Warmest Period in 55 Million Years?
09/23/2006 — E. coli O157:H7 – Why Can't It Be Washed Off Contaminated Spinach?
09/09/2006 — Methane – Another Threat in Global Warming
08/19/2006 — Repair of Earth's Ozone Layer Has Slowed
07/18/2006 — 2006 – Hottest Year So Far in U. S. History
06/22/2006 — Horse Suspended in Mid-Air Near Milan, Italy, Apartment
02/20/2006 — Mysterious Deaths of Whales in Mexico
09/23/2005 — Phenomenon of "Instant" Hurricanes in 2005
08/26/2005 — What Is Killing Amphibians Around the World?
08/05/2005 — Scientists Puzzled by "Bizarre" Pacific Coast Die-offs in 2005
05/07/2005 — Did Milky Way Gas and Dust Turn Earth Into Icy Snowball Four Times?
04/20/2005 — Outer Space Impact At Serpent Mound, Ohio, 256 Million Years Ago
04/01/2005 — What's Killing Off Marine Life Every 62 Million Years?
03/20/2005 — Astronaut John Young: "The Moon Can Save Earth's Civilization."
02/26/2005 — Collapse of Societies: From Easter Island to Iraq – to Western World?
02/03/2005 — Kyoto Protocol Goes Into Effect February 16, 2005. British Scientists Warn Global Temperatures Could Climb Higher Than Earlier Estimates.
08/27/2004 — Global Warming Impact On Birds – More Extinctions Expected
09/02/2003 — Updated – Astronomers Don't Think Asteroid Will Hit Earth in 2014
07/19/2003 — Update – Defiance, Missouri T-Pattern Cut in Saplings
11/14/2002 — What Happened 12,000 Years Ago That Killed So Many Animals?
07/20/2002 — Extinctions of Earth Life Are Accelerating Rapidly
04/27/2002 — Earth's Magnetic Anomalies – Could the Poles Flip?
01/05/2002 — Global Warming Update – Could Increasing CO2 Be Transformed Into Limestone?
12/22/2001 — Scientists Warn That Climate and Earth Life Can Change Rapidly
06/09/2001 — Environmental Updates and Colt Mutilated in Leitchfield, Kentucky
02/25/2001 — Environmental Updates
02/07/2001 — 94% Decline In Aleutian Islands Sea Otter Population
01/07/2001 — Dinosaur-Killing Asteroid Punched 22 Miles Through Earth's Entire Crust
10/25/1999 — A Mysterious "Perturber" at the Edges of Our Solar System
---
Websites:
Wisconsin Dept. of Natural Resources:  http://dnr.wi.gov/fish/pages/vhs.html
And:  http://dnr.wi.gov/fish/pages/vhsexternalhemphoto.html
USGS: http://www.nwrc.usgs.gov/world/content/plants3.html
USDA: http://www.aphis.usda.gov/vs/ceah/cei/taf/emergingdiseasenotice_files/vhsgreatlakes.htm
NOAA: http://www.glerl.noaa.gov/res/Programs/ncrais/vhs_factsheet.html

© 1998 - 2019 by Linda Moulton Howe.
All Rights Reserved.