May 30, 2007  Albuquerque, New Mexico – Here begins an overview of five American crop formations, all in the month of May 2007. Each one is near Native American and ancient earth mounds reminiscent of the closeness that Wiltshire, England, crop formations also have to ancient stone circles and earth mounds.
May 27, 2007 – Asheville, North Carolina
Home of Cherokee Indians; many earth mounds west of Asheville.
More upcoming in Part 4.
May 21, 2007 – Mission, Kansas
(Suburb of Kansas City, Kansas)
Mission, Kansas, is site of Shawnee Indian mounds and burial grounds. More upcoming in Part 2. James Gravatt's house where two circles were discovered swirled counterclockwise sits on the highest hill in Mission, not far from Shawnee Indian burial grounds. I asked James if he would collect soil and grass samples for laboratory study by biophysicist W. C. Levengood. More about history and lab data upcoming in Part 2 of this Earthfiles report.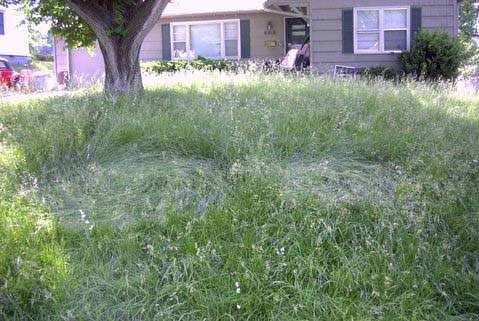 May 14, 2007 – Madisonville, Tennessee
The East-to-West axis of the crop formation points at the old Cherokee Indian capitol, Chota, about ten miles east of the wheat field. There are many earth mounds in the Madisonville region. Jeffrey Wilson, Director, Independent Crop Circle Research Association (ICCRA) in Ohio, drove with ICCRA colleagues to Madisonville, Tennessee, on Saturday, May 26, to sample plants.  His detailed findings will be reported in Part 3 of this Earthfiles report.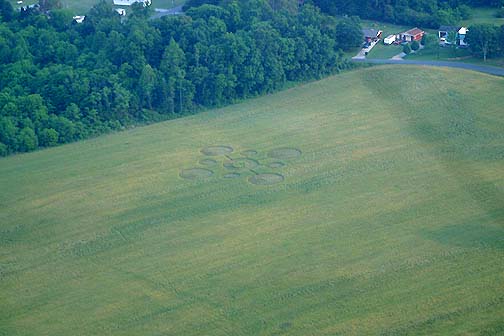 May 11, 2007 – Red Bluff, California
Home of ancient Yana Indians and earth mounds.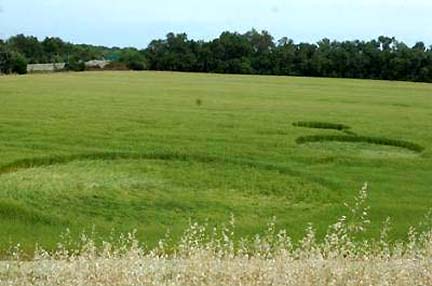 Jeffrey Wilson, Director, ICCRA:  "Red Bluff, California, is notable for a couple of historical references. The first being in 1907, there was an archaeologist by the name of N. C. Nelson who wrote a report based on his excavations of the Tehama Red Bluff mounds, which were located somewhere inside the town of Red Bluff. It's difficult to get a copy of this report, which was published by the Univ. of California in 1907.
Red Bluff, California is also notable as being where Ishi, 'the last wild Indian in North America,' came out of the wilderness (just to the west of Red Bluff) back in 1911. Ishi was the last remaining member of the Yana tribe. There were Indian mounds that were excavated in Red Bluff (the Tehama-Red Bluff Mounds) back in 1907, and there are more than 250 recorded ancient settlement sites along the Sacramento River in Tehama County. Red Bluff is located about 40 miles south of Mt. Shasta and 40 miles west of the Lassen Volcanic National Park.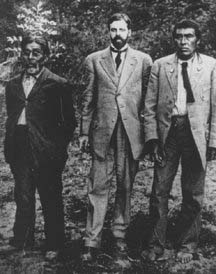 Ishi came out just east of Red Bluff in the Lassen National Volcanic Park and was taken to UC-San Francisco, where anthropologists studied him for the last five years of his life. Ishi provided pretty much all of the information in terms of language and cultural knowledge that we know about the Yana Indians.
Evidently in the 20 to 30 years before he was found, that area around Red Bluff was the scene of several large massacres of Native Americans by white settlers. White settlers would go into the Indian villages and kill every last one that they could – absolutely murder people 30, 40, 60 people at a time. In 1907 or 1908, there was a survey crew up in the mountains outside of Red Bluff that came across a camp of four Yana Indians that had been hiding for at least a decade or two. They slowly died off and Ishi was the last of the four.
Tehama is an Indian word that means 'high water' or 'low ground.' That refers to the Sacramento River that runs through there. Actually, the three crop circles were found in a field adjacent to the Sacramento River, right in this low land.
IS THIS ANOTHER EXAMPLE OF WHERE THIS WAS THE ONLY FIELD LEFT TO PUT THE CIRCLES? WAS THE AREA OTHERWISE BUILT UP BY RESIDENCES AND BUILDINGS?
It is. Much of the Red Bluff land around there has been developed. It's probably because this is low land and prone to flooding and is still being farmed. Everywhere else around there has been developed. That whole area along the Sacramento River that runs through Tehama County – there were at least 250 Indian archaeological settlement sites that have been identified along the Sacramento River in Tehama County. It's quite an ancient place that people lived in for quite some time. They think the Yana Indians date back to at least 4,500 years ago.
IN YOUR CROP FORMATION RECORDS, DO YOU HAVE ANY OTHERS IN THE EPPS, LOUISIANA AREA? OR RED BLUFF, CALIFORNIA, OVER THE PAST CENTURY?
Not in the immediate area, no. The closest previous places would be about two hours south of each location. The closest in Louisiana, I guess, would be Shreveport. There was a single circle report there back in 2003.
COULD THERE BE SOME INVISIBLE ELECTROMAGNETIC GRID THAT IS DETERMINING WHERE THE CROP FORMATIONS COME DOWN YEAR AFTER YEAR?
That's a good question. I think trying to apply that reasoning in this case might be premature because we don't know anything substantive about the circles, especially in Red Bluff. And they've already harvested the field. Same in Louisiana – we don't know much.
But in general, we do find a close relationship in that 60% to 65% of crop circles that appear in the United States are coming down near the ancient Indian mounds, which some people consider to be on a global grid-type pattern.
I try to understand when a crop circle comes down to understand both the immediate landscape context in which it comes down, but also the historical or prehistorical context in which they are found. We don't know enough about crop formations to rule anything out in terms of what their source cause is or where we can find clues to their origin. And so I think it is important to continue to look at as much information as we can about the geology there, what were the weather conditions there, what were the historical conditions, what ever it is that can be found there, it's important to try to understand the whole bigger picture.
ANOTHER CROP FORMATION CHARACTERISTIC WE'VE ALL NOTICED FOR A LONG TIME IS RUNNING WATER IN LIMESTONE. WOULD THAT APPLY TO RED BLUFF?
The field is immediately adjacent to the Sacramento River. The boundary at the back of the field is the river. So, there's no doubt there is some underground water there.
WHAT ABOUT EPPS, LOUISIANA?
That whole area is smack in the middle of the Bayou country, so that whole area is just crisscrossed with little streams and rivers running all over the place. The area is pretty well saturated with water there.
First Week of May, 2007 – Epps,
West Carroll Parish, Louisiana
Epps is close to one of the oldest and largest Indian mound complexes in the United States, Poverty Point Mound.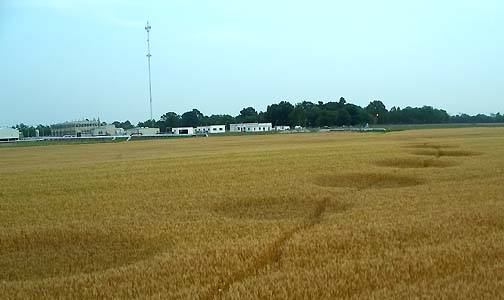 Jeffrey Wilson, ICCRA:  "The crop formation near Epps, Louisiana, is extremely unusual for a crop circle event. Instead of the wheat plants in the circles being flattened and swirled down like you would ordinarily see, the 25 circles that are spread out across this particular wheat field – the plants inside the circles are still standing upright. The circular bowl-like shape is created because the wheat plants in the circles are about 5 to 7 inches shorter than the surrounding wheat.
WHICH IS WHAT HAPPENED LAST YEAR NEAR HERINGTON, KANSAS, ON THE LOST SPRINGS MERLE ECKLUND FARM, WHERE THEY HAD TWO CIRCLES MADE OUT OF THREE DIFFERENT HEIGHTS OF STANDING WHEAT.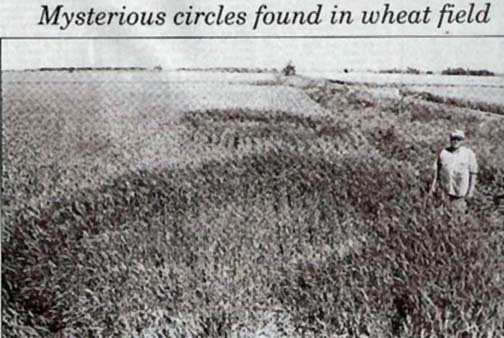 Right. In the Kansas case, the interior of the circles were shorter plants. The outside perimeter of the circles were taller plants. In between the interior and perimeter were other plants the same size as the rest of the field beyond the circles. So, there were three different heights in the Kansas case.
In Epps, Louisiana, all of the circles are approximately ten feet across and spaced about the same distance away from each other and they lie along a gentle arc across the field.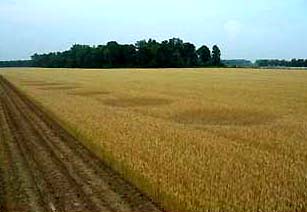 It was spotted about two weeks ago (first week of May) by someone flying over in a private plane. A neighbor farmer, Bill Duckworth, went out and took some photographs as he walked across the field and you can see the standing wheat inside the circles. It's really quite unusual.
IS IT TRUE THAT A ROAD GOING ALONG WHERE THE TWENTY-FIVE 10-FOOT-DIAMETER CIRCLES GROW IN THE WHEAT GOES BY THE POVERTY POINT MOUND?
Yes, Poverty Point is off Highway 134 and the crop circles are also off Highway 134 near Epps.
Poverty Point Mound, Louisiana
IN OUR EFFORTS TO UNDERSTAND WHY CROP FORMATIONS OCCUR WHERE THEY DO IN THE LANDSCAPE, WHAT HAVE YOU DISCOVERED SO FAR ABOUT THIS PARTICULAR FARM IN EPPS, LOUISIANA, IN RELATIONSHIP TO POSSIBLE ANCIENT SITES AROUND?
Epps is notable for being the closest town to one of the oldest and largest Indian mound complexes in the United States, which is Poverty Point Mound.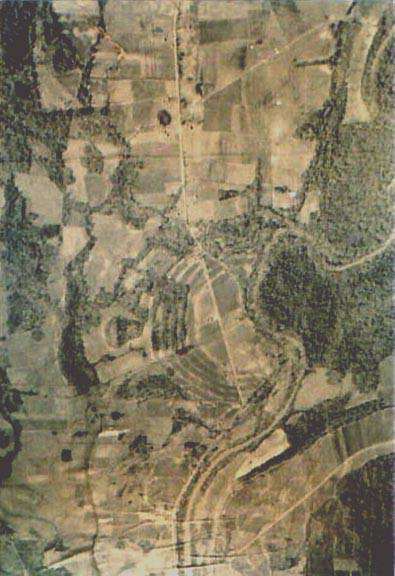 [ Editor's Note:  Science Frontiers reports: "The astounding complex of six octagonal ridges, 4,000 feet across, at Poverty Point, Louisiana, was not recognized until 1953, when aerial photographs were analyzed. Roughly 3,000 years old, the ridges are intersected by avenues that seem to align with summer and winter solstice points as well as some more obscure astronomical azimuths. These alignments represent remarkable astronomical sophistication for the New World in 1,000 B.C." ]
Poverty Point was built some time between 2,000 B. C. and 1,000 B. C., which would date it to what archaeologists call Archaic Time. It is a series of six concentric ridges of earthen walls about 5 to 10 feet tall that stretch out across the landscape for 3/4s of a mile and they create a partial octagon. The octagon would have been complete except for the fact that the river near there, called the Bayou Macon River, flows through the site. So, the rest of the octagon would have been on the other side of the river and was never constructed.
In the mounds with the six rows of concentric ridges, there are avenues inset into the ridges that separate the sections of the octagon. Two of the four existing avenues are solstice markers. One of the avenues seems to mark the setting of the star Canopus, which is the second brightest star in the sky visible from that Epps location.
One of the avenues seems to mark the setting of a star called Gamma Draconis, which is a second magnitude star that the ancient peoples used to use as sort of a nocturnal hour hand as the star swung around the pole star each night.  So the Poverty Point Mound has some astronomical alignments.
[ Editor's Note:  Gamma Draconis is an orange giant sun in the constellation Draco 148 light-years from Earth. Because it is near the zenith directly over London, it has been called "Zenith Star." ]
There are several other large mound constructions there, the largest of which is in the shape of a large bird effigy. Bird Effigy Mound is 640 feet along the wing, 710 feet head to tail and about 70 feet high. So that would put it at about the same height as the conical Miamisburg mound in Ohio – one of the largest conical mounds in the state of Ohio.
To be continued in Part 2 – Mission, Kansas, Grass Circles
---
More Information:
For further information about worldwide crop formations, please see reports below in the Earthfiles Archive and my book Mysterious Lights and Crop Circles in the Earthfiles Shop:
04/12/2007 —First 2007 Crop Pattern in United States
03/14/2007 —Part 5: Mysterious Events At 2005 Tawsmead Copse "Insectogram" Crop Formation
03/13/2007 —Part 4: Mysterious Events At 2005 Tawsmead Copse "Insectogram" Crop Formation
02/27/2007 —Part 1: Mysterious Events At 2005 Tawsmead Copse "Insectogram" Crop Formation
10/14/2006 —Big Sorghum Circle in Beloit, Kansas
10/11/2006 —Part 2: Time Travel, Insights from USAF Sergeant and UFO Abductee
10/08/2006 —Part 1: Time Travel, Insights from USAF Sergeant and UFO Abductee
10/06/2006 —Viewer Letters About Mayan "Lamat"
10/05/2006 —U. K.'s Last 2006 Wheat Formation – A Mayan "Lamat"?
10/02/2006 —Unusual Deaths of Six Female Goats in White Salmon, Washington
09/20/2006 —Updated: Three Sets of Concentric Rings in South Texas Field
09/13/2006 —Part 1: Ancient Geometries in Toot Baldon, Oxfordshire, Wheat
09/13/2006 —Part 2: Enchanting Wheat Bundles of Charlbury, Wiltshire
09/05/2006 —Part 2: "Alphonso Lorenzo" – Military Visitor to Another Planet?
08/28/2006 —Part 2: Five Circle Pattern in Geneseo, Illinois, Soybeans
08/27/2006 —Part 1: Five Circle Pattern in Geneseo, Illinois, Soybeans
08/17/2006 —Military Helicopter Aggression Toward Red Sphere in U. K.
08/16/2006 —Etchilhampton August 15, 2006, Wheat Formation
07/21/2006 —U. K. Breaking Heat Records and 17 Crop Patterns Reported Between July 4 – 20
07/01/2006 —Cattle Mutilation and Glowing Discs in Saskatchewan, Canada
06/28/2006 —Half Cats in Destin, Florida, and Beheaded Animals in Rochester, N. Y.
06/11/2006 —Updated: Two Mysterious Circles in Wheat Baffle Kansas Farmer
04/07/2006 —First 2006 Grass Circles in Conondale, Queensland, Australia
01/13/2006 —31st Cattle Mutilation on Red Bluff, California Ranch
09/15/2005 —Animal Mutilations Reported in Switzerland, Hollywood and Kansas
09/02/2005 —Part 1: New York and Ohio Corn Circles "Flattened 2 to 5 Feet Above Ground"
09/02/2005 —Part 2: Mysterious Lights At Coles County, Illinois, Corn Circles
09/02/2005 —First 2005 Canadian Crop Circles Reported
08/26/2005 —Another Cattle Mutilation in Canada
08/09/2005 —Three Extraordinary U. K. Crop Formations Reported August 9, 2005
08/07/2005 —Mysterious Light Photographed in Canadian Woods
08/02/2005 —Part 1: Anomalies Confirmed in Pennsylvania and Arizona Randomly Downed Crops
07/23/2005 —Mystery of Six Grass Circle Formations in North Carolina
07/19/2005 —Crop Formation in Czech Republic
07/18/2005 —Garsington, Oxfordshire, U.K. Wheat Formation – Astronomical Orbit?
07/01/2005 —U. K. Bicyclist Reports Mysterious, Low Hovering Objects Bending Wheat
06/28/2005 —Crop Circles in Poland
05/26/2005 —Phoenix Barley Mystery: Apparently Irrigation and Wind
05/20/2005 —May 2005 Crop Formation Update in Six Countries
04/13/2005 —Highly Strange Dog Death in Arkansas; 2000-Pound Bull Dropped On Log Pile and Calf Skinned
04/12/2005 —First 2005 Dutch Crop Circles Reported in Hoeven, Holland Grass
02/21/2005 —Updated – Bull and Cow Mutilations Northwest of Corpus Christi, Texas
01/15/2005 —Bull and Cow Mutilations Northwest of Corpus Christi, Texas
12/22/2004 —Part 1: "Reasons Why U.S. Government CAN'T Release Truth About UFOs!" with Canadian Researcher, Grant Cameron
12/10/2004 —Part 3: "Peculiar Phenomena," V-2 Rockets – and UFOB Retaliation?
12/10/2004 —Part 4: "Peculiar Phenomena," V-2 Rockets – and UFOB Retaliation?
10/17/2004 —American Crop Formations: 1880-2004
09/17/2004 —Updated: Part 1 – High Strangeness in Canadian Cattle Corn
09/12/2004 —Part 2 – High Strangeness in Canadian Cattle Corn
09/10/2004 —Update on Miamisburg, Ohio, Corn Pictogram – Balls of Light?
09/06/2004 —Part 1: Terry Sherman – 1996 Interview About High Strangeness on Fort Duchesne, Utah Ranch
08/12/2004 —Circles in Belgium and Holland
08/09/2004 —Pictograms in Poland
07/26/2004 —Crop Circles in Tilden, Wisconsin Oats and 90-Degree Angles in Litchfield, Minnesota Barley
07/06/2004 —Additions to Spanish Fork, Utah Formation and Mysterious Lights Seen
07/04/2004 —Crop Formation in Spanish Fork, Utah
06/17/2004 —More 2004 Holland and Poland Crop Formations
06/16/2004 —England: 2004 Crop Formations and 2003 Research
06/02/2004 —2004 Peach Orchard, Arkansas Crop Formation
05/24/2004 —Biophysicist W. C. Levengood's Crop Circle Reports Available for First Time On Internet
05/22/2004 —2004 Overview of Crop Formations in Six Countries
05/11/2004 —An Extraordinary Photograph in A Dutch Home
05/09/2004 —2003 English Crop Formations on Documentary DVDs
04/14/2004 —Light Anomalies in Photos of Conondale, Australia Grass Circles
04/07/2004 —Four "Combed" Grass Circles in Conondale, Australia
02/24/2004 —Part 1: UFO Crash/Retrievals: The Inner Sanctum – Status Report VI © July 1991 by Leonard H. Stringfield
12/14/2003 —Some Provocative 2003 Books
12/05/2003 —Diatonic Ratios and Seed Changes in 2003 California Wheat Circles Rule Out Hoax?
11/07/2003 —British UFO Crash Retrievals
11/01/2003 —Another Soybean Formation in Ohio
10/10/2003 —Updated – Ohio Hunter's "Deer Camera" Photographs Mysterious Glowing Disk
10/02/2003 —Part 1 – Another Soybean Formation Near Seip Mound in Ohio
09/12/2003 —Second Soybean Crop Formation in Ohio is Manmade. Special USAF Investigation Unit Involved?
09/06/2003 —Part 3 – Unusual Soybean Formation Near Serpent Mound, Ohio
08/23/2003 —Fourteen Crop Formations in Canada
08/11/2003 —Field Notes from Wiltshire, England Crop Circles
07/31/2003 —Field Notes from English Crop Circles
07/16/2003 —Unusual Details in Dutch Crop Formations
07/11/2003 —Updated: Part 2 – Unusual Cylindar-Shaped Cloud Seen Night Before Dutch Crop Circles Discovered
07/08/2003 —Mysterious Lights Videotaped Emerging from Ogbourne St. George, England Crop Formation
06/27/2003 —Part 1 – Mysterious Lights and Fourteen Crop Formations in Italy
06/13/2003 —Updated: Fractal Crop Formation in Knobel, Arkansas
05/02/2003 —First 2003 English Crop Formations
04/29/2003 —Comparison Between First 2003 and 2002 U. K. Crop Formations
04/26/2003 —First 2003 U.K. Crop Formation Near Petersfield, Hampshire
11/05/2002 —Canadian Crop Circles and Mysterious Lights in Saskatchewan
10/19/2002 —Shifting Time Lines and Earth's Destiny?
10/03/2002 —Part 3 – 2002 Crop Formations In Canada
09/28/2002 —Part 1 – September 2002 Maize Circles Update: England
08/24/2002 —Crop Formation Update: United States
08/18/2002 —Another Face and Code Appears in Hampshire, England – UPDATED
07/25/2002 —Strange Stem Anomalies in New Dutch Crop Circles
07/20/2002 —Mysterious Lights Seen Above Field Where Nautilus Formation Emerged
07/06/2002 —Stonehenge 4th of July Formation Echoes Hackpen Hill 1999 4th of July Spiral
06/26/2002 —Part 1 – New Crop Formations in England, Holland and Germany
06/04/2002 —New 2002 Crop Formations in Wiltshire and Sussex, England
05/11/2002 —First 2002 Crop Formation In Wiltshire, England
02/12/2002 —JFK, MJ-12 and Outer Space
10/10/2001 —Update On Unique British Crop Formations
09/29/2001 —Part 2 – Sasquatch Bigfoot, Visible and Invisible Evidence in North America
09/22/2001 —Huge Hexagram Crop Formation in Red Deer, Alberta, Canada
08/30/2001 —Chilbolton Observatory – What Does It Do?
08/29/2001 —Part 1 – Ground Details of Chilbolton "Face"
08/25/2001 —Are Crop Formations at Chilbolton Observatory A Response to 1974 Earth Transmission?
08/22/2001 —Milk Hill 2001 – 409 Circles, Most For Any Crop Formation So Far
08/09/2001 —Crop Formation in Holland Changes with Researchers Present
06/16/2001 —Beyond Stonehenge with Astronomer Gerald Hawkins
06/08/2001 —Another Crop Formation Near Kassel, Germany
05/19/2001 —Part 1 – New Crop Formations in Holland, Germany and England
03/02/2001 —Mysterious Lights and Crop Circles – A Book Excerpt
12/13/2000 —Mysterious Clouds of Light in English Crop Formation
09/30/2000 —Unidentified Moving Spiral of Light Photographed in Crop Formation
08/29/2000 —Black Triangle, Red Lights and Spinning Disc Over Wiltshire, England Crops
08/29/2000 —Crop Formation Near Woodburn, Oregon Photographed from Hot Air Balloon
08/27/2000 —Crop Circle Reports from Whitefish, Montana – Updated Photos
08/23/2000 —Intelligence Sensed In Mysterious Lights Associated With Crop Formations
08/19/2000 —White Balls of Light and Helicopter Videotaped in Woodborough Hill Field
07/16/2000 —Multiple Crop Formations Same Day in Wiltshire and Hampshire, U. K., July 16, 2000
07/09/2000 —New Book about Ancient Sites of Wiltshire, England
06/11/2000 —Two New Crop Formations at Silbury Hill
05/30/2000 —Crop Formations In Germany, May 2000
01/16/2000 —Crop Circle Mysteries – A New Book
01/05/2000 —Crop Circle Year Book 1999
10/29/1999 —A New Book About Crop Circles
06/09/1999 —Dutch Eyewitness SaysTwo Crop Circles Created By Pink-Purple Light
06/07/1999 —1999 U.K. Crop Circle Update with Photographer Peter Sorensen
---
Websites:
American Crop Circles, ICCRA:  http://www.cropcirclenews.com/
Cherokee Capitol Chota, Madisonville, Tennessee:  http://tennesseeencyclopedia.net/imagegallery.php?EntryID=C081   and
http://mcclungmuseum.utk.edu/permex/archaeol/xrh-text.htm     and
http://www.answers.com/topic/chota
Poverty Point Mound, Epps, Louisiana:  http://www.mnsu.edu/emuseum/archaeology/sites/northamerica/poverty_point.html   and
http://www.crt.state.la.us/archaeology/POVERPOI/popo.htm
http://lithiccastinglab.com/gallery-pages/2001aprilbeads.htm   and
http://www.crt.state.la.us/archaeology/expeditions/overview2nancy.htm
Shawnee Methodist Mission, Kansas:  http://en.wikipedia.org/wiki/Shawnee_Methodist_Mission
Shawnee History:  http://en.wikipedia.org/wiki/Shawnee_%28tribe%29
Yana Indian History, Red Bluff, California:  http://www.library.ucsf.edu/collres/archives/hist/ishi/   and
http://en.wikipedia.org/wiki/Ishi_wilderness
Hohokam Indians, Phoenix, Arizona:  http://www.cavecreekmuseum.org/hohokam_of_the_southwest.htm
English Crop Circles, Current and Archived:  http://www.cropcircleconnector.com
Canadian Crop Circles, CCCRN:  http://www.cccrn.ca/
German Crop Circles:  http://www.kornkreise-forschung.de
Dutch Crop Circles, DCCA:  http://www.dcca.nl
http://www.lucypringle.co.uk
http://www.members.iinet.net.au/~bwratten/ccc.html
http://www.cropcircleresearch.com
http://www.CropCircleAnswers.com
http://www.ukcropcircles.co.uk/?page=home
http://www.temporarytemples.co.uk

© 1998 - 2019 by Linda Moulton Howe.
All Rights Reserved.