"The physical data knocks out the chance that people hoaxed this. People just cannot hoax the expulsion cavities and they cannot elongate the growth nodes…"
– Jeffrey Wilson, ICCRA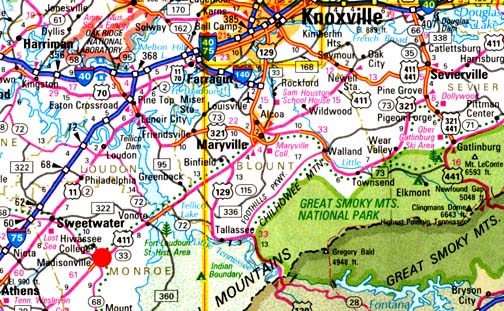 Return to Part 1:  U. S. Crop Formations in Epps, Louisiana, and Red Bluff, Calif.
Return to  Part 2:  U. S. Crop Formations, Two Mysterious Grass Circles in Mission, Kansas.
June 7, 2007  Williamsburg, Ohio   –  On May 24, 2007, I received a phone call from Jeffrey Wilson, Director of the Independent Crop Circle Research Association (ICCRA) in Williamsburg, Ohio, telling me that the Monroe County Buzz newspaper in Madisonville, Tennessee, had a headline about a crop formation in a wheat field. Madisonville, Monroe County, Tennessee – site of the historic Cherokee nation's capital, Chota – is straight south of the Oak Ridge National Laboratory outside Knoxville and west of the Great Smoky Mountains (red circle on map).
I called the newspaper office and talked to Mark Boring, Co-Owner and Editor. He had flown over the field to take photographs with his friend Bryan Graves, one of three patrol captains in the Monroe County Sheriff's Department. Capt. Graves had first seen the nine circle pattern a week earlier on May 15th, from his airplane.
Mark went to the formation with a tape measure on May 24th, and told me all the circles were swirled counterclockwise. The larger four circles seemed to be laid out generally in a north/south and east west orientation.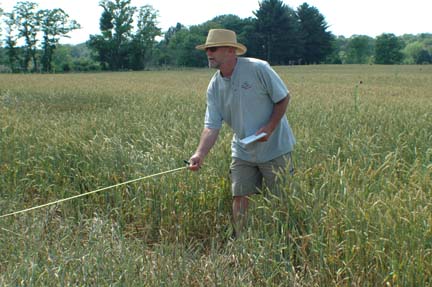 Mark sent me copies of aerial photographs he had taken and I realized I was looking at nine circles in a pattern I was not certain I had seen before. After looking at hundreds of photographs of crop formations over the past seventeen years and after studying symbol books, I was surprised when I could not find an exact matching pattern.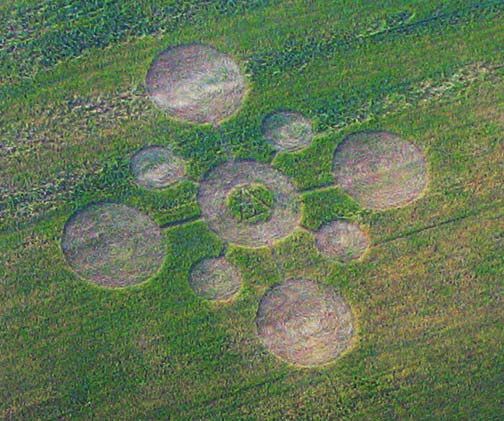 Mark Boring also told me that the 9-circle-pattern was only about 8 miles from the Cherokee Indian's historic mid-1700s capital known as Chota. I asked Mark if anyone in the region recognized the pattern as a Cherokee symbol. The answer was no.
The Cherokee national flag has seven stars in a circular pattern with one star at the center and one dark star removed from the circular group for a total of nine stars.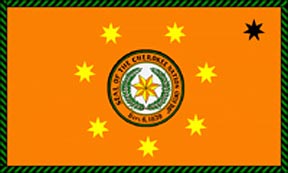 In the Madisonville, Tennessee, wheat formation, instead of a star at the center, there is a triangle made of lines only 5 inches wide in standing wheat. The triangle's base faces the direction of Chota. What the triangle might be pointing toward in the west is not yet known. Some time ago, a memorial was constructed next to the Tellico Reservoir to honor Chota. There are eight pillars, one for the "lost" Cherokees in the Little Tennessee Valley (now underwater), and seven for the seven animal clans in which the Cherokee identified themselves: Wolf, Deer, Bird, Blue, Wild Potato, Paint, and Long Hair. There is also a central sacrificing alter, perhaps for the Sacred Fire, that would be the ninth object in the memorial.
[ Editor's Note:   Chota (also spelled Echota or Itsati) was a Cherokee town near present-day Vonore and Madisonville, Tennessee. With a 300 to 500 population, it was the largest Cherokee town in the region and became the de facto Cherokee capital around 1730. This probably occurred when Moytoy II of Tellico was elected Principal Chief that year (and was further entitled "Emperor of the Cherokees" by the British envoy). Chota was the home of Moytoy's father. Continental forces destroyed Chota in 1780 during the American Revolution. The Cherokee rebuilt the town, but it did not recover its former status. In 1788, the Cherokee capital moved to Ustanalli, Georgia.
Today, Chota lies under the waters of Tellico Reservoir created by Tellico Dam. Tellico Dam was built in 1979 by the Tennessee Valley Authority (TVA) in Loudon County, Tennessee, on the Little Tennessee River just above the main stem of the Tennessee River. It impounds the Tellico Reservoir. A causeway leads to a monument at the site of the original Cherokee council house. The monument includes pillars representing the Cherokee nation, its seven animal clans, and the grave marker of the Cherokee warrior, Oconostota.]
One of the oldest sites where archaeologists have found evidence of human occupation 9,000 years ago, is called Icehouse Bottom very near the location of the Madisonville, Tennessee, crop formation.
Jeffrey Wilson drove from Ohio to the Madisonville, Tennessee, wheat field with his wife, Delsey, to join up with some of his ICCRA colleagues Roger Sugden, Ted Robertson and Doug and Ruth McIlwain on May 26th to collect plant and soil samples for study and to do instrument measurements to determine if the mysterious wheat pattern was associated with unusual radiation and/or electromagnetic field strengths.
---
Jeffrey Wilson, Director, Independent Crop Circle Researchers Association (ICCRA), Williamsburg, Ohio:  "We concentrated on the details that tell us whether the formation is manmade or not. The one peer-reviewed scientific test that allows us to do that is biophysicist W. C. Levengood's node elongation analysis test, or 'L-NEAT' test.
My wife, Delsey and I, spent the better part of three or four days measuring more than 1500 growth nodes on the Madisonville wheat plants to get some accurate assessment of this formation. The measurements came back statistically positive, overwhelmingly so.
Evidence Summary – Not Manmade
There was growth node elongation in the wheat plants. So, if we only had that test, we could say the formation is authentic, just based on that.
We did find expulsion cavities in the formation sample plants. That is another non-hoaxable effect that if it were the only biophysical change we found, it could stand on its own.
We measured for radioactivity. We did pick up radioactive measurements that were statistically significant compared to our control radiation readings.
We measured for electric field strength. We also got similar significant readings in the electric field strength.
We measured for magnetic field strength. Magnetometer data is being processed and data is yet to come.
It seems so far that all the metered tests are coming back positively just like the node elongations came back positive.
HAVE YOU OR ANYONE SO FAR FOUND ANYTHING YOU THINK MATCHES THIS PARTICULAR 9 CIRCLE PATTERN?
I don't think anyone has come up with an exact match, but as you mentioned, there have been people who have come up with variations on the theme. The theme might be called a Celtic cross pattern. In Madisonville, there are two Celtic cross patterns oriented opposite each other at about 45 degrees. When I try to interpret the symbology of formations such as this one in Madisonville, one of the things I try to do is look at the immediate context in which the formation occurs. So, in this case, we look at the landscape surrounding it and the cultural context that surrounds it and we look for indicators to help us understand what the symbol means.
In the case of the Madisonville formation, one of the cultural contexts that is immediately apparent is the fact that the pattern is in the heart of what is known as the Overhill Cherokee country in which many Cherokee village sites and prehistoric mound sites existed and are now mostly obliterated. But we know where most of those were and archaeologists had done many salvage investigations to collect samples from them.
JEFF, ISN'T IT TRUE THAT WHERE THE NINE CIRCLES CAME DOWN IN THE FIELD IS NOT VERY FAR FROM THE CHEROKEE CHOTA CAPITAL?
That's correct, yes. In fact, it's one of the closest of the sites. Interestingly, it was at some of the nearby Cherokee village sites that some of the information about what the 9 circle pattern might mean, or what it's representing, might come from those original village sites. One of the closest sites, I came across an archaeological report written in the late 1800s by the Smithsonian Institution that had some photographs of some of the artifacts that came out of the excavations of the mounds at that site. One of those artifacts has depicted on it a Celtic cross pattern. It is on what is known as a shell gorget, which archaeologists believe that people wore. The designs of shell gorgets that have been found throughout the middle part of the United States in mound building cultures – many depict the Celtic cross pattern.
AT THE CENTER OF THE MADISONVILLE FORMATION WHERE THE WHEAT IS STANDING, THERE IS A TRIANGLE . IS THE TRIANGLE POINTING RIGHT AT THE OLD CHEROKEE CHOTA CAPITAL?
No, it's not. It's not an equilateral triangle. It's somewhat extended and that might hint at the direction in which the triangle is pointing. But it seems to be pointing in the opposite direction. It points toward the west and not toward the east. The base of the triangle faces Chota.
AND IF YOU EXTENDED THE POINT OUT TO THE WEST, WHAT WOULD YOU COME TO THAT MIGHT BE ANCIENT IN CHEROKEE OR OTHER?
That's a good question. I don't know yet.
Nine Circles in A Unique Pattern?
NOTHING HAS EXACTLY EMERGED THAT HAS CIRCLES IN WHICH FOUR ARE LARGE CONNECTED BY CORRIDORS. AND THEN FOUR SMALLER CIRCLES INSIDE, TURNED SORT OF 45 DEGREES SO THEY FIT INSIDE THE FOUR LARGER CIRCLES?
Right. It's interesting that there is a parallel with marks on a compass. But there isn't really a pattern like this that we've managed to find. There have been lots of Celtic cross patterns that have been reported around the world – mostly in England. Yet, this particular design, as simple as it seems, has never been seen before, or at least no one has been able to find a match yet.
IF YOU TAKE THOSE ARMS OF THE LARGE CIRCLES, THEY ARE ON AN EAST /WEST AND NORTH/ SOUTH ORIENTATION?
Generally, they are off about 6 degrees from those true directions.
I WONDER IN CHEROKEE MYTHOLOGY, IF IT IS THE NORTH/SOUTH AND EAST/WEST DIRECTIONS THAT ARE CRITICAL?
It relates to how the Native Americans viewed their place in the world. It has to do with an idea of quartering time and space. They view themselves as being at the center of things and it was very important to them to be able to quarter time and space. This formation pattern might have something to do with that.
Toqua, "Big Toco" Mound
One of the nearest archaeological sites to the Madisonville crop pattern was the site of the Cherokee village of Toqua, about 8-9 miles to the east of the formation. At Toqua was the largest of all the earthen mounds in the whole of the Little Tennessee River valley, a mound the locals called 'Big Toco' and archaeologists called 'Mound A.'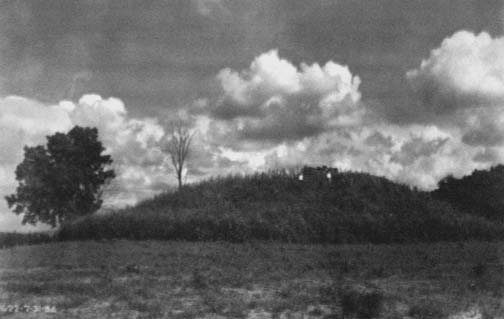 The 'Big Toco' Mound was very similar in form to the elongated Seip Mound in Bainbridge, Ohio, built by the Hopewell culture about 2,100 years ago.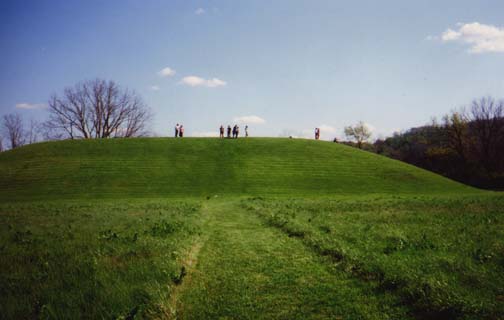 Crop circles have come down in the vicinity of Seip Mound, Ohio. And now we have this crop circle that came down in Madisonville, Tennessee. And there are archaeological connections between the two mounds. Some of the later occupations of Icehouse Bottom, for example, left pottery shards that are an identical match for pottery shards found at the Seip Mound in Bainbridge, Ohio. When I say identical match I mean the exact clay that made one set of pottery at Ice House Bottom was the same clay that made the pottery found in the Seip Mound.
THE IMPLICATION IS TRADE BETWEEN THE OHIO AREA AND THE TENNESSEE AREA LONG AGO?
That's correct. This would be during Hopewell times at least 2,000 years ago. It was probably about the same time that pottery was being mutually exchanged – or came from some same site to both Seip Mound and Big Toco Mound in Toqua.
Fifty-seven burials were found inside the Big Toco Mound. When it was excavated by the Smithsonian Institution in the late 1800's, one of the artifacts recovered was a shell gorget with a 'Celtic-cross'-type insignia design. The Fig. 262 drawing of the gorget, below, was taken from the 12th Annual Report of the Smithsonian Bureau of Ethnology, Page 383.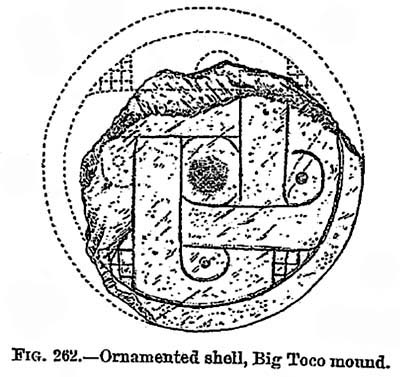 This 'Celtic-cross'-type symbology was frequently used in the creation of shell gorgets. Last year I was able to photograph another shell gorget with a similar design on display at the Angel Mounds Museum in southern Indiana while we were investigating a nearby crop circle formation in Huntingburg, Indiana. Note the distinctive swirled center – this design characteristic was often used.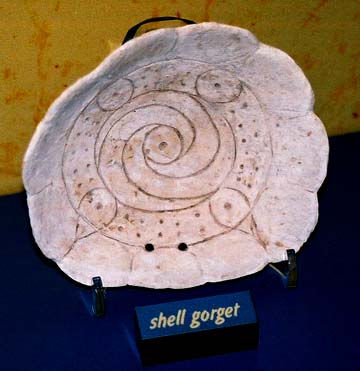 In another shell gorget example, the 'Celtic-cross' symbol is formed by the central circle and the eyes of four birds. The interlocking swirls create a second cross oriented at 45 degrees to the first – much like the Madisonville, Tennessee, 9-circle wheat formation.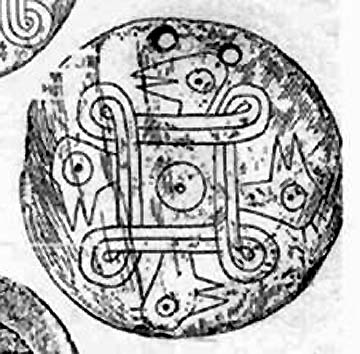 The 'Big Toco' Mound, is now under Tellico Lake, courtesy of the Tennessee Valley Authority (TVA), who dammed up the Little Tennessee River about thirty years ago. The project to create Tellico Lake was to provide electrical power to the region, but it also destroyed over a dozen important archaeological sites in the valley with over forty mounds now under the water. The TVA flooded the very heart of the Cherokee Nation's ancestral lands.
ICCRA Investigation on May 26, 2007
CAN YOU GIVE YOUR PERSONAL REACTION TO WHAT YOU WERE SEEING ON THE GROUND IN THIS PARTICULAR FORMATION.
First of all, we got there about ten or eleven days after it was first seen (on May 15, 2007, from airplane). We don't know the exact date of the formation. It was spotted from an airplane, so we don't know prior to that when it was formed. So, we got there about ten days later. In that amount of time, many of the plants had begun to reorient themselves back to the sun. That made the formation look a little fuzzy, so to speak. But you could tell that many of the plants had not come back up and they were still swirled down very flat.
One of the things we noticed just walking into the different circles was that each one in the way they were swirled down, each of them are swirled down differently. What I mean by that is the circles are not just swirled down from center to edge or edge to center, but the way in which the plants are laid down is in various directions.
ARE THEY ALL COUNTERCLOCKWISE?
They are all counterclockwise. Even the triangle is swirled down counterclockwise. The plants actually made the bends of the triangle. The plants bent to make the corners of the triangle and they continued around in that fashion. The standing center, which incorporates the flattened triangle, the exterior of that is a flattened ring about 45 to 46 feet across. The inner edge of that going around towards the east, that actually flowed into the triangle to begin the triangle. Then as it reached the other two points, the wheat made the bend and came back to its original entry point. Those triangle pathways were only about 4 to 5 inches wide.
It's important to note that in many of these circles, the way in which they are laid down is different from circle to circle. And the geometric centers of these nine circles is not where the swirled centers of the circles are. The geometric centers are generally off by anywhere from one to three feet off from the swirled centers.
But again, the detail of each one of them being swirled down differently is really interesting in the sense that it would be much more difficult for a hoaxer to pull off.
AND COMBINED WITH YOUR PHYSICAL DATA.
The physical data knocks out the chance that people hoaxed this. People just cannot hoax the expulsion cavities and they cannot elongate the growth nodes just by flattening down the wheat with a board or garden roller. That's not possible to do.
THE ONLY HYPOTHESIS THAT IS WORKABLE ABOUT HOW THIS COULD HAPPEN IS SOME KIND OF A COMPLEX ENERGY SYSTEM THAT'S COMING DOWN FROM ABOVE AND INTERACTING WITH THE PLANTS?
That's our best guess at this point.  We see the physical, tangible evidence for some kind of energy interacting with the plants. What that is is anybody's guess. Nobody knows what source causes it.
"Icehouse Bottom" 9,500-Year-Old 
Archaic Site in Madisonville
WHERE THE MADISONVILLE FORMATION CAME IN RELATIONSHIP TO CHEROKEE HISTORY OF THE PAST 300 YEARS, WHAT ABOUT GOING BACK FURTHER IN TIME?
Well, actually one of the closest of the archaeological sites to where the crop circle came down is known as Icehouse Bottom. That site has had a very long history of human occupation. Artifacts from that site date back to at least 9,500 years before the present day, making it one of the oldest sites in the country in terms of occupation.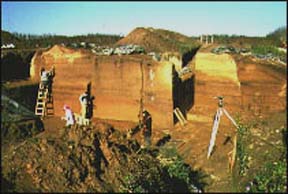 [ Editor's Note:  Wikipedia: "Icehouse Bottom is an Early to Middle Archaic site in Eastern Tennessee. It was a place where hunters gathered quite frequently. After 8000 B.C., rains and floods forced layer upon layer, making each time the hunters returned like a 'layer-cake.' These returns made the Icehouse Bottom site very easy to stratify. The lowest level found is thought to be occupied around 7500 B.C. It was a popular site for hunting due to its diverse game as well as wild vegetable foods. ]
Some of the later occupations of Ice House Bottom have some interesting aspects to them. For example, there were pottery shards found that are an identical match for pottery shards that were found at the Seip Mound in Bainbridge, Ohio. When I say identical match I mean the exact clay that made one set of pottery  at Ice House Bottom was the same clay that made the pottery that was found in the Seip Mound.
THE IMPLICATION IS TRADE BETWEEN THE OHIO AREA AND THE TENNESSEE AREA 9,000 YEARS AGO?
That's correct, but not 9,000 years ago. This would be during Hopewell times at least 2,000 years ago. It was probably about the same time that pottery was being mutually exchanged – or came from the same site to both Seip and Tennessee locations.
Common Denominators to Crop Formation Sites
The general area fits into the type of topography characteristic we find in circle formation after circle formation here in the U. S.  95% of circles in U. S. follow 3 main characteristics:
1) Sit close to a body of water such as a pond, creek, drainage ditch, over the top of an aquifer, that kind of thing. In this case, the crop circle sits right on the top of limestone. There is underground water there. It's also very close to a creek and a small pond. So there is water in this case.
2)  One of the other main characteristics of statistics is that crop formations come down very close to power lines. In about 85% of the cases, the closest power line pole to the crop circle has a transformer box on it. In this case, the two closest power line poles to the crop circle in Madisonville both have transformer boxes on them and the power lines are relatively close.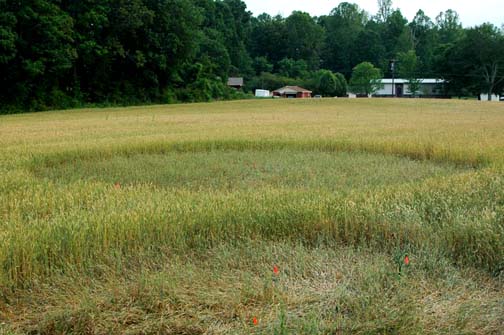 3)  The next characteristic is that the crop circle appears in a low area. This wheat field is in a valley area. There are high hills surrounding this field where the crop circle is.
4)  The fourth main characteristic we already covered a bit is that in about 65% of the cases, or higher, the crop circles come down close to Native American archaeological or mound sites. Madisonville has that in spades.
So, these are four common denominators all close by to the Madisonville, Tennessee, wheat formation like we find in crop formations around the world.
Mysterious Lights in "The Knobs," Madisonville
I would also like to add a couple of interesting things about this area. We have gotten a couple of stories given us when we were down there investigating the formation of people reporting mysterious lights in the immediate area surrounding where the crop circles occurred. And in one particular instance, there are a series of hills to the east of where this crop formation is. They call this area, 'The Knobs.' A couple of people who came to visit the Madisonville formation told us that the surrounding hills, known as The Knobs, are known locally for having unusual lights seen there regularly, much like the Brown Mountain lights in North Carolina; or the Marfa lights in Texas; or even the Hessdalen lights in Norway.
Also, as Mark Boring pointed out in his initial newspaper article, the very last eyewitness to something known locally as the Bird Man was seen just a few hundred yards away from where this crop circle occurred.
Now in discussing with Mark Boring and other local residents what the Bird Man was, he said that about thirty-five eyewitnesses saw this Bird Man – the last reported sighting was in 1975 and the Bird Man was about 7.5 feet tall with the body of a man and wings like a bird and had the head of a man but with a beak like a bird. In one eyewitness case, the person actually shot at the Bird Man.
So, I think this is one of the more significant patterns to come down in awhile. And the connection with Bird Man – and Thunderbird. I learned that the Cherokee referred to themselves as being "Friends of the Thunderbird."
Sumerian Thunderbird
Anzu-bird = the Thunderbird whose Sumerian name means "heavy rain" or "slingstone." The Thunderbird once tried to steal the me (cultural powers) from Enki, an Annunaki ruler-god in Mesopotamia.  Source: faculty.gvsu.edu/websterm/Huluppu2.htm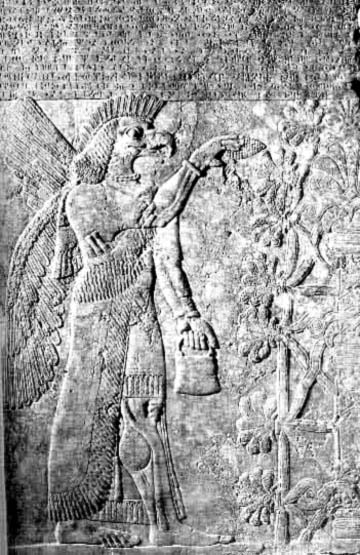 Sumerian Gods and Goddesses:  "The Annunaki are sometimes depicted as humanoid. At other times they are bird-headed with wings. Often they are Reptilian in appearance, especially when depicted as warriors. Sometimes they are shown as a combination of several types of entities as they all follow the same patterns that repeat in cycles or loops called Time. The patterns of their battles reflect reality as duality and the same characters play different roles.
A Sumerian Divine Tablet, the kibdu secret of Heaven and Earth, taught how to make calculations with numbers.
The Sumerians never called the Anunnaki, 'gods.' They were called din.gir, a two-syllable word. Din meant 'righteous, pure, bright.'  Gir was a term used to describe a sharp-edged object. Thus, Anunnaki din.gir meant 'righteous ones of the bright pointed objects.'"
Thunder Bird History:  http://www.thothweb.com/modules.php?name=News&file=article&sid=4315
Madisonville, Tennessee, Wheat Formation Dimensions
Here is a graphic overlay which shows our numbering of the circles (1st circle clockwise from north is #1, 2nd from north is #2 and so on). You can see that the formation was not aligned to the cardinal directions (about 6 degrees off).  There were no tramlines in the field, so it was not aligned to those type of artificial markers in the field.
Overall Measurements and Circle Diameters All graphics © 2007 by Jeffrey Wilson, ICCRA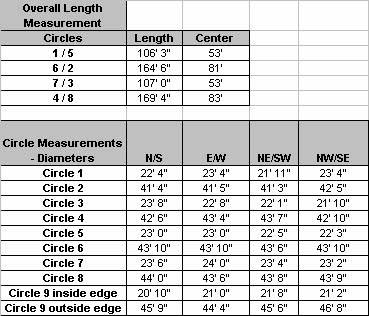 Lengths of Pathways Connecting Circles and Making Central Triangle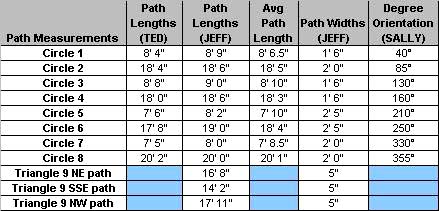 GPS Coordinates of Circles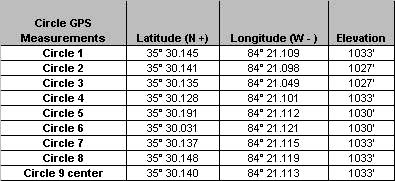 Madisonville, Tennessee, Has Largest Underground Lake in World
Jeffrey Wilson:  "Here is a photograph that I took while on a boat floating across the Lost Sea – the largest underground lake in the world, located just to the west of Madisonville, Tennessee – first discovered in late 1800s. The lake is 4.5 acres in the cavern, and a few years ago divers discovered an underwater passage that led to another cavern with another lake at least as big. The whole Madisonville area is filled with limestone caverns and underground water sources. An interesting thing to note is that the Madisonville area has been undergoing a drought, and the water table has been dropping. The Lost Sea lake levels have fallen several feet. It reminds me of the Glenn Broughton observation of the UK circles locating themselves along the chalk and greensand aquifers, and when the water tables drop in those areas – circles appear."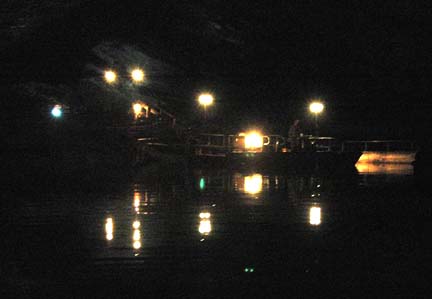 ---
More Information:
If viewers have more information about other crop formations in your area, please email me at [email protected]
For further information about crop formations, please see reports below in the Earthfiles Archives and my book Mysterious Lights and Crop Circles in the Earthfiles Shop:
06/06/2007 —Part 2: Yatesbury, England and Madisonville, Tennessee – A Mayan Link?
06/05/2007 –Part 2: U. S. Crop Formations, Two Mysterious Grass Circles in Mission, Kansas
06/04/2007 — Part 1: Yatesbury Spiral – Viewer Comments on Spiral Math
05/27/2007 — Part – U. S. Crop Formations Near Indian and Ancient Earth Mounds
04/12/2007 — First 2007 Crop Pattern in United States
03/14/2007 — Part 5: Mysterious Events At 2005 Tawsmead Copse "Insectogram" Crop Formation
03/13/2007 — Part 4: Mysterious Events At 2005 Tawsmead Copse "Insectogram" Crop Formation
03/06/2007 — Part 3: Mysterious Events At 2005 Tawsmead Copse "Insectogram" Crop Formation
03/04/2007 — Part 2: Mysterious Events At 2005 Tawsmead Copse "Insectogram" Crop Formation
02/27/2007 — Part 1: Mysterious Events At 2005 Tawsmead Copse "Insectogram" Crop Formation
06/11/2006 — Updated: Two Mysterious Circles in Wheat Baffle Kansas Farmer
09/02/2005 — Part 1: New York and Ohio Corn Circles "Flattened 2 to 5 Feet Above Ground"
08/02/2005 — Part 1: Anomalies Confirmed in Pennsylvania and Arizona Randomly Downed Crops
07/23/2005 — Mystery of Six Grass Circle Formations in North Carolina
05/26/2005 — Phoenix Barley Mystery: Apparently Irrigation and Wind
05/09/2005 — Mysterious Lights and 2003 Serpent Mound Soybean Formation
04/20/2005 — Outer Space Impact At Serpent Mound, Ohio, 256 Million Years Ago
10/17/2004 — American Crop Formations: 1880-2004
09/22/2004 — Miamisburg and Serpent Mound, Ohio Crop Formations: Geometries Compared
09/17/2004 — Updated: Part – High Strangeness in Canadian Cattle Corn
09/12/2004 — Part 2 – High Strangeness in Canadian Cattle Corn
09/10/2004 — Update on Miamisburg, Ohio, Corn Pictogram – Balls of Light?
09/05/2004 — Part 2 – Hillsboro, Ohio Corn Plant Anomalies
09/04/2004 — Hillsboro, Ohio Corn Formation – High Strangeness in Soil and Plants
09/02/2004 — Updated Photos: Big, Impressive New Corn Formation in Miamisburg, Ohio
08/09/2004 — Pictograms in Poland
07/25/2004 — 2004 Canadian Crop Formations: Scorched Soybeans and "Dirt" Pattern in Barley
07/24/2004 — Part 3 – Crop Formations and Mysterious Lights in Wiltshire, England, July 2004
07/06/2004 — Mysteriously Downed Oat Plants in Eagle Grove, Iowa; Downed Corn in Hillsboro, Ohio
04/08/2004 — FBI Is Investigating Animal Deaths in Johnston County, North Carolina
11/01/2003 — Another Soybean Formation in Ohio
10/10/2003 — Updated – Ohio Hunter's "Deer Camera" Photographs Mysterious Glowing Disk
10/05/2003 — Part 3 – Paint Creek Island, Ohio Crop Formation Photographs
10/03/2003 — Part 2 – Military Interest in Serpent Mound and Seip Mound Formations?
10/02/2003 — Part – Another Soybean Formation Near Seip Mound in Ohio
09/12/2003 — 2nd Ohio Soybean Crop Formation is Manmade. USAF Investigation Unit Involved?
09/06/2003 — Part 2 – Unusual Soybean Formation Near Serpent Mound, Ohio
09/05/2003 — Part – Unusual Soybean Formation Near Serpent Mound, Ohio
11/30/1999 — A New Crop Formation In Marion, New York and Crop Research Updates
09/05/1999 — Delphos, Kansas Ring Mystery – More Analyses
---
Websites:
American Crop Circles, ICCRA:  http://www.cropcirclenews.com/
English Crop Circles, Current and Archived:  http://www.cropcircleconnector.com
Canadian Crop Circles, CCCRN:  http://www.cccrn.ca/
German Crop Circles:  http://www.kornkreise-forschung.de
Dutch Crop Circles, DCCA:  http://www.dcca.nl
http://www.lucypringle.co.uk
http://www.members.iinet.net.au/~bwratten/ccc.html
http://www.cropcircleresearch.com
http://www.CropCircleAnswers.com
http://www.ukcropcircles.co.uk/?page=home
http://www.temporarytemples.co.uk

© 1998 - 2018 by Linda Moulton Howe.
All Rights Reserved.