"It was like the moment the flashlight light hit the thing, it jerked very quickly and started to move in another direction."
– Yosemite Park Drone Eyewitness

"That strange aerial object above the tree was a brilliant, fluorescent apple green in the shape of a horseshoe crab sideways (profile) with a long tail."
– Robert Mariotti, Northridge Drone Eyewitness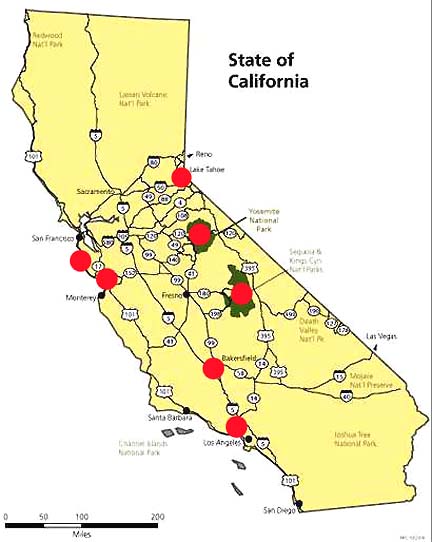 June 15, 2007 Canoga Park, California – Since the first week of May, seven people in California, one in Birmingham, Alabama, and another from Louisiana – for a total of 9 – have reported seeing a dragonfly-shaped aerial object in the sky that has a ring body, a long tail and variations of appendages extending from the ring.
Four of those seven California eyewitnesses have provided photographs to UFOcasebook.com and Coast to Coast AM.com. In chronological order, the locations and dates of those images began on May 5, in Lake Tahoe, submitted anonymously by someone calling themselves "MUFON Submitter 7013."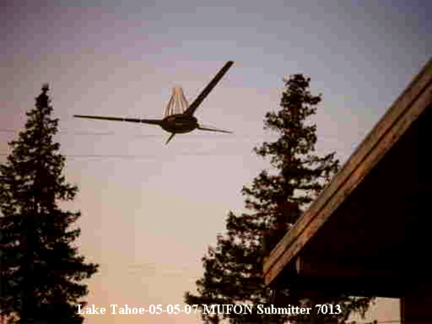 The next day on May 6, 2007, in the Bakersfield, California, region, a man named "Chad" took a series of very clear images on a digital camera and sent them to Coast to Coast AM webmaster, Lex.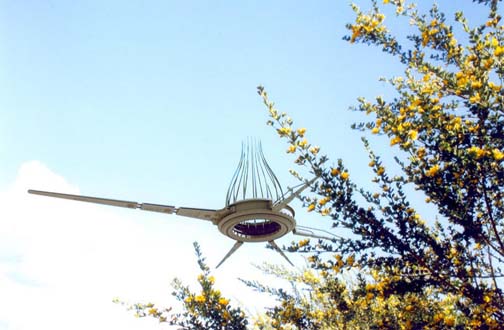 That aerial dragonfly-shaped object was similar to the Lake Tahoe craft, but had more appendages extending from the ring body. Lex and I talked about the photographs and Lex agreed to see if Chad would communicate with me. He did in a series of emails, which stressed his anxiety about his pregnant wife and worries about whether the strange aerial craft was emitting radiation that could harm her and their unborn child. Based on Chad's description of a humming static sound, I emailed to him that was more characteristic of electrostatic discharges and not radiation. Because of all the controversy his photographs provoked about whether they were Photoshopped or not and his insistence the photographs were taken with his camera. The aerial object, Chad wrote, kept returning to the area of their rural home. Chad was nervous and emailed me that he was going to travel away from it all with his wife for awhile.
Then on May 16, 2007, in Capitola, California, east of Santa Cruz on Monterey Bay, another series of six clear images were allegedly taken by someone calling himself "rajman1977" and submitted to flickr.com. The dragonfly-shaped aerial craft had changed again with two large box-like appendages added to the ring.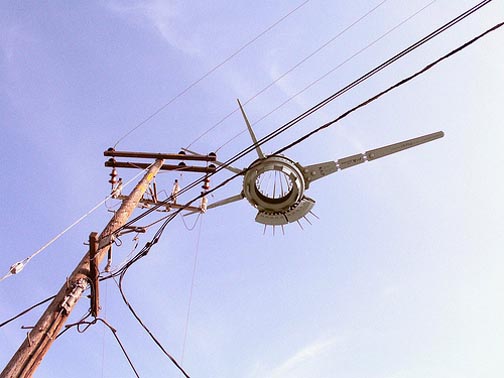 By then, a retired California mental health professional named Shirley had emailed me about her sighting of the dragonfly-shaped aerial object during a trip with her father to Sequoia National Park in May 2005. She agreed to a taped interview, provided I protect her full name and location.
After the Shirley interview was made public at my news website, Earthfiles.com and in broadcasts for Dreamland and Coast to Coast AM, I received emails from two more eyewitnesses. The first was a military subcontractor working in the southeast, who also requested anonymity, but wanted me to see a photograph he had taken in May 2006 in Birmingham, Alabama.
"John Smith," as I call him, saw and photographed a dragonfly-shaped object in the air low over power lines near a construction site where Mr. Smith was delivering materials. He went to the construction site office to ask what the strange object was. There were no answers and Mr. Smith returned to the power pole to see if the dragonfly-shaped aerial object was still there. But it was gone. Mr. Smith gave me permission to show his photograph of the May 2006 Birmingham, Alabama, dragonfly object at Earthfiles.
Right after Mr. Smith's photograph was public, I received another email from a professional engineer who also requested anonymity. The engineer wrote that he had seen a strange craft very similar to what Mr. Smith photographed. But the year was around 1987 and the location was inside an airplane hangar at Barksdale AFB in Louisiana. He was attending an air show, was touring various displays, and wondered what the approximately 25-foot-long, dragonfly-shaped craft was. But before he and others on the tour could ask questions, men in military uniforms showed up and ordered the tour out of the hangar saying a mistake had been made. That hangar was for military personnel only, not the air show tour.
The engineer emailed to me the following comment included at Earthfiles.com:  "I don't remember what the thing was called, but it wassome kind of surveillance or intelligence-gatheringdrone. I didn't see why they thought they had to run us outof the hangar, but, of course, I respected their notionof 'security.' I didn't see what the big deal was about some funny-looking ring-gadget with a 'wing.'"
Yosemite National Park Dragonfly Drone June 10, 2006
Then on May 23, 2007, I received another important email – including a sketch of a dragonfly-shaped aerial object – from a California mother who had been camping with her two sons in Yosemite National Park a year ago. She asked for anonymity, but wanted me to know that on the night of June 10, 2006:
"It was about a half hour before sundown and we were about 10 minutes from our camp site looking for marshmallow roasting sticks. We first noticed this 'thing' almost directly above us, not much higher than the tops of the trees. It looked just like the sketch, despite my lack of drawing skill, and was moving extremely slowly. The way it moved looked like it didn't take any effort. As you can see in my sketch, it was like two very long, thin shapes connected by a ring.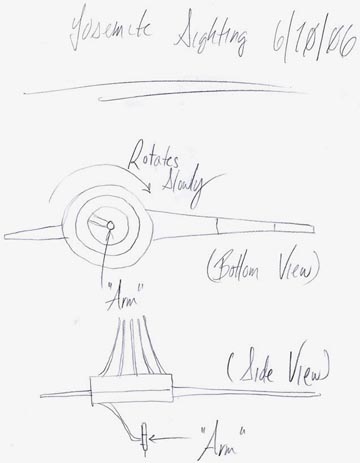 The arms looked just like the photos you posted although I don't remember seeing any of the lettering. It was getting pretty dark, though, so I'm not going to say it wasn't there. I just don't remember seeing anything like that. Coming off the top of the ring were those same curved spike things like in the Chad and other photos. However, unlike the other photographs, the thing my sons and I saw also had a kind of 'arm' that reached down from the ring as well. I have no idea what any of these features were for, as I never saw it 'do' anything other than fly around.
My oldest, who is 10, decided to shine his powerful flashlight on it to get a better look. I didn't even have a chance to react to what he was doing when things got weird – it was like the moment the flashlight light hit the thing, it jerked very quickly and started to move in another direction. The boys found this amusing to say the least. They chased after it and hit it with the light again, which caused the thing to change direction a second time. I ran to keep up with them.
The boys did this maybe three or four more times until the thing finally stopped reacting to them and just – stopped. Like, literally froze in the air without even slowing down. I must say, seeing this thing totally motionless was a lot more unsettling than seeing it move. Even the boys stopped in their tracks at that point. It just hung there for about 5 seconds, and then got going again.
From then on it stuck to its direction (still moving very slowly) and no longer jerked around. You could say that this thing moved like the other reports where people said it was like a "water insect." But in our case it only seemed to do this in reaction to the flashlights, not on its own."
About the same time that I received the email about the Yosemite experience, I received an email from a professional California hypnotherapist and Doctor of Divinity, who described a May 2006 encounter in Northridge, California, with an aerial object that he compared to a horseshoe crab with a long tail seen in profile. Horseshoe crab also fit what showed up next.
By June 7th, Ufocasebook.com had received more "drone" images from a female intermediary acting on behalf of someone called "Stephen."
The latest images were allegedly taken in Big Basin Redwoods State Park, California, northwest of San Jose, on June 5, 2007. This is a more sinister-looking machine than the previous four versions and would fit the category of a horseshoe crab with long tail in profile. This version of the aerial craft had projections emitting from top, sides and bottom of the ring and looks like a military weapon.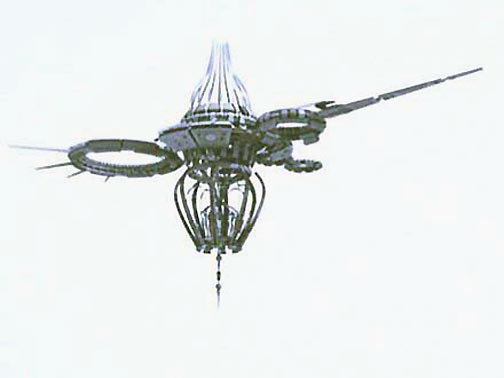 I asked both the California mother from the Yosemite encounter and the professional hypnotherapist who was stunned by his Northridge sighting if they would agree to recorded interviews – with or without their names and locations. The California mother, so far, has not agreed. But the hypnotherapist and Doctor of Divinity has agreed.
So for the first time in a month of controversy, I have my first recorded interview with an eyewitness willing to use his full name, profession and location. He is Robert Mariotti, a 74-year-old clinical hypnotherapist, who uses hypnosis to help people lose weight, stop smoking, cope with stress and relationship problems. His home is in Canoga Park, California. One year ago on May 17, 2006, Robert Mariotti was traveling in his car around 10 PM after leaving the Hypnosis Motivation Institute in Tarzana, California. He was traveling west approaching the big Northridge shopping mall. Now, in his own words, Robert Mariotti describes what he and another driver next to him saw that left them both astonished with their mouths open.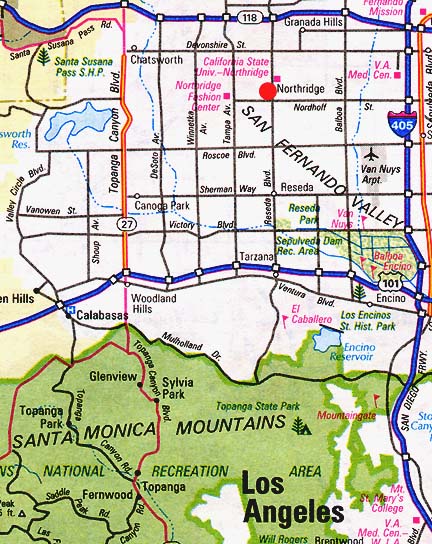 ---
Interview: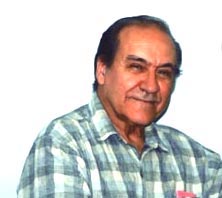 Robert Mariotti, C. Ht. and D.D., Clinical Hypnotherapist and Doctor of Divinity, Canoga Park, California: "I was headed in a westerly direction and coming to a cross street called Corbin Avenue, which is one side of the big Northridge Mall where the earthquake took place in 1994. And on the Corbin Street I was coming up to, there is a smaller mall on my right, which was on the north side of the street.
On the south side of Corbin St., there is a series of small homes with trees lining the fronts of the houses. The night was clear. It was dark, but it was clear. You could see the night sky and see stars. There weren't any clouds.
There was another vehicle on the inside lane, which would be closer to the curb directly in back of me about two car lengths and he was coming up on my right. We both had our windows down. I had both windows down in my truck.
Probably about 30 to 50 feet before we got to the corner, there was a traffic signal there turning red and we were slowing down and he was kind of creeping up on me. Above the tree on our left, the first big tree at that corner there, suddenly there was a glow. This glow, I would say, was from the tail to the front of this thing, it had to be about 30 feet long and about 10 feet above the tree.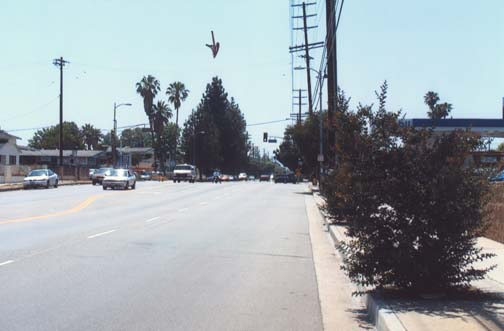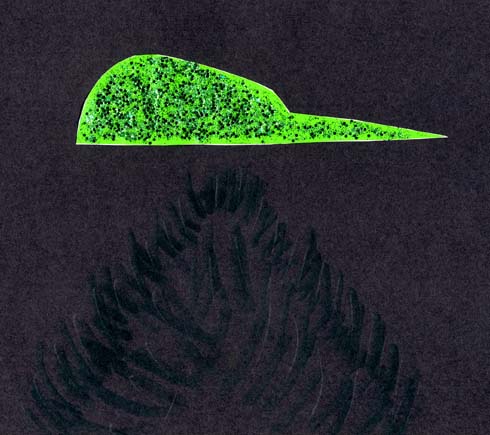 It suddenly lit up like – you know these little glass – I don't know what you call them. You shake them up and it's maybe a Santa Claus or Christmas ball and you have all these little glitters going on in there? When you shake them, you can see through the glitters and see through to the other side? As soon as it lit up, there was a sound like the sudden crumpling of a brown paper bag. Then total silence, even when it moved forward a few feet before it disappeared.
RIGHT.
Well, that's what this thing did, except you couldn't see through the glitters. That strange aerial object above the tree was a brilliant, fluorescent apple green in the shape of a horseshoe crab sideways (profile) with a long tail.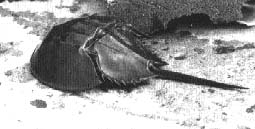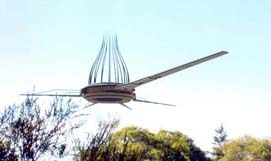 You're looking at it sideways and it has a tail coming out going back to a point. When this thing did that, we (driver in right lane and Robert) both stopped and he pulled up right beside me and he said, 'What the f—k is that?'
I said, 'I don't know.' Neither one of us could identify it, but it has to be something unidentified. I would say it was a UFO. But you could count no more than the count of three – like one, two, three – and this thing streaked forward maybe about five feet and then disappeared. For me, it was a clear sky. There was nothing above that tree! The stars were out and we could see them clearly when all of a sudden this thing was there above the tree. So, it had to be invisible to begin with.
IT ISN'T LIKE IT CAME FROM SOME PLACE?
No!
IT JUST SUDDENLY WAS THERE IN FLUORESCENT GREEN?
Right, it just appeared and it startled both of us (other driver). We just stopped dead before we even got to the traffic signal. And he rolled up to me and I told you what he said. I kept looking for it all the way home to see if it would light up again. I kept looking to my right because it moved about five feet in a southerly direction and then just disappeared.
YOU ACTUALLY SAW THE OBJECT MOVE AND THEN DID IT FADE OUT? DID IT POP OUT?
It just stopped and there was no indication that it was even there. No smoke or anything that lit up like fire.
Nothing!
WHAT YOU MEAN IS THAT IT WAS THERE AND LOOKED LIKE THE SIDE PROFILE OF A HORSESHOE CRAB. IT WAS A FLUORESCENT APPLE GREEN. THAT WAS GLITTERING AND IT SEEMED TO MOVE LIKE A SOLID OBJECT FOR ABOUT FIVE FEET. BUT THEN, DID IT SIMPLY BLINK OUT? DID IT RHEOSTAT FADE OUT? WHAT HAPPENED?
No, there was no fade out. It just stopped. There were no more glitters.
SO IT JUST DISEAPPEARED LIKE A POP OUT?
Right, exactly. It suddenly appeared and suddenly disappeared. It would be just like if you and I were standing together and I just disappeared in front of your eyes.
The interesting thing is that the first object that was on Coast to Coast AM, the first one?
THE CHAD PHOTOS?
Right. And then there was a second time someone else saw it.
YES, (IN ADDITION TO CHAD PHOTOS) THERE WAS LAKE TAHOE, CAPITOLA, BIRMINGHAM, ALABAMA, AND NOW THE LATEST IMAGES ARE FROM BIG BASIN, CALIFORNIA.
Now, in the very first photos I saw, there was kind of a side view of it and you could see some wires coming from the top all around.
YES.
Now, just keeping that in mind, if you turned that completely sideways and those wires on top were the beginning of the glow, it was humped up above and then straight flat at the bottom.
I THINK I UNDERSTAND THAT IF THE PROFILE IN THE CHAD PHOTO WERE GLOWING, IT WOULD HAVE BEEN VERY SIMILAR TO WHAT YOU SAW?
Exactly. The interesting thing about it to me is that this happened all above a tree. And other images I've seen seem to be around trees. A couple of other images were near some kind of a utility pole. (Capitola, California, and Birmingham, Alabama).
TWO OF THE EYEWITNESSES WHO HAVE SUBMITTED PHOTOS – ONE IN CAPITOLA, CALIFORNIA, AND THE OTHER IN BIRMINGHAM, ALABAMA, BOTH TIMES THE HORSESHOE CRAB OR DRAGONFLY-SHAPED OBJECT HAS BEEN RIGHT OVER THE POWER POLES.
Yeah!
WHICH IS INTERESTING IN ITSELF.
Eyewitnesses Are Seeing Something
SOMETHING IS OUT THERE. I HAVE THE BACKGROUNDS ON MOST OF THE PEOPLE, EVEN IF I HAVEN'T BEEN ABLE TO USE THEIR NAMES. I AM SO GRATEFUL TO YOU THAT I CAN USE YOUR NAME ON THE RECORD. IT IS SO IMPORTANT THAT PEOPLE WHO HAVE SEEN THESE OBJECTS BE ON THE RECORD BECAUSE SOMETHING IS OUT THERE FLYING AROUND THAT IS HIGHLY UNUSUAL.
Yeah, there definitely is!"
Star Wars Physicist Edward Teller And Remotely Piloted Vehicles (RPVs)
I want to share a possibly relevant excerpt from an alleged government document leaked to Bob and Ryan Wood in their Majestic-12 documents project at majesticdocuments.com. The document is entitled "Edward Teller's Pitch to President Reagan for SDI" (Strategic Defense Initiative). The date is July 2, a year or two after Ronald Reagan became president in January 1981.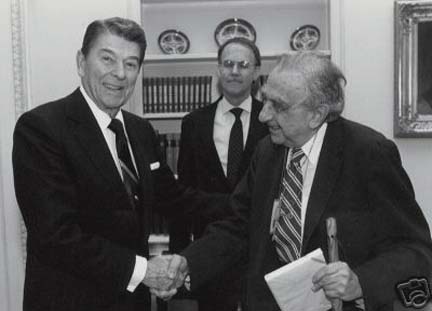 [ Editor's Note: The Strategic Defense Initiative (SDI) was proposed by U.S. President Ronald Reagan on March 23, 1983, to use ground-based and space-based systems to protect the United States from attack by strategic nuclear ballistic missiles. The initiative focused on strategic defense rather than the prior strategic offense doctrine of mutual assured destruction (MAD).
The research and technologies of SDI paved the way for some anti-ballistic missile systems of today. The Strategic Defense Initiative Organization (SDIO) was set up in 1984 within the United States Department of Defense for the Strategic Defense Initiative. It gained the popular name "Star Wars" after the title of the 1977 George Lucas feature film, the first in a series. Under the administration of President Bill Clinton in 1993, SDI was changed to the Ballistic Missile Defense Organization (BMDO) and its emphasis was shifted from national missile defense to theater missile defense; from global to regional coverage. BMDO was later renamed Missile Defense Agency (MDA).]
Edward Teller's memorandum to President Reagan begins with a warning: "I wish to bring to your attention a very real and dangerous situation that threatens not only us, the world, but our very existence as a race. …A menace greater than the nuclear arms race exists. It does not originate here on earth, but comes from space itself. The agent of mass destruction has no reasoning psychology other than the ultimate destruction of our civilization and our way of life as we know it." The fact that the outer space threat is not defined more in this remarkable, alleged government document, implies that President Reagan had already been briefed about the "menace."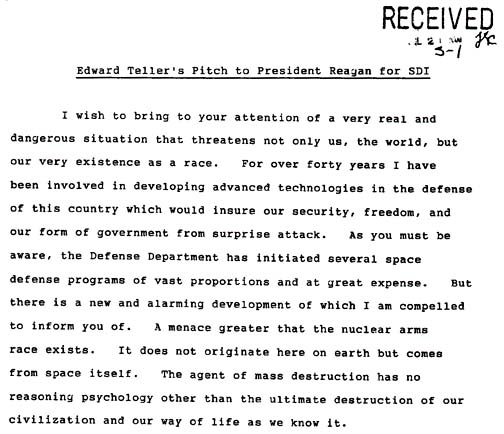 In his memo, Dr. Teller outlines defense systems he thought necessary to cope with the outer space menace. On Page 4 of his memorandum to President Reagan, he wrote:
"Remotely piloted vehicles (RPVs) have been developed and tested with marginal success. The possibility of RPVs exist for the enemy as well as for us. The use of RPVs was first explored by the U. S. Air Force. It can also be applied to small space objects. An ingenious new circular airfoil design is now in experimental stage. A single wing is used in this design. Another design is also under development. This other one uses a single wing as well, pivoting at its center at the fuselage. The wing is at right angles to the plane at takeoff and landing, but as the right wing points forward while the left points backward."
At the bottom of the memo there are two check off boxes labeled Yes or No, next to the two words: "Presidential Approval." On the memo copy I have, there is no indication of President Reagan's answer. But the Star Wars Strategic Defense Initiative program was approved in 1984 under the direction of physicist Edward Teller – and remotely piloted drones built around a "new circular airfoil design" with a single wing pivoting at the center were on his priority list.
Continued in Part 2 – Full Text of Alleged Edward Teller Memo to Pres. Ronald Reagan
Return to:  More Drone Photos and Other Eyewitnesses
Return to:  Birmingham-Type "Drone" Seen At Barksdale AFB, La., in Mid-1980s.
Return to:  Previous Odd Aerial "Drones?"
Return to:  Engineer Comments About Odd Aerial "Drones?"
Return to:  Odd Aerial "Drone"? Photographed Again Over Capitola, California.
Return to:  Letters About Unidentified "Drone" Aerial Objects.
---
More Information:
If viewers have seen/photographed/videotaped similar aerial drones, please email [email protected]
For further information about other unusual aerial craft, please see Earthfiles Archive, such as the brief excerpt of reports below:
11/05/2007 —CIA Origin of National Enquirer?
16/03/2007 —Tenth Anniversary, March 1997 Phoenix Lights: What Was 2-Mile-Long Triangular Craft?
13/03/2007 —Part 4: Mysterious Events At 2005 Tawsmead Copse "Insectogram" Crop Formation
09/03/2007 —Zones of Fear and Diamond-Shaped Aerial Light
04/03/2007 —Part 2: Mysterious Events At 2005 Tawsmead Copse "Insectogram" Crop Formation
18/02/2007 —Part 4: Tappen, North Dakota, High Strangeness Provokes Many Emails from Viewers and Listeners
14/02/2007 —Part 3: Tappen, North Dakota, High Strangeness Provokes Many Emails from Viewers and Listeners
12/02/2007 —Part 2: Tappen, North Dakota, High Strangeness Provokes Many Emails from Viewers and Listeners
11/02/2007 —Part 1: Tappen, North Dakota, High Strangeness Provokes Many Emails from Viewers and Listeners
10/02/2007 —Part 12: Inside Saucer Post …3-0 Blue
07/02/2007 —Part 11: Inside Saucer Post …3-0 Blue
02/02/2007 —Blue Metallic "Blimp" Seen Over O'Hare Airport
30/01/2007 —Part 10: Inside Saucer Post …3-0 Blue
16/01/2007 —Part 9: Inside Saucer Post …3-0 Blue
02/01/2007 —Grey Aerial Disk Reported by Chicago O'Hare United Airlines Pilots and Mechanics
31/12/2006 —Part 8: Inside Saucer Post …3-0 Blue
27/12/2006 —Part 7: Inside Saucer Post …3-0 Blue
18/12/2006 —Part 6: Inside Saucer Post …3-0 Blue
11/12/2006 —Part 5: Inside Saucer Post …3-0 Blue
06/12/2006 —Part 4: Inside Saucer Post …3-0 Blue
29/11/2006 —Part 3: Inside Saucer Post …3-0 Blue
28/11/2006 —Part 2: Inside Saucer Post …3-0 Blue
27/11/2006 —Inside Saucer Post …3-0 Blue © 1957 by Leonard H. Stringfield
03/11/2006 —Another UFO Retaliation to Radar Lock On – 2003
28/10/2006 —Close UFO Encounter by USAF Eyewitnesses
26/10/2006 —Norwegian Crashed Disc and Other High Strangeness
19/10/2006 —UFO Retaliation to U. S. Army Radar Lock On in Florida, 1967
13/04/2006 —High Strangeness In Skies Near White Sands Missile Range
12/04/2006 —Part 18 – Peculiar Phenomenon: Early United States Efforts to Collect and Analyze Flying Discs
11/04/2006 —Part 17 – Peculiar Phenomenon: Early United States Efforts to Collect and Analyze Flying Discs
05/04/2006 —Part 16 – Peculiar Phenomenon: Early United States Efforts to Collect and Analyze Flying Discs
03/04/2006 —Genetic Harvest in Cimarron, New Mexico?
05/02/2006 —Mysterious Dark Helicopters Over Comal County, Texas
29/01/2006 —Part 10 – Peculiar Phenomenon: Early United States Efforts to Collect and Analyze Flying Discs
27/01/2006 —Part 2: Navy Physicist and USAF Geophysicist Discuss UFOs and ETs
20/01/2006 —Part 1: Navy Physicist and USAF Geophysicist Discuss UFOs and ETs
17/01/2006 —Part 9 – Peculiar Phenomenon: Early United States Efforts to Collect and Analyze Flying Discs
13/01/2006 —31st Cattle Mutilation on Red Bluff, California Ranch
09/01/2006 —Part 8 – Peculiar Phenomenon: Early United States Efforts to Collect and Analyze Flying Discs
03/01/2006 —Part 7 – Peculiar Phenomenon: Early United States Efforts to Collect and Analyze Flying Discs
31/12/2005 —Part 6 – Peculiar Phenomenon: Early United States Efforts to Collect and Analyze Flying Discs
27/12/2005 —Part 5 – Peculiar Phenomenon: Early United States Efforts to Collect and Analyze Flying Discs
24/12/2005 —Part 3 – Peculiar Phenomenon: Early United States Efforts to Collect and Analyze Flying Discs
24/12/2005 —Part 4 – Peculiar Phenomenon: Early United States Efforts to Collect and Analyze Flying Discs
21/12/2005 —Updated: Part 2 – Peculiar Phenomenon, Early United States Efforts to Collect and Analyze Flying Discs
19/12/2005 —Part 1 – Peculiar Phenomenon: Early United States Efforts to Collect and Analyze Flying Discs
21/09/2005 —Silent, Unidentified Aerial Triangle Entered Thunderstorm Over Fairborn, Ohio
17/04/2005 —1949 Aerial Disc Covered-Up By Project Blue Book As "Kite"
14/04/2005 — "Battle of Los Angeles" On February 25, 1942: When America's 37th Coast Artillery Brigade Fired Off 1,430 Anti-Aircraft Shells At A UFO
---
Websites:
Lawrence Livermore Lab:  http://www.llnl.gov/llnl/history/edward_teller.html
NASA Drones:  http://uav.wff.nasa.gov/relatedlinks.cfm
Ion Propulsion, NASA:  http://nmp.nasa.gov/ds1/tech/ionpropfaq.html
High Power Electric Propulsion Program (HiPEP):  http://www.grc.nasa.gov/WWW/ion/present/hipep.htm
Majestic 12 Documents:  http://www.majesticdocuments.com
Coast to Coast AM Website:  http://www.coasttocoastam.com
UFO Casebook:  http://www.ufocasebook.com/strangecraftlaketahoe.html

© 1998 - 2019 by Linda Moulton Howe.
All Rights Reserved.