Update – Email from an employee at the Space Science Institute in Boulder, Colorado, on June 23, 2007:
"I enjoy visiting your Earthfiles website for news on topics one normally doesn't hear much about, and your reports to Coast to Coast which I listen to when I stay up late working on art projects or photographs. I like that you're keeping on top of the disappearing bees situation.
About your recent Earthfiles report, What Is the Moving Light in Saturn's Rings? A Sundog? The bright spots in the four images are not a sundog. It's called the 'opposition effect' and is seen in the rings whenever Cassini is looking in the exact same direction as the sunlight. It's due to sunlight illuminating everything face-on (what astronomers call 'zero phase angle') and therefore, no shadows exist.
I work at the Space Science Institute, doing most of the image processing for the Cassini cameras in one of the groups."
[ Editor's Note:  Space Science Institute:  "The opposition effect exists because of two contributing factors. One is due to the fact that the shadows of ring particles directly opposite the Sun from Cassini–the region of opposition–fall completely behind the particles as seen from the spacecraft. These shadows are thus not visible to the spacecraft: all ring particle surfaces visible to Cassini are in sunlight and therefore bright. Away from the region of opposition, the ring particle shadows become more visible to Cassini and the scene become less bright. The surge in brightness falls off in a circular fringe around that point.
"Another contributing factor to the opposition surge is an optical phenomenon called "coherent backscatter." Here, the electromagnetic signal from the rays of scattered sunlight, making their way back to the spacecraft, is enhanced near the region of opposition because, instead of canceling, the electric and magnetic fields comprising the scattered radiation fluctuate in unison.
The July 23, 2006, images were taken in visible light with the Cassini spacecraft wide-angle camera at a distance of approximately 262,000 kilometers (163,000 miles) from Saturn. Image scale in the radial, or outward from Saturn, direction is 13 kilometers (8 miles) per pixel." ]
June 20, 2007  Pasadena, California   –  A year ago on July 23, 2006, the Cassini-Huygens spacecraft orbiting Saturn took a series of images of the rings that were received back on earth at the Jet Propulsion Laboratory (JPL) in Pasadena, California, on July 24, 2006.
Here is the page of raw images: http://saturn.jpl.nasa.gov/multimedia/images/raw/raw-images-list.cfm?StartRow=33&cacheQ=1&browseLatest=0&storedQ=1442726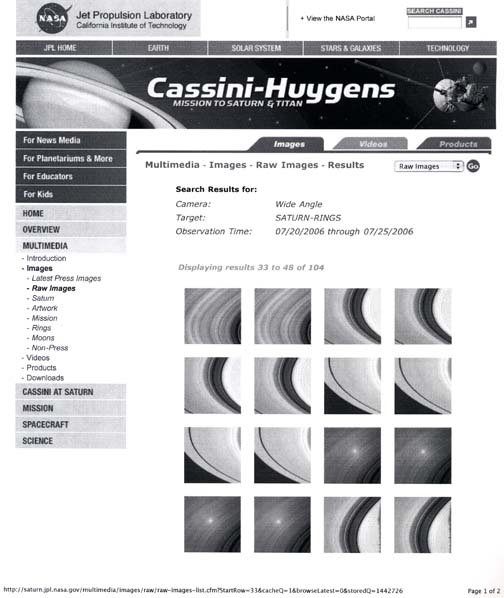 Enlargements of the Four Frames Showing Light Moving Along Saturn's Rings
The four images are numbered in sequence and I have arranged them in order below. You can clearly see the light changes position from one ring band in image W00016503 to a further ring band in image W00016506. The NASA/JPL text states that the images were "taken on July 23, 2006, and received on Earth July 24, 2006. The camera was pointing toward SATURN-RINGS at approximately 209,976 kilometers (130,500 miles) away, and the image was taken using the CL1 and CL2 filters. This image has not been validated or calibrated. A validated/calibrated image will be archived with the NASA Planetary Data System in 2007."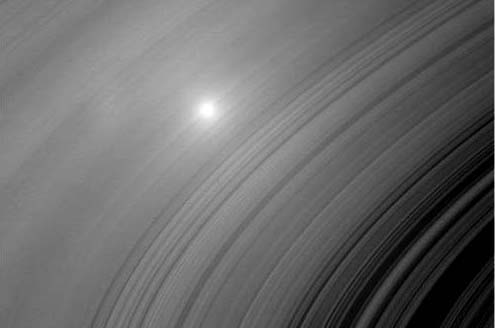 2)  W0016504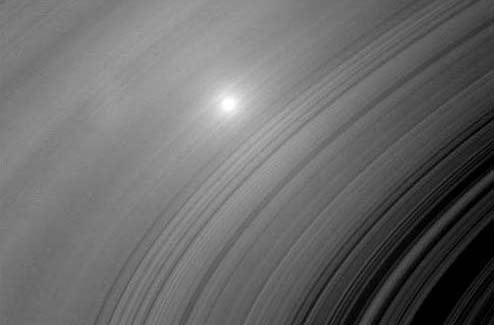 3)  W0016505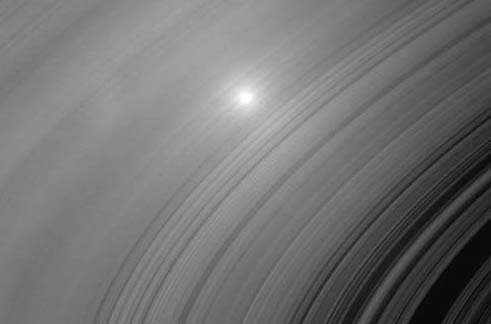 4)  W0016506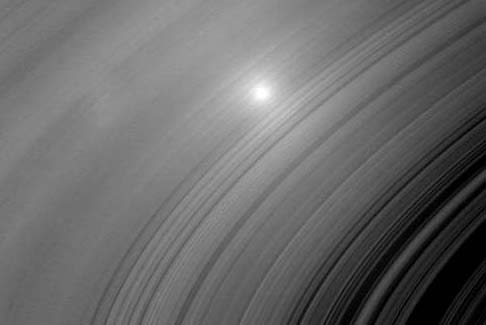 ---
More Information
For further information about our solar system and cosmos, please see reports below in the Earthfiles Archive:
05/08/2007 —Exploded Star 5 Times Brighter Than Any Supernova Seen Before
03/30/2007 —Fastest Orbiting Object in Our Solar System is One of Strangest
02/07/2007 —Part 11: Inside Saucer Post …3-0 Blue
01/06/2007 —Liquid Methane Lakes on Saturn's Titan Moon
12/19/2006 —First Stars – Or First Black Holes – in Universe?
12/08/2006 —NASA Wants Permanent Moon Base by 2024
08/19/2006 —Red Rain Cells of Kerala, India – Still No Definite DNA
07/25/2006 —Giant Hydrocarbon Lakes Found On Saturn Moon, Titan
06/15/2006 —"Extraterrestrial Life" in Red Rain of Kerala, India?
05/05/2006 —Saturn's Titan Moon Has Puzzling Dunes
04/11/2006 —Hot Venus Now Studied by ESA's Venus Express
03/17/2006 —Planet Earth's Ice Melt
11/09/2005 —Dust Storm On Mars, Cosmic First Light and Black Hole At Our Galaxy's Center
10/19/2005 —Saturn's Icy Moon, Dione, Up Close
09/16/2005 —"Planet X" and the Kuiper Belt's Oddballs, "Santa" and "Easterbunny"
05/06/2005 —What Are The Straight Lines on Saturn's Titan Moon?
03/25/2005 —Glow of Distant Worlds Seen For First Time
03/20/2005 —Astronaut John Young: "The Moon Can Save Earth's Civilization."
02/17/2005 —Iapetus and Enceladus: Baffling Moons of Saturn
01/22/2005 —Titan – A Moon Where It Rains Methane Into Seas and Soils of Hydrocarbons
01/14/2005 —Updated – Cassini/Huygen's First Look At Titan's Surface
11/25/2004 —Closest Look At Mysterious Titan from Cassini Spacecraft
06/18/2004 —German Scientist Werner von Braun Anticipated Terrorists, Asteroids and ETs on American "Enemy's List"
06/11/2004 —Cassini Spacecraft Will Rendezvous with Saturn July 1, 2004
04/21/2004 —At the X-Conference, Former Naval Intelligence Officer, C. B. Scott Jones
02/03/2004 —Planet 150 Light Years from Earth Has Oxygen and Carbon Atmosphere
10/07/2002 —Large Kuiper Belt Planetoid Found Beyond Pluto
04/27/2002 —Classified NOSS Navy Satellites Offered As Dover Triangle Explanation
11/05/2000 —Near-Earth Object 2000 SG344 – Is it an asteroid?
10/01/2000 —A Search for Earth's First Life
02/16/2000 —433 Eros, Orbiting An Asteroid Up Close
12/01/1999 —Six More Planets Discovered 60 to 190 Light Years Away
08/28/1999 —Oddball Quasar and Salt Water Inside Meteorite
03/14/1999 —Africa Stone Circle and Triangle of Lights over Tucson, Arizona
---
Websites
Cassini-Huygens Raw Images:  http://saturn.jpl.nasa.gov/multimedia/images/raw/raw-images-details.cfm?feiImageID=80086
European Space Agency (ESA):
http://www.esa.int/SPECIALS/Cassini-Huygens/index.html

© 1998 - 2018 by Linda Moulton Howe.
All Rights Reserved.