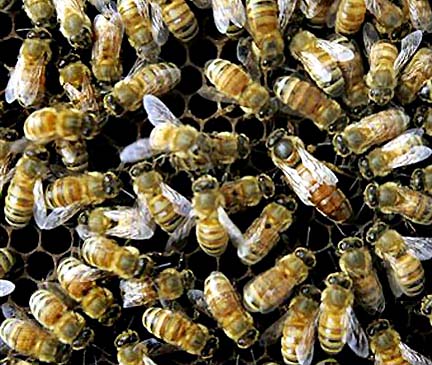 June 28, 2007  Lewisburg, Pennsylvania – The Apiary Inspectors of America reported last week that the still-puzzling phenomenon of disappearing honey bees that scientists call "Colony Collapse Disorder" has been reported in 35 states, 5 Canadian provinces, a dozen European countries, China, Taiwan, Guatemala and Brazil. And today I learned from the Apiary Inspectors of America President, Jerry Hayes, who has been in Russia the past three weeks, that Ukraine honey bee keepers have reported massive disappearances through March of this year as well. The Apiary Inspectors estimate that a quarter of American beekeeping operations in the United States lost more than 50% of their colonies between September 2006 and March 2007, and that some beekeepers lost 90%.
On Tuesday, June 26, 2007, U.S. Senators Barbara Boxer (D-CA), John Thune (R-SD) and Bob Casey (D-PA) introduced legislation to "help research, protect and maintain America's bee and native pollinator population and ensure the viability of crops that rely on them for pollination." Experts estimate crops nationwide that depend on honey bees for pollination are valued near $18 billion.
Since October 2006 through March 2007, it's now estimated that more than 25% of the American honey bee population disappeared in a still-unsolved phenomenon that scientists call "Colony Collapse Disorder."
The Pollinator Protection Act would authorize $89 million in federal funding for research and grant programs at the USDA for five years to maintain and protect honey bees and other native pollinators such as bumblebees and yellow jackets.
California's U. S. Senator Boxer stressed that, "California's almond crop alone is worth $2 billion a year and requires nearly one half of all the honey bees in the country for pollination. The future of that crop and other important crops such as avocados, apples, berries and soybeans is in jeopardy if there aren't enough bees to pollinate them for harvest."
I also talked recently with Marianne Frazier, who is overseeing the investigation of pesticide impacts on honey bees. Currently, there is preliminary data that indicate higher amounts of nicotine-based pesticides in the wax and pollen of deserted colony collapse disorder hives. One fact is certain: the immune systems of the few Colony Collapse Disorder bees that have been left behind for study all show severe weakening. Entomologist and Penn State Prof. Diana Cox-Foster reports, "We were shocked by the huge number of pathogens present in each adult bee."
Further testing on the nicotine-based pesticides and many others is ongoing and the Colony Collapse Disorder Science Team hopes to have another report to the public this fall.
Meanwhile, David Hackenberg, owner of Hackenberg Apiaries in Lewisburg, Pennsylvania, for nearly half a century is worried. He lost nearly 80% of his honey bees and went into debt to stay in business. Right now, his bees – plus honey bees he imported from Australia – are doing OK. But Dave doesn't think they are as strong as they should be. He's trying to avoid as many pesticides as possible, especially the nicotine-based toxins, and says if Colony Collapse Disorder hits again this fall and winter, he might be forced out of business. I talked with Dave Hackenberg this week in Maine where he had taken honey bees to pollinate blue berries.
---
Interview:
David Hackenberg, Owner, Hackenberg Apiaries, Lewisburg, Pennsylvania, since 1962:  "In our own operation, we ended up losing probably 80% of them – 75% to 80% of them and we've rebuilt back from roughly 100 hives to 2400 hives. Normally this time of year, we would have 3200, but we're still down 800 hives of bees. So, we're not back to where we normally should be and we're not alone. There are a lot of beekeepers across the country that weren't able to get their numbers back.
HAVE YOU PERIODICALLY CONTINUED TO EXPERIENCE DISAPPEARANCES?
Yes. We're still seeing – not in great numbers – but we're still seeing colonies here and there that are having the problem. And other guys are, too. Bees just don't want to come back right. There's something wrong. They don't want to build up. Or they were looking pretty good and now they're starting to fall apart from whatever. And whether they've got something stored in the beehive, it's hard to say.
SINCE YOU HAD LOST ABOUT 80% OF YOUR BEES, WHAT HAVE YOU DONE SINCE OCTOBER UNTIL NOW TO REPLACE THOSE BEES?
One of the things we've done is bring bees in from Australia. Another thing we did was irradiate a lot of the boxes and equipment. We really think that has helped because you're basically putting the bees on a brand new irradiated – everything is gone. I mean there's no pathogens, no viruses – whether or not  – scientists tell us something is breaking down the immune systems. So, if you can get rid of all the (disease pathogen) problems that's there when the immune system is broke down, why then the bees have a better chance.
BUT WHAT IF WHAT IS BREAKING DOWN THE IMMUNE SYSTEMS ARE PESTICIDES LIKE THE NEONICITINOIDS?
What if? Well, then we – unfortunately, right now we're trying to run as far away, stay as far away from all those chemicals – those particular chemicals (nicotine-based) as we can until we figure out what this whole problem is about. We can't get totally away from them, but we're trying to keep as many bees as we can without coming in contact with those different products.
Most of our growers that we pollinate for have been real cooperative and have not used them. We're hoping all this is going to keep more of them alive than we did a year ago.
Avoiding Pesticides As Much As Possible
SO, ONE OF THE BIGGEST CHANGES THAT YOU AND A FEW OTHERS ARE TRYING IS TO ELIMINATE AS MANY PESTICIDES AS POSSIBLE?
Yeah, we're trying to stay away from them. One of the things we do before we go move bees into an area is go around and talk to farmers and see what they are using for insecticides.
IF THEY SAY THEY ARE USING IMIDACLOPRID OR OTHER NICITINOIDS, WHAT DO YOU SAY?
'I'm sorry, we ain't coming back this year.' Or, if we're renting bees to a vegetable grower that's used it, the cost, we've made some real increase in the cost for them just to protect ourselves.
Whether it's the insecticide or not still remains to be seen, but if you look at the literature put out by the manufacturers of these products (nicotine-based pesticides), they say four things:
1)  Break down the immune system
2)  Cause memory loss
3)  Cause nervous system disorder
4)   And cause the insects to quit feeding.
THIS IS THE NICOTINE-BASED PESTICIDES?
Right. And basically, that's what is going on inside the beehives where these things (disappearances) happen.
ARE YOU SEEING THAT YOUR IMPORTED AUSTRALIAN BEES ARE BETTER OFF AND HEALTHIER THAN THE OTHERS?
Well, not really. I don't think you could say that. I mean, they (Australian bees) are doing like the rest of them.
Imported Chinese Pollen – Could It Be A Problem?
WHAT ABOUT AN ISSUE THAT HAS SURFACED IN THE LAST MONTH OR SO THAT SOME BEEKEEPERS IN THE U. S. WERE IMPORTING POLLEN FROM CHINA TO HELP SUPPLEMENT THE HONEY BEE FOOD HERE IN THE U. S. AND IT MIGHT HAVE HAD SOME TOXIC PROPERTIES?
There's a lot of us that's never used that stuff.  And I'm one of them. Never once in our lives have we ever used Chinese pollen or anybody else's pollen for that matter. A lot of other guys that had this (CCD) problem never used it. We're not sure what all it is, but something is definitely breaking down their (honey bees) immune system.
SO, THERE IS NO DIRECT LINK AT ALL BETWEEN THE IMPORTED CHINESE BEE POLLEN AND WHAT YOU'VE EXPERIENCED?
No, we have never fed collected/imported pollen to our bees.
Still Worried About GMOs in Combination with Pesticides
IN YOUR GUT, WHAT DO YOU THINK THIS IS ALL GOING TO COME DOWN EVENTUALLY TO BEING THE CAUSE OF COLONY COLLAPSE DISORDER?
Personally, I think you're going to find it's a lot of different things that piled up – an accumulative effect. But with the insecticide situation and whether or not putting this insecticide with genetically modified crops – corn, soybeans, canola, cotton and all that – as a seed treatment? That might be a very large portion of this thing (CCD). We don't know what putting this on as a seed treatment (nicotine-based pesticides) has to do – I mean, the manufacturers say the seed treatment goes up only so far in the plant. Well, there's already been pollen studies been done and found that the pesticide is in the pollen. So, if it's going up only so far in the plant, how did it get into the flowers?
WHICH MEANS THAT EVEN THE MANUFACTURERS OF THE GENETICALLY MODIFIED CROPS AND HERBICIDES DON'T REALLY KNOW WHAT IS HAPPENING OUT THERE IN THE WILD FIELDS?
Correct.
Could CCD Be Back in Fall 2007?
DO YOU THINK THERE IS STILL A POSSIBILITY THAT THE FALL OF 2007 MIGHT SEE A RESURGENCE OF COLONY COLLAPSE DISORDER?
Well, I'm worried about that. I mean, that's one of the reasons I'm trying to run away from corn, soybeans, vegetables I'm not getting paid for. Fortunately, most of my vegetable growers have switched chemicals and going to something different. Our fruit and blueberry growers have all quit using this stuff and several of my pumpkin growers have quit using it. So, we're hoping that's going to remedy the situation.
WHEN YOU TALK PRIVATELY WITH SCIENTISTS AND OTHER BEEKEEPERS, DO YOU GET THE SENSE THAT IT IS THE NICOTINE-BASED PESTICIDES THAT MIGHT BE MOST RESPONSIBLE?
Well, a lot of beekeepers will tell you that's what they think is going on. Some of the scientists, for reasons to protect the universities they work for – you know, you've got to have everything down on a scientific sheet or printout before you can make some statements. But there are a number of them that I think are leaning in the same direction that we are.
For instance, I got a call and they made the comment like, 'One of the scientists told me to call you, that you could probably say more than they could.' Well, because I'm a private person, I can have an opinion, whereas the person in the university, they got to watch what they say until it's all in black and white for university reasons.
I DO REMEMBER WHEN I FIRST TALKED TO YOU ON FEBRUARY 16, 2007, THAT YOU WERE ADAMANT THAT YOU FELT THAT PESTICIDES WERE SOMEHOW RELATED.
Well, I still do. There's no ifs, ands or buts about it.
WHAT CAN THIS NATION AND THE WORLD DO TO REDUCE PESTICIDES?
(laughs)  That's an interesting question because we're controlled, especially in this country – agriculture is pretty much controlled by the chemical companies and the large seed companies. And now that they've gone together and made agreements between themselves, it's pretty hard to go up against City Hall.
Other Pollinators Disappearing
But one of the facts is that not only are they finding honey bees that are in this condition (disappearing), we're also finding the lack of other natural pollinators that normally have been here. A laboratory in Pennsylvania that makes venom for allergic shots for bee stings from yellow jackets and so forth, the gentleman who runs that business, we sell him bees to collect venom from to make the allergy shots. He was telling me a week or ten days ago when he came by to pick up some bees one day that they've actually had to import yellow jackets from New Zealand for the last two years because they are not here. They normally collect yellow jackets in the fall when they know the nest is as big as it's going to get, and they've done this for years. This business has been going on for at least 25 to 30 years at least, or longer than that – 37 to 38 years this company has been in business.
This gentleman's father started it and it's owned by several individuals now, but what he's telling me is that all of a sudden when they go to collect the yellow jacket nests in the fall of the year, there's hardly any yellow jackets left in them. The nests are there, but the populations are gone.
THIS IS JUST THE LAST COUPLE OF YEARS?
Last two years.
SINCE 2005?
Right.
THEY'VE NEVER HAD TO IMPORT YELLOW JACKETS BEFORE?
No.
THEY HAVE TO GO TO NEW ZEALAND TO GET THEM?
Right. You get small orchard people calling up after the fact saying they didn't have any bees in their orchard. They never worried about it before and now all of a sudden they are finding they hardly have any apples because there was no bees there. So, where did they go? I don't know. Where do wild pollinators go? I don't know.
Penn State does a survey every several years – I think 2002 and again this year – on the wild natural pollinators in apple orchards. And they said the decline was just staggering. I mean, the difference in numbers over the last couple of years is just staggering.
Are There Enough Pollinators for American Crops?
I TALKED WITH JERRY HAYES IN FLORIDA'S DEPT. OF AGRICULTURE ABOUT A MONTH AGO IN EARLY MAY. I ASKED HIM IF HE THOUGHT THERE WERE ENOUGH POLLINATORS IN AMERICAN HONEY BEES NOW TO MEET ALL OF THE POLLINATION NEEDS FOR ALL OF THE FOODS FROM COAST TO COAST. HE SAID, 'MAYBE. IT LOOKS LIKE A 50/50 CHANCE.'
DO YOU HAVE ANY PROFESSIONAL APPRAISAL NOW ABOUT WHETHER THERE HAVE BEEN ENOUGH POLLINATORS TO MEET ALL OF THE FOOD GROWING NEEDS?
The job got done pretty much. I mean the pollination season for the most part is over, except for vegetables and watermelons and pumpkins, which are not as big a high demand. But, here just in Maine alone where I'm right down the road from where I'm sitting, the company brought bees all the way from Bakersfield, California, all the way to the northeast corner of the United States to pollinate the blueberry crop.  This is unheard of.  You're trucking bees 3000+ miles across the United States to get the job done here. Now, never before have they (blueberry growers in Maine) had to go to California to find bees to cover the blueberry crop here.
The prices they paid were kind of astronomical. We've had a 50% increase in the price of bees this year.  The company I pollinated for here in Maine got a good crop of blueberries, but it's adding cost and somebody down the road is going to have to pay that. The person who has to pay it is the consumer.
Whether there is going to be enough bees in the future to get the job done, that's going to depend on what happens down the road. The next big test is almonds in California. That's not until January and February. So, it's going to depend on what happens with the bees this summer and this winter. If we can survive? Total bee colony numbers are down considerably.
IF COLONY COLLAPSE DISORDER RESURFACES IN THE FALL TO THE WINTER GOING INTO 2008, WHAT HAPPENS?
We'll be short on bees and probably short on bees in California probably.  I mean, you can always rent boxes. But to get the job done, you've got to have bees in the boxes. There's a difference between just renting beehives and renting good quality hives of bees. In our own operation, we normally bring 3,000 hives of bees here to Maine. But we only had about 2,000 to bring. So, we had to go out…. We could have split those bees some more and made more bees out of them. But then they would not have been strong enough to do the job. Whether it's a blueberry or apple farmer or almond grower or whoever, they are depending on strong beehives. If they don't have good, strong hives to get the (pollination) job done, then they don't get a crop!
WHAT THIS ALL BOILS DOWN TO IS THAT THE UNITED STATES RIGHT NOW BARELY HAS ENOUGH POLLINATORS TO MEET THE FOOD GROWING DEMANDS.
Right. There are bees out there, but the problem is that they aren't in the right places. And it's going to cost a lot more money to get them moved from place to place. I mean transportation alone – I just heard the other day here that transportation alone to get the bees out of California to here (Maine blueberries) cost $40/hive. It was only a couple of years ago that $40/hive was all we were getting to pollinate the crop, let alone  – but this year, the trucking bill ALONE was $40/hive to bring them bees to Maine. If the farmer is going to get his money back, he's going to have to pass it on to the consumer.
WE'RE AT AN UNKNOWN JUNCTION THEN IF WE DON'T KNOW WHETHER COLONLY COLLAPSE DISORDER IS GOING TO COME BACK.
That's correct."
What Happens If CCD Hits Again Fall 2007 – Spring 2008?
Dennis vanEngelsdorp, M. S., Acting State Apiarist, Pennsylvania Department of Agriculture, Harrisburg, Pennsylvania:  "I'm worried that CCD will reoccur this fall and hit some of the same guys who got hit this year. They've had to go into deep debt to keep going. They can't do that again. That will mean they are bankrupt and out of business. And that will have impact not only on them, but the farm growers who are relying on them for pollination. It could have a very dramatic ripple effect if CCD emerges again this fall and winter."
Finally, everyone from Congress to agencies to scientists to beekeepers to farm growers wonder if there will be enough honey bees and other pollinators for all the farm needs in 2008?
---
More Information:
For further information about worldwide animal extinctions, please see reports below in the Earthfiles Archive:
05/04/2007 —Environmental Emergency Updates: Part 1 – Spreading Honey Bee Disappearances – Nosema ceranae Not the Answer?
04/06/2007 —Collapse of Honey Bees in U. S., Canada and 9 European Countries
03/17/2007 — Honey Bee Disappearances Continue: Could Pesticides Play A Role?
02/23/2007 — Part 1: Earth Life Threats – Alarming Disappearance of Honey Bees
02/23/2007 — Scientists Hope "Amphibian Arks" Can Save Frogs and Toads
02/02/2007 — New U. N. Global Climate Change Report: Earth Could Warm Up 3.2 to 11.52 Degrees Fahrenheit by 2100
01/10/2007 — 2006: USA's Warmest Year On Record
12/16/2006 — Updated: Unprecedented Die-Off of 2,500 Mallard Ducks in Idaho
12/08/2006 — NASA Wants Permanent Moon Base by 2024
12/07/2006 — Earth Headed for Warmest Period in 55 Million Years?
09/23/2006 — E. coli O157:H7 – Why Can't It Be Washed Off Contaminated Spinach?
09/09/2006 — Methane – Another Threat in Global Warming
08/19/2006 — Repair of Earth's Ozone Layer Has Slowed
07/18/2006 — 2006 – Hottest Year So Far in U. S. History
06/22/2006 — Horse Suspended in Mid-Air Near Milan, Italy, Apartment
02/20/2006 — Mysterious Deaths of Whales in Mexico
09/23/2005 — Phenomenon of "Instant" Hurricanes in 2005
08/26/2005 — What Is Killing Amphibians Around the World?
08/05/2005 — Scientists Puzzled by "Bizarre" Pacific Coast Die-offs in 2005
05/07/2005 — Did Milky Way Gas and Dust Turn Earth Into Icy Snowball Four Times?
04/20/2005 — Outer Space Impact At Serpent Mound, Ohio, 256 Million Years Ago
04/01/2005 — What's Killing Off Marine Life Every 62 Million Years?
03/20/2005 — Astronaut John Young: "The Moon Can Save Earth's Civilization."
02/26/2005 — Collapse of Societies: From Easter Island to Iraq – to Western World?
02/03/2005 — Kyoto Protocol Goes Into Effect February 16, 2005. British Scientists Warn Global Temperatures Could Climb Higher Than Earlier Estimates.
08/27/2004 — Global Warming Impact On Birds – More Extinctions Expected
09/02/2003 — Updated – Astronomers Don't Think Asteroid Will Hit Earth in 2014
07/19/2003 — Update – Defiance, Missouri T-Pattern Cut in Saplings
11/14/2002 — What Happened 12,000 Years Ago That Killed So Many Animals?
07/20/2002 — Extinctions of Earth Life Are Accelerating Rapidly
04/27/2002 — Earth's Magnetic Anomalies – Could the Poles Flip?
01/05/2002 — Global Warming Update – Could Increasing CO2 Be Transformed Into Limestone?
12/22/2001 — Scientists Warn That Climate and Earth Life Can Change Rapidly
06/09/2001 — Environmental Updates and Colt Mutilated in Leitchfield, Kentucky
02/25/2001 — Environmental Updates
02/07/2001 — 94% Decline In Aleutian Islands Sea Otter Population
01/07/2001 — Dinosaur-Killing Asteroid Punched 22 Miles Through Earth's Entire Crust
10/25/1999 — A Mysterious "Perturber" at the Edges of Our Solar System
---
Websites:
Mid-Atlantic Apiculture (MAAREC):  http://maarec.cas.psu.edu/

© 1998 - 2018 by Linda Moulton Howe.
All Rights Reserved.