"…If I had to guess closest match to what I saw, it would be that Chad
photograph (by the yellow flowers), that's the closest one."
– Ted Connors (alias), Technical Specialist in Security, Montgomery, Alabama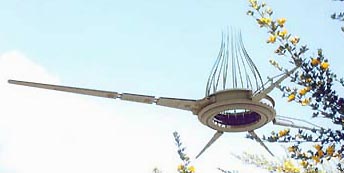 Return to:
June 29, 2007  Montgomery, Alabama – This week on Tuesday, June 26th, the mystery of the dragonfly-shaped aerial "drones" took another turn with the release of an alleged secret report containing photographs of alleged extraterrestrial technologies, entitled "Commercial Applications Research for Extraterrestrial Technology (CARET), the Q4-86 Research Report," dated December 1986, Palo Alto, California, by the Palo Alto CARET Laboratory, also known as PACL (pronounced "packel"). The CARET Laboratory's research goal is stated as, "achieving a greater understanding of extraterrestrial technology within the context of commercial applications and civilian use."
The document states that the CARET Q4-86 research "focused on four key subjects, all of which were based on artifacts of extraterrestrial origin obtained from crash site recovery operations conducted during the last two decades within the continental United States," between 1966 and 1986.
The four subjects are listed as:
1. "Personal" antigravity generator (so-named for its small, portable size);
2.  Three-dimensional image recorder/projector
3.  A complex system of symbols and geometric constructs capable of both defining the functionality of certain artifacts as well as manipulating their behavior, crudely analogous to a computer programming language, but without the need for a compilation or interpretation phase.
4.  is BLACKED OUT entirely. In a separate follow-up email, the document's leaker – who calls himself by the alias "Isaac" – explained that the blacked out sections had been done by CARET in Palo Alto, and not by him.
Isaac organized his own website for the public to view his long letter of explanation and the CARET document pages and photographs he has supplied, which he allegedly sneaked out of the CARET Laboratory in Palo Alto during his work time there between 1984 and 1987. Isaac's website URL is:  http://isaaccaret.fortunecity.com/
The photographs show what are described as extraterrestrial instruments used for antigravity and for 3-dimensional image recording and projecting. The sizes of the photographed instruments are only inches long, according to Isaac and the document. But the instruments contain a symbol language that resembles what has been photographed in May 2007 underneath the "tails" of the estimated 25-foot-long dragonfly drones by Chad in the Bakersfield, California, region and by Rajman in Capitola, California.
[ See:  Earthfiles05/15/07  https://www.earthfiles.com/news.php?ID=1247&category=Environment
and  Earthfiles05/21/07.
https://www.earthfiles.com/news.php?ID=1247&category=Environment]
Those symbols have been studied intensely and led to the discovery of possible links between the "dragonfly drone" tail symbols and NASA's Clementine I lunar photography and mapping mission in 1994.
[ https://www.earthfiles.com/news.php?ID=1271&category=Environment ]
In addition to the symbol language, the CARET document on Page 56, has a photograph of rings that closely match the structure of the rings in the larger scale dragonfly-drones, estimated to be about 25-feet-long.
Isaac's email and documents imply that this particular extraterrestrial technology was part of an American government effort to back-engineer, through civilian scientists, and apply commercially at the CARET Laboratory in Palo Alto. That E. T. technology allegedly can control gravity and project 3-dimensional images that apparently would look real to us humans, but are something akin to what we know as holographic images. The document also implies that the projected image technology can record.
5:15 – 5:45 AM, Montgomery, Alabama, near Maxwell AFB
With this concept of an extraterrestrial technology that can neutralize gravity and project holographic-like 3-dimensional images that can record data for whatever unknown reason, here is what happened this week on Monday, June 25th, 2007, 6 miles from Maxwell AFB and its Gunter AFB Annex in Montgomery, Alabama. The eyewitness is a long-time technical specialist in security, educated about infrared frequency technologies and normal human aviation. Because his work is highly sensitive, he has asked that I not use his actual name. So, I will call him Ted Connors.
Ted said that the local Montgomery news media announced last week there would be joint Army/Air Force exercises at Maxwell AFB with lots of planes and helicopters, beginning on Sunday, June 24th, around 8 PM. Ted said the noise was terrible and unrelenting through Monday night, June 25, while he was on duty in his security work that involves 32 infrared cameras.
---
Interview:
Ted Connors (alias), Technical Specialist in Security, Montgomery, Alabama:  "During the night of Monday, June 25th, I patrolled a compound where I'm in charge of security. A lot of noise all night long. But early in the morning – it was probably about 5:15 – 5:45 AM, because the sun had not come up yet and it was still dark and within 6 miles of Maxwell AFB.
YOU'RE AWARE OF ALL THE MIITARY ACTIVITY IN THE SKY. YOU ARE WORKING IN THE CONTEXT OF WHAT KIND OF TECHNOLOGIES?
Infrared cameras, high frequency infrared technology for a company.
DO YOU HAVE A WHOLE BANK OF MONITORING SCREENS FOR THE INFRARED?
Correct.
IS THIS WHAT YOU WERE LOOKING AT ON OR ABOUT 6 AM ON MONDAY, JUNE 25TH?
That would be correct.
SO, WHAT HAPPENED?
Well, at that particular time, I was outside. I just glanced up because I will normally do that just to check. This equipment I'm telling you about is mounted up high within 20 to 30 feet (above ground). I was doing a normal check when I noticed beside a southern yellow pine tree at our facility what looked like a ring. I thought somebody had thrown a hub cab up in the tree. And I moved to one side to look at it – it was just before daylight, the sun was coming up. So you could see, but you could not really make out a lot of detail.
So, as I looked around, I could see this thing. It was not attached to the tree. It was not in the tree. It was to the side of the tree! And it had these elongated wires that stuck out of the top and just sort of curved and went up and sort of disappeared. They looked like they just sort of faded out. They didn't stop, they just faded out.
Hieroglyphic "Blotches" On Drone Tail
As I looked at an angle, I could see it looked like a tail rotor on a helicopter made up of (a connected series of) shapes like fan blades, like a ceiling fan. I thought, 'This is weird!' I could see because of the streetlights in the area and high mercury vapor lights, I could see patterns on the bottom of it that looked like blotches. It looked like some type of hieroglyphics.
IT'S ON THOSE CONNECTED SEGMENTS THAT YOU SAW THE 'HIEROGLYPHICS?'
Right, correct.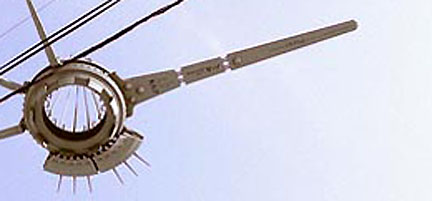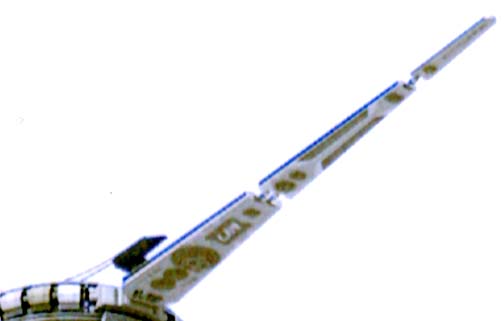 HOW HIGH ABOVE YOU AND HOW FAR OUT IS THIS FROM YOU?
I would estimate somewhere around altitude-wise about 40 to 60 feet and probably a few yards away, probably 30 or 40 yards off in the distance.
BUT CLOSE ENOUGH THAT YOU CAN SEE – I'LL CALL IT GRAPHIC DETAIL – ON THE BOTTOM?
Right, correct. I could actually make out the symbols, especially on the paddle part that stuck out.
ON THE CHAD DRONE PHOTOGRAPHS AND ON THE CAPITOLA, CALIFORNIA, WHICH CURRENTLY ARE THE TWO BLOCKS OF PHOTOGRAPHS PRIOR TO JUNE 2007, WHICH SHOWED LETTERING ON WHAT EVERYBODY HAS BEEN CALLING THE 'LONG TAIL' SECTION. IS THAT WHAT YOU MEAN BY PADDLE?
Right. Right. It appeared to me like a series of ceiling fan blades that were attached (to each other). It had that same contour like they were sloped on one end and wider toward the end. Then they were connected together. I couldn't make out whether it was three or four, but it looked like they were inner-connected by some type of a wire or some type of bar that connected them together.
What Do Dragonfly Drones Monitor?
When I saw this thing, it was like, 'Oh, my God!' It was staring at me!!  It just gave me the heebie jeebies.
SO YOU HAD THE FEELING THAT THIS MIGHT ACTUALLY BE MONITORING YOU SPECIFICALLY?
Exactly.
WHICH IS WHAT THE MAN IN ARIZONA THAT I CALL 'NED WHITE' IN 1995 – HE WAS NOT FAR FROM HEBER, ARIZONA. AND HE SEES ONE OF THESE (DRONES) AND HAD THE DISTINCT IMPRESSION THAT IT WAS MONITORING OTHER PEOPLE WHO WERE THERE ACROSS A MEADOW FROM WHERE HE WAS AND IT ACTUALLY SANK DOWN BEHIND TREES AS IF IT WERE ON SURREPTITIOUS SURVEILLANCE.
Yeah, that's what I felt like. Doing that type of work myself, I know what it feels like to be under surveillance. I have night vision equipment and all this other stuff. That's what I do. And I felt like this thing was watching me. I had this gut feeling that this thing is either taking pictures of me or it's looking at me, scanning, and that was the feeling that I had. I just had this feeling that this thing knew I was there and it was watching me.
I sort of stood there and looked at it for a while. It did not move. It did not make any noise at all.
THE TAIL WAS CONNECTED TO A RING?
Right, the ring appeared to be – from where I was standing, it's hard to judge. To me it was like a hubcap, but I know it was bigger than that. I would probably have been the size of a 50-gallon drum in diameter.
SO, THE WHOLE LENGTH OF THIS PARTICULAR "DRONE" WOULD BE HOW LONG?
From what I call the wheel portion back to the tail, I would probably say no more than 15 to 20 feet long (the tail length).
YOU KNOW THAT BECAUSE YOU ARE CLOSE ENOUGH TO THE AERIAL DRONE AND THE TREE THAT YOU HAVE SOME KIND OF WAY TO JUDGE THE SIZE OF IT IN RELATIONSHIP TO THE TREE?
Right, because it was a large southern yellow pine tree directly in its path and it seemed to be hovering over the southern yellow pine tree. Now as far as the distance between the top of the southern yellow pine tree and the device, I could not tell. It was hard to tell because it was off at an angle. But it seemed like maybe 20 or 30 feet at the maximum from the tree.
"Absolutely Stationary" and Silent Dragonfly Drone
UP IN THE AIR ABOVE IT?
Right, correct.
WAS THIS ABSOLUTELY STATIONARY? OR, WAS THERE ANY MOTION AT ALL?
I saw no motion whatsoever. It was absolutely stationary. At that point, I had my cell phone, which has a camera and I grabbed the cell phone and tried to take a picture – actually tried to take three pictures. It was still dark enough that I couldn't get a good picture. I even tried to increase the light sensitivity on my cell phone camera so maybe that would help. But they all came out just kind of blurry black looking. So, I gave up on that idea and put the cell phone back in its case in a holder around my waist.
And that's when it started to move. Its movement was really, really slow. It moved to the west at a very slow rate, maybe 2 mph or 1 mph, something like that.
WAS THE RING AT THE FRONT OF THE FORWARD MOTION?
Yes, it was. It actually moved like you move forward in an airplane in which as you move forward, the tail follows the engine – or what I call the tail, which was those paddles that followed it.
It also looked like it had protruding antennae, but I couldn't tell. They weren't very large, not much larger than the wires sticking from he top. There were quite a few wires sticking out of this thing from the top.
HOW HIGH DO YOU THINK THOSE WIRES ON TOP WENT UP INTO THE AIR?
Probably 3 to 4 feet off the surface of that ring. (Combined with his 15 to 20 feet length estimate of the tale, pretty close to the 25-feet estimate by other eyewitnesses.)
Closest Match in Photographs:  Chad, Bakersfield, California, May 6, 2007
OF ALL THE IMAGES THAT HAVE SURFACED PUBLICLY SO FAR, WHICH ONE IS CLOSEST TO WHAT YOU SAW THIS WEEK NEAR MAXWELL AFB?
The one I'm looking at on your Earthfiles "Part 1: Explanation of the Strange Craft Sightings" and you have a photograph by Chad. That one really – if I had to guess closest match to what I saw, it would be that Chad photograph (by the yellow flowers), that's the closest one.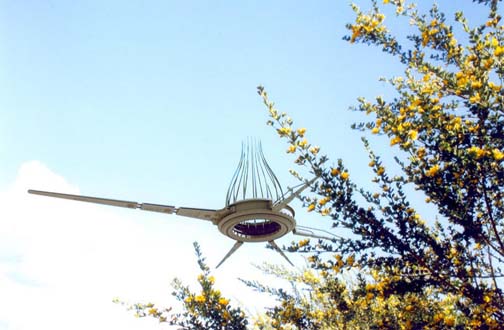 The one thing, Linda, this thing did that was sort of odd to me, when it moved – the first time it moved, and I watched it as it advanced – when it started to move, it was like a double image. How can I explain this?
When Drone Moved, Looked Like Double Exposure
LIKE YOU WERE SEEING A DOUBLE EXPOSURE?
Yeah! Yeah! Exactly. It moved and you saw it one place, but you also saw it where it was before. Like two places at once, almost. And that's the only time it did that was when it initially moved. Then after the movement started, I didn't see that anymore.
IN THE ISAAC INFORMATION THAT EMERGED ON TUESDAY, JUNE 26, DESCRIBED THIS AS EXTRATERRESTRIAL TECHNOLOGY ORIGINALLY THAT HAS THE ABILITY TO CLOAK SO SUCCESSFULLY THAT IT CAN REMAIN INVISIBLE UNLESS THERE ARE JAMMING FREQUENCIES THAT INTERFERE AND ANOTHER HUGE PART OF THE COMPONENTS THAT RELATE TO THIS DRAGONFLY "DRONE" IS THAT IT CAN PROJECT 3-DIMENSIONAL IMAGES.
When I saw it, Linda, it blew my mind! I'm pretty grounded. I have to be for what I do for a living.
THE QUESTION WE WOULD ALL LIKE ANSWERED:  ARE THEY BACK-ENGINEERED BY AMERICAN ENGINEERING ABILITIES FROM THE EXTRATERRESTRIAL TECHNOLOGIES, AS ISAAC HAS SAID? OR ARE WE STILL SEEING LITERAL EXTRATERRESTRIAL TECHNOLOGY AT WORK?
My question is: how can this thing move without making noise? There was absolutely no noise at all. Something in the air that does not make noise and moves is not right.
AND SO CLOSE TO YOU!
Right.
LET'S GO BACK TO THAT MICROSECOND IN YOUR MIND'S EYE RIGHT NOW WHEN YOU ARE LOOKING AT THE 'DRONE.' IT IS 20 FEET OR SO ABOVE THE PINE TREE AND IT'S ABSOLUTELY STILL. IT'S NOT MAKING ANY SOUND. THEN DESCRIBE EXACTLY WHAT YOU SEE HAPPEN.
It moved and that's when it did the double take. And it shifted approximately maybe two or three feet to the right.
THEN DID YOU SEE LIKE TWO IMAGES OF THIS THING?
Right, that's when I saw the two images. The image that was there where it originally was and then the image where it had moved to. I was seeing two things, and then the other one sort of blended into it. It was like it sort of sucked it (other image) towards it (front image in new location).
YOU'RE SEEING WHAT LOOKS LIKE SORT OF A MOTION GOING FORWARD TWO OR THREE FEET. AND THEN THERE ARE TWO IMAGES OF THIS RING. HOW DID IT MOVE FROM THAT POINT FORWARD AND WHAT HAPPENED?
It moved at exactly the same altitude. It did not go up and it didn't go down. But it slowly, at a couple mph, moved to the west. As it moved to the west, I followed it with my eyes, but there are so many trees where I'm at. It went over a tree line and just disappeared. Once it got past the trees, I could not see it anymore. As a matter of fact, I got in a vehicle to try to follow it, but the area where I'm at is so wooded you can't really see anything. I went two or three blocks and came back and that was it.
WHAT WAS IN THAT DIRECTION GOING WEST?
Maxwell AFB.
Can Drone Invisibility Be Jammed? 
Might Explain "Flickering In and Out" At Big Basin
[See:  https://www.earthfiles.com/news.php?ID=1270&category=Environment ]
ON TUESDAY, JUNE 26, WHEN ISAAC'S INFORMATION CAME OUT, AND YOU AND I TALKED ABOUT IT BRIEFLY, YOU MADE A CONNECTION BETWEEN ISAAC'S RELEASE OF INFORMATION AND ALL THE INFRARED. CAN YOU EXPLAIN THAT?
What hit me the most was when I read the article, it said that this thing cloaks itself, but it can be jammed. And when I saw that, I knew I had all this equipment and I'm thinking, 'Could this possibly be the reason I saw it (drone)? Maybe I wouldn't have seen it if I did not have the equipment around me that was active? Possibly had it been turned off, would I have seen anything? Or maybe not. I thought maybe infrared will detect it.
HOW MANY OF THESE DRAGONFLY-SHAPED DRONES ARE IN THE SKIES OF THIS PLANET IN BOTH HEMISPHERES AND NOBODY KNOWS BECAUSE THEY ARE INVISIBLE?
Yeah, that's the scary thing. I honestly have never seen anything like this before like this thing. It's so different, but it doesn't appear to be like a UFO. It appears to be like it's clean – it's almost scary clean.
If this thing shows up again, if I have to climb up on a stepladder with a flashlight and get a picture of this thing, I'm going to get a picture of this thing and prove once and for all that this blooming thing exists!
This thing is real! I know what I saw and I know it's real! I don't think it's extraterrestrial in usage. I think it's our people that are using it, our government, or whoever. But I think that the technology is definitely extraterrestrial. Nothing flies like this – nothing I've ever seen moves and leaves a signature and then moves and the signature moves from where it was over to where it is now and disappears. I mean, your mind won't register that! (laughs) It just doesn't add up."
Could the silence so often reported by human eyewitnesses of high strangeness in the skies be because what's seen is not always 3-dimensional matter as we know it, but a sophisticated image projection that can record data from us and our planet?
Symbol "Language" That Is Like Self-Activating Software Without Hardware
In a section of the alleged CARET secret document entitled "The 'Language,' it states:
"Their hardware wasn't operated in quite the same way as ours. In our technology, even today, we have a combination of hardware and software running almost everything on the planet. Software is more abstract than hardware, but ultimately it needs hardware to run it. In other words, there's no way to write a computer program on a piece of paper, set that piece of paper on a table, and expect it to actually do something. The most powerful code in the world still doesn't actually do anything until a piece of hardware interprets it and translates its commands into actions.
"But their (the E.T.) technology is different. It really did operate like the magical piece of paper sitting on a table, in a manner of speaking. They had something akin to a language that could quite literally execute itself, at least in the presence of a very specific type of field. The language, a term I am still using very loosely, is a system of symbols along with geometric forms and patterns that fit together to form diagrams that are themselves functional. Once they are drawn, so to speak, on a suitable surface made of a suitable material and in the presence of a certain type of field, the diagrams immediately begin performing the desired tasks."
After reading about the extraterrestrial symbol/diagram self-activating language, I emailed Isaac this question:  "Could this perhaps explain the function of crop formations? If so, what have the geometries and non-geometries placed on the surface of this planet for at least 25 years been doing? Or, what are the current ones doing now? One of the 9-fold geometry patterns in Madisonville, Tennessee, this spring seems similar to one of the markings on the Chad-photographed drone tail.'"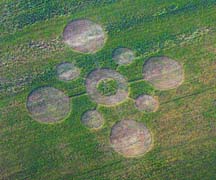 Isaac replied:  "I must confess I know essentially nothing more about crop circles than anyone else. If  'they' (extraterrestrial intelligence) are responsible for them, and the military knows about it, I've never been told."
Return to:
---
More Information:
For further information about the dragonfly-shaped "drones," please see Earthfiles reports below indexed under Environment:
06/26/2007 —Part 2: Documentation, Palo Alto Caret Laboratory Q4-86 Research Report
06/26/2007 —Part 1: Explanation of the Recent "Strange Craft" Sightings
06/22/2007 —Dragonfly "Drone" Seen October 1995 in Arizona
06/18/2007 —Writing In Chad "Drone" Image – A Link to NASA Clementine 1 Moon Mission?
06/17/2007 —More Big Basin, California, Bizarre "Drone" Images
06/15/2007 —Part 1: Northridge, California, Aerial "Drone" Eyewitness On the Record 06/15/2007 —Part 2 – Star Wars Physicist Edward Teller, Outer Space Menace And Remotely Piloted Vehicles (RPVs)
06/08/2007 —More Drone Photos and Other Eyewitnesses
06/08/2007 —More Drone Photos and Other Eyewitnesses
05/30/2007 —Birmingham-Type "Drone" Seen At Barksdale AFB, Louisiana, in Mid-1980s
05/28/2007 —Letters About Unidentified "Drone" Aerial Objects
05/25/2007 —Two More Eyewitnesses of Aerial "Drones" in 2005 and 2006
05/21/2007 —Updated: Odd Aerial "Drone"? Photographed Again Over Capitola, California
05/16/2007 —Updated: Odd Aerial "Drones"? Over Lake Tahoe and Central California
• 05/16/2007 —Updated: Engineer Comments About Odd Aerial "Drones" Over Lake Tahoe and Central California
---
Websites:
"Isaac":   http://isaaccaret.fortunecity.com/
Maxwell-Gunter AFB:  http://www.au.af.mil/
Majestic 12 Documents:   http://www.majesticdocuments.com
Coast to Coast AM:  http://www.coasttocoastam.com

© 1998 - 2018 by Linda Moulton Howe.
All Rights Reserved.