A scorching-hot gas planet beyond our solar system is steaming up with water vapor, according to new observations from NASA's Spitzer Space Telescope and European Space Agency.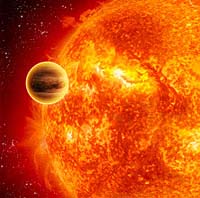 July 12, 2007  Paris, France, and Pasadena, California -  Scientists report the first conclusive discovery of the presence of water vapor in the atmosphere of a planet beyond our Solar System. The discovery was made by analyzing the transit of the gas giant HD 189733b across its star, in the Infrared. The findings appear in the July 12, 2007, issue of the scientific journal Nature. The original paper, titled 'Water vapour in the atmosphere of a transiting extrasolar planet', is by G.Tinetti, A.Vidal-Madjar, M-C. Liang, J-P. Beaulieu, Y. L. Yung, S. Carey, R. Barber, J. Tennyson, I. Ribas, N. Allard, G. Ballester, D.K. Sing, F. Selsis.
Click here to subscribe and get instant access to read this report.
Click here to check your existing subscription status.
Existing members, login below:

© 1998 - 2023 by Linda Moulton Howe.
All Rights Reserved.