"To a yogi, no symbol is more powerful than the syllable OM, as witnessed by these words from the Mandukya Up-anishad: 'OM: this eternal word is all; what was, what is and what shall be.'"
– Sivananda Yoga Vedanta Centres
"Is something really going to happen on August 18, 2007, only a month from now? I don't know. It all seems rather strange. But then crop pictures are strange, too!"
– Australian Scientist Interpreting East Field as Lunar Cycles
July 23, 2007  Alton Priors, Wiltshire, England  –  
1)  From: Hanspeter Käppeli, Mellingen, Switzerland
Subject:  Picture for your headline story
Date: July 22, 2007
To: [email protected]
"Hi,
I did read your headline story about the East Field crop circle.
My family and I where on the East Field, Monday Juli 9. and Juli 12. 2007. The second time (Juli 12), we where walking to the summit of Knap Hill and we heard a helicopter all the time. As we reached the summit we saw that the helicopter was approaching the crop circle from east to west and that he turned over the circle. The helicopter flows back (east) turned again, hovering some time, and then again flow forward to the crop circle. He did run this kind of maneuver for more than 20 minutes (as we where on the summit). Please feel free to use picture.
About the picture: Sorry, I had some dirt on the lens (3 dark spots) .
Mit freundlichen Grüssen"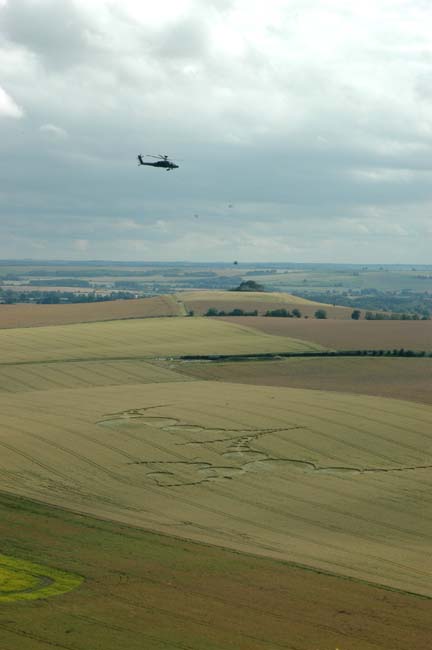 2)  Alan Jones (alias), Managing Director, Two U. K. Companies
Subject: Re: East Field Alton Barnes Wiltshire
Date: July 22, 2007
To: [email protected]
"I read your report about the East Field crop circle in Wiltshire, and I would like to let you know my story. I was there taking pictures on the 17/07/07, the day before your story (Part 2: Military Helicopters Over East Field Wheat Formation.)  I photographed a lot of strange things, some of which may be of interest to you.
I wish to remain anonymous, however I will let you know my background. I am a Managing Director of two companies in the UK and in my spare time, I like to search for strange terrain features or anomalies, (Geoglyphs,) both on the ground and using satellite imagery (normally Google Earth). Significantly I am interested in the Chalk Down areas of England where artificial pictures could have been cut into them, (such as White Horses), but then over time have become hidden by turf and vegetation. By processing satellite images of the chalk features, typically by adjusting contrast, ancient markings can be revealed.
This is how I became to be interested in the Alton Barnes area of Wiltshire. The range of chalk hills, slightly north of there, (Milk Hill, Golden Ball Hill etc) exhibits some very strange features when viewed from altitude. These geological features seem very artificial on a grand scale. Also there is a lot of strange markings in the fields here that can be viewed by using the same process, (these could have been made by anyone. However, the subject art does not appear to be human, nor the 'writing!') Please see my image, alienfield.jpg.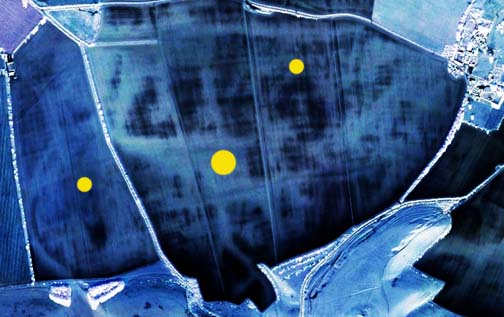 On my first trip in June, I took many photographs, and explored the area thoroughly. However I was disturbed by a police helicopter, who appeared to be chasing something in the field area where the latest crop circles have been made. I made a lot of pictures and was surprised to find many anomalies both in the sky and on the ground in these pictures on my return home, although at the time I had no idea. This is where it gets weird, and of course questionable. The ground pictures appeared to show light anomalies where outlines of shapes can can be seen, but nothing visible is present. So I decided to go back to take some more pictures on July 17th.
This time military helicopters were overflying this area, and also an RAF Nimrod surveillance plane over flew it. I went up to Golden Ball Hill and it is here that seemed to me to be the epicenter of the anomalies. Once up there, I discovered huge circular depressions on the top of the hill that are indeed strange. I felt surrounded by things I could not see, and also I felt under immense pressure to leave the hill. When I did leave after taking photographs, very strange cloud formations appeared and I felt escorted off the hill. Please see my picture goaway1.jpg This is a completely unmodified picture, but hopefully you can see what it represents.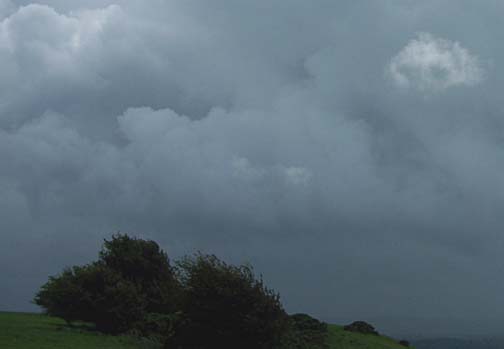 I do not have any ground images for the 07/07/07 formation. I did not walk the formation, feeling warned off; I left before doing so. I do have lots of other images seemingly showing alien geoglyphs from this area or close to this area.
Alan Jones (alias)"
3)  From: Rob Gardner, Bristol, Warmley, England
Subject: The Wiltshire formation interpretation
Date: July 21, 2007
To: [email protected]
"Hi Linda
First of all, allow me to introduce myself. My name is Rob Gardner, and I live on the eastern outskirts of Bristol, in Warmley. Approx 30 miles from Alton Barnes.
Why do I have an interest in Crop Circles? Initially, like everyone else, curiosity. But in recent years, concern. I am a data analyst by trade, 51-years-old, and totally sane. One evening 4 years ago, I stood in my back doorway on a totally normal suburban housing estate taking a late evening smoke. It was about 10:30 p.m. and November. It was dark. At the bottom of my garden is a high wall. The other side of the wall is a public footpath and a streetlight.
Out of the corner of my eye I saw something small and black fly under the streetlight at head height. It was a millisecond before it was hidden by the wall. My senses told me it was not a bird or bat, and I was puzzled. Then this 'thing' rose vertically the other side of the wall, flew horizontally over it and dropped vertically into the shadows on my side. I was staring at a black shape in a black shadow and then realized that it was flying directly at me.
It flew straight up to within 6 inches of my face and then immediately flew vertically upwards. All changes of direction were 90 degrees.
It was about half the size of a video case, had a black/grey mottled surface, made no sound, had no lights and had no wings. Whatever it was, it was simply flying around a deserted suburban housing estate late at night with absolute impunity and analyzing its surroundings, me included.
Ever since that event, I can watch government denials about UFOs, and sham documentaries and laugh. I 'know' that they are here and amongst us. I don't need a government to approve that knowledge. I cannot understand why the general population refuses to believe that alien races are with us unless the government says so? It's mind control on a massive scale.
Back to the East Field circles. Giving us a message?
Take a look at it. 12 spheres growing in size to the largest, a very simple rendition of an orbital path of planet earth. When it gets to 12, another sphere orbit intersects between the earth and the moon. after the intersection, the orbit of earth carries on, but then a new earth is created in a new orbit, this orbit tails off to infinity.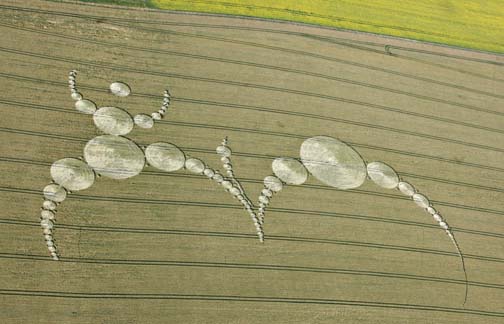 It reminds me of the return of the 12th planet. Is this a warning to us all that within 12 months/years, or the year 2012, that something dire is going to happen?
Food for thought.
Regards
Rob Gardner"
Lunar Cycle Count Down to August 18, 2007?
4. From:  Australian Scientist Who Requests Anonymity Subject:  Lunar Phase Diagrams At East Field 2007
Date:  July 11, 2007
To:  [email protected]
"A new and very complex picture appeared in crops (wheat) at East Field in Wiltshire last week (July 7, 2007). It showed three long semi-circular arcs; each of which was divided on a finer scale into a series of contiguous circles, varying smoothly in size. In addition, there was a short partial 'fourth arc,' that was located somewhat anomalously in the field between two long ones.
Some people have interpreted East Field in terms of the Hindu religious symbol 'Aum,' to which it does bear a superficial resemblance."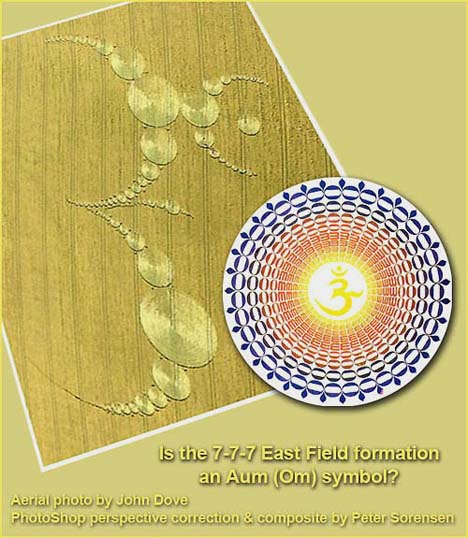 [ Editor's Note: The Sivananda Yoga Vedanta Centres describes the Om symbol this way:

"To a yogi, no symbol is more powerful than the syllable OM, as witnessed by these words from the Mandukya Up-anishad:   'OM: this eternal word is all; what was, what is and what shall be.'
In the Sanskrit letter, the long lower curve represents the dream state, the upper curve stands for the waking state and the curve issuing from the centre symbolizes deep, dreamless sleep. The crescent shape stands for 'maya,' the veil of illusion and the dot for the transcendental state. When the individual spirit in man passes through the veil and rests in the transcendental, he is liberated from the three states and their qualities."  See:  Sivananda Yoga Vedanta Centres. ]
Australian Scientist:  "Yet I will show here by quantitative analysis, as well as by comparison to other pictures from the Cropcircleconnector Archive, that East Field more probably represents a series of four lunar phase cycles, spanning the summer of 2007. Three of those four cycles begin and end normally, whereas the fourth lunar cycle will end six days after a new Moon (possibly on August 18, 2007).
An overall view of East Field 2007
An overall view of the new East Field crop picture is shown below, along with labels to help understand its 'lunar phase' interpretation: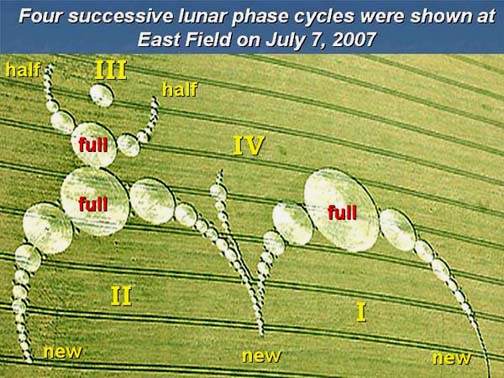 Four different arcs or lunar phase cycles were drawn there, labeled as I, II, III, IV. Cycles I and II both begin and end with tiny balls to symbolize a 'new Moon.' At the center of each arc or cycle, one very large round ball represents a 'full Moon.' There are 29 balls within each of cycles I or II, which seems fully consistent with a lunar phase period of 29.5 days.
These new symbols as shown at East Field seem quite similar to other symbols used in the past: notably at Stonehenge 1996, Windmill Hill 1996 or Milk Hill 2001. (See: Cropcircleconnector Archive.)
Cycle III (upper left in the picture above) was drawn as somewhat smaller than the first two cycles, and hence only its brighter lunar phases (or larger balls) were included. It begins with a 'half Moon' on the left, proceeds to a 'full Moon' at center, then ends with another 'half Moon' on the right. Other tiny balls between 'half' and 'new' were omitted, probably for technical reasons.
The 'full Moon' symbol from cycle III spans just one set of tramlines, and is thus smaller than the 'full Moon' symbol from cycle II (one and one-half tramlines) or from cycle I (two tramlines). That gradient of size, along with with a long 'tail' on the far end of cycle I, enables us to say which of those three cycles comes first:  I (large), then II (medium), then III (small).
Cycle IV at East Field seems to be the most critical element of this crop picture. Why does it end only six days after a new Moon, or nine days before the Moon goes to full? In order to address that question, we will need to study each cycle from East Field in closer detail.
The problem of phasing:
Which Current Lunar Cycles Does East Field Represent?
When trying to provide a calendar interpretation of East Field, the major source of ambiguity seems to be phasing. On what day does cycle I begin and end? On what day does cycle IV suddenly end? I have chosen to assume that we may be dealing here with the 'summer season of 2007,' as shown in an earlier crop picture from Yatesbury.
There the summer season of 2007 was defined as proceeding for 87 days from May 30 to August 24. Within that approximate interval, there will be four full Moons on June 1, July 1, July 30 and August 28. One may therefore plausibly associate East Field cycle I with a full Moon on June 1, cycle II with a full Moon on July 1, cycle III with a full Moon on July 30, and cycle IV with a full Moon on August 28 (not yet reached).
A calendar interpretation of cycles I, II and III
With such tentative assignments in mind, we can now interpret each of those four lunar cycles in terms of our modern yearly calendar. Cycle I would begin with a new Moon on May 17, proceed to full on June 1, then end with another new Moon on June 15. Cycle II would begin with a new Moon on June 15, proceed to full on July 1, then end with another new Moon on July 14."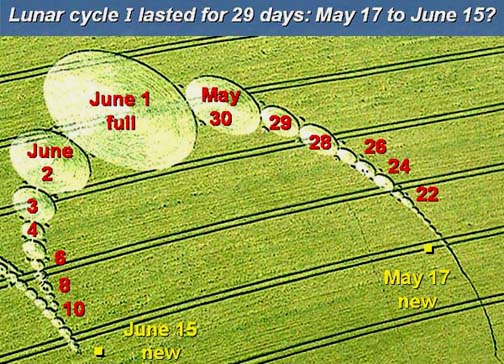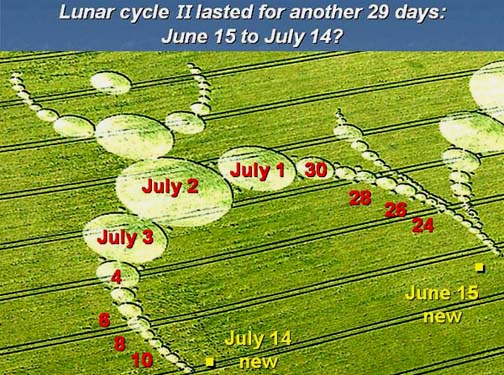 "The crop artists apparently made two errors when portraying cycle II. First, its full Moon on July 1, shows a slightly smaller size than for an almost full Moon on July 2. Secondly, a series of tiny mini-circles appear on both sides of cycle I wherever the Moon exceeds half-illumination. In Cycle II, those mini-circles were drawn as extending all the way down to a new Moon on July 14.
Cycle III at East Field was drawn only in part, owing to its smaller size in the field than for Cycles I and II. Following the calendar assignments used above, it would begin with a half Moon on July 22, proceed to full on July 30, then end with another half Moon on August 7."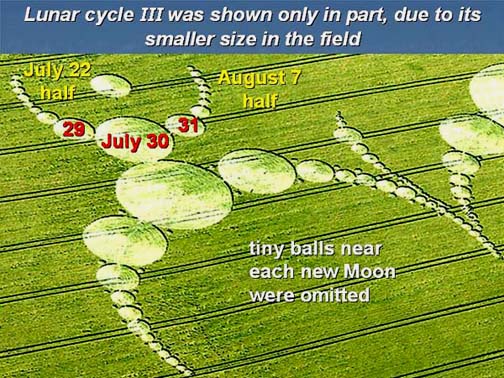 "The lunar symbolisms used in cycle III seem quite similar to another set of lunar symbols shown at Trottiscliffe on June 20, 1999, below. At Trottiscliffe, one picture showed 'three crescent Moons,' while another showed three overlapping lunar phase diagrams."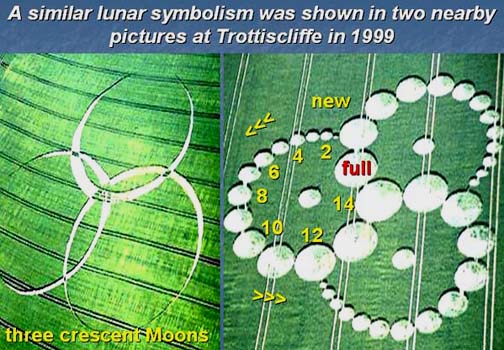 "Each of those phase diagrams showed half of a 29.5-day lunar cycle: beginning with a new Moon on day 1, then proceeding to a full Moon by day 14 or 15.
Those two crop pictures from Trottiscliffe seem to confirm, beyond any reasonable expectation, that the three long and one short "arcs" shown at East Field 2007 were truly meant to represent 'lunar phase diagrams.'
A Calendar Interpretation of Cycle IV
Finally we come to the very heart of our analysis, which is an anomalously terminated Cycle IV. It begins with a long thin 'tail' (just as for Cycle I at the far end of East Field) that is embedded appropriately between two other 'new Moons' belonging to cycles I or II."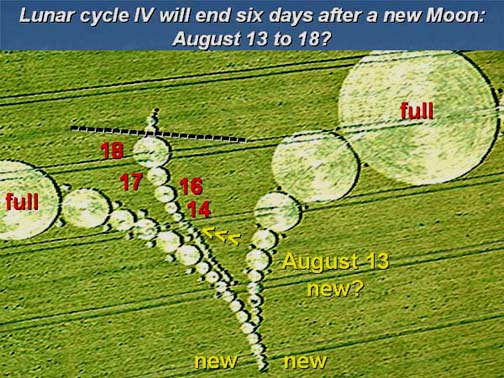 "But instead of proceeding all the way to a full Moon as shown for Cycles I and II on left and right, Cycle IV begins with a new Moon (presumably on August 13), then terminates unexpectedly after only six days before it can reach a full Moon on August 28.
What could this mean? Might there be something special about a near-future date of August 18, 2007? A dramatic increase of cloud cover perhaps?
A Related Calendar Prediction from 2005
One other crop picture from 2005 also specified a near-future date of mid-August 2007. To be more precise, Wayland's Smithy showed a hexadecimal date of '14-5-11′ within our current 52-year Mayan calendar. The major source of ambiguity, when trying to provide a calendar interpretation, was again one of phasing."
"On which days might our current 52-year Mayan calendar begin and end? When counting by 365-day cycles of the Sun, that long calendar period would contain a total of 52 x 365.25 = 18,993 days. On the other hand, when counting by 584-day cycles of Venus, it would contain a total of 32.5 x 584 = 18,980 which is 13 days less.
So if we choose to end our current 52-year calendar on December 22, 2012 (just as for the Mayan Long Count, or as shown at Silbury Hill in 2004), then it could begin either on December 22, 1960 or else January 4, 1961. The former converts a hexadecimal date of 14-5-11 into 'August 14-17, 2007,' while the latter converts the same date into 'August 16-19, 2007.'
Neither value lies far away from August 18, 2007, as just suggested by a quantitative study of East Field. Even if our choice of phasing for East Field might be one month off, still that new picture seems to say 'six days after a new Moon.'
The Need for A Third Dated Picture
Is something really going to happen on August 18, 2007, only a month from now? I don't know. It all seems rather strange. But then crop pictures are strange, too!
Let us hope that those crop circle makers will understand our natural human tendency toward cynicism, and provide us with a third or even fourth dated picture soon.
A detailed knowledge of past crop pictures seems essential, when trying to interpret new ones
When trying to interpret new and complex pictures such as East Field 2007, a detailed knowledge of other crop pictures from the CCC Archives 1990 to 2006 seems absolutely essential, in order to understand what certain kinds of symbol mean.
Hence, I would strongly encourage any serious students of this phenomenon to carefully study those Archives, just as they might study a difficult academic subject such as calculus or Chinese. I have made some progress in that way, yet hundreds of important pictures still remain to be explained."
5) From: Steve Worrall, London, England
Subject: Re: From Linda Moulton Howe, July 23, 2007
Date: July 23, 2007
To: [email protected]
"Dear Ms. Howe:
Yes, you can use my name and the images, no problem.
Previous July 19, 2007, email: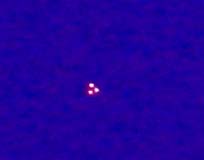 I have noticed more over the weeks and these two pictures are of the July 19th event. I have zoomed in on the object – one is with the blue sky in the back ground and the other is with a filter to show the reddish light of the three disc-like objects. Or one triangular object?
Since that day, I have had two more sightings of objects over London. On the 21st, I was walking down to the river and went to sit by the Savoy Pier when I noticed a small object suddenly appear near St. Paul's. I did get a few shots but it's not very close. You can see the object, though, and the file for that date is DSCN0746.JPG.
The next day I was visiting my friend's shop after they had a flood on 22 July 2007, when I noticed another object directly above a pub and the Royal Opera House. This then moved slowly in sight from my point. There was a gap in the cloud and the object moved with I watched it for several minutes until it went behind a tall building. I went back in the pub, but for some reason I knew it was still there and I then looked up above Russell Street and the Theater Royal Drury Lane only to see it again. But this time, there was a small faint brownish orb and the white one. The brown one did not photograph, but the white one did: file DSCN0779.JPG this is when it was over the far side of the street the next one is above the Theater Royal DSCN0788.JPG. (You may need to zoom in but its the very same object.)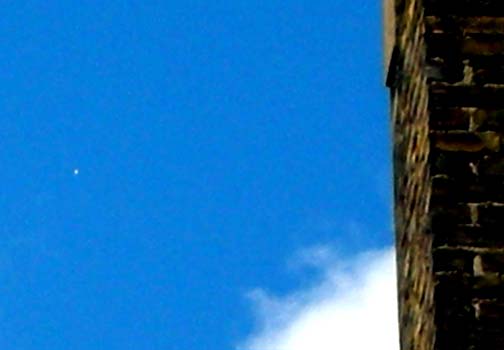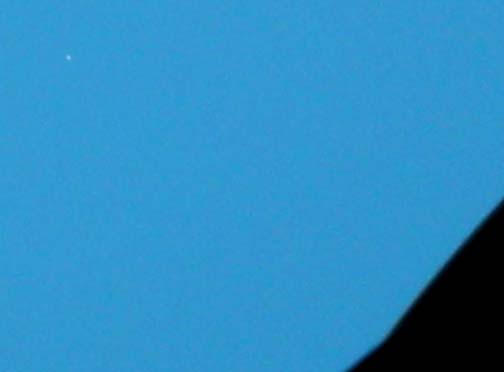 When I went onto my YouTube message board, I had a message that this had been filmed by someone in south London heading north towards the city where the shop is located. Plus there is a video of the 19th of July event from south London. There are so many events happening right now. I have seen these things over my life, but it's only in the last few week's that I can truly say it's real and I have no doubt that we are not alone.
But what will we learn from this? Only time will tell. Lets hope its good as we have this strange ability to create havoc when we should be learning to be what we truly are. We don't need to worry about the UFO's. We need to worry about ourselves and our violent actions against what we don't understand.
All the best
STEPHEN WORRALL"
---
More Information:
If viewers have more information about other crop formations in your area, please email me at [email protected]
For further information about global crop formations, please see reports below in the Earthfiles Archive  and my book Mysterious Lights and Crop Circles in the Earthfiles Shop:
07/20/2007 —Part 2: Military Helicopters Over East Field Wheat Formation
07/19/2007 —Part 1: 1,033-Foot-Long East Field Wheat Formation "Happened Within 90 Minutes."
07/07/2007 —Swiss Army Pilot Discovers "Perfect Geometric Figure" and U.K.'s East Field Gets At Least 90 Circles!
06/18/2007 —Crop Circles On Rings and Three Mysterious Aerial Lights in Slovenia
06/08/2007 —Part 3: U. S. Crop Formations, Wheat Pictogram in Madisonville, Tennessee
06/07/2007 —Bird Eggs Undamaged in Slovenia Crop Formation
06/06/2007 —Part 2: Yatesbury, England and Madisonville, Tennessee – A Mayan Link?
06/05/2007 –Part 2: U. S. Crop Formations, Two Mysterious Grass Circles in Mission, Kansas
06/04/2007 — Part 1: Yatesbury Spiral – Viewer Comments on Spiral Math
05/27/2007 — Part 1 – U. S. Crop Formations Near Indian and Ancient Earth Mounds
04/12/2007 — First 2007 Crop Pattern in United States
03/14/2007 — Part 5: Mysterious Events At 2005 Tawsmead Copse "Insectogram" Crop Formation
03/13/2007 — Part 4: Mysterious Events At 2005 Tawsmead Copse "Insectogram" Crop Formation
03/06/2007 — Part 3: Mysterious Events At 2005 Tawsmead Copse "Insectogram" Crop Formation
03/04/2007 — Part 2: Mysterious Events At 2005 Tawsmead Copse "Insectogram" Crop Formation
02/27/2007 — Part 1: Mysterious Events At 2005 Tawsmead Copse "Insectogram" Crop Formation
06/11/2006 — Updated: Two Mysterious Circles in Wheat Baffle Kansas Farmer
09/02/2005 — Part 1: New York and Ohio Corn Circles "Flattened 2 to 5 Feet Above Ground"
08/02/2005 — Part 1: Anomalies Confirmed in Pennsylvania and Arizona Randomly Downed Crops
07/23/2005 — Mystery of Six Grass Circle Formations in North Carolina
05/26/2005 — Phoenix Barley Mystery: Apparently Irrigation and Wind
05/09/2005 — Mysterious Lights and 2003 Serpent Mound Soybean Formation
04/20/2005 — Outer Space Impact At Serpent Mound, Ohio, 256 Million Years Ago
10/17/2004 — American Crop Formations: 1880-2004
09/22/2004 — Miamisburg and Serpent Mound, Ohio Crop Formations: Geometries Compared
09/17/2004 — Updated: Part 1 – High Strangeness in Canadian Cattle Corn
09/12/2004 — Part 2 – High Strangeness in Canadian Cattle Corn
09/10/2004 — Update on Miamisburg, Ohio, Corn Pictogram – Balls of Light?
09/05/2004 — Part 2 – Hillsboro, Ohio Corn Plant Anomalies
09/04/2004 — Hillsboro, Ohio Corn Formation – High Strangeness in Soil and Plants
09/02/2004 — Updated Photos: Big, Impressive New Corn Formation in Miamisburg, Ohio
08/09/2004 — Pictograms in Poland
07/25/2004 — 2004 Canadian Crop Formations: Scorched Soybeans and "Dirt" Pattern in Barley
07/24/2004 — Part 3 – Crop Formations and Mysterious Lights in Wiltshire, England, July 2004
07/06/2004 — Mysteriously Downed Oat Plants in Eagle Grove, Iowa; Downed Corn in Hillsboro, Ohio
04/08/2004 — FBI Is Investigating Animal Deaths in Johnston County, North Carolina
11/01/2003 — Another Soybean Formation in Ohio
10/10/2003 — Updated – Ohio Hunter's "Deer Camera" Photographs Mysterious Glowing Disk
10/05/2003 — Part 3 – Paint Creek Island, Ohio Crop Formation Photographs
10/03/2003 — Part 2 – Military Interest in Serpent Mound and Seip Mound Formations?
10/02/2003 — Part 1 – Another Soybean Formation Near Seip Mound in Ohio
09/12/2003 — 2nd Ohio Soybean Crop Formation is Manmade. USAF Investigation Unit Involved?
09/06/2003 — Part 2 – Unusual Soybean Formation Near Serpent Mound, Ohio
09/05/2003 — Part 1 – Unusual Soybean Formation Near Serpent Mound, Ohio
11/30/1999 — A New Crop Formation In Marion, New York and Crop Research Updates
09/05/1999 — Delphos, Kansas Ring Mystery – More Analyses
---
Websites:
English Crop Circles, Current and Archived:  http://www.cropcircleconnector.com
German and Swiss Crop Circles:  http://www.kornkreise-forschung.de
American Crop Circles, ICCRA:  http://www.cropcirclenews.com/
Canadian Crop Circles, CCCRN:  http://www.cccrn.ca/
Dutch Crop Circles, DCCA:  http://www.dcca.nl
http://www.lucypringle.co.uk
http://www.members.iinet.net.au/~bwratten/ccc.html
http://www.cropcircleresearch.com
http://www.CropCircleAnswers.com
http://www.ukcropcircles.co.uk/?page=home
http://www.temporarytemples.co.uk

© 1998 - 2019 by Linda Moulton Howe.
All Rights Reserved.