"I want to scare you about climate change. We are probably the last generation to be able to rely on a stable climate."
– Fred Pearce, Environmental Reporter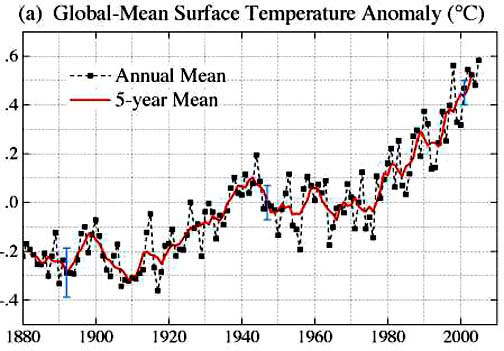 August 8, 2007  Geneva, Switzerland – In mid-July at the Cheltenham Science Festival in England, global warming was a featured topic. One of the speakers was Fred Pearce, an environmental journalist and author of a new book entitled, The Last Generation: How Nature Will Take Her Revenge for Climate Change. He told his audience, "I want to scare you about climate change. We are probably the last generation to be able to rely on a stable climate. … The truth is, the more we observe about the climate system, the more frightening the scenarios that scientists are starting to develop. Past climate change has been more violent and extreme than we have been led to believe. Tranquility looks like the exception rather than the rule. We could be measuring sea level rises in meters, not centimeters. Old ideas about climate chang are just not how the world works. When climate does change, it does so suddenly and violently."
Is human civilization, with its industrial pollution of methane, carbon dioxide and other greenhouse gases, flicking on the switch for more rapid global climate change than any population can adequately handle? If global weather is erratic in 2007, what will it be like in another ten years?
The United Nations World Meteorological Organization (WMO) reports that the "global land surface temperatures for January and April 2007 will likely be ranked as the warmest since records began in 1880." Further, the head of the Climatic Research Unit at the University of East Anglia, U. K., has predicted that 2007 could surpass 1998 as the warmest year on record owing to rising concentrations of greenhouse gases and a growing El Niño warming of the Pacific. The ten warmest years in the past 150 years have all occurred after 1990.
The U. N.'s Intergovernmental Panel on Climate Change (IPCC), reported in 2007 that there has been an increasing trend of extreme weather events over the past fifty years and that erratic weather events are likely to intensify as the Earth continues to warm up.
Devastating Floods
– South Asia's "Worst Floods in Living Memory." Since the beginning of monsoon season in June 2007, there have been twice the normal number of monsoon depressions and more than 1,200 people have died in storms and floods in Afghanistan, India and Pakistan. Hundreds more dead in Bangladesh and Nepal. More than 20 million people in India and Bangladesh have been forced to leave their homes after recent monsoon rains and Himalayan glacier melts have flooded rivers. Now post-flood diseases threaten to kill more people.
– Franklin Joseph, Director of India's World Vision Emergency Response, said: "There is a fear when the water recedes that diseases will strike. Water sources will be contaminated when the villagers return. We need to provide clean food and homes."
– The U.K. Meteorological Office reports that in the period May to July 2007, 387.6 mm of rain have already fallen across England and Wales, making it the wettest early summer since precipitation records began there in 1766. At least eight people were killed in the heavy rainfalls.
– Northern England and parts of Texas saw torrential rain and flooding in June to July 2007. Austin, Texas, has had its wettest year on record so far.
– In Sudan, abnormally heavy rains and flooding destroyed 23,000 mud homes and killed at least 62 people.
– The Arabian Sea had its first documented cyclone in June 2007, which affected Oman.
– The Maldives islands average only five feet above sea level and were overcome by 15-foot-high ocean waves and flooding in May. "It is an annual occurrence at this point of the monsoon. Storm surges are quite common, but it is unusual to have them to the extent we have had today," said government spokesman Mohamed Shareef in the Maldives' capital of Male. "It is essentially a rise of the tide. The water came in at least 100 feet (30 meters) on some islands, and then receded in the evening."
– Uruguay in May 2007, unusually heavy rains in Uruguay have caused the worst flooding to hit that country in 50 years. More than 12,000 people were evacuated and another 110,000 people were affected by the emergency, most of them children, women and elderly living in poor communities. A week of heavy rain also caused landslides and rivers to break their banks. "Within two days, we received precipitation between 350 and 400 millimeters, while on average in most parts of the country we get 800 to 1000 millimeters per year," said UNICEF Uruguay Representative Tom Bergmann-Harris.
– Mozambique's government on February 4, 2007, declared a "red alert" for the evacuation of communities along the Zambezi River Basin, as rising water levels threatened to flood low-lying areas. Heavy rains in Mozambican territory created this threat, as well as in the neighboring countries of Zambia and Malawi, which also feed the Zambezi River and its tributaries. An estimated 285,000 people were affected by the floods.
On February 22, 2007, Mozambique suffered another natural disaster when Cyclone Favio made landfall in Vilanculos, in the coastal province of Inhambane. Thousands of acres in crops were destroyed, health centers and schools were badly damaged and an estimated 150,000 people were displaced from their homes.
Scorching Heat in Northern Hemisphere
– Temperatures in Greece reached 110 degrees F. (46°C) in a heat wave across southern Europe. The Greek government has activated a civil emergency defense plan to deal with the heat wave, which is also affecting the rest of the Balkan peninsula, with forest fires from Croatia to Romania. A previous extreme heat wave in 1987 killed at least a thousand people.
– China has also had a heat wave in recent days reaching 104 degrees F. (40 degrees Celsius) in southwestern regions such as Chongqing. More than 3,500 people were hospitalized and at least five people died. China.org reports the highest temperature so far was in the central Chinese city of Shijiazhuang at 109 degrees Fahrenheit (43 degrees Celsius.)
– Russia had an extreme heat wave across western and central regions during May 2007, breaking several temperature records. On May 28, 2007, in Moscow, temperatures reached 32.9°C (91.2°F), the highest temperature recorded in May since 1891 (31.8°C/89.2°F). This is the first time in 128 years that the Russian capital has suffered a sustained 30°C (86°F) or higher temperatures. This heat prompted Russia's energy administrator to restrict the use of non-residential energy for the first time on record in the summer.
– Drought and Fires in Southeastern Europe:  Millions of acres in destroyed crops and widespread forest fires are direct results of high temperatures and severe drought in southeastern Europe, according to the Global Drought Monitor.
– Montana, Idaho and California have been fighting huge wildfires all summer long and the Midwestern states have exceeded 100 degrees F., including Montana and North Dakota. The National Weather Service has issued excessive-heat warnings for several states in the South and Midwest. To date, three people have died from heat exposure and the Tennessee Valley Authority said that the Monday, August 6, power consumption broke a peak record of 32,095 megawatts for 8.7 million customers.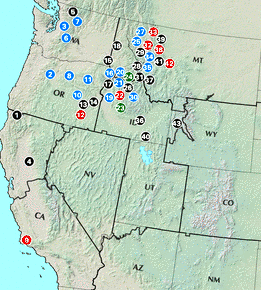 Unusual Cold in Southern Hemisphere
– During the floods, heat and fires of the Northern Hemisphere summer, South America has been suffering one of its coldest winters on record, with blizzards and snowfall sending temperatures down to 0 Fahrenheit freezing and below in Argentina and Chile.
– Argentina's capital Buenos Aires witnessed snowfall in July for the first time in 90 years. Wet snow fell for hours without accumulating. A cold snap caused by freezing air from Antarctica killed two people. Before then in late May 2007, was a bitter cold snap that produced subfreezing temperatures, the coldest in forty years in Buenos Aires. That cold wave contributed to an energy crisis and 23 people died from lack of heat.
– South Africa had almost ten inches (25 centimeters) of rare snow fall in late June 2007 on the city of Johannesburg. Mountain passes were closed and one person died.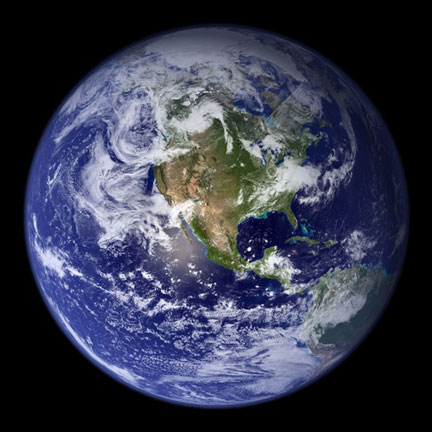 ---
More Information:
For further reports about global warming, please see reports below in the Earthfiles Archive:
07/11/2007 —Mystery of Night Shining Clouds – Another Global Warming Change?
06/21/2007 —Large Lake in Southern Chile Has Disappeared
06/01/2007 —Is Earth Close to Dangerous Tipping Point in Global Warming?
05/18/2007 —Antarctica: Unprecedented Western Ice Melt and CO2-Saturated Southern Ocean
05/08/2007 —Exploded Star 5 Times Brighter Than Any Supernova Seen Before
02/23/2007 —Scientists Hope "Amphibian Arks" Can Save Frogs and Toads
02/23/2007 —Part 1: Earth Life Threats – Alarming Disappearance of Honey Bees
02/23/2007 —Part 2: Earth Life Threats – "Noah's Ark" for World's Seeds
02/02/2007 —Updated: New U. N. Global Climate Change Report: Earth Could Warm Up 3.2 to 11.52 Degrees Fahrenheit by 2100
01/13/2007 —Confusing Sun: Will Solar Cycle 24 Be Most Intense On Record?
01/10/2007 —2006: USA's Warmest Year On Record
12/16/2006 —Updated: Unprecedented Die-Off of 2,500 Mallard Ducks in Idaho
12/07/2006 —Earth Headed for Warmest Period in 55 Million Years?
11/09/2006 —Outer Space Sunshade to Cool Earth in Global Warming?
09/09/2006 —Methane – Another Threat in Global Warming
08/23/2006 —Solar Cycle 24 – Headed for Intense X Flares by 2010-2012?
08/19/2006 —Repair of Earth's Ozone Layer Has Slowed
07/18/2006 —2006 – Hottest Year So Far in U. S. History
06/24/2006 —"High Confidence" Earth Is Warmest in 400 Years – Maybe Even 2,000 Years
04/08/2006 —Recent Caribbean Coral Reef Die-Off Biggest Ever Seen
03/17/2006 —Planet Earth's Ice Melt
02/20/2006 —Mysterious Deaths of Whales in Mexico
11/18/2005 —Is the Sun Heating Up?
10/07/2005 —Warmer Sea Surfaces and Increased Wind Power Are Making Hurricanes Stronger
09/29/2005 —2005 Arctic Summer Ice Melt – Largest On Record
09/23/2005 —Phenomenon of "Instant" Hurricanes in 2005
09/23/2005 —9 X-Class Solar Flares Between September 7 – 19, 2005.
08/26/2005 —What Is Killing Amphibians Around the World?
08/18/2005 —Unusual Summer Swarm of Arkansas Copperheads
08/05/2005 —Scientists Puzzled by "Bizarre" Pacific Coast Die-offs in 2005
05/11/2005 —Greenland Sea Cold Water Re-Cycling Has Nearly Stopped. Britain to Become Cooler?
05/07/2005 —Did Milky Way Gas and Dust Turn Earth Into Icy Snowball Four Times?
02/26/2005 —Collapse of Societies: From Easter Island to Iraq – to Western World?
02/03/2005 —Kyoto Protocol Goes Into Effect February 16, 2005. British Scientists Warn Global Temperatures Could Climb Higher Than Earlier Estimates.
01/22/2005 —From U. S. to Arctic – A Sea Change in the Weather
12/31/2004 —Abrupt Climate Change Occurred Worldwide 5,200 Years Ago
11/02/2004 —North Pole Summers Without Ice?
10/15/2004 —Ever-Increasing Carbon Dioxide Build-Up in Atmosphere Since 1958
09/17/2004 —Cat 4 and 5 Hurricanes Charley, Frances and Ivan in Four Weeks -Unprecedented in American Recorded Weather History
08/27/2004 —Global Warming Impact On Birds – More Extinctions Expected
08/14/2004 —Oceans Are Absorbing A Lot of Greenhouse CO2. As Chemistry Changes, What Happens to Sea Life?
08/01/2004 —Sixth Straight Year Hundreds of Birds Die at Roestler Lake, North Dakota.
02/27/2004 —Abrupt Climate Change: Scenario from A Pentagon-Commissioned Report
01/02/2004 —Earth's Speeded Rotation Puzzles Scientists
11/29/2003 —Glaciers Are Melting Around the World So Fast That Water Supplies Could Be Threatened
10/29/2003 —Fifth Intense Solar X-Flare – What's Happening On the Sun?
05/30/2003 —Scientists Surprised by Common House Fly Fossils in Antarctica
12/14/2002 —Arctic Rivers' Fresh Water Flows Could Change Atlantic Ocean Current
11/14/2002 —What Happened 12,000 Years Ago That Killed So Many Animals?
10/21/2002 —Mt. Kilimanjaro's Ice Cap Is Melting Fast
08/27/2002 —August 2002: Severe to Moderate Drought in 37 States
07/20/2002 —Extinctions of Earth Life Are Accelerating Rapidly
06/04/2002 —EPA Admits Humans Burning Fossil Fuels A Big Factor in Global Warming
03/30/2002 —Drought Worsens in United States
03/21/2002 —Antarctic Peninsula Is Melting – And So Is Arctic Ice
02/13/2002 —January 2002 Warmest On Record For Whole World
01/30/2002 —Latest Satellite Data Shows Surprisingly Thicker Ross Ice Shelf in Antarctica
01/05/2002 —Global Warming – Could Increasing Carbon Dioxide Gas Be Transformed Into Limestone?
12/22/2001 —Scientists Warn That Climate and Earth Life Can Change Rapidly
04/18/2001 —April Environmental Updates
03/24/2001 —Alps Permafrost Melting
03/21/2001 —Earth Hasn't Been This Warm Since the Pliocene 3 Million Years Ago
03/04/2001 —Disappearing Glaciers – Evidence of A Rapidly Warming Earth
02/25/2001 —Environmental Updates
02/18/2001 —Environmental Updates and Mysterious Deaths of 2000 Atlantic Brant Geese
02/07/2001 —94% Decline In Aleutian Islands Sea Otter Population
01/28/2001 —U. N. Global Warming Forecast: Up to 10.5 Degrees F. Hotter At End of 21st Century
11/26/2000 —Environmental Updates
10/30/2000 —Science, Environment and Medical Updates
09/10/2000 —Largest-Ever Antarctic Ozone Hole
09/10/2000 —Arctic Ice Melt Threatens Polar Bears
07/09/2000 —The "Cell from Hell" Is Back in North Carolina Estuaries
07/02/2000 —Brown Tide Devastating Long Island's Great South Bay Shellfish
06/17/2000 —Spring 2000 – Hottest On Record in U. S.
05/07/2000 —Serious Drought in the Great Lakes
04/20/2000 —Severe Arctic Ozone Loss and Deep Ocean Warming
03/12/2000 —Environmental Updates and Mysterious Fires Near Scott, Arkansas
01/13/2000 —Computer Projections About Earth Weather 2000-2100
01/09/2000 —Global Warming Alert from NOAA and U.K.
12/25/1999 —Y2K Nuclear Concern and Global Warming Update
09/26/1999 —Could Ancient Microbes in Polar Ice Cause Epidemics?
07/25/1999 —Maryland Fish Kills; Global Warming; and Warm Oceans and Disease
06/04/1999 —Global Warming Linked to Increasingly Warmer and Wetter Winters in Europe & Western North America
05/05/1999 —Two Antarctic Ice Shelves Almost Gone
02/28/1999 —Chickadee Beak Deformities in Alaska
01/24/1999 — Global Warming
---
Websites:
World Meteorological Organization (WMO):  http://www.worldweather.org/
NASA/GISS:  http://data.giss.nasa.gov/gistemp/2005/
National Interagency Fire Center:  http://activefiremaps.fs.fed.us/lg_fire2.php

© 1998 - 2018 by Linda Moulton Howe.
All Rights Reserved.