"The bees are in a weakened state. They've had a rough season, so there aren't as many bees in the colonies as one would expect at this time of year."
– Jerry Hayes, Chief of Apiary Section, Florida Dept. of Agriculture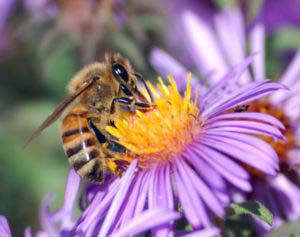 September 26, 2007  Gainesville, Florida –  The September 7, 2007, Science Express reported the discovery of the "Israeli Acute Paralysis Virus (IAPV)" in 96% of honey bees affected by Colony Collapse Disorder (CCD). [ See 090707 Earthfiles.]  IAPV was first identified in Israel in 2002 to 2003 at the same time that Israeli beekeepers were struggling to cope with Asian varroa mites as North American beekeepers have since the 1980s.
But beginning in 2004, the American Department of Agriculture opened up honey bee imports into the United States for the first time in 83 years. What was imported most were honey bees from Australia. Now it has been confirmed that Australian bees carry the Israeli Acute Paralysis Virus without succumbing to it.
With CCD seriously threatening to weaken North American bees to the point we won't have enough for crop pollination, there have been recent Congressional discussions about temporarily banning the import of bees from Australia.
Today I talked with Jerry Hayes, Chief of the Apiary Section in the Florida Department of Agriculture, and President of the Apiary Inspectors of America in Gainesville, Florida. I asked him why the Australian bees, which carry the Israeli Acute Paralysis Virus don't get sick.
---
Interview:
Jerry Hayes, Chief, Apiary Section, Florida Dept. of Agriculture, and President, Apiary Inspectors of America, Gainesville, Florida: "Israeli Acute Paralysis Virus (IAPV) has been found in 96% of the CCD bee body samples we looked at in the U. S. It came here from Australian bees. IAPV has also been found in Australia, but that country's bees are not suffering from CCD. We think the reason is that Australia has not had the parasitic varroa mite that has infected North America. Varroa mites could be activating the IAPV virus in some way. So Australian bees might be stronger to begin with.
THE PRESENCE OF VARROA MITES WEAKENS THE IMMUNE SYSTEMS OF HONEY BEES TO THE POINT THAT THE IAPV CAN ATTACK ALREADY-WEAKENED BEES?
Yes, varroa is not a good thing in bees. It's an introduced parasite from Asia and it has not evolved with our bees and that is why it's so damaging to our North American bees. Try this exercise. Make a fist and put it some place on your body. That is proportionately how big a varroa mite is to a honey bee body. Then consider having three or four of these things on you. It would be like having parasitic rats on you. That would not be good for your health.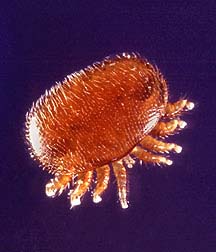 WHAT HAS DEVELOPED IN TERMS OF AN EMBARGO – THAT AUSTRALIAN BEES BE KEPT OUT OF CANADA AND THE U. S. FOR A WHILE?
I know we have had some Congressmen support a temporary ban until we can figure this out. APHIS – Agricultural Plant Health Inspection Service, Dept. of Agriculture – who approves all the imports of plants and animals. APHIS approved the importation of Australian bees in the first place in 2004. And yet it is APHIS who is now saying that since IAPV is here, why should we quarantine with a temporary ban of bees. So, it's all still up in the air.
WHAT DO YOU PERSONALLY THINK ABOUT THE LOGIC OF KEEPING THE AUSTRALIAN BEES OUT?
We have the tantalizing clues that the IAPV virus is a marker for CCD. Nobody is saying it is a CAUSE of CCD, but it is found in bees with CCD symptoms. That's why we're calling it a marker.
The bees from Australia have that viral marker. We were not allowing the importing of bees for 83 years. Then all of a sudden, APHIS decides that we can bring things in without checking them more thoroughly in 2004. And that's the year – as we backtracked on the history of CCD – that's when we started getting reports of CCD-like symptoms. So, the virus might already be here, but do we want more re-infections is the question that has to be asked?
YOUR OPINION WOULD BE?
Temporarily ban the Australian bees and let's figure this out because after 83 years of not allowing imports of bees and then we bring something new in and we get a new disease. So, let's use our heads here and go at this a little more slowly.
IF THE AUSTRALIAN BEES ARE NOT KEPT OUT OF THE UNITED STATES BY AN EMBARGO, WILL THAT MAKE EVERYTHING WORSE FOR THE NORTH AMERICAN BEES BECAUSE OF RE-INFECTION?
Probably, but we don't have enough research data to know so far.
Virus Activation by Varroa Mites?
IS ANYONE RIGHT NOW TRYING TO FIGURE OUT WHY THE AUSTRALIAN BEES ARE NOT AFFECTED BY CCD LIKE THE AMERICAN AND CANADIAN BEES ARE?
The only difference between the Australian bees and ours is that Australia does not have the varroa mite. Varroa has been shown in its feeding on larva and pupae that its feeding activity activates viruses.
There is another virus called the "deformed wing virus" that deforms the wings of bees as they are developing and you can have a lot of this virus, which is normal in the bees, and the viruses don't do anything until they have contact with varroa and varroa activates the deforming virus and makes it reproduce and causes the deformed wing symptoms.
The thought is then that perhaps varroa activates this IAPV virus, which might also be common in Australian bees. But because they don't have varroa, they don't show any particular symptoms, such as CCD.
ARE YOU ANY CLOSER TO FINDING ONE CAUSE FOR CCD?
No, we all agree there appears to be many factors and we need more broad ranging research to see where specific combinations might cause CCD. The Israeli Acute Paralysis Virus is a marker for CCD, but not the single cause as far as we know now.
American Honey Bees Are Still Weak
WHAT IS THE HEALTH OF HONEY BEES IN THE U. S. RIGHT NOW?
Beekeepers are starting to come back to Florida for the winter as they usually do from traveling around the country (pollinating crops). The bees in many cases are not in real good shape. There could be several causes of that. This year, we had almost a nationwide drought, which has affected bees so they did not have appropriate food and nectar and pollen from normally blooming plants because there wasn't the moisture out there. It will be interesting to see what happens as this fall and winter progress.
WHEN YOU SAY THE BEES CURRENTLY ARE NOT IN GOOD SHAPE, WHAT DOES THAT MEAN IN THE CONTEXT OF COLONY COLLAPSE DISORDER?
The bees are in a weakened state. They've had a rough season, so there aren't as many bees in the colonies as one would expect at this time of year. Is it CCD related?  The bees aren't in good shape as they come back to Florida for the winter.
Enough Pollinators for North America in 2008?
WHEN WE TALKED ABOUT THREE WEEKS AGO, THERE WAS A QUESTION IN YOUR MIND ABOUT WHETHER OR NOT WE WOULD HAVE ENOUGH POLLINATORS IN THE UNITED STATES FOR 2008?
Yes, and that's still a question in my mind. With the CCD losses of the past year and the way the bees are coming back to Florida in poor shape, will we have another dramatic loss this fall and winter which will put us behind on pollinators available for agriculture.
WE WON'T KNOW UNTIL WHAT MONTH?
I would say probably December to January is the time we'll know how many bees will be making it to almonds, which will be the next big crop for beekeepers.
ARE YOU ABLE TO DO ANYTHING CONCRETE ON THE STATE LEVEL TO HELP HONEY BEES AND OTHER POLLINATORS REGARDLESS OF WHAT WASHINGTON, D. C. IS DOING?
When the Australian bees were first approved to be brought in to the U. S. in 2004 by the Department of Agriculture's APHIS, I told APHIS I wanted to quarantine the bees in Florida, let them establish themselves and then have my inspectors inspect the bees to see if there is anything we should be concerned about. I was told that if I did so, I would be interfering with international trade and that I would be sued. So, I dropped that one.
Future of CCD in North America?
WHAT IS CURRENT RESEARCH ON CCD?
We're analyzing samples, do a survey of what is out there such as the IAPV virus, Nosema ceranae (protozoan), the vorroa mite loads. We are sending sample kits out right now to 18 states, 3 Canadian provinces and Bermuda to collect samples to analyze. We're looking at nutrition, genetics, pesticides, and other data to look for a pattern.
IF WE HAD NOT IN 2004 MADE A TRADE AGREEMENT TO ALLOW AUSTRALIAN AND NEW ZEALAND BEES INTO THE UNITED STATES, THE VARROA MITE LOAD IN NORTH AMERICAN BEES MIGHT NOT HAVE LEAD TO COLONY COLLAPSE DISORDER?
Absolutely."
---
More Information:
For further reports about honey bee colony collapse disorder, please see reports below in the  Earthfiles Archive:
09/07/2007 —Honey Bee DNA Study Finds Australian Virus in Colony Collapse Disorder
06/28/2007 —Hackenberg Apiary, Pennsylvania – 75-80% Honey Bee Loss in 2007. What Happens If Colony Collapse Disorder Returns?
05/04/2007 —Environmental Emergency Updates: Part 1 – Spreading Honey Bee Disappearances – Nosema ceranae Not the Answer?
03/17/2007 —Honey Bee Disappearances Continue: Could Pesticides Play A Role?
---
Websites:
AAAS Science Journal:  http://www.sciencemag.org/cgi/content/summary/317/5843/1304
Mid-Atlantic Apiculture Research and Extension Consortium (MAAREC): http://maarec.cas.psu.edu/
Colony Collapse Disorder (CCD): http://www.ento.psu.edu/MAAREC/pressReleases/CCDSummaryWG0207.pdf
Biology of Honey Bees: http://plantphys.info/Plants_Human/bees/bees.html
Varroa Mites: http://www.uky.edu/Ag/Entomology/entfacts/struct/ef608.htm
Honey Bee Tracheal Mites: http://creatures.ifas.ufl.edu/misc/bees/tracheal_mite.htm
National Bee Loss Survey:  http://beealert.blackfoot.net/~beealert/surveys/index.php
American Beekeeping Federation:  http://www.abfnet.org/
American Honey Producers Assoc.:  http://www.americanhoneyproducers.org/
The Xerces Society (Pollinators At Risk):  http://www.xerces.org/Pollinator_Insect_Conservation/pollinators_at_risk.html
American Assoc. of Professional Apiculturists:  http://entomology.ucdavis.edu/aapa/aapapubs.cfm
Bee Culture, The Magazine of American Beekeeping
http://www.beeculture.com

© 1998 - 2018 by Linda Moulton Howe.
All Rights Reserved.