"That is so strange that these cells can be grown at very high temperatures of 300 degrees Celsius (572 degrees F.). There is no known organism on Earth that can grow and multiply at this temperature actually. No DNA has been found either."
– Godfrey Louis, Ph.D., Prof. of Physics, Kochin University, Kerala, India
Updated photos on November 5, 2007 / October 25, 2007  Cochin, Kerala, India –  A year and a half ago the April 4, 2006, journal Astrophysics and Space Science had a report entitled "The Red Rain Phenomenon of Kerala and Its Possible Extraterrestrial Origin." Kerala is a state at the southwestern tip of India on the Malabar Coast.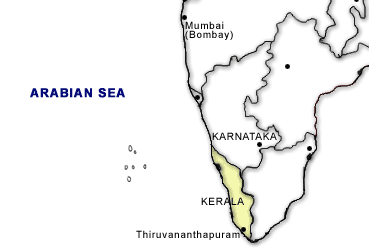 Six years ago in July to September 2001, several red-colored rains fell over Kerala. People said they heard a loud boom. Then red rain fell and stained white T-shirts. Residents wondered what was happening? News of the red rain mystery reached Dr. Godfrey Louis, a Professor of Pure and Applied Physics at Mahatma Gandhi University. He collected many test tubes full of the red-colored rain water and put some of the odd liquid under a microscope.
He told me in an interview last year that when he first saw the red rain magnified, he was struck by the beautiful rust color of what seemed to be living cells. The cell diameters averaged 10 microns, a little bigger than a human blood cell, which is about 7 microns.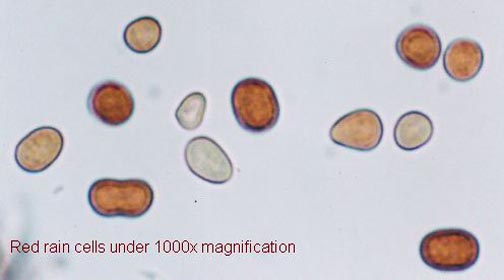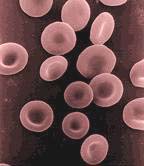 Over several months, Dr. Louis began experimenting with different temperatures to see if the cells would respond. As the temperature rose, he saw more activity. Eventually he got up to 300 degrees Celsius, which is 572 degrees Fahrenheit. He also increased the pressure to 300 pounds per square centimeter. It is assumed that normal Earth life would die at such a high temperature and pressure. But the red-walled cells in the Kerala rain water seemed to thrive.
During his experimentation with temperatures and pressures, Dr. Louis studied the cells under a microscope. As he watched,the cells produced smaller cells internally that were colorless, or whitish. He began calling those new, little cells "daughters" of the original "mother" cells. Once he counted as many as fifteen daughter cells bud inside one of the adult "mother cells." As the daughter cells grew, their cell walls also became red and eventually, the daughter cells erupted through the wall of the mother cell. This is clearly a process of replication. The budding is what provoked some biologist to say the red rain cells must be a form of yeast, since yeast cells also replicate by budding. But yeast cells have DNA, as all normal Earth biology has. On Earth, replication of cells requires the presence of DNA. But Dr. Louis could not find DNA.
So, he sent red rain water to scientists at Cornell University in the United States for isotopic ratio studies of the elemental composition of the red rain water. Elements confirmed so far are hydrogen, silicon, oxygen, carbon, and aluminum. No phosphorous was confirmed, which would be present if Earth DNA were present.
Prof. Louis also sent red rain cell water to Cardiff University's Center for Astrobiology in Wales, directed by now-retired Prof. Emeritus, Chandra Wickramasinghe to see if DNA could be confirmed – but to date, DNA has not been confirmed.
Cardiff University Microscope Images
of Kerala Red Rain Cells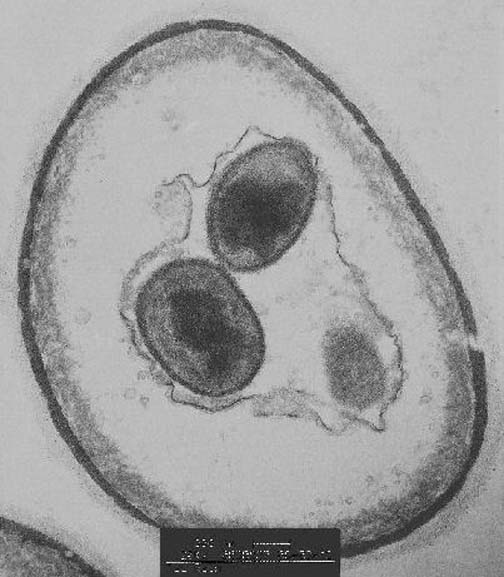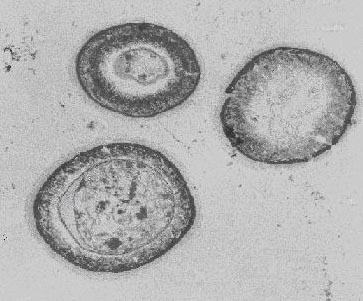 Dr. Louis left Mahatma Ghandi University to take a full professorship in physics at Cochin University of Science and Technology in Kochi, Kerala India. I talked with him recently about his ongoing red rain cell research, which he hopes to publish in the next few months. I learned to my surprise that there have been three red rains, all with cells that replicate at 300 degrees Celsius (572 degrees F.), but without any known DNA for replication as we know in all other Earth life.
---
Interview:
Dr. Godfrey Louis, Ph.D., Professor, Department of Physics, Cochin University of Science and Technology (formerly School of Pure & Applied Physics, Mahatma Gandhi University), Kochi, Kerala, India: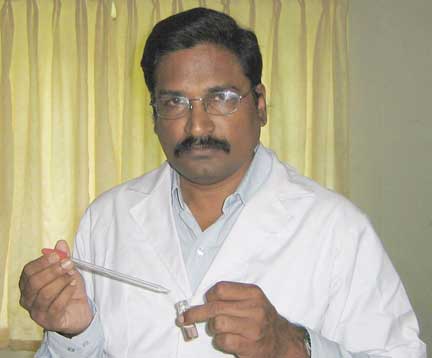 "This organism is operating comfortably at such a high temperature. That is so strange that these cells can be grown at very high temperatures of 300 degrees Celsius (572 degrees F.). There is no known organism on Earth that can grow and multiply at this temperature actually. No DNA has been found either.
SO YOU HAVE CELLS THAT SO FAR NO ONE HAS BEEN ABLE TO CONFIRM ANY DNA IN THEM, AND YET WHEN YOU HEAT UP THESE CELLS, THEY SPLIT AND REPRODUCE.
That is exactly what it is doing. This is what we find. They (Cardiff University) were not able to amplify DNA so nobody has detected DNA in this.
HOW WOULD THEY (RED RAIN CELLS) REPLICATE AND KEEP REPRODUCING AND SPLITTING WITHOUT DNA?
Yes, that is a whole interesting question.
Red Rain Has Fallen On Kerala in 2001, 2006 and 2007
This year when we collected the red rain water, we have exactly the same in red rain cells. This was another incident of red rain and we got the samples. It's the same cells. Same thing happened last year in 2006. So now we have three different red rain samples.
WHAT MONTH WAS THAT?
That was in August 2007.
ONLY TWO MONTHS AGO?
Yes.
WHEN YOU TAKE THE AUGUST 2007 RED RAIN WATER AND COMPARE IT TO THE 2006 AND 2001 RED RAIN WATER, HOW DO THEY COMPARE?
They are the same, the same kind of cells have fallen in both these cases. No one has explained from where it can come, so there is a mystery of what it is.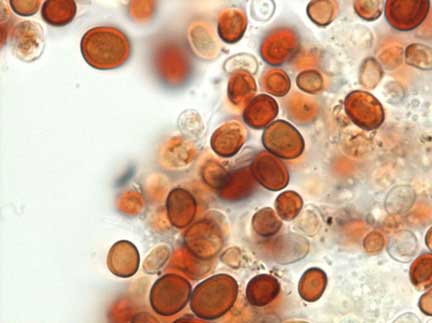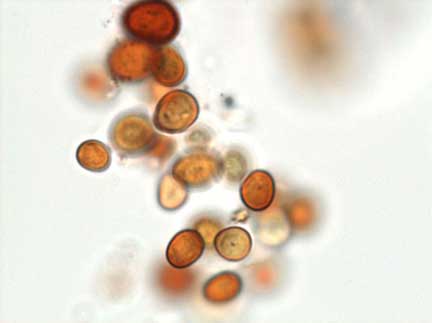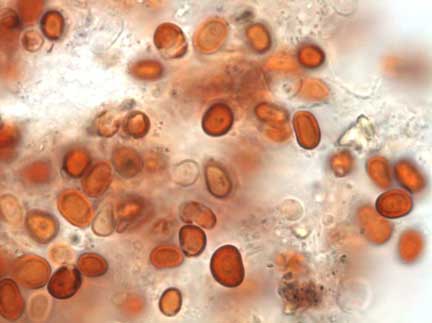 After Six Years, Why Not More Answers About the Red Rain Cells?
DR. LOUIS, WHY DO YOU THINK THAT IT HAS BEEN SIX YEARS SINCE THE FIRST RED RAIN IN KERALA, INDIA. THE RED RAIN HAS BEEN STUDIED BY YOUR LABORATORY, BY PROF. WICKRAMASINGHE'S LABORATORY BEFORE HE RETIRED AT CARDIFF UNIVERSITY. WHY IS IT THAT AS WE SPEAK IN OCTOBER OF 2007 THAT NO ONE HAS IDENTIFIED WHAT THE CELLS ARE MADE OUT OF?
This is because there is a reluctance among many to accept results like this because it sounds like fiction. So in announcing the absence of DNA, it is difficult for a scientist to announce there is no DNA in the cells because it is so outrageous to say that. It deviates far from what we know about life. So, it is a drastic difference what we find. There is always hesitation for any scientist to do this. So, it takes time.
WHAT ABOUT THAT RED COLOR? I THOUGHT CARDIFF UNIVERSITY WAS GOING TO TRY TO DO SOME SORT OF ENERGY DISPERSIVE SPECTROSCOPY TO SEE IF THEY COULD IDENTIFY THAT RED SUBSTANCE.
The red rain substance has not been identified. It is a difficult task. We have to find the methods to extract chemicals from this and separate the chemicals because, as I said earlier, the molecular composition is totally unknown. So, the conventional techniques might not work. For example, when we tried to extract the DNA, there is no DNA coming out.  That particular (red) pigment, we don't know that. We have to identify it.
SO, EVEN THOUGH YOU'VE GOT A CARBON,  OXYGEN, NITROGEN AND SOME TRACE ELEMENTS BROKEN DOWN, NONE  OF THOSE WOULD EXPLAIN THE RED COLOR?
We are not able to identify the red pigment out of it (can't extract red pigment from rain cells).
DO THE CELLS IN THE VIALS OF WATER  THAT YOU HAVE KEEP REPRODUCING AND SPLITTING?
They don't do that in the water (test tubes) because it requires heat to multiply it. Not when you keep them at ordinary room temperature in water. Then they are stable.
DOES THAT IMPLY TO YOU AS A SCIENTIST, THAT WHATEVER THE ORIGIN OF THE RED RAIN WATER IS, IT IS COMING FROM SOME SORT OF SURFACE THAT MUST BE HOT IF THIS IS IN FACT A FORM OF LIFE THAT REPLICATES ONLY IN THE PRESENCE OF HEAT?
It might not be the surface. It can be the interior of comets because the comet – even though it's a very cold object – it can be warm at the core. So far, no one has discovered any life form without DNA."
Efforts to Retrieve DNA from Red Rain Cells
When I visited the Cardiff University lab with Prof. Chandra Wickramasinghe in August 2006, his lab assistant, Nori, said he was not happy with what he had been able to do with the red rain cell walls. Nori said they were extraordinarily thick and stiff. He did not feel he had actually been able to penetrate the cell walls the way he needed to extract material to look for DNA.
Prof. Wickramasinghe told me he thought that was true. He said:  "When I looked at some of the electron microscope pictures and optical microscope pictures of these broken cells, there was evidence of broken cell walls and fragments of cells. But there was also very little evidence of anything that came out of those cells. I think that's the bottom line. We have to identify something that came out of the cells as being the DNA that we try to amplify. But so far that still hasn't happened to everyone's satisfaction."
Is Red Rain from Cometary Debris Orbiting Earth?
Both Prof. Louis and Prof. Chandra Wickramasinghe hypothesize that the red rain cells have been coming from orbiting cometary debris. But why cometary debris would repeatedly fall in 2001, 2006 and 2007 in the state of Kerala at the southern most tip of India has not been explained.
Prof. Louis told me he strongly feels the red rain cells are from an outer space source. "The cells are not decaying even when you keep the rain water for years (2001 to 2007 is six years). The cells can still be cultured – and the culturing is a definite clue that these are not earthly organisms because they culture at such high temperatures – 300 degrees Celsius, which is  572 degrees Fahrenheit."
Professor Emeritus Chandra Wickramasinghe, Director, Center for Astrobiology, Cardiff University
Prof. Wickramasinghe told me, "I think other places on the Earth also would have been receiving these red rain cells. But it would not be noticed. If you think a belt of latitude that goes around the Earth where Kerala is, then east of Kerala is the Indian Ocean all the way to the Sahara. And going West, you have mountains. So, if this red rain fell over a huge strip of the Earth's surface going all the way, or half the way, around the world, Kerala might have been the only place with a population able to detect it.
"But why the latitude of Kerala, which is about 10 degrees north of the equator? The Earth's latitude at Kerala seems to be implicated in some way and that might be related in some way to where the comet's stream intersects the Earth.
"There is a mystery of almost unparalleled proportions in terms of any terrestrial biological cycle. If you can think of any Earth-bound cycle that has a 5-year period, in yeast cells that is very difficult to come up with. To me, that is a clear indication that this is driven from outside.
"But on the existence of DNA, there still remains a considerable uncertainty. I would like to think that wherever the cells came from – whether from the Earth or from space – that they had DNA, simply because that is the kind of life that I'm used to thinking of – that all life on Earth is based on DNA. So, it would be a great surprise if there were red biological cells that did not contain DNA.
"But the arguments of Godfrey Louis, I think, are quite important to explore. And to this day, we haven't had definitive evidence of DNA from the tests that were done by Nori. There were fluorescence tests that were used, very standard tests (with DAPI), and they do show a positive for DNA. But it's well known that these could be false positives from contamination. There is really no 100% detection of DNA, based on fluorescence."
---
More Information:
For further reports about red rain cells, please see other reports below in the  Earthfiles Archive:
08/19/2006 —Red Rain Cells of Kerala, India – Still No Definite DNA
06/15/2006 —"Extraterrestrial Life" in Red Rain of Kerala, India?
---
Websites:
Godfrey Louis, Ph.D.:  http://education.vsnl.com/godfrey/
Cardiff University Centre for Astrobiology:  http://www.astrobiology.cf.ac.uk/index.html

© 1998 - 2018 by Linda Moulton Howe.
All Rights Reserved.