"Apes will very often smell the ground and they will get into that kind of posture (buttocks in the air) with outstretched arms and they'll put their face right onto the ground like that."
– Matthew Moneymaker, Dir., BFRO, about 20:32:41 infrared image


October 25, 2007  Northwestern Pennsylvania –  Big, hairy primate-looking Sasquatch, or Bigfoot, have been reported in North America and other parts of the world for more than a century. Some eyewitnesses have described seeing male and female Sasquatch with smaller animals thought to be Sasquatch juveniles. Even though no one has gotten any clear photographs, movie film or videotapes of young ones, eyewitnesses say large Sasquatch have been known to aggressively protect their territory, and presumably their family. Campers have described having rocks thrown at them and been physically charged by big, growling, long-haired ape creatures, apparently trying to get humans out of their territory.
In mid-September 2007, deer hunter, R. Jacobs, was not thinking about Sasquatch/Bigfoot when he placed a deer mineral lick and deer-attracting scents where he set up his Bushnell game trail camera in northwestern Pennsylvania. All he wanted to know was how many deer – especially big bucks – were using the trail so he could plan his deer hunt. The location is three hours north of Pittsburgh in very remote forest. Mr. Jacobs' camera automatically senses light and can take color photos in daytime – then switch to infrared at night – with or without flash. The camera was set to go off at motion in front of the lens.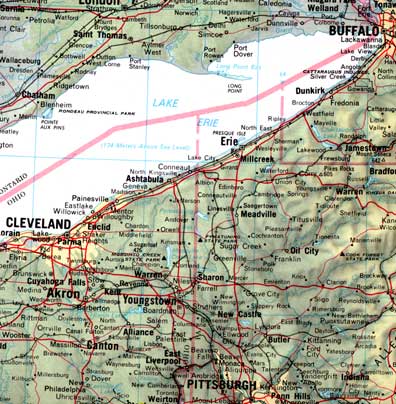 On three frames dated September 16, 2007, beginning at 4 minutes and 23 seconds after 8 PM, there are two black bear cubs at the block of mineral lick.
Then about a half hour later, according to the electronic time on the image, the mineral lick was knocked over and there was an animal that looks more like a primate than a bear – but the head is not visible.
36 seconds after that, a third image shows the primate-looking animal in a posture that at first is confusing. But to people knowledgeable about primate behavior, the odd posture could be an animal that is smelling the ground, while its buttocks is up in the air.
The deer hunter, R. Jacobs, was so puzzled about what his game trail camera had photographed that he started showing the images to his family and friends. His teenage daughter suggested it might be a juvenile Sasquatch, or Bigfoot. She searched on the internet and came to the Bigfoot Field Researchers Organization, also known as BFRO. BFRO was formed in 1995 by a group of field investigators who wanted to pool resources for expeditions to find Sasquatch. The group's director is Matthew Moneymaker, who has been on 40 Sasquatch expeditions and been within 100 feet of the big, hairy primates at least a dozen times. Once, in the moonlight at 2 AM, Matthew was approached by an 8-foot-tall hairy creature that was growling only 15 feet away. Matthew told me, "I didn't feel he wanted to kill me. He just wanted us to move out of his territory."
By Friday, October 19th, with the deer hunter's permission, Matthew placed the three images on the BFRO website for feedback. That night I interviewed him and began by asking Matthew what his own personal first reaction was to the infrared images.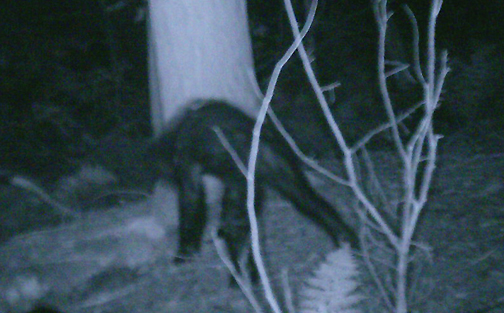 ---
Interview:
Matthew Moneymaker, Director, Bigfoot Field Researchers Organization (BFRO), San Juan Capistrano, California:  "Oh, I immediately knew that it was a young Squatch! Especially to see the bear cubs and using that as a gauge for the size and knowing this was a fairly small figure  – and especially the quadruped stance. Like in the first image (of 'unidentified primate'), people say, 'Oh, it's leaning over.' I've told them, 'No, that's the way they walk.' That's the thing walking along as it normally does, what you see in the first image.
And I've talked to a few eyewitnesses who have seen them run quadrupedally and then they will get up on two legs.
PHOTO ONE (20:32:05 above ), IT IS LEANING AND STRETCHING OUT AND YOU DO NOT SEE A CLEAR PICTURE OF THE HEAD.
AND THEN, IN THE NEXT PHOTOGRAPH (20:32:41 below ), WHICH AT FIRST IS CONFUSING. BUT THEN IF YOU LOOK AT THE TOP OF THE CREATURE AS BEING ITS BUTTOCK GOING STRAIGHT UP IN THE AIR AND IT HAS ITS HEAD DOWN – THAT MAKES SOME SENSE OUT OF THAT SECOND PHOTO.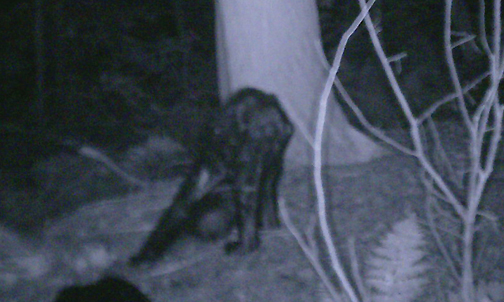 I THINK YOU HAVE TALKED WITH SOMEBODY ABOUT THIS BEING A CHIMPANZEE TYPE OF BEHAVIOR?
Yes. Apes will very often smell the ground and they will get into that kind of posture (buttocks in the air) with outstretched arms and they'll put their face right onto the ground like that.
Any Larger Sasquatch Tracks At Pennsylvania Camera Site?
DID THE HUNTERS GO BACK TO THAT SITE AND LOOK FOR ANY OF THE LARGER 14-INCH TO 17-INCH TO 18-INCH PRINTS THAT HAVE BECOME ASSOCIATED WITH SASQUATCH?
I believe they did. They even said they were surprised that they did not find any larger tracks there. But you're only going to get clear tracks if you have exposed soil. Even then, it's got to be exposed as either wet soil like mud or very loose soil like sand. You just don't get very clear, obvious tracks in most situations because usually in a forest, the ground is not exposed. It has pine needles and leaves and sticks and usually has a good layer of that if it's a dense forest. They didn't find any, but of course, they are looking for them now! (laughs)
WELL, THAT'S GOOD! IS IT FAIR TO SAY THAT YOU AND BFRO ARE CONVINCED THAT THIS IS THE CLEAREST PHOTOGRAPH OF A YOUNG SASQUATCH THAT ANYBODY HAS BEEN ABLE TO RECORD?
I believe it is. As far as photos that have been circulated, yeah, these are far and away the most compelling.
Two R. Jacobs Game Trail Cameras Damaged Before – By Sasquatch?
THE CAMERA WAS DAMAGED TWICE OR THE TWO CAMERAS WERE DAMAGED THERE AT THAT TRAIL?
Yes, I asked them (hunter and his brother) after I saw the photos, 'Are the cameras still up there?' And the brother said they had to take them down because they got broken and they had to get them fixed. He said on the first camera, something had smashed the lens. They sent it back to Bushnell and they got it repaired. Then they put out another camera of the same type and it got smashed even more.
Both brothers, they didn't know what this small figure was – they didn't know what we knew about the history of Bigfoot researchers placing cameras out where Sasquatches (Bigfoot) are seen and then coming back and finding the cameras smashed.
RIGHT. AND ISN'T IT TRUE THAT IT'S THE FLASHES ON CAMERAS THAT SEEM SEEM TO PROVOKE THE SASQUATCH/BIGFOOT?
It might be the flash. And it might simply be the appearance of the camera, a man-made object, on the side of a tree. It could very well be that it's the flash. And I'll tell you, when we've set up game cameras – flash cameras – when you walk in front of a flash game camera and it goes off at night, it will blind you temporarily. You won't be able to see anything for a little while because it's such a bright flash. I tell you, if I was walking through the woods and one flashed at me, I'd be a little angry myself and I might want to do something to that camera! (laughs)
And in some cases where they put the cameras on a tree, they found the tree pushed over so it would fall onto the camera. People that we've talked to who have tried to use game trail cameras to get photos of these (Sasquatch/Bigfoot) things have tried that numerous times. And the researchers who put those cameras out there thought (who was responsible) was the thing they were trying to photograph had actually damaged the camera.
AND YOU MEAN SASQUATCH.
Yes!  I'll always remember one particular witness who I got to know very well. He had helped take me to the place where I had the closest encounter I ever had to one, where I had one walk up to about 15 feet away from me. It was growling at me. And not far from there, he (friend) had been pursued by a young one and it ran. They would see them at night in the dark and they described them almost as panther-like, running very agilely on all fours and being able to climb and go over fences – climb up a fence and then down the other side of the fence, using its arms and legs as it was climbing up a fence.
Being able to climb up in a tree and sit up on its haunches. And from other parts of the country, there were sketches of young ones showing them in that kind of quadruped stance. So, this is very consistent with what we folks in the BFRO has suspected a young one would look like.
Close Encounter with Big Sasquatch in Ohio
I've been close to these things (Sasquatch/Bigfoot) on several occasions. Their behavior – the way they'll come up and growl and follow you and sometimes they will throw things. There was one occasion where it could only have taken a few steps to be right on top of me.
WHEN WAS THAT? WHAT DATE? WHERE? AND HOW BIG WAS THAT SASQUATCH?
It was about 7.5-feet-tall and it was in July 1994 in Portage County, Ohio, in a wildlife refuge. We were staking out this road coming out of the wildlife refuge leading into a farming area where a lot of farmers in the area had reported seeing them and hearing them and finding their tracks. We were staking the road out and expecting him (Sasquatch) to come out along this road and they did.
We think it's because the light coming out of our night vision devices – the guy I was with – we think they (Sasquatch) spotted us first and instead of walking down the road in front of us, they circled around and bluff charged at him. Then the larger one came up and around in back of me and came to the edge of a tree line. I was hunkered down behind a little berm and he came out and growled at me. It let me know that it knew I was there and that I shouldn't be there! That was certainly the sense I got from it. And I got up and was talking in its direction like if you had a dog coming your direction and growling at you, how you would instinctively say, 'OK, it's alright.' That's what I was doing toward this thing as I was picking up all my stuff and walking away. And I wasn't really scared as much as I was happy.  I knew if it stopped and growled in the kind of raspy way it was growling, I knew that's all it was going to do.
The fact that it would not come out very far – it was staying right at the tree line so it could just take a step back and would disappear back into the brush. It was partial moonlight and it was about 2:30 AM, so I could see the shape of the thing. I could see that it was hairy and about 7 to 8 feet tall and that it was clearly not a person. The proportions were just way off the scale!
The guy who was with me that they (Sasquatch) had bluff charged, he was close to 100 feet away – he did shine a light on it and he did a detailed drawing of it. We have a page on the website about eyewitness sketches from Ohio and one of the sketches was from what he saw that night. It's on our website.
OHIO IS RIGHT ON THE BORDER WITH WESTERN PENNSYLVANIA.
It is indeed. And there's a lot of sightings – especially in eastern Ohio and western Pennsylvania. We believe the reason is because there is a large deer population.
Why Hasn't A Sasquatch Been Captured?
YOU ARE ABSOLUTELY CONVINCED THAT SASQUATCH EXISTS AND YOU'VE HAD YOUR OWN FIRSTHAND EXPERIENCES. WHY DO YOU THINK THAT THIS CREATURE REMAINS MYTHOLOGICAL FOR MOST OF THE POPULATION?  WHY HAS ONE NOT BEEN CAPTURED IN THE LAST 100 OR 200 YEARS?
(laughs) If you were in the thick of it like we are and you'd say, 'Where would they go? Where would they hide?' It's funny because when you go to the sorts of remote places that we go, you know that humans in these vast wilderness areas will only walk along the roads or the trails and will only be on like 2% of that land. And it's dangerous to walk off a trail or road in a really thick, rugged area. And then try to catch them? That would assume that like everyone is trying to capture them, whereas NO ONE is trying to capture them! (laughs)
And these things operate at night!"
Prof. of Human Anatomy Comments
One of the few academics to take the Sasquatch/Bigfoot phenomenon seriously is Jeff Meldrum, Ph.D. He received his Masters of Science Degree from Utah's Brigham Young University in 1984 after studying Vertebrate Locomotion. Five years later in 1989, he received his Ph.D. in Anatomical Sciences from the State University of New York in Stoneybrook. His Ph.D. research focused upon terrestrial adaptations in the foot skeletons of African monkeys with implications for hominid bipedalism  – which is walking and running on two legs.  After that he did post-doctoral work at Duke University for two and a half years. Then he worked as Professor of Evolutionary Morphology in the Cell, Molecular and Structural Biological Department at the Medical School Campus of Northwestern University in Chicago. By 1993, Jeff Meldrum became Professor of Human Anatomy at Idaho State University where he has taught for the past fourteen years.
His book,  Sasquatch: Legend Meets Science was released in September 2006. Prof. Meldrum also has more than 200 plaster casts of alleged Bigfoot/Sasquatch footprints – some of which he has gathered himself from field investigations.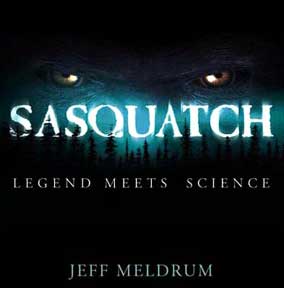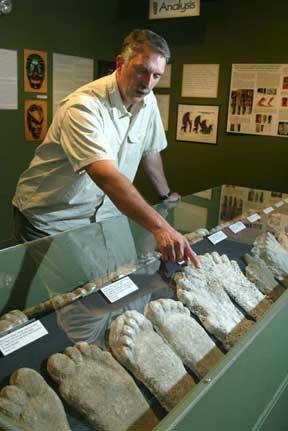 When I asked Prof. Meldrum about the infrared images, beginning with what BFRO calls Photograph 1 of an "unidentified primate," Prof. Meldrum said, "It's intriguing." His first thoughts were that the limb proportions in the photograph could NOT be a bear because they are so long. But he qualified that the infrared images might be a black bear that followed the two cubs a half hour earlier.
We also talked about the fact that the evolution of Sasquatch/Bigfoot from birth to adulthood is not known. Dr. Meldrum said it's possible that the young primates could have proportions more similar to a chimpanzee, as might be the case in these infrared images. That issue was provoked by the size of the feet in the infrared photographs, which are smaller in proportion to the legs than the very large feet on full grown adult Sasquatch.
Prof. Meldrum said the characteristics he uses to distinguish a human track from a Sasquatch track are:
– The Sasquatch footprints don't show arches like human feet do.
– Sasquatch prints are much wider.
– Sasquatch toe prints are much longer.
– Sasquatch heel prints are much wider than humans', particularly in contrast to the remainder of the foot.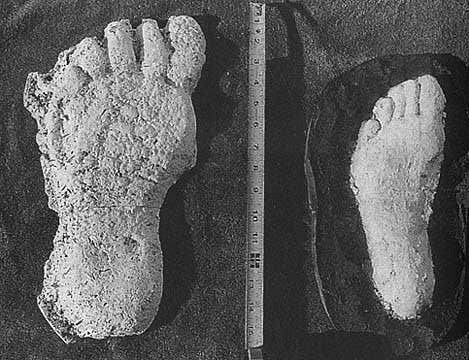 Prof. Meldrum acknowledged that "maybe some of those features don't manifest themselves until the Sasquatch individual has grown up and obtained a much greater bulk and weight (as an adult)."
Finally, Prof. Meldrum stressed – as Matthew Moneymaker says – that Sasquatch's apparent strategy is to avoid human contact whenever possible, which is why we don't know much about the mysterious creatures, whether young or adult.
---
More Information:
To keep up with the BFRO Sasquatch research and upcoming expeditions, visit their website, http://www.bfro.net
For further reports about Sasquatch/Bigfoot, please see my 2-volume book, Glimpses of Other Realities, in the Earthfiles Shop, plus other reports below in the  Earthfiles Archive:
12/29/2006 —Earthfiles Mail About Sasquatch
12/28/2006 —Physical Evidence That Sasquatch Lives?
09/05/2006 —Part 2: "Alphonso Lorenzo" – Military Visitor to Another Planet?
06/22/2006 —"Vacuum Black" Entity in Mexico Reservoir
09/06/2004 —Part 1: Terry Sherman – 1996 Interview About High Strangeness on Fort Duchesne, Utah Ranch
02/24/2004 —Part 1: UFO Crash/Retrievals: The Inner Sanctum – Status Report VI © July 1991 by Leonard H. Stringfield
05/20/2003 —Bigfoot Encounter in Northern California
01/16/2003 —Bigfoot Walks Along Logan, Utah Canal
12/31/2002 —Deer Dropped Into New York Maple Tree – From Where?
11/03/2002 —Chapter 12 – Mystery Stalks The Prairie
11/03/2002 —Chapter 13 – Mystery Stalks The Prairie
10/28/2002 —Chapter 11 – Mystery Stalks The Prairie
09/29/2001 —Part 1 – Sasquatch Bigfoot, Physical Evidence in North America
09/29/2001 —Part 2 – Sasquatch Bigfoot, Visible and Invisible Evidence in North America
07/21/2001 —Missing Link Between Humans and Chimpanzees – Ethiopian Forest Bipeds 5.8 Million Years Ago?
07/10/2001 —Laos – Part 3 A Brief History of the Wildmen of Laos
07/07/2001 —Laos – Part I Unexploded Ordnance on the Trail of "Wild Men"
10/08/2000 —Unidentified Primate (Bigfoot?) Body Print and Hairs Discovered in Washington State
03/24/2000 —Sasquatch – A Forensic Expert Says It's A Different Species
12/26/1999 —Hubble Repair, Gamma Ray Bursts and Unidentified Aerial Objects
12/22/1999 —Update – Unidentified "Arrowhead"-Shaped Object in California Sky
02/21/1999 —Bigfoot or Skunk Ape, Florida Everglades
---
Websites:
Bigfoot Field Researchers Organization (BFRO):  http://www.bfro.net/
Jeff Meldrum, Ph.D., Idaho State University, Alleged Sasquatch Footprints:  http://www.isu.edu/~meldd/fxnlmorph.html

© 1998 - 2018 by Linda Moulton Howe.
All Rights Reserved.