"When we were doing field research in Laredo, 60% to 70% of the wild canids such as coyotes had mange."
– Danny Pence, Ph.D., Texas Tech Health Sciences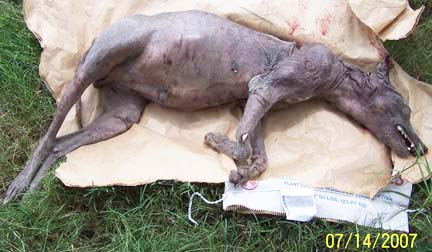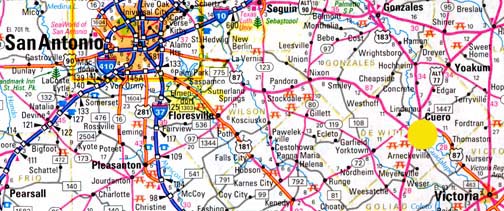 November 2 , 2007  Lubbock, Texas   –  One of the most well-respected authorities on mange in coyotes and other canids is Danny Pence, Ph.D. in Parasitology, Prof. Emeritus of Pathology in the School of Medicine, Texas Tech Health Sciences Center and Wildlife Management Department in Lubbock, Texas. In the 1980s to 1990s, Prof. Pence also edited the Journal of Wildlife Diseases.
I interviewed Phylis Canion of Cuero, Texas, back in August 2007 about the grey-purple, hairless animal hit by a car in front of her ranch earlier in July. [ See: 080407Earthfiles]  Phylis had saved the skull and some of the bones and I contacted the University of California-Davis veterinarian genetics lab with the goal of confirming the DNA-identity of the animal. But Phylis decided she wanted to only work with her local veterinarian. Texas wildlife authorities said the dead animal was a coyote with mange and Prof. Pence details why the Cuero animal is a mangy coyote.
Recently I talked with him about mange, what causes it, what it does to canid animals [canids include dogs, wolves, foxes, coyotes, dingoes, jackals, and lycaons] and why mange cannot explain the bloodless puncture wounds reported so frequently in 1995 to 1996 in Puerto Rico – an island that does not have coyotes. Instead of many coyotes, the farmers called the Puerto Rico attacker a chupacabras, "goat sucker" in Spanish.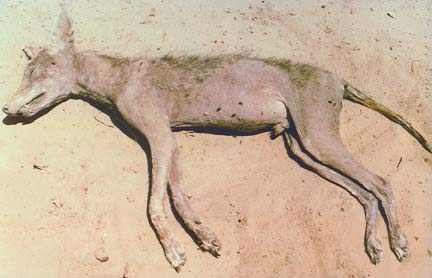 ---
Interview:
Danny Pence, Ph.D., Prof. Emeritus of Pathology, School of Medicine, Texas Tech Health Sciences Center and Adjunct Professor, Wildlife Management, Texas Tech University, Lubbock, Texas:  "A colleague and I saw the photographs by Phylis Canion of Cuero, Texas, and said to each other, 'Doesn't this look for all the world like the photographs we published about mangy coyotes.'
We have a number of other photographs (one above) that look like what showed up in the San Antonio newspapers. That's what convinced me that the Phyllis Carrion animal in Cuero, Texas, was a mangy coyote.
COULD YOU EXPLAIN WHAT MANGE IS AND WHY DO THE CUERO, TEXAS, ANIMALS FALL IN THE CATEGORY OF SEVERELY MANGY CATEGORY?
Mange is a mite disease. It's a little microscopic mite that burrows into the superficial layers of the skin and it changes the composition of the skin to the point that the skin becomes very thickened, it becomes very bluish in color and darkened and then the coyote loses its hair. An animal will suffer with mange for months and months and it usually takes six to eight months for the animals to lose all their hair. They lose all the hair off the bottom part of their body, starting with their feet and legs and it works its way up to their back. Usually what you see is a little tuft of hair along the ridge of the spine and that's about it (all the hair that's left). It takes the hair off their face and legs and sides and tail.
Mange also changes their behavior somewhat. The coyotes become more gentle and they are miserable and they seek human habitation sometimes and crawl under people's houses and do all sorts of weird things, much like animals that have rabies, actually. So, they lose their fear of humans.
It's reasonable that the general public seeing one of these mite-infested coyotes would not understand what's going on unless you know the pathology that is associated with what's happening in the disease.
WHY DOES IT TURN THE SKIN A PURPLISH-BLUE?
It's because the skin is becoming very thickened and the skin fails to slough off the outside epidermal layers, so there is a process called hyperkeritosis that develops in which there is a thick layer of grayish, scaly-like material that's on the surface of the skin.
Up in Canada, the coyotes and timber wolves have a similar kind of phenomenon and they call them 'blue wolves.' In the wintertime, the animals sometimes crawl under people's cabins and houses. I have a colleague there who works on mange problems in the northern latitudes and the animals do much the same thing as we find in Texas.
Mange occurs in all wild canids all over North America. The little mite that causes the disease was originally a human parasite that was transferred over to dogs originally. Then it got over into the wildlife populations. It's only recently become established in fox, wolf and coyote populations in North America.
CAN MANGE AFFECT THE WALKING ABILITY OF ANIMALS?
It can. They sometimes change their gait and become more lethargic. They don't move around as much. It does change their behavior quite a bit, especially when they get a real advanced stage of  mange. It's in part an auto-immune type of response because it affects the immune process in the body. It's like lupus and arthritis that humans have.
WHEN I INTERVIEWED PHYLLIS CARRION RIGHT AFTER SHE FOUND THE ANIMAL IN FRONT OF HER PLACE, SHE SAID SHE HAD SEEN AN ANIMAL FOR A FEW MONTHS THAT SEEMED TO HAVE SHORTER FRONT LEGS AND LONGER BACK LEGS WITH AN ODD GAIT. THAT'S WHY SHE DID NOT THINK IT WAS A COYOTE WITH MANGE.
Mange wouldn't change the length of the legs, but losing all its hair will change the appearance of the animals considerably. So animals might look quite different to humans as it moves when it's lost all its hair. By then, when it's more an auto-immune disease, the animals even lose most of the mites from their skin.
The same thing will happen to dogs that have heavy flea infections. If they are allergic to the fleas, an autoimmune process will take over and they will lose all their hair and their skin will become thickened much like the mangy animals will. It's an inflammatory process that becomes very advanced.
So, microscopically, you might not always be able to find the original mites, but if I had the skull, I could certainly tell her whether it is a coyote or not – or at least a canid!"
Maybe what she saw was a crossbreed between a short-legged dog and a coyote. Who knows?
Why So Many Mangy Coyotes Around San Antonio, Texas?
That's roughly the same area we worked in south Texas, north of Laredo – on mange. Mange has moved northward somewhat since we worked on sarcoptic mange in the south. When we were doing field research in Laredo, 60% to 70% of the wild canids such as coyotes had mange. Mange will go through a coyote population and it's transmissible with contact from one animal to another. If a male and female pair up and only one has mange, they'll both end up with mange.
Most Untreated Mange-Infected Animals Do Die
A small percentage of animals do recover with an immune response once their hair begins to fall out – but most will die. We had 60 to 70 mangy animals radio-collared in a study in south Texas not too far from Cuero. We had 3 or 4 did get better over that period of time, but we lost most of them. And we sacrificed many of them for pathology examination to end the study after radio-collars for about a year.
When mange hits a population for the first time, it spreads like wildfire. Then over time, more animals become immune to it and the rapid spread slows down. Then it dies out in that specific group of animals who develop resistance to the mite infections. Then after 20 or 30 years, you wind up with another population that does not have immunity because the mites changed their antigenic properties and they are able to re-invade the animals. So, you'll always have a few mangy animals in a population that keeps the mites going.
HOW DOES MANGE KILL?
The animals are miserable all the time and as their hair falls out, they scratch and get secondary infections and the whole immune process makes them so sick that they either starve to death or die of a secondary infection. And they are much more prone to getting hit by a car in the road because they aren't moving quickly or laying out in a field and being shot.
Persistent Mystery of Bloodless Puncture Wounds – Attacker Unexplained
WHAT DO YOU THINK THE 'CHUPACABRAS' IN PUERTO RICO IN 1995 TO 1996 WAS? WHAT WAS MAKING THE BLOODLESS PUNCTURE WOUNDS IN ANIMALS THERE?
I do know the same kind of phenomenon has been reported in eastern Florida around Miami and that area on a few occasions. I don't know what it was or is.
DO YOU HAVE ANY OF THE MIAMI ATTACK REPORTS?
No, I just heard about them by word-of-mouth.
BLOODLESS PUNCTURE WOUNDS?
Yes, the same kind of phenomenon reported in Puerto Rico. There aren't any coyotes in Puerto Rico so those attacks couldn't be mangy coyotes! We at least know that."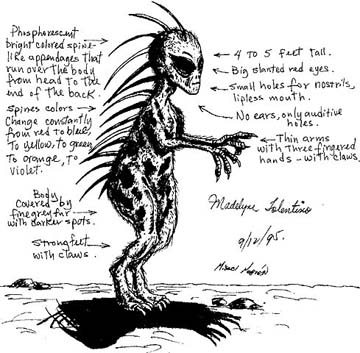 ---
More Information:
For further reports about alleged chupacabras, please see other reports below in the  Earthfiles Archive:
05/25/2007 —Update: Part 1, Unusual Animal Deaths
05/25/2007 —Updated: Part 2 – New "Chupacabras" Attacks in Chile and Cattle Mutilations in Argentina
08/31/2005 —What Is the Strange Texas "Chicken-Eater"?
06/23/2005 —More Than 3,000 Unusual Animal Deaths Reported in Argentina and Chile Since 2002
10/23/2004 —Veterinarian Examines Pollok, Texas Carcass
10/20/2004 —Pollok, Texas "Chupa": Strange Mammal or Mangy Coyote?
10/14/2004 —Another "Chupacabra" Shot in Texas
07/31/2004 —Strange Animal Shot by Elmendorf, Texas Farmer
07/19/2002 —Unusual Animal Deaths and Unidentified Aerial Lights Persist in Argentina
06/15/2002 —Cattle Mutilations In LaPampa, Argentina
06/01/1999 —Puncture Wounds On Dogs In Woodleaf, North Carolina
---
Websites:
The Pet Center/Sarcoptic Mange:   http://www.thepetcenter.com/exa/mites.html
Animal Damage Control/Mange:  http://www.wildlifedamage.com/coyotes.htm

© 1998 - 2019 by Linda Moulton Howe.
All Rights Reserved.