© 1997 Lou Baldin
Electronically reprinted at Earthfiles.com with permission.
"'The craft was like a living organism,' claimed a document
in one of the secret files. ... Miraculously, three weeks after the craft
was discovered, the ship completely healed itself. ... If Aliens did the
repair work, they would have had to be invisible."
- Author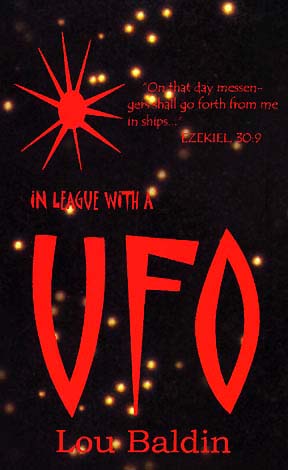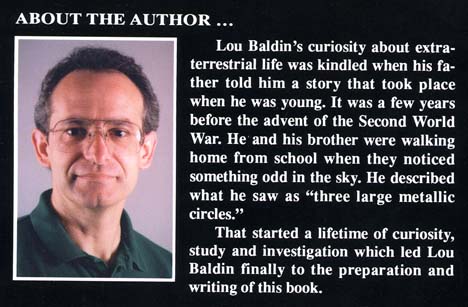 November 6, 2007  Albuquerque, New Mexico  -  When I first read this book back in 1997 before I produced Earthfiles, I thought the description of eerie non-human technologies matched what some people in the human abduction syndrome have described. I talked with Lou Baldin about the content, which he confirmed is based on firsthand factual knowledge, whose source he is still reluctant to reveal. I greatly appreciate Lou Baldin's permission to electronically reprint for the Earthfiles audience In League With A UFO.
---
Prologue
My curiosity about extraterrestrial life was kindled when my father told me a story that took place when he was young. It was a few years before the advent of the Second World War. He and his brother were walking home from school when they noticed something odd in the sky. He described what he saw as "three large metallic circles." The circles remained in the sky in close formation for a few minutes before dispersing in different directions and then vanishing. There were no clouds in the sky nor any factories in the town to pollute the air with smoke that could be mistaken for the three perfect circles. This took place in a small town in Italy in an era when the fantasies of space travel and the existence of "Aliens" was unheard of. They did not have a telephone or a radio. Television was not yet invented. His family was typical for that community. Few who lived there were aware of the happenings outside of their own town. The only books available to him were schoolbooks. One was about arithmetic and the other book was about reading and writing.
Click here to subscribe and get instant access to read this report.
Click here to check your existing subscription status.
Existing members, login below:

© 1998 - 2023 by Linda Moulton Howe.
All Rights Reserved.