"The orbs might be from a place of intelligent plasmas or intelligent beings that are not physical."
– Klaus Heinemann, Ph.D., Physicist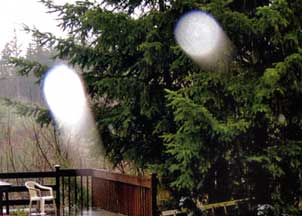 November 2 , 2007  Sunnyvale, California  –  The first time I saw a mysterious glowing light moving in the air was at Woodborough Hill in Wiltshire County, England, back in 1992. It was my first trip to investigate crop formations and one night, half a dozen of us watched a small, spherical orange-white light moving along the trees atop the hill.
Since the early 1990s, many videotapes and photographs have captured glowing, small lights in crop formations. Some eyewitnesses without cameras say they have seen the crop go down beneath moving lights.
Eventually I wrote my fourth book about the phenomenon in Mysterious Lights and Crop Circles. [ See: Earthfiles Shop. ] The first edition was published in 2000 at about the same time that digital cameras were beginning to replace 35mm negative cameras. Coincidentally, I began to receive hundreds of digital photographs from people all over this planet showing glowing spheres, or orbs, in forests, churches, birthday parties – all kinds of places. Most of the photographers never saw the glowing orbs at the scenes. It was only later looking at the images that the orbs would be in the pictures – sometimes hundreds of orbs of different colors, sizes and varying surfaces would be in the same image.
And now in November 2007, comes a book entitled, The Orb Project by physicist Klaus Heinemann and theologian and philosopher, Miceal Ledwith, D.D.  [See More Information at bottom of this report.] The new book's Foreword was written by William Tiller, Ph.D. and Prof. Emeritus of Materials Science and Engineering at Stanford University. Prof. Tiller wrote  the 1997 groundbreaking book, Science and Human Transformation, which postulates the existence of subtle energies beyond the four fundamental forces: Electromagnetic, Strong, Weak and Gravitation. Prof. Tiller hypothesized that there is a fifth fundamental force of subtle energies, which act on human consciousness. Prof. Tiller further comments for The Orb Project, "My working hypothesis is that the orb phenomenon should be looked at as a positive experience for humanity, as just the first of a variety of communi-cation manifestations to appear in the unfolding adventure of our future. …The orbs are certainly not creatures of our spacetime world."
Are the glowing orbs intelligent plasmas? Are they from beyond our 3-dimensional spacetime universe? Would that mean they are angels? Or from angelic realms?
This week I talked about these questions with Klaus Heinemann, Ph.D.  In 1968, he  received his degree in physics from Tubingen University in Germany. Between 1969 and 1990, he worked at NASA Ames Research Center in Moffett Field, California. His NASA research was devoted to studying the reactions of solid surfaces and small crystals in the harsh environment of various gases and temperatures. The goal was always to develop shuttle and space vehicle surfaces that could withstand space travel.
Between 1979 to 1984, Dr. Heinemann also worked at Stanford University on the physics of gaseous impacts on metal and crystal surfaces and how such surfaces behave in an oxidizing environment.
Today he is retired from that work, but continues his research of the orb phenomenon. He has taken thousands of photographs in which the orbs show up – and the first one was on September 26, 2004, at a seminar called "Healing Prayer Intensive." One of his digital camera images had a very bright circular feature which so surprised and puzzled Prof. Heinemann that he went back to the hotel ballroom of the seminar to see if he could figure out what had reflected so brightly. But he could not solve the orb image by any conventional explanation.
I began our interview by asking what finally convinced him that many of the orbs are not the product of electrostatic discharge in digital cameras, dust or moisture reflecting light in the air.
---
Interview:
Klaus Heinemann, Ph.D., Physicist, Retired from NASA Ames Research Center, Moffett Field, California (1969 – 1990), and from Stanford University (1979-1984), Sunnyvale, California:  "If you see an orb eclipsed by an object – for example, by the head of a person or a chair so that the orb is clearly behind the object and far away from the camera – that is a very convincing argument (that orbs are not static build up inside camera, or dust particles or moisture drops outside the camera).
We have seen a number of these pictures where orbs are not fully seen, but eclipsed by an object in front of it. The evidence is that the orbs are emitting light in a highly coherent fashion, almost like a laser beam and beaming that light into the camera. That is the result of a lot of experimentation that I have done with orbs.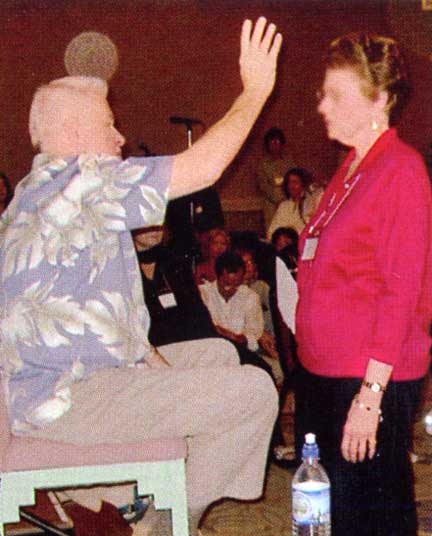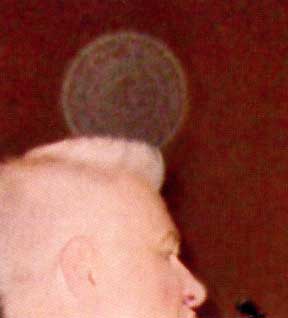 THE PART THAT I CAN'T QUITE GRASP IS: WHAT WOULD BE THE SUBSTANTIVE NATURE OF THESE ORBS THAT THEY WOULD BE ABLE TO TAKE PHOTON ENERGY INTO THEMSELVES AND FLUORESCE, RELEASE BACK ENERGY IN A DIFFERENT FREQUENCY OUTSIDE OF THE VISIBLE LIGHT SPECTRUM – BECAUSE PEOPLE WITH DIGITAL CAMERAS ARE NOT SEEING THE ORBS WHEN THEY ARE TAKING THE PICTURES AND THE ORBS ONLY SHOW UP USUALLY IN THE PHOTOS AFTER THE PICTURSE HAVE BEEN TAKEN.
AT THIS POINT IN YOUR OWN MIND, WHAT IS THE ORB MADE OUT OF THAT IT CAN ABSORB PHOTONS AND THEN SELECTIVELY CHANGE THE FREQUENCY SOMEHOW OF THE ELECTROMAGNETIC SPECTRUM SO THE PHOTONS ARE GOING BACK TO THE CAMERA AS VISIBLE LIGHT?
Orbs Move Rapidly and Change Size
I would say that there is something missing in the equation that we've discussed so far and that is the velocity that these orbs have and their change in size. I believe the only reason why we cannot see them with our bare eyes is because they are moving so fast and are constantly changing their size. So in order to see them, they literally have to remain still for a moment and have to decide, 'Yes, I want to be seen.' Then they move on after that. So, it is not as if they are there all the time like we are. Their normal position is of great mobility and speed, while our normal position would be one of rest (in comparison). So the orbs are in a different space.
WHAT IS PROVOKING THE CHANGE IN SIZE AND SPEED?
That might be simply their way of being. I really don't know.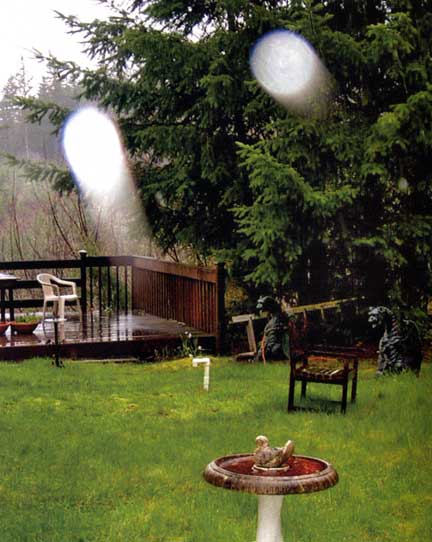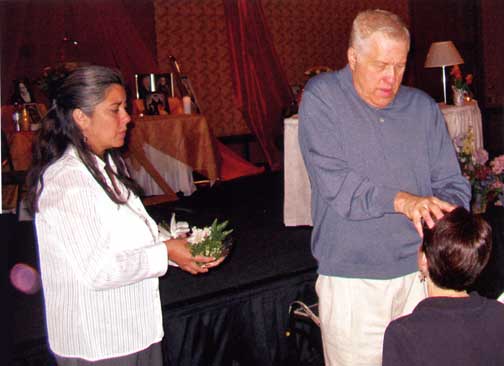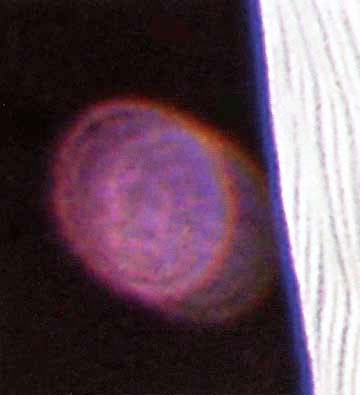 Intelligent Plasmas of Unknown Origin
IF YOU WERE GOING TO TRY TO DO A THOUGHT EXERCISE ABOUT WHAT THE ORBS ACTUALLY ARE AND IN WHAT FREQUENCY THEY MIGHT EXIST AND WHAT RELATIONSHIP THAT FREQUENCY MIGHT HAVE TO THE FREQUENCY OF OUR CARBON-BASED LIFE HERE AS WE KNOW IT ON THE SURFACE OF THE EARTH AND THROUGH THE UNIVERSE, WHAT KIND OF A THOUGHT EXERCISE COULD YOU DO?
I think the only thought exercise I could do is one where I would have to frame it entirely differently, in a way that it's not limited to the physics that we are, that our physical reality is based on. I believe these are phenomena that are outside our normal physical reality. So, many of these questions are really, at this point, totally unanswered in my mind.
I see the orbs existing in a different energetic form, in a form we do not yet have a hold of, in a form that is not in any way related to our physical universe. The orbs are not related to our physical atoms. The orbs are not related to how the atoms vibrate. The orbs are not related in any way to velocities limited by the speed of light. None of that.
I would resonate with a metaphor that would simply say there must be other universes, other realities, that are subjected to a different set of physical constants in such a way that we are not seeing those. The orbs are totally interspersed with us within the vacuum space that is all around us. We all know that our reality is essentially one that has huge voids and a little bit of substance here and there.
I'm talking about the fact that we are composed of mostly empty space. This empty space can be interspersed with a lot of different universes that we cannot see, but nevertheless have energetic aspects.
IF I'M FOLLOWING YOU, WHAT YOU MEANS IS THAT THE SPACE HAS TO DO WITH THE SPACES IN THE ATOMIC AND MOLECULAR LEVELS OF WHICH WE ARE MADE AND ESSENTIALLY THAT'S MORE SPACE THAN IT IS SUBSTANCE OR MATTER.
Yes, that is almost all space and very little substance.
THE ORBS, WHEN YOU SAY ENERGETIC BODIES, YOU MEAN THEY COULD BE PLASMA ENERGIES MOVING AT A FASTER THAT WE DON'T SEE?
That is more likely the matter of what I'm looking at, yes.
WHAT DO YOU MEAN WHEN YOU USE THE TERM 'ENERGETIC BODIES' FOR THE ORBS?
I would see them as energetic plasmas, but what people call 'subtle energy.'
UNDETERMINED AND UNDETECTED BY OUR CURRENT NORMAL PHYSICS?
Yet undetermined and undetected by our current physics, correct.
Orbs and Divine Presence
IF THEY ARE INTELLIGENT PLASMAS OF UNKNOWN ORIGIN AND YOUR BOOK IS PRESENTING THE HYPOTHESIS THAT THEY HAVE ONLY SHOWED UP IN THE PAST DECADE OR TWO WITH TREMENDOUS INTENSITY AROUND THE WORLD …
Yes.
…AND IF I AM UNDERSTANDING CORRECTLY, YOU ARE LINKING THE ORBS TO A FASCINATING CHAPTER IN YOUR BOOK ENTITLED, 'ORBS: EVIDENCE OF DIVINE PRESENCE.' COULD YOU TAKE THE CONCEPT OF INTELLIGENT PLASMAS OF UNKNOWN ORIGIN AND TALK ABOUT HOW THAT MIGHT RELATE TO EVIDENCE OF DIVINE PRESENCE?
Well, in my mind, they can be very easily one and the same. What is really divine? It's something that is beyond the understanding, beyond the physics that we have. It goes beyond. Divine is, in my understanding, the reality that is beyond the physical reality. Consciousness is in the divine realm. Even human consciousness extends into the divine realm. So, there is a vast continuum of something that is not nothing.
IS IT FAIR TO SAY THAT CONSCIOUSNESS IS EVER-PRESENT EVERYWHERE IN THE COSMOS, AS OPPOSED TO SOMETHING LIKE A PHOTON HAVING TO TRAVEL A CERTAIN DISTANCE?
That is a very good statement. I would say that is fair to say. In my mind, consciousness is projected and available to be received everywhere in the universe. It will not decay and is therefore, good, almost like it is there to be picked up by anybody anywhere in the universe.
LIKE A DIVINE FIELD.
It is a field, yes.
FROM THAT PERSPECTIVE, YOU'RE SAYING THEN THAT THE ORBS WOULD BE IN WHAT RELATIONSHIP TO THAT DIVINE FIELD?
They would be in the same relationship as I would see, for example – I see the human existence as a very temporary excursion from the reality that is the divine reality, is beyond this reality. The consciousness part would remain after the physical death of the person. There are, in fact, huge numbers and varieties in that reality that we cannot see.
THAT WE PASS INTO AFTER THE MOMENT OF DEATH?
Yes, that we would likely pass into after our physical existence ends here.
THEN, PROF. HEINEMANN, YOU ARE IMPLYING THAT THE ORBS WOULD HAVE A DIRECT LINK TO THE SOULS OF THE BODY CONTAINERS IN WHAT WE'LL CALL THIS DIMENSION. THEN AFTER THE MOMENT OF DEATH HERE, WHERE THE SOUL/SPIRIT ENTITY WOULD GO COULD BE RELATED TO THE ORB PHENOMENON?
It is possible. It could be. I would not exclude that. I would say that's a likely explanation, but if you go in the direction of orbs being those who no longer live with us on Earth, that might be far too limiting. I would simply call them entities in a reality beyond our reality.
THEN WHY IS IT THAT THE ORBS ARE EVER-PRESENT HERE?
Because in that reality (they come from), space and time have no meaning. So, ever-present and here are only meaningful for us in this physical reality where yesterday is yesterday and tomorrow is tomorrow. But if in this other reality I'm talking about, the aspect of time and space do not exist.
A STEADY STATE CONSCIOUSNESS?
A steady state consciousness.
IN A DIVINE FIELD.
In a field that is permanently perceived as divine or spiritual.
THE FIELD AND CONSCOUSNESS ARE ETERNAL. BUT THE MATTER WORLDS AND ENERGY WORLDS COME AND GO WITHIN THAT STEADY STATE CONSCIOUSNESS AND DIVINE FIELD?
That sounds very good, yes. The only change I would make is that there might even be a concept of time in that steady state field, but time would be vastly different from ours. So from our perspective, it would be totally steady state, but there might be a time element. In other words, with the consciousness that we human beings 'produce,' this steady state consciousness will be increased. We are vehicles to influence that field with our own consciousness.
Orbs Show Up More in Infrared Frequencies
WHY IS IT THEN, FROM YOUR PERSONAL POINT OF VIEW STUDYING ALL OF THIS, THAT THE ORBS WOULD SHOW UP IN THE PHOTOGRAPHS OF HUMANS SUDDENLY IN THE PAST 15 YEARS?
I think it is explainable by the digital cameras. There have been orbs seen in images by normal cameras (35mm negatives), but they were never taken for serious (by investigators or scientists). They appeared at a very low contrast. It just was not a phenomenon that was really studied because they were so rare.
But with the advent of the digital cameras, especially those with a high sensitivity to the infrared range, which is a lower energy range, this became much more prominent. And then, only relatively very few orbs are seen in high contrast. Most of the orbs come out only with the aid of contrast enhancement techniques that you can use with digital cameras. You can very legitimately increase the contrast of an image and therefore make the orbs much more prominent.
YOU MAKE THE POINT IN YOUR BOOK THAT IN YOUR RESEARCH THAT THE ORBS EXIST IN A FREQUENCY THAT WOULD BE INFRARED?
Yes. A lot are, but not all of them. It appears as if they are at somewhat a lower frequency than our visible spectrum. But the main point is that the digital cameras can very easily be used to enhance a contrast, even a color, in such a way that if there is anything in it, you can make it visible.
Why Such Variety in Orb Appearances?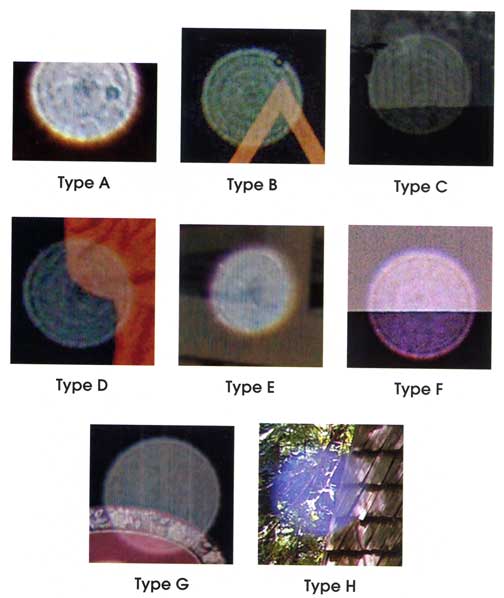 WHY IS THERE SO MUCH STRUCTURE IN SOME OF THESE ORBS – THE ONES THAT APPEAR ALMOST LIKE RODS AND CONES IN EYES. WHY WOULD THERE BE SO MANY VARIATIONS IN STRUCTURES OF THE ORBS AS YOU SHOW IN YOUR BOOK?
I think this is a very interesting question. I only have a very pragmatic answer to that. I believe this reality in which the orbs exists is at least as rich in variety as our own reality is. In our reality, we have living things of everything you can imagine. So in the orb reality, there is a huge variety.
IF IT IS A WORLD OF PLASMA, THAT IS TECHNICALLY NOT A WORLD OF MATTER AND NOT JUST LIGHT, BUT IS SOMEWHERE IN BETWEEN?
Yes, somewhere in between. The orbs might be from a place of intelligent plasmas or intelligent beings that are not physical.
Are Orbs Emanations Linked to Place Where Souls Go After Moment of Death?
IS THERE A DIRECT LINK BETWEEN THE LIFE FORCE THAT ANIMATES OUR CONTAINER BODIES IN THE LIFE IN THIS DIMENSION AND AT THE MOMENT OF DEATH, IS THERE A TRANSITION THEN OF THAT CONSCIOUSNESS AND SOUL/SPIRIT ENTITY INTO THAT WHICH YOU HAVE SAID IS THE BEYOND, THAT PLACE AFTER THE MOMENT OF DEATH. COULD THAT BE THEN THE PLASMA PLACE OF THE ORBS?
It could be. I really don't know. But I would think that these are all questions that we have to ask ourselves. They are very much questions that go into the realm of belief, but I do think there is some validity to that.
I GUESS I AM TRYING TO WRAP MY MIND AROUND THE PROVOCATIVE IDEA THAT WHEN WE SEE OR PHOTOGRAPH THE ORB PHENOMENON, THAT SOME HOW WE WOULD BE CAPTURING A PIECE OF ETERNITY FROM A PERSPECTIVE THAT WOULD BE NON-ETERNAL – MEANING THE 3-D UNIVERSE WORLDS, WHICH WILL DISAPPEAR. AND THEN WOULD ALL THE UNIVERSES THAT EXIST – WOULD THE ORB PHENOMENON BE INTERACTING IN A CONSCIOUSNESS FIELD IN ALL THE UNIVERSES?
I would say yes, they probably would. This is a truly phenomenal situation in which we are witnessing something that is visiting us and making itself visible in our physical instruments, our cameras, yet coming from a reality that is not ours, that we cannot describe. We have no way of describing the orb reality. All we can say is that the orb reality is not subjected to space and time.
WHY IS IT THAT THE DIVINE FIELD AND STEADY STATE OF CONSCIOUSNESS CONTINUES TO WORK SO HARD OVER MILENNIA TO INTERFACE WITH THIS CARBON-BASED HOMINID LIFE FORM THAT SEEMS TO BE SO VIOLENT AND SELF-DESTRUCTIVE?
Yes, yes. Why is that? It's very interesting that they (in divine field) consider us on this small planet in this vast universe important enough to even bother. That is the question and it is mind boggling if that is the case, considering the vastness of the universe and beyond. But apparently, they have a stake in us."
---
More Information: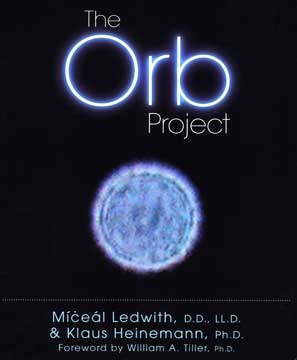 To buy the book:
Beyond Words Publishing: 
http://www.beyondword.com/all-book-catalog/O-books/bk-orb-project.html
Amazon:  http://www.amazon.com/Orb-Project-Klaus-Heinemann/dp/1582701822
For further reports about mysterious light orbs, please see other reports below in the  Earthfiles Archive:
04/07/2006 —First 2006 Grass Circles in Conondale, Queensland, Australia
03/24/2006 —More Unusual Orb Photographs
05/24/2005 —Praying Mantis Creature in Big Bear Mountains, California?
04/28/2005 —Dozens of Unidentified Aerial Objects Videotaped Over Sonora, California
09/10/2004 —Update on Miamisburg, Ohio, Corn Pictogram – Balls of Light?
07/06/2004 —Additions to Spanish Fork, Utah Formation and Mysterious Lights Seen
04/07/2004 —Four "Combed" Grass Circles in Conondale, Australia
08/05/2003 —Field Notes from Morgan's Hill Crop Circle
06/27/2003 —Part 1 – Mysterious Lights and Fourteen Crop Formations in Italy
04/22/2003 —UFO Experiences Reported by Forest Fire Lookouts
10/03/2002 —Part 3 – 2002 Crop Formations In Canada
08/24/2002 —Crop Formation Update: United States
11/17/2001 —Scientists Say Mysterious Lights in Hessdalen, Norway Are "Thermal Plasmas of Unknown Origin"
08/09/2001 —Crop Formation in Holland Changes with Researchers Present
08/27/2000 —Crop Circle Reports from Whitefish, Montana – Updated Photos
08/23/2000 —Intelligence Sensed In Mysterious Lights Associated With Crop Formations
08/19/2000 —White Balls of Light and Helicopter Videotaped in Woodborough Hill Field
11/30/1999 —A New Crop Formation In Marion, New York and Crop Research Updates
06/09/1999 —Dutch Eyewitness SaysTwo Crop Circles Created By Pink-Purple Light
---
Websites:
Klaus Heinemann, Ph.D.: http://www.acviews.com/kh/klaus.htm
Miceal Ledwith, D.D.:  http://www.greatmystery.org/newsletters/orbs_micealledwith.html
NDEs and Orbs:  http://www.near-death.com/experiences/research17.html
The Orb Project Book:  http://www.orbprojectbook.com

© 1998 - 2019 by Linda Moulton Howe.
All Rights Reserved.