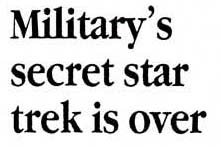 Return to Part 1
December 7, 2007   San Antonio, Texas -  Interview continues with Richard Sauder, Ph.D., Political Science, and Author of Underground Bases & Tunnels: What Is the Government Trying to Hide?  © 1995; Kundalini Tales © 1998; and Underwater and Underground Bases © 2001, San Antonio, Texas.
Part 1 introduced the X-20 Dyna-Soar ("Dynamic Soarer") boost/lift concept that was a United States Air Force program evolving out of Project Paperclip - the German Nazi rocket scientists brought to the United States after WWII - to develop a space plane that could be used for a variety of military missions, including reconnaissance, bombing, space rescue, satellite maintenance and sabotage of enemy satellites. Officially, the Dyna-Soar program was under the administration of the National Advisory Committee for Aeronautics (NACA) from October 24, 1957, to December 10, 1963.
Click here to subscribe and get instant access to read this report.
Click here to check your existing subscription status.
Existing members, login below:

© 1998 - 2023 by Linda Moulton Howe.
All Rights Reserved.