"I don't know what this is – but hopefully, I never have to encounter
this while I'm hunting."
- Missouri hunter and game trail camera owner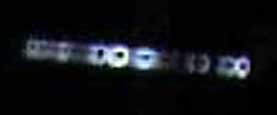 Return to Part 1
April 7, 2008  Oregon, Illinois -
More Odd November 2007 Images
Sarcoxie, Missouri,
9:34 PM, November 5, to 1:37 AM November 6, 2007

Bob Coine:  "When I first put my deer camera's six frames up on YouTube and Woods N Water TV (Outdoor Channel) for feedback that might help explain what my photos were, one of our viewers sent me a series of pictures that he had not shared with anybody because they were really odd. They were not even similar to the photos I had taken. These photos show what appears to be a roundish object with a series of odd, circular shapes around the outside. When you get to the far left or far right on the thing moving through the dozen photographs, the object seems to be turning.  I really see that when I bring his Missouri photos up as a series, and flip through them fast. This object appears not only to be rotating, but going up, down and right and left, as well as reflecting light on to the ground.
Click here to subscribe and get instant access to read this report.
Click here to check your existing subscription status.
Existing members, login below:

© 1998 - 2023 by Linda Moulton Howe.
All Rights Reserved.