"We had the bedroom window open that night (April 30, 2008) and there was no barking from our pit bull and basset hounds. We found that quite strange."
- Heather Harris, Stockholm Farmer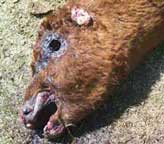 May 22, 2008  Stockholm, Saskatchewan, Canada - There has been yet another cattle mutilation in Saskatchewan, Canada, found on May 1, 2008. This time it's a 2-year-old pregnant cow on a farm about 5 miles from Stockholm, a ranching community of about 500 residents not far from Esterhazy and the Manitoba border. Straight west is the large Saskatchewan city of Regina.

© 1998 - 2018 by Linda Moulton Howe.
All Rights Reserved.