"The whole craft was like an electronic circuit and the aliens had to be inside the craft with headbands on and their fingertips in control panels in order to complete the electronic circuit to make it fly."
- "Stein," Former Army/CIA UFO Analyst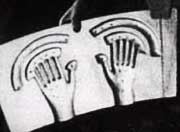 Return to
Part 1
September 7, 2008  Albuquerque, New Mexico -
Phone Interview # 2 (cont.)
May 30, 1998
Area 51 Groom Lake, Nevada - CIA Meeting
But when I went to Area 51 with my boss in 1958, I did see another type of being that had the great big eyes and little, pointed chin, that has since been called a 'Grey.' CAN YOU DESCRIBE THAT EXPERIENCE IN DETAIL? We were out there at Area 51 for a meeting of all the CIA people around this country and from the Far East. The meeting was related to the CIA Project Blue Book and they wanted the meeting at Area 51. There were only five of us involved directly with Project Blue Book who went from our southeastern military base. They had meetings a little base the USAF had there.
Click here to subscribe and get instant access to read this report.
Click here to check your existing subscription status.
Existing members, login below:

© 1998 - 2022 by Linda Moulton Howe.
All Rights Reserved.