"All of the plants were broken pretty viciously and there were obvious trampled paths up and down the long avenues of the huge formation. The damage is not consistent with standard hoaxing, in my opinion."
- Charles Mallett, Silent Circle Information Center, Calne, U.K.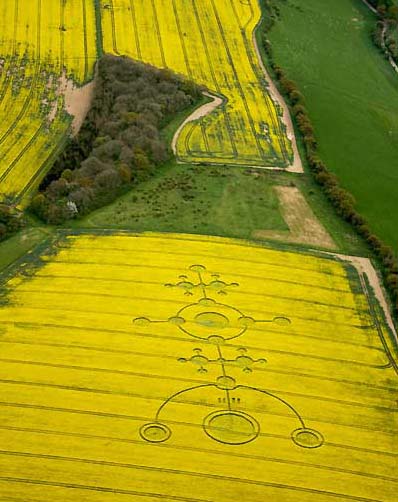 May 9, 2009  Wiltshire, England -  The person who introduced me to the history of sigils and what they are was Mario Pazzaglini, Ph.D., a psychologist in Wilmington, Delaware, who studied the ancient science of alchemy and secret codes of sigils. A decade before his death, he assembled a limited edition booklet entitled Symbolic Messages: An Introduction to a Study of "Alien" Writing © 1991. Dr. Pazzaglini gave me a copy and in this Earthfiles report, I am reprinting pages 21 - 23 about sigils.

© 1998 - 2018 by Linda Moulton Howe.
All Rights Reserved.