"The aliens have spliced into the human seed to prolong the form. ... They have been collecting every species and every gender of plant for hundreds of years so that nothing will be lost when the last shall come."
- Betty Andreasson Luca, Abductee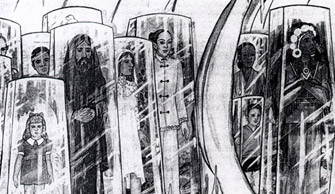 Return to Part 1
July 20, 2009  Albuquerque, New Mexico - Continuing with Glimpses, Vol. II pages 326 to 336, that were included in my February 1997 communication to the Writers. By then, I was working hard on my third book, Glimpses of Other Realities, Vol. II: High Strangeness. The Writers had implied that the truths behind at least some of the UFO phenomena were dark forces in spiritual warfare with light forces. I wanted their feedback on a section of my working manuscript in Chapter 4: Body Containers and Souls of Light. I sent a February 28, 1997, letter attached to my draft pages 317 to 346. In the final published edition, those were edited down to pages 320 to 336, of which 326 to 336 are reprinted below.
Content in Real X-Files at Earthfiles.com is presented for consideration in a wide range of phenomena and interpretations, not as proven fact.
Click here to subscribe and get instant access to read this report.
Click here to check your existing subscription status.
Existing members, login below:

© 1998 - 2023 by Linda Moulton Howe.
All Rights Reserved.