"The light stopped mid-air, then began to circulate (rotate around and around). Within seconds, a giant spiral had covered a large portion of sky. Then a green-blue beam of light shot out from its centre."
- U. K.'s Daily MailOnline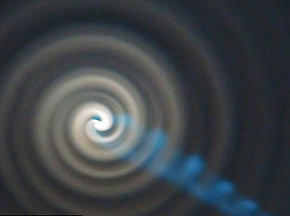 Update 10:30 PM Mtn, December 10, 2009: 
"We have seen rockets being launched from northwest Russia, and from the rocket range in Kiruna in northern Sweden, and from the neighboring Andenes in northern Norway, but nothing like this."
- Truls Lynne Hansen, Dir., Tromso Geophysical Observatory, Norway
After the Russian government's denial on December 9, 2009, that it had not conducted any missile tests that could explain the white and blue light spirals over northern Norway, today on December 10, 2009, the Russian Defense Ministry now says a Bulava ballistic missile launch from the Russian Navy nuclear submarine "Dmitry Donskoi" in the region had failed. However, the Russian Defense Ministry would not confirm any connection with the white and blue spiraling lights over northern Norway. Adding to the mystery is Norway's concern that its government had no prior communication from Russia that any such missile tests were scheduled near northern Norway.
Click here to subscribe and get instant access to read this report.
Click here to check your existing subscription status.
Existing members, login below:

© 1998 - 2023 by Linda Moulton Howe.
All Rights Reserved.