"While my wife and I were watching the white beam go up to the craft, we saw something inside the beam that reminded me of a person with arms and legs spread-eagled, tumbling and turning slowly inside that light beam."
- Derek Smith, former U. S. Army Ranger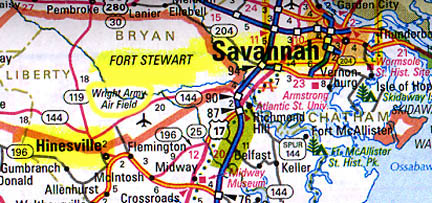 Return to Part 1
March 31, 2010  Hinesville, Georgia - Part 2 continues with Derek Smith's and wife's eyewitness account while parked at a drive-in movie theater near Fort Smith in Hinesville, Georgia, after Derek was transferred there from Hunter Army Airfield in 1974.

© 1998 - 2018 by Linda Moulton Howe.
All Rights Reserved.