Update 2:00 PM Pacific Mar. 14, 2011 - Fuel Rods in All Three
Fukushima Dai-ichi Nuclear Reactors Melting?
Japan's Chief Cabinet Secretary Yukio Edano announced today there were signs that the fuel rods were melting in all three reactors at Fukushima Daiichi. "Although we cannot directly check it, it's highly likely happening." Full meltdowns, in which molten nuclear fuel melts its way through containment vessels, could release catastrophic amounts of radiation, putting first responders and those attempting to fix the problem in even more danger. However, so far one nuclear reactor expert told the BBC that a Chernobyl-scale disaster is unlikely "because the reactors are built to a higher standard and have much more rigorous safety measures." But what happens if those safety measures fail?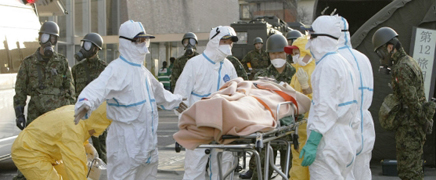 The radioactive plume from the damaged Fukushima Daiichi Nuclear Power Plant in Japan is being blamed for low-level contamination detected on 17 sailors who had flown on helicopter relief missions to rescue stricken Japanese in the Sendai region that the tsunami smashed. The exposure is not considered significant — decontamination of the affected men was washing with soap and water. The U.S. Navy helicopter crews are on the USS Ronald Reagan 100 miles northeast of the nuclear power plant site south of Sendai. The U.S. 7th Fleet announced that it has pulled back its forces to widen the miles between them and the leaking reactors.
Click here to subscribe and get instant access to read this report.
Click here to check your existing subscription status.
Existing members, login below:

© 1998 - 2023 by Linda Moulton Howe.
All Rights Reserved.