"We modern humans, according to Hesiod, belong to the fifth race created by Zeus, the iron race, a mixture of 'good and evil.'"
- Erich von Daniken, Author, Odyssey of the Gods:
The History of Extraterrestrial Contact in Ancient Greece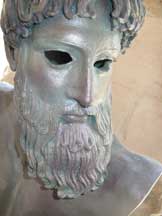 November 23, 2011  Porter Ranch, California - For the past several months of 2011, I have been researching the possibility that the ancient Greek Zeus, Athena, Apollo, Prometheus and all the so-called "Greek Gods" were actually an extraterrestrial intelligence based on Earth - and not mythological constructs. This search began with a Homeland Security subcontractor's technical specialist who works with infrared cameras at an installation in Montgomery, Alabama. Four years ago right before sunrise on June 25, 2007, he was checking infrared cameras at his facility about six miles from Maxwell AFB and its Gunter AFB Annex in Montgomery, Alabama. Because his work is highly sensitive, he asked then - and now - that I not use his actual name. So I call him "Ted Connors." That early morning, Ted encountered one of the "dragonfly" drones that were photographed by several people in 2007 - but the one he saw was right behind a tree on the Homeland Security subcontractor property, almost as if hiding. I reported about Ted's encounter back on June 25, 2007, for Earthfiles and Coast to Coast. 
Click here to subscribe and get instant access to read this report.
Click here to check your existing subscription status.
Existing members, login below:

© 1998 - 2023 by Linda Moulton Howe.
All Rights Reserved.